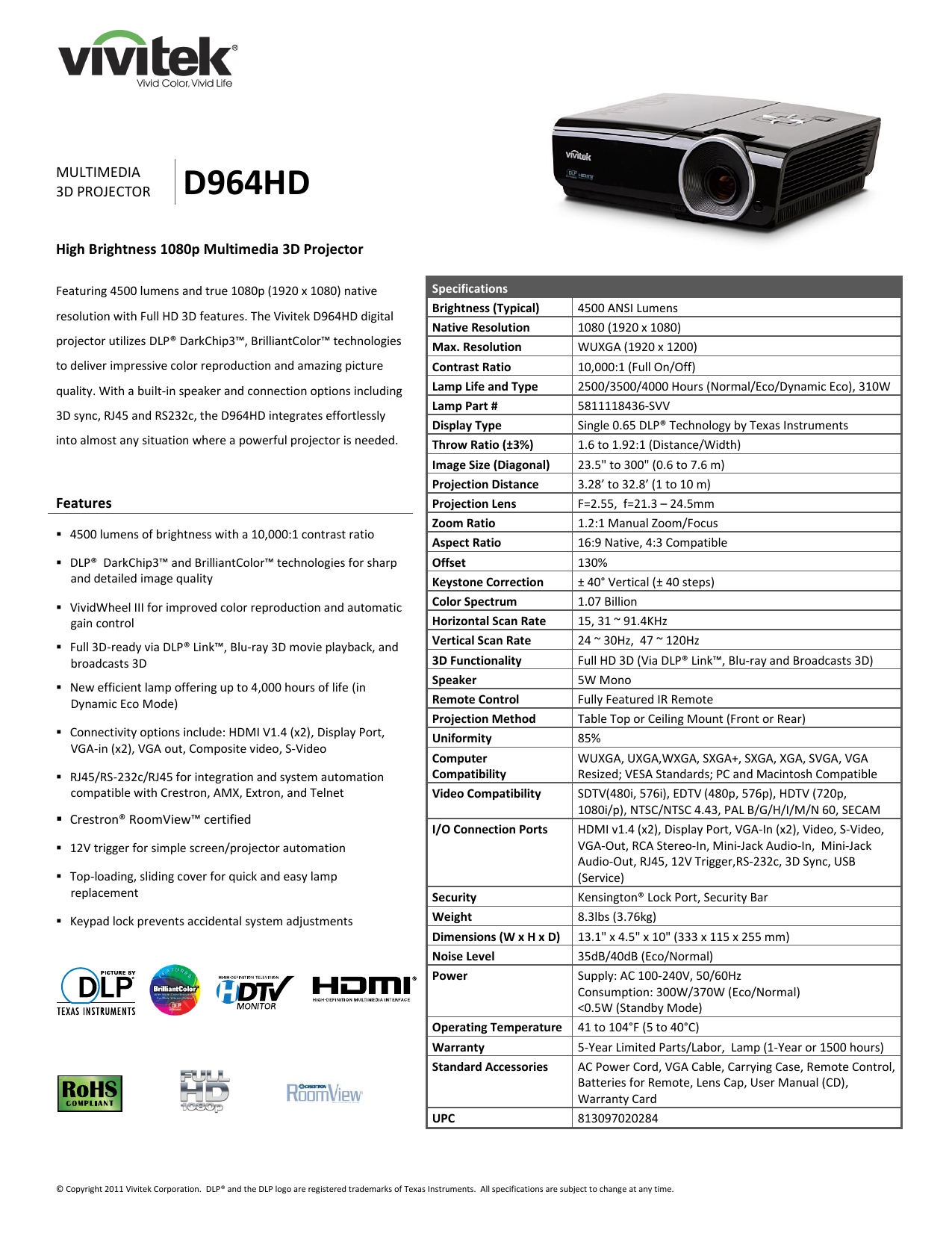 MULTIMEDIA
3D PROJECTOR
D964HD
High Brightness 1080p Multimedia 3D Projector
Featuring 4500 lumens and true 1080p (1920 x 1080) native
resolution with Full HD 3D features. The Vivitek D964HD digital
projector utilizes DLP® DarkChip3™, BrilliantColor™ technologies
to deliver impressive color reproduction and amazing picture
quality. With a built-in speaker and connection options including
3D sync, RJ45 and RS232c, the D964HD integrates effortlessly
into almost any situation where a powerful projector is needed.
Features
 4500 lumens of brightness with a 10,000:1 contrast ratio
 DLP® DarkChip3™ and BrilliantColor™ technologies for sharp
and detailed image quality
 VividWheel III for improved color reproduction and automatic
gain control
 Full 3D-ready via DLP® Link™, Blu-ray 3D movie playback, and
broadcasts 3D
 New efficient lamp offering up to 4,000 hours of life (in
Dynamic Eco Mode)
 Connectivity options include: HDMI V1.4 (x2), Display Port,
VGA-in (x2), VGA out, Composite video, S-Video
 RJ45/RS-232c/RJ45 for integration and system automation
compatible with Crestron, AMX, Extron, and Telnet
 Crestron® RoomView™ certified
Specifications
Brightness (Typical)
Native Resolution
Max. Resolution
Contrast Ratio
Lamp Life and Type
Lamp Part #
Display Type
Throw Ratio (±3%)
Image Size (Diagonal)
Projection Distance
Projection Lens
Zoom Ratio
Aspect Ratio
Offset
Keystone Correction
Color Spectrum
Horizontal Scan Rate
Vertical Scan Rate
3D Functionality
Speaker
Remote Control
Projection Method
Uniformity
Computer
Compatibility
Video Compatibility
I/O Connection Ports
 12V trigger for simple screen/projector automation
 Top-loading, sliding cover for quick and easy lamp
replacement
 Keypad lock prevents accidental system adjustments
Security
Weight
Dimensions (W x H x D)
Noise Level
Power
Operating Temperature
Warranty
Standard Accessories
UPC
4500 ANSI Lumens
1080 (1920 x 1080)
WUXGA (1920 x 1200)
10,000:1 (Full On/Off)
2500/3500/4000 Hours (Normal/Eco/Dynamic Eco), 310W
5811118436-SVV
Single 0.65 DLP® Technology by Texas Instruments
1.6 to 1.92:1 (Distance/Width)
23.5" to 300" (0.6 to 7.6 m)
3.28' to 32.8' (1 to 10 m)
F=2.55, f=21.3 – 24.5mm
1.2:1 Manual Zoom/Focus
16:9 Native, 4:3 Compatible
130%
± 40° Vertical (± 40 steps)
1.07 Billion
15, 31 ~ 91.4KHz
24 ~ 30Hz, 47 ~ 120Hz
Full HD 3D (Via DLP® Link™, Blu-ray and Broadcasts 3D)
5W Mono
Fully Featured IR Remote
Table Top or Ceiling Mount (Front or Rear)
85%
WUXGA, UXGA,WXGA, SXGA+, SXGA, XGA, SVGA, VGA
Resized; VESA Standards; PC and Macintosh Compatible
SDTV(480i, 576i), EDTV (480p, 576p), HDTV (720p,
1080i/p), NTSC/NTSC 4.43, PAL B/G/H/I/M/N 60, SECAM
HDMI v1.4 (x2), Display Port, VGA-In (x2), Video, S-Video,
VGA-Out, RCA Stereo-In, Mini-Jack Audio-In, Mini-Jack
Audio-Out, RJ45, 12V Trigger,RS-232c, 3D Sync, USB
(Service)
Kensington® Lock Port, Security Bar
8.3lbs (3.76kg)
13.1" x 4.5" x 10" (333 x 115 x 255 mm)
35dB/40dB (Eco/Normal)
Supply: AC 100-240V, 50/60Hz
Consumption: 300W/370W (Eco/Normal)
<0.5W (Standby Mode)
41 to 104°F (5 to 40°C)
5-Year Limited Parts/Labor, Lamp (1-Year or 1500 hours)
AC Power Cord, VGA Cable, Carrying Case, Remote Control,
Batteries for Remote, Lens Cap, User Manual (CD),
Warranty Card
813097020284
© Copyright 2011 Vivitek Corporation. DLP® and the DLP logo are registered trademarks of Texas Instruments. All specifications are subject to change at any time.