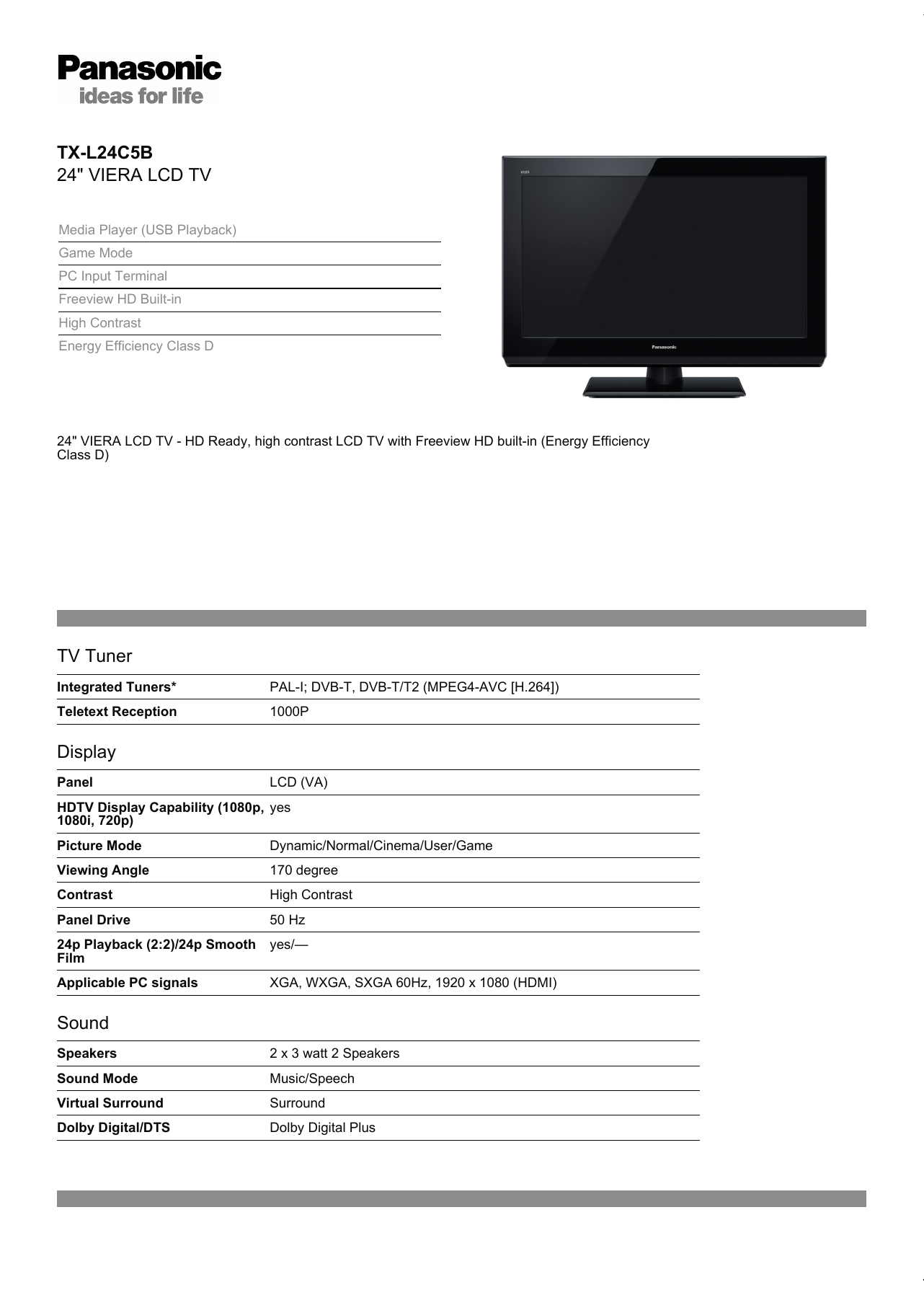 TX-L24C5B
24" VIERA LCD TV
Media Player (USB Playback)
Game Mode
PC Input Terminal
Freeview HD Built-in
High Contrast
Energy Efficiency Class D
24" VIERA LCD TV - HD Ready, high contrast LCD TV with Freeview HD built-in (Energy Efficiency
Class D)
TV Tuner
Integrated Tuners*
PAL-I; DVB-T, DVB-T/T2 (MPEG4-AVC [H.264])
Teletext Reception
1000P
Display
Panel
LCD (VA)
HDTV Display Capability (1080p, yes
1080i, 720p)
Picture Mode
Dynamic/Normal/Cinema/User/Game
Viewing Angle
170 degree
Contrast
High Contrast
Panel Drive
50 Hz
24p Playback (2:2)/24p Smooth
Film
yes/—
Applicable PC signals
XGA, WXGA, SXGA 60Hz, 1920 x 1080 (HDMI)
Sound
Speakers
2 x 3 watt 2 Speakers
Sound Mode
Music/Speech
Virtual Surround
Surround
Dolby Digital/DTS
Dolby Digital Plus
Input/Output
CI (Common Interface)
yes
HDMI Input
HDMI Input
2 (2 rear)
USB2.0
1
Composite Video Input shared
with Component
AV2: CVBS x 1 (rear)
Audio Input (HDMI, PC, Compo- RCA phono type x 1 (rear)
site, Component)
PC Input
Mini D-sub 15-pin x 1 (rear)
Component Video Input shared RCA phono type x 1 (rear)
with Composite
LAN Port
1 (rear)
Digital Audio Output (Optical)
1 (rear)
21-Pin Input/Output
AV1: AV In/Out, RGB In (rear)
Headphone Jack
1 (side)
Features
EPG for DVB-T
SI EPG
Media Player
Media Player
yes(USB)
Support Format
AVI/MKV/WMV/ASF/MP4/FLV/3GPP, MP3/AAC/WMA, JPEG
Off Timer
yes
GENERAL
Suppliers trade mark
Panasonic
Model number
TX-L24C5
Energy Efficiency Class
D
Visible Screen Size (diagonal)
61 cm/24 inches
On mode Average Power
Consumption***
57 W
Annual Energy Consumption**** 83 kWh
Standby and off-mode power
consumption
0.3W/ 0.30W
Display Resolution
1,366 (W) x 768 (H)
Power Supply
AC 220 - 240 V, 50 Hz
Dimensions (W x H x D) (w/o
stand)
612 x 438 x 230 mm
Dimensions (W x H x D) (with
stand)
612 x 396 x 122 mm
Weight (w/o stand)
5.5 kg
Weight (with stand)
6.0 kg
VESA Standard
yes
Wall Bracket
TY-WK23LR2W
NOTE
* Notice for DVB functions:
This TV is designed to meet the standards (current as of August, 2011)
of DVB-T/T2/S/S2 (MPEG2 and MPEG4-AVC [H.264]) services.
The compatibility with future DVB services is not guaranteed.
Check the latest information on the available services at the following
website (English only):
http://panasonic.jp/support/global/cs/tv/
** HID (Human Interface Device Profile) compliant keyboards are
available. A2DP (Advanced Audio Distribution Profile) compliant audio
devices are available.
*** Depending on the area, this accessory may not be included.
**** Based on IEC 62087 Ed.2 measurement method.
***** Energy consumption XYZ kWh per year, based on the power consumption of the television operating 4 hours per day for 365 days. The
actual energy consumption will depend on how the television is used.

* Your assessment is very important for improving the work of artificial intelligence, which forms the content of this project