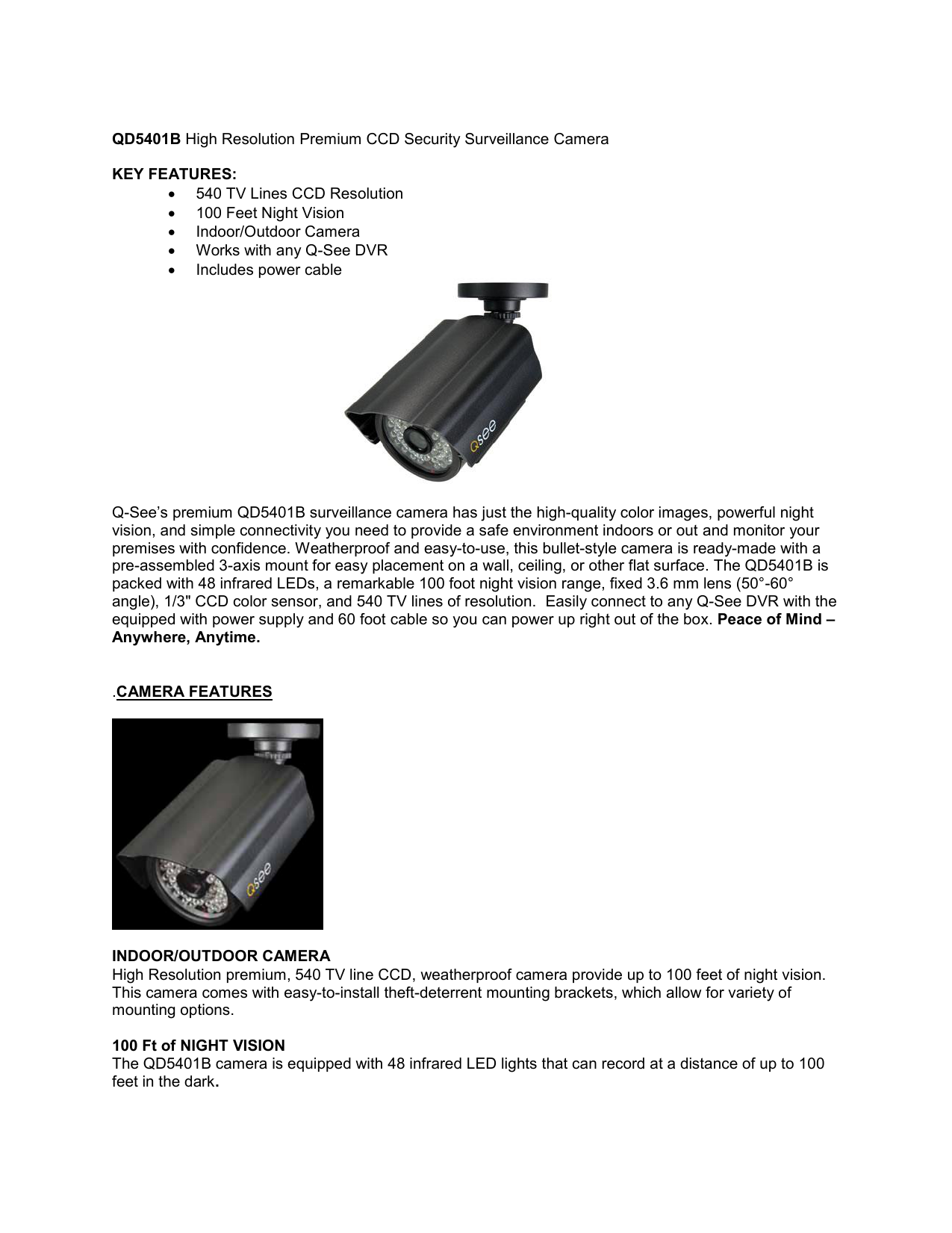 QD5401B High Resolution Premium CCD Security Surveillance Camera
KEY FEATURES:
 540 TV Lines CCD Resolution
 100 Feet Night Vision
 Indoor/Outdoor Camera
 Works with any Q-See DVR
 Includes power cable
Q-See's premium QD5401B surveillance camera has just the high-quality color images, powerful night
vision, and simple connectivity you need to provide a safe environment indoors or out and monitor your
premises with confidence. Weatherproof and easy-to-use, this bullet-style camera is ready-made with a
pre-assembled 3-axis mount for easy placement on a wall, ceiling, or other flat surface. The QD5401B is
packed with 48 infrared LEDs, a remarkable 100 foot night vision range, fixed 3.6 mm lens (50°-60°
angle), 1/3" CCD color sensor, and 540 TV lines of resolution. Easily connect to any Q-See DVR with the
equipped with power supply and 60 foot cable so you can power up right out of the box. Peace of Mind –
Anywhere, Anytime.
.CAMERA FEATURES
INDOOR/OUTDOOR CAMERA
High Resolution premium, 540 TV line CCD, weatherproof camera provide up to 100 feet of night vision.
This camera comes with easy-to-install theft-deterrent mounting brackets, which allow for variety of
mounting options.
100 Ft of NIGHT VISION
The QD5401B camera is equipped with 48 infrared LED lights that can record at a distance of up to 100
feet in the dark.
WEATHERPROOF CAMERA
This camera is suitable for both indoor and outdoor use.
MOUNTING BRACKETS
Flexible 3-Axis brackets allow for more precise positioning of the
cameras, while guiding the cables directly through the camera brackets to
reduce the threat of vandalism to the cameras.
540TV Line CCD RESOLUTION
This CCD camera captures 540 TV lines of resolution and boast true 1/3" Sony CCD color image sensor,
allowing for a higher quality picture than most surveillance cameras.
60Ft CABLE
The QD5401B includes a 60 foot cable so that you will have everything you need for installation.
FIELD OF VISION This camera provides a 55-60º radius of vision.

* Your assessment is very important for improving the work of artificial intelligence, which forms the content of this project