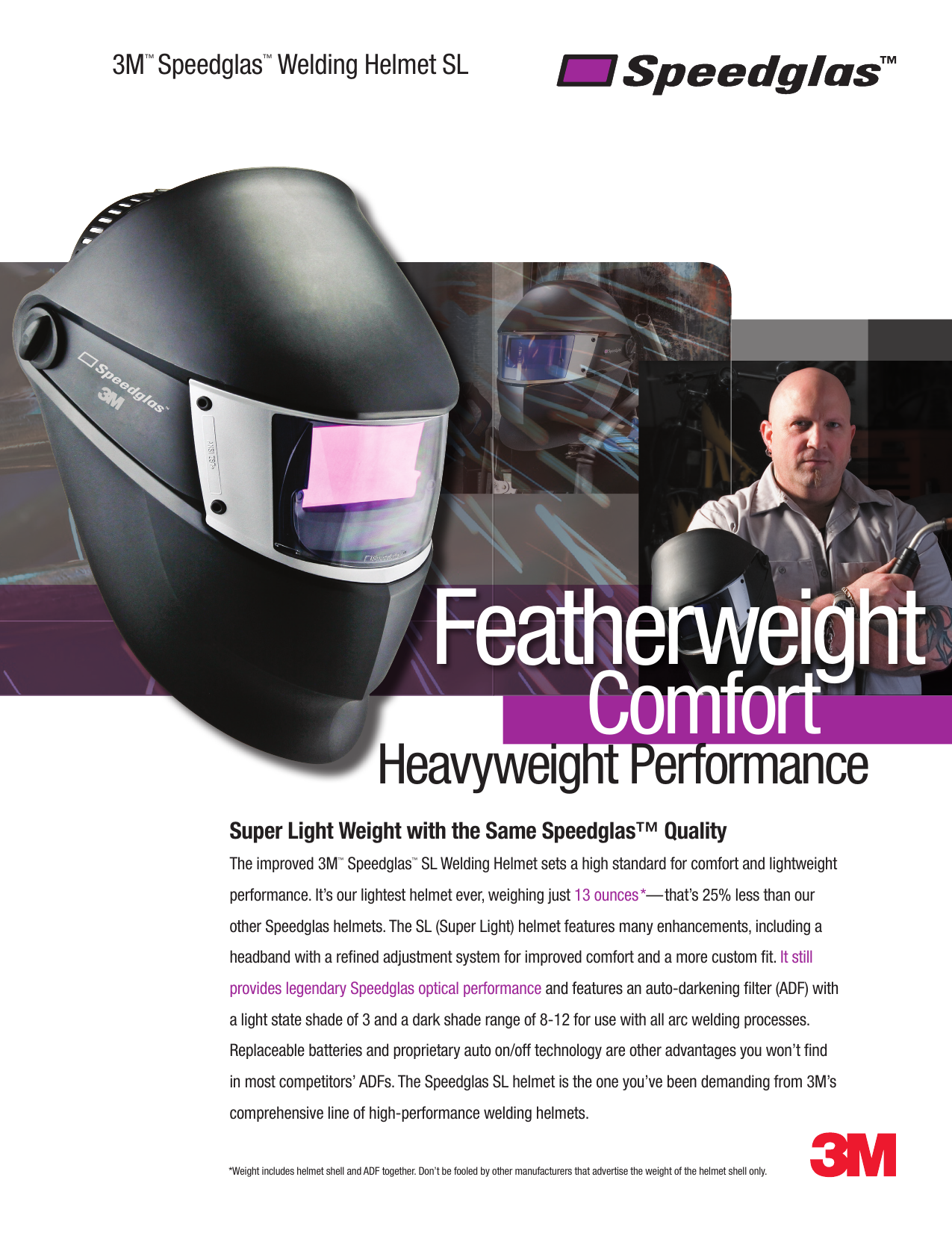 3M Speedglas Welding Helmet SL
™
™
Featherweight
Comfort
Heavyweight Performance
Super Light Weight with the Same Speedglas™ Quality
The improved 3M Speedglas SL Welding Helmet sets a high standard for comfort and lightweight
™
™
performance. It's our lightest helmet ever, weighing just 13 ounces*—that's 25% less than our
other Speedglas helmets. The SL (Super Light) helmet features many enhancements, including a
headband with a refined adjustment system for improved comfort and a more custom fit. It still
provides legendary Speedglas optical performance and features an auto-darkening filter (ADF) with
a light state shade of 3 and a dark shade range of 8-12 for use with all arc welding processes.
Replaceable batteries and proprietary auto on/off technology are other advantages you won't find
in most competitors' ADFs. The Speedglas SL helmet is the one you've been demanding from 3M's
comprehensive line of high-performance welding helmets.
*Weight includes helmet shell and ADF together. Don't be fooled by other manufacturers that advertise the weight of the helmet shell only.
Lightweight Comfort in the
3M Speedglas SL Welding Helmet
™
™
Improved Headgear Design
Special Features and Benefits
• Long-lasting, comfortable sweatband helps enhance wear
time.
• Designed with advanced engineered helmet resin for thin
wall molding while maintaining impact strength.
• Fast-adjusting, flexible,
multi-position headband provides
greater comfort
and fit for a variety of
head sizes and shapes.
• Lightweight glass in the ADF reduces overall weight,
which may help alleviate neck strain and fatigue.
• Superior optics allow you to
clearly see the weld puddle
for precise weld puddle
control.
• Pre-shaped headband
construction allows
helmet to fit even
more comfortably.
• Four sensitivity levels allow
adjustment to varying
welding processes and
ambient light conditions.
• 4-position, back/forth
slide adjuster provides
positioning flexibility.
• Adjustment in rear, for easy one-hand tightening
and push-button release.
• 2-size front portion of suspension fits more head sizes and
face shapes.
Optional Accessory
• Hard-coated outside protection plate is available for the
most demanding welding conditions.
• Speedglas ADF features a light state shade of 3 and a dark
shade range of 8-12.
• Proprietary, auto on/off motion-sensing technology turns
on the arc detection circuit the instant it is handled.
• Replaceable batteries help extend the life of the helmet.
No need to throw the entire ADF away like many
competitor ADFs when their batteries get depleted!
• Magnifying (cheater) lens holder fits inside
the helmet and can aid welding precision.
Case Qty
Description
05-0013-00
Speedglas Helmet SL (helmet only, does not include headband)
1 each
00051131985605
05-0013-41
Speedglas Helmet SL with Auto-Darkening Filter, Shades 8-12
1 each
00051131985643
05-0000-41
Speedglas Auto-Darkening Filter SL, Shades 8-12
1 each
00051131985575
04-0290-00
Speedglas Inside Protection Plate
5 each
50051131371366
05-0250-00
Speedglas Outside Protection Plate SL
5 each
50051131985587
05-0250-01
Speedglas Outside Protection Plate SL (hard-coated and painted)
5 each
50051131985594
02-0024-00
Speedglas Sweatband, Cotton Fleece with Padding
1 each
00051131371248
04-0032-00
Speedglas Battery (CR-2032)
2 each
50051131371373
05-0370-00
Speedglas Battery Holder SL
1 each
00051131985636
05-0650-00
Speedglas Headband and Mounting Hardware SL
1 each
00051131985612
05-0660-00
Speedglas Headband Assembly Kit SL
1 each
00051131985629
05-0695-00
Speedglas Spatter Protector SL
1 each
00051131172258
05-0680-00
Speedglas Magnifying Lens Holder
1 each
00051131172159
For more information, please visit
your authorized Speedglas distributor,
contact your local 3M representative,
or call 1-800-243-4630.
18-0099-68
Speedglas Throat and Side Protector, Leather
1 each
00051131371484
www.speedglas.com
™
™
™
™
™
™
™
™
™
™
™
™
™
™
Find us on Facebook!
facebook.com/speedglas
Personal Safety Division
3M Center, Building 235-2W-70
St. Paul, MN 55144-1000
Technical Service: 1-800-243-4630
Customer Service: 1-800-328-1667
www.3M.com/PPESafety
3M and Speedglas are trademarks of
3M Company, used under license in
Canada. Please recycle. Printed in USA.
© 2012 3M Company.
All rights reserved.
70-0714-2838-0(v4)
UPC
Technical Specifications
Part No.
• Weight: 13 oz. (370 g) – complete
assembly
• Battery Type: Lithium CR 2032 (2)
• Complies with ANSI Z87.1-2003
• Use with all arc welding processes:
Stick, MIG and TIG
• Recommended Amperage Range:
0.1A–250A
This product is designed to help protect the wearer's eyes and face from harmful
radiation including visible light, ultra-violet radiation (UV), infra-red radiation (IR),
sparks and spatter resulting from welding processes. These products must be used
only by qualified persons who are properly trained in their use and maintenance.
Misuse may result in permanent eye injury and vision loss. Always wear ANSI Z87.1
compliant safety spectacles in addition to any welding helmet. For proper use, see
supervisor, or User Instructions or call 3M in U.S.A.1-800-243-4630. In Canada,
call Technical Service at 1-800-267-4414.

* Your assessment is very important for improving the work of artificial intelligence, which forms the content of this project