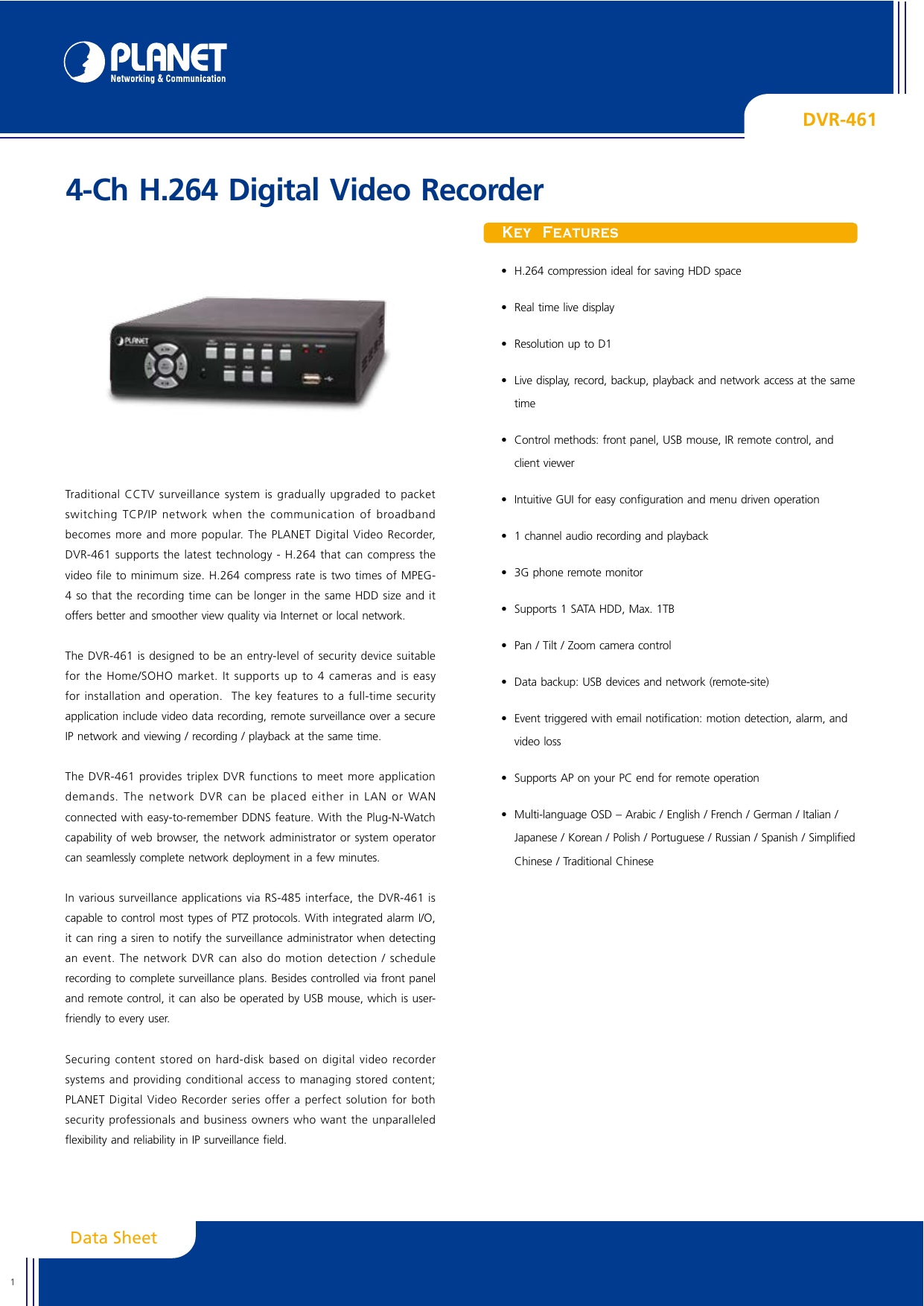 DVR-461
4-Ch H.264 Digital Video Recorder
Key Features
•• H.264 compression ideal for saving HDD space
•• Real time live display
•• Resolution up to D1
•• Live display, record, backup, playback and network access at the same
time
•• Control methods: front panel, USB mouse, IR remote control, and
client viewer
Traditional CCTV surveillance system is gradually upgraded to packet
•• Intuitive GUI for easy configuration and menu driven operation
switching TCP/IP network when the communication of broadband
becomes more and more popular. The PLANET Digital Video Recorder,
•• 1 channel audio recording and playback
DVR-461 supports the latest technology - H.264 that can compress the
video file to minimum size. H.264 compress rate is two times of MPEG-
•• 3G phone remote monitor
4 so that the recording time can be longer in the same HDD size and it
offers better and smoother view quality via Internet or local network.
The DVR-461 is designed to be an entry-level of security device suitable
for the Home/SOHO market. It supports up to 4 cameras and is easy
•• Supports 1 SATA HDD, Max. 1TB
•• Pan / Tilt / Zoom camera control
•• Data backup: USB devices and network (remote-site)
for installation and operation. The key features to a full-time security
application include video data recording, remote surveillance over a secure
IP network and viewing / recording / playback at the same time.
The DVR-461 provides triplex DVR functions to meet more application
•• Event triggered with email notification: motion detection, alarm, and
video loss
•• Supports AP on your PC end for remote operation
demands. The network DVR can be placed either in LAN or WAN
connected with easy-to-remember DDNS feature. With the Plug-N-Watch
capability of web browser, the network administrator or system operator
Japanese / Korean / Polish / Portuguese / Russian / Spanish / Simplified
can seamlessly complete network deployment in a few minutes.
Chinese / Traditional Chinese
In various surveillance applications via RS-485 interface, the DVR-461 is
capable to control most types of PTZ protocols. With integrated alarm I/O,
it can ring a siren to notify the surveillance administrator when detecting
an event. The network DVR can also do motion detection / schedule
recording to complete surveillance plans. Besides controlled via front panel
and remote control, it can also be operated by USB mouse, which is userfriendly to every user.
Securing content stored on hard-disk based on digital video recorder
systems and providing conditional access to managing stored content;
PLANET Digital Video Recorder series offer a perfect solution for both
security professionals and business owners who want the unparalleled
flexibility and reliability in IP surveillance field.
Data Sheet
1
•• Multi-language OSD – Arabic / English / French / German / Italian /
DVR-461
Applications
DVR translates the traditional CCTV surveillance system into IP surveillance network
DVR-461 can connect up to 4 cameras easily . Compact in size and easy install, it can be deployed to monitor anywhere, day and night, indoor and outdoor .
With the bundled DVR utility, the administrator can easily check and playback the recorded video in the system via LAN or WAN. And more, 3GPP is supported
for remote monitoring just through any at-hand 3G mobile phone.
Long Distance IR
IR Dome
A/V
A/V
IR Bullet
Outdoor Speed Dome
|O|O|
A/V
DVR-461
Internet
A/V
A/V
I/O
Sensor
Microphone
I/O
DVR Utility
A/V
Alarm
Speaker
Web Browser
Mobile Phone
A/V
Audio Line / Video Line
|O|O|
Serial Line (RS-XXX)
100Base-TX UTP
I/O
Specification
Product
4-Ch H.264 Digital Video Recorder
Model
Video
Video System
Input
Output
SPOT
Audio
Input
Output
Terminal
Sensor
RS-485 Interface
Control Interface
HDD
Display
Division
Zoom
OSD
Picture-in-Picture
DVR-461
Data Sheet
2
NTSC/ PAL Selectable
4CH BNC
1CH, BNC
1CH, BNC
1CH, RCA
1CH, RCA
4 Inputs / 1 Output
Pan / Tilt / Zoom Camera
USB Mouse, Remote Controller, Front Panel
SATA Hard Disk x1
1/4
2X
Graphic OSD
Yes
DI/DO
DVR-461
Recording
Compression
H.264
720x480@30fps, 720x240@60fps, 360x240@120fps (NTSC)
720x576@25fps, 720x288@50fps, 360x288@100fps (PAL)
Highest / High / Normal / Low / Lowest
Manual, Schedule, Event (Motion Detection, Sensor, Video Loss)
User selectable motion detection area for each camera individually, Sensitivity: 5 levels
16 MB
16 MB
Yes
Resolution / Frame Rate
Quality
Record Mode
Motion Detection
Pre-Alarm
Post-Alarm
Video Preservation
Playback
Search Mode
Speed
Network
Interface
Service
Backup
External
Network
Other Features
Monitoring
Recovery
Firmware Upgrade
Dimension (W x D X H)
Power Source
Time, Event
Normal, REW&FF (2x/4x/8x/16x/32x)
Web browser, client software, 3G mobile phone
TCP/ IP, SMTP, HTTP, DHCP, DDNS, PPPoE
USB 2.0 : USB Flash Driver
Client software
Software Watchdog
Auto-Reboot By Watchdog
USB 2.0 Port
188 x 209 x 54 mm
DC 12V, 4.16A
Ordering Information
DVR-461
4-Ch H.264 Digital Video Recorder
Related Products
CAM-DM33-NT
CAM-DM33-PA
CAM-VP38-NT
CAM-VP38-PA
CAM-IR138-NT
CAM-IR138-PA
CAM-IR338-NT
CAM-IR338-PA
CAM-IR442V-NT
CAM-IR442V-PA
CAM-IR554-NT
CAM-IR554-PA
CAM-IVP52-NT
CAM-IVP52-PA
CAM-IVP52V-NT
CAM-IVP52V-PA
CAM-BX42-NT
CAM-BX42-PA
CAM-BX53-NT
CAM-BX53-PA
CAM-ISD48-NT
CAM-ISD48-PA
Data Sheet
3
07-09
Mini Dome Camera (NTSC)
Mini Dome Camera (PAL)
Vandal-Proof Dome Camera (NTSC)
Vandal-Proof Dome Camera (PAL)
15M Infrared Camera (NTSC)
15M Infrared Camera (PAL)
30M Infrared Camera (NTSC)
30M Infrared Camera (PAL)
40M Infrared Vari-Focal Camera (NTSC)
40M Infrared Vari-Focal Camera (PAL)
50M Infrared Camera (NTSC)
50M Infrared Camera (PAL)
15M Infrared Vandal-Proof Camera (NTSC)
15M Infrared Vandal-Proof Camera (PAL)
25M Infrared Vari-Focal Vandal-Proof Camera (NTSC)
25M Infrared Vari-Focal Vandal-Proof Camera (PAL)
CCD Box Camera (NTSC)
CCD Box Camera (PAL)
Hi-Resolution CCD Box Camera (NTSC)
Hi-Resolution CCD Box Camera (PAL)
23x Indoor Speed Dome Camera (NTSC)
23x Indoor Speed Dome Camera (PAL)
PLANET Technology Corporation
11F, No. 96, Min Chuan Road, Hsin Tien, Taipei, Taiwan, R.O.C.
Tel: 886-2-2219-9518 Fax: 886-2-2219-9528
Email: sales@planet.com.tw www.planet.com.tw
VoIP Gateway: vip.planet.com.tw
C-DVR-461
PLANET reserves the right to change specifications without prior notice. All brand names and trademarks are property of
their respective owners. Copyright © 2009 PLANET Technology Corp. All rights reserved.