How to Apply Online to a UC Berkeley Extension Program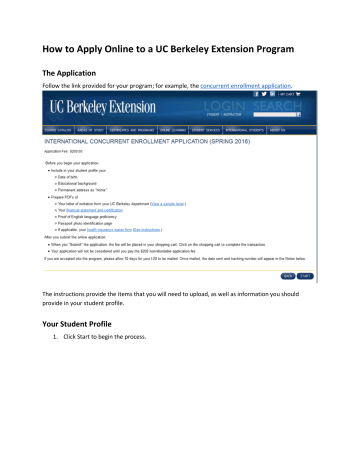 How to Apply Online to a UC Berkeley Extension Program
The Application
Follow the link provided for your program; for example, the concurrent enrollment application.
The instructions provide the items that you will need to upload, as well as information you should
provide in your student profile.
Your Student Profile
1. Click Start to begin the process.
2. You will be prompted to log in to your UC Berkeley Extension online student account. If you do
not have an account, create one at this time. Please see the help sheet on creating an account.
3. Whether you are a returning student or creating an account for the first time, as an applicant to
an international program you must provide information beyond the minimal requirements.
Please include:
a.
b.
c.
d.
Your date of birth
Your home country address as "Home"
Your local address (if you are already in the United States) as "Other"
Your educational background
4. Save your student profile and continue to the application. At this point, you should be logged
into your UC Berkeley Extension online student account. You can always access your application
when you are logged into your account by clicking My Applications and Registrations in the left-
hand menu. Click View to open the application.
5. This will take you to the application's status page. At the top of the page you will see the
application's status; you will be able to navigate to the pages of the application; and you will see
the fee associated with the application.
6. At the bottom of the page you will see the date you started or added the application, any notes
that your application reviewers will share with you, and the Start button.
7. Click the Start button to begin. Each page of the application will have questions to be
completed or files to be uploaded. (Please name each of your files with following format:
firstnamelastnamedocument.pdf [for example, Jane Doe's resume would be
janedoeresume.pdf]. The .pdf file extension must be lowercased and the file name should not
include spaces or special characters. If you need to upload additional copies of the required
documents, please use the "Additional document" field, follow the naming convention and add
a "2" before the .pdf extension.) All required questions will be indicated with a red asterisk. Be
sure to Save the pages as you progress through the application.
8. When you have completed the application, click on the Submit button.

* Your assessment is very important for improving the work of artificial intelligence, which forms the content of this project