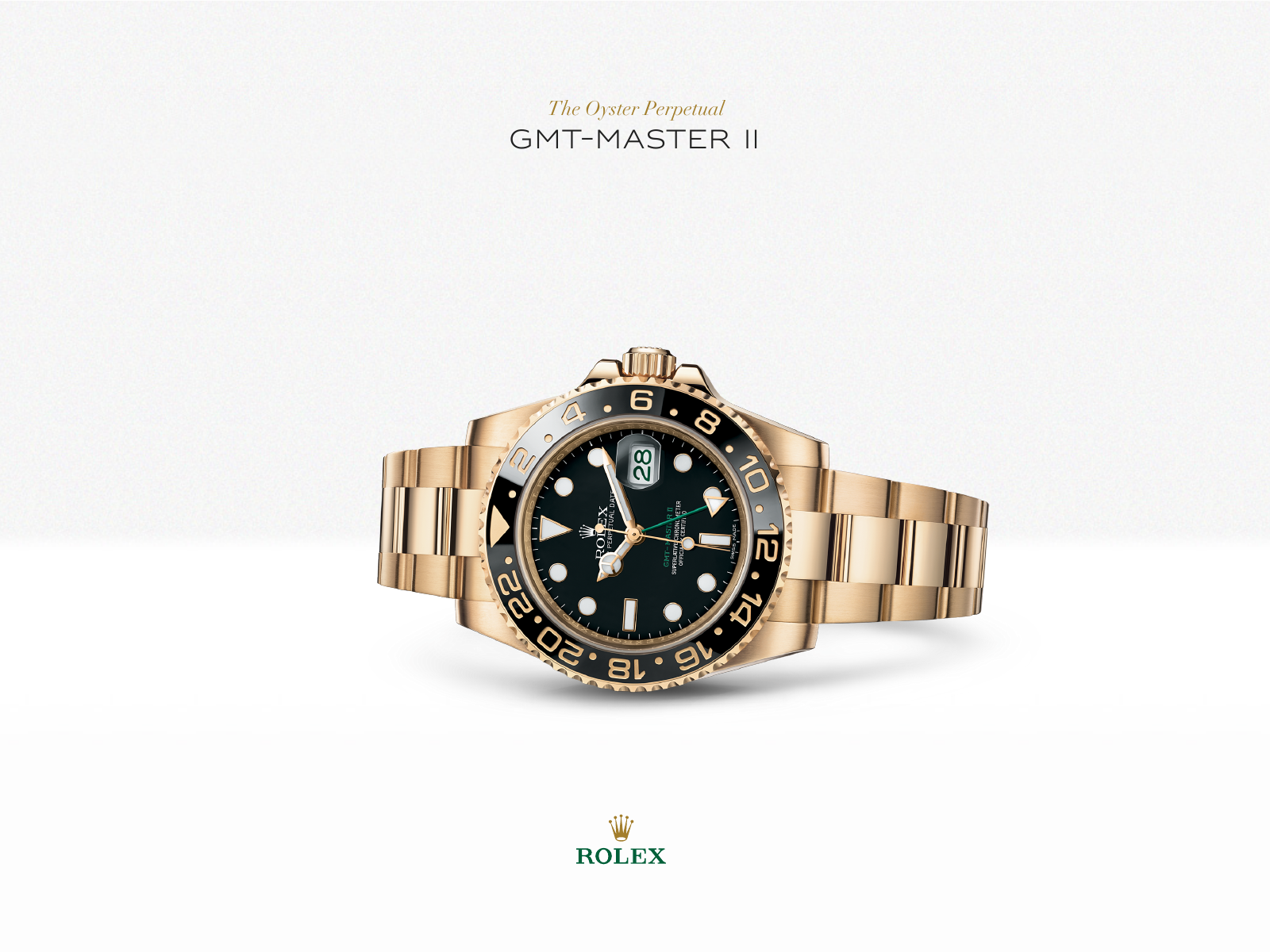 The Oyster Perpetual
GMT-MASTER II
Oyster, 40 mm, yellow gold
GMT-MASTER II
The GMT-Master, introduced in 1955, was developed to meet the
needs of international pilots. The GMT-Master II, unveiled in
2005, has proved to be even more invaluable to those whose
professions involve long-distance travel. Featuring a rotatable
24-hour graduated bezel and a separate 24-hour hand, it allows
those who travel the world to read three different time zones. Two
simultaneously.
Reference
116718LN
MODEL CASE
MOVEMENT
BRACELET
MODEL CASE
Oyster, 40 mm, yellow gold
MOVEMENT
Perpetual, mechanical, self-winding, GMT
function
BRACELET
Oyster, flat three-piece links
OYSTER ARCHITECTURE
Monobloc middle case, screw-down case
back and winding crown
DIAMETER
40 mm
MATERIAL
18 ct yellow gold
BEZEL
Bidirectional rotatable 24-hour graduated
Cerachrom insert in ceramic
WINDING CROWN
Screw-down, Triplock triple waterproofness
system
CRYSTAL
Scratch-resistant sapphire, Cyclops lens over
the date
WATER-RESISTANCE
Waterproof to 100 metres / 330 feet
CALIBRE
3186, Manufacture Rolex
FUNCTIONS
Centre hour, minute and seconds hands.
24-hour display. Second time zone with
independent rapid-setting of the hour hand.
Instantaneous date. Stop-seconds for precise
time setting
BRACELET MATERIAL
18 ct yellow gold
CLASP
Folding Oysterlock safety clasp with Easylink
5 mm comfort extension link
DIAL
OSCILLATOR
Paramagnetic blue Parachrom hairspring
DIAL
Black
WINDING
Bidirectional self-winding via Perpetual rotor
CERTIFICATION
POWER RESERVE
Approximately 48 hours
PRECISION
-2/+2 sec/day, after casing
CERTIFICATION
Superlative Chronometer (COSC + Rolex
certification after casing)
Style of the GMT-Master II
KEEPING PACE
WITH CHANGING TIMES
Although the GMT-Master was designed essentially for professional use,
its combination of peerless functionality and rugged good looks has
attracted a wider travelling public. As well as appreciating its ability to
display different time zones, these travellers admire the robustness and
versatile appearance that make the GMT‑Master eminently suitable for
globetrotting and, indeed, for any occasion.
4
Function of the GMT-Master II
24-HOUR DISPLAY
AND INDEPENDENT HOUR
HAND
In addition to conventional hour, minute and seconds hands, the GMTMaster II features an arrow-tipped hand, which circles the dial once every
24 hours, as well as a bidirectional rotatable 24-hour graduated bezel. The
distinctively coloured 24-hour hand displays the "home" reference time in
a first time zone which can be read on the graduations on the bezel.
The traveller's local time is easily set by "jumping" from hour to hour,
thanks to an ingenious mechanism operated via the winding crown: the
hour hand can be adjusted forwards or backwards independently of the
minute and seconds hands. This allows travellers to adapt to their new
time zone without affecting the precision of their timekeeping.
5
Function of the GMT-Master II
SECOND TIMEZONE
The GMT-Master II evokes intercontinental travel across time zones.
Greenwich Mean Time (GMT) marks mean solar time at the Royal
Observatory in Greenwich, London – the location of the original meridian
used for calculating longitude and determining different time zones
around the world. A second time zone can be set swiftly and read at a
glance on a GMT-Master II.
7
Spirit of the GMT-Master II
THE PRODUCT
OF THE JET AGE
As intercontinental travel developed in the 1950s with
the advent of the jet age, airliners began to fly swiftly
across several successive time zones, obliging pilots to
keep an eye on the time in various places in the world
simultaneously (such as the airport of departure and
arrival, or local time and GMT reference time).
The GMT-Master was developed to meet their needs, at
the height of the golden age of air travel. It became the
official watch of several intercontinental airlines, notably
the famous Pan American World Airways, better known
as Pan Am.
8
Spirit of the GMT-Master II
SUPERSONIC LUXURY
When Concorde performed its final test flights in the 1960s, Rolex proudly
announced that both the British and French test pilots (Brian Trubshaw
and André Turcat) wore GMT-Masters. In an era of supersonic flight, the
GMT-Master had become invaluable.
9
Features
CERACHROM BEZEL
Manufactured by Rolex from an extremely hard ceramic material since
2005, the exclusive Cerachrom bezel insert and monobloc bezel have
excellent anti-corrosion properties and keep their vibrant colours over
time. They are virtually scratchproof, and are unaffected by exposure to
sunlight as well as to chlorinated or sea water.
To inscribe the numerals and graduations on such a hard material, Rolex
developed a unique process which culminates in their being coated with a
thin layer of yellow gold or platinum. It takes 40 hours to produce each
Cerachrom bezel. At Rolex, no measure is too extreme in the pursuit of
beauty and function.
10
Features
THE PARACHROM
HAIRSPRING
In a mechanical watch, the oscillator is the guardian of
time. Conventional oscillator hairsprings are made of
ferromagnetic alloys, leaving them vulnerable to
magnetic fields, temperature variations and shocks that
interfere with their precision. After years of research,
Rolex created the blue Parachrom hairspring, which is
finer than a human hair.
Crafted from a highly stable paramagnetic alloy that
includes niobium and zirconium, it is insensitive to
magnetic fields and up to 10 times more resistant to
shocks. Historically, the unique blue color of the
hairspring has been a sign of prestige reserved for only
the most accurate timepieces.
11
Features
EASYLINK
An increase in temperature, altitude or physical activity may cause your wrists to expand and
can even make wearing a watch uncomfortable. This is why Rolex invented and patented
Easylink, an extension system that lets the wearer increase the bracelet length by about 5 mm to
regain maximum comfort. Perfectly integrated into the watch's design and hidden beneath the
clasp, the Easylink system's opening and closing mechanism is tested thousands of times in the
most extreme conditions to guarantee reliability.
12
Features
OYSTER BRACELET
The Oyster bracelet is a perfect alchemy of form and
function, aesthetics and technology. First introduced in
the late 1930s, this particularly robust and comfortable
metal bracelet with its broad, flat three-piece links
remains the most universal bracelet in the Oyster
collection.
13
Features
TRIPLOCK
WINDING CROWN
The Triplock winding crown is a patented triple waterproofness system
designed especially for divers' watches. Developed by Rolex, it resists
water pressure to depths of 300 metres (1,000 feet) on the Submariner
models and some other Professional models, and 3,900 metres
(12,800 feet) on the Rolex Deepsea.
First introduced in 1970, the Triplock system consists of 10 different
elements crafted from the most reliable materials. The winding crown
screws down against the Oyster case as tightly and hermetically as a
submarine's hatch.
14
Features
3186 MOVEMENT
The GMT-Master II is equipped with calibre 3186, a self‑winding
mechanical movement entirely developed and manufactured by Rolex.
In addition to the conventional hour, minute and seconds hands, it
features a 24-hour hand to display a second time zone. Like all Rolex
Perpetual movements, the 3186 is a certified Swiss chronometer, a
designation reserved for high-precision watches that have successfully
passed the Swiss Official Chronometer Testing Institute (COSC) tests.
The 3186 is equipped with a Parachrom hairspring, offering greater
resistance to shocks and to temperature variations. Its architecture, in
common with all Oyster watch movements, makes it singularly reliable.
15
Features
SUPERLATIVE
CHRONOMETER
The green seal accompanying every Rolex watch is a symbol of its status
as a Superlative Chronometer. This exclusive designation attests that it
has successfully undergone a series of specific final controls by Rolex in
its own laboratories according to its own criteria, in addition to the official
COSC certification of its movement. This unique testing of the
chronometric precision of the cased-up movement, as well as of the
watch's waterproofness, self-winding and power reserve, pushes back
the boundaries of performance and makes Rolex the benchmark for
excellence in mechanical watches. The green seal is coupled with a
five‑year guarantee which applies to all Rolex models.
16
Where to buy a Rolex
THE OFFICIAL
ROLEX RETAILER
Only official Rolex retailers, distinguishable by this
official green plaque, are allowed to sell and maintain a
Rolex. With the necessary skills, technical know-how
and special equipment, they guarantee the authenticity
of each and every part of your Rolex, not to mention its
reliability over time, helping you make the choice that
will last a lifetime.
Find your retailer on rolex.com
17
EXPLORE AND DISCOVER MORE ON ROLEX.COM
All intellectual property rights such as trademarks, service marks, trade names, designs and copyrights are reserved. Nothing contained
in this website may be reproduced without written permission. Rolex reserves the right at all times to modify the models featured in the present website.