ppp_Seminar_Brüssel_6Nov2013_2 [Kompatibilitätsmodus]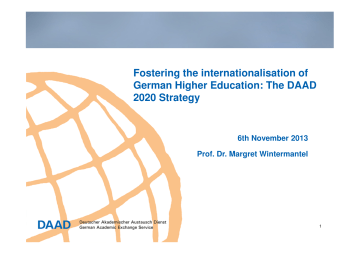 Fostering the internationalisation of
German Higher Education: The DAAD
2020 Strategy
6th November 2013
Prof. Dr. Margret Wintermantel
1
What is internationalisation?
"Internationalisation of higher education is the process of integrating an international
/ intercultural dimension into the teaching, research and service of the institution"
(Jane Knight, 1997)
2
Future challenges
Global responsibility for research, instruction and study
Global competition between universities and the emergence of new academic hubs
Internationalisation will become standard procedure
Demographic change and competition for the brightest minds
New educational paths – diversity and life-long learning
Other learning forms through new media
3
"Change by Exchange"
DAAD supports academic exchange through:
Scholarship for the Best
Structures for
Internationalisation
Expertise for
Academic
Collaborations
4
Scholarships for the Best
DAAD's financial support to students, scientists and artists in both directions:
1.040.000
Germans have seen the world
790.000
Foreigners got to know
Germany
(1950 – 2012)
5
Structures for internationalisation:
■
We develop structures for higher education in Germany and worldwide
■
The universities are our partners in this approach
■
The DAAD provides financial support and advice
6
Our objectives
DAAD aims to contribute to…
Germany keeping its position as one of the
top five leading host countries for mobile
international students.
Increase the
academic success rate of
international students to at least 75% provide 50% of every graduating class the opportunity to gain
international study related
experience.
7
DAAD – a European vision
"The DAAD is a German organisation in
Europe. It plays a vital role in shaping the
European Higher Education Area and the
European Research Area and promotes the interests of Europe together with its partner organisations"
8
Expertise for Academic
Collaborations:
■
Regional-specific expertise and expertise in internationalisation
■
Services and contacts for partners worldwide
■
Worldwide network of 65 offices abroad
9
The DAAD worldwide
San Francisco
Toronto
New York
Mexico City
San José Caracas
Bogotá
Santiago de Chile
Rio de Janeiro
São Paulo
Buenos Aires
St. Petersburg
Moscow
Riga
London
Brussels
Paris
Bonn
Berlin
Minsk
Warsaw
Prague
Kiev
Budapest
Madrid
Rome
Tunis
Belgrade Istanbul
Athens
Cairo
Bucharest
Ankara
Tel Aviv
Tbilisi
Tashkent
Baku
Yerevan
Erbil
Amman
Kazan
Tehran
Kabul
East Jerusalem
Novosibirsk
Almaty
Bishkek
Dushanbe
Islamabad
New Delhi
Guangzhou
Abu Dhabi
Beijing
Hanoi
Pune
Chennai
Seoul
Shanghai
Taipei City
Hong Kong
Bangkok
Ho Chi Minh City
Accra
Addis Ababa
Yaoundé
Singapore
Kuala Lumpur
Nairobi
Tokyo
Jakarta
Johannesburg
Sydney
Regional Offices
Information Centres (ICs)
10
Thank you for your attention
11
* Your assessment is very important for improving the work of artificial intelligence, which forms the content of this project