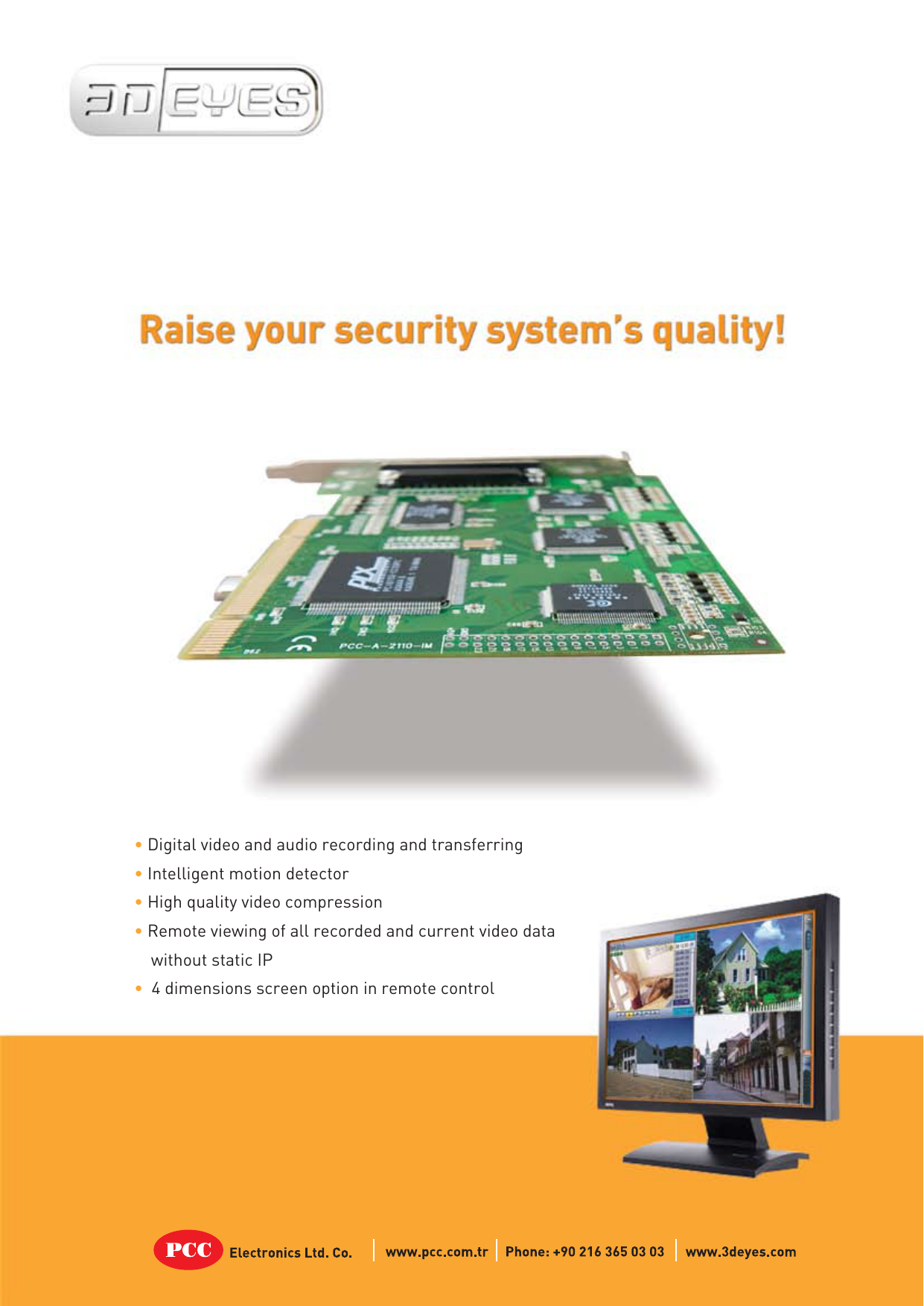 • Digital video and audio recording and transferring
• Intelligent motion detector
• High quality video compression
• Remote viewing of all recorded and current video data
without static IP
• 4 dimensions screen option in remote control
3D EYES PC BASED DVR SOFTWARE
• 1-4-8-12-16-24-32-48 channels multi screen,
relocate of the cameras at the divided screen, using
lots of functions by only one key.
• Remote control and video monitoring as multi
screen over the internet by means of standard web
browsers are possible.
• 3D EYES can receive every camera and record
them. Images are recorded as digital to the PC's
harddisk and video archives can be watched. There
are playback, speedy or slowly mode. All video
archives can be seen at the right side of the screen
as divided by time. While watching the records, user
can see all the days that have recording datas as
bold. Simultaneous multi-channel playback of the
recorded data is possible. Records images from up
to 16 cameras simultaneously in continues mode,
using schedule or in case of specified events.
• System has digital watermark.
• Each camera window has it's own calendar and
video player, selected time and date can be
observed easily.
• System has a frame level from 25 frame per
second to 400 frame per second.
• Easy management of user specified layouts.
• Video data compression format is Motion Wavelet.
Image size depends on resolution, color,
compression rate and detalization and varies from
2 to 80 KB.
• There are three levels of access to the system
structure configuration and object properties;
- System configuration and management
- System management
- Monitoring.
• Motion Wavelet compression algorithm provides
significantly higher image quality at smaller file
sizes of recorded images.
• System can detection of presence of moving
objects. Configuration of detection area can be
separated for every camera.
• Alarm recording is independent for every
camera,with specified pre and post-recording
periods.
• Video archives can be recorded by DVD or CD
Writers.
• System has recycle recording function.
• System has different reactions in alarm condition.
System can automatically send e-mails with
attached video images, automatic dialing by phone
in case of specified events with subsequent reading
of appropriate messages. Several modes are
avaible: phone is picked up, user answered or a
digital comformation is received.
•System has 2 channel voice.

* Your assessment is very important for improving the work of artificial intelligence, which forms the content of this project