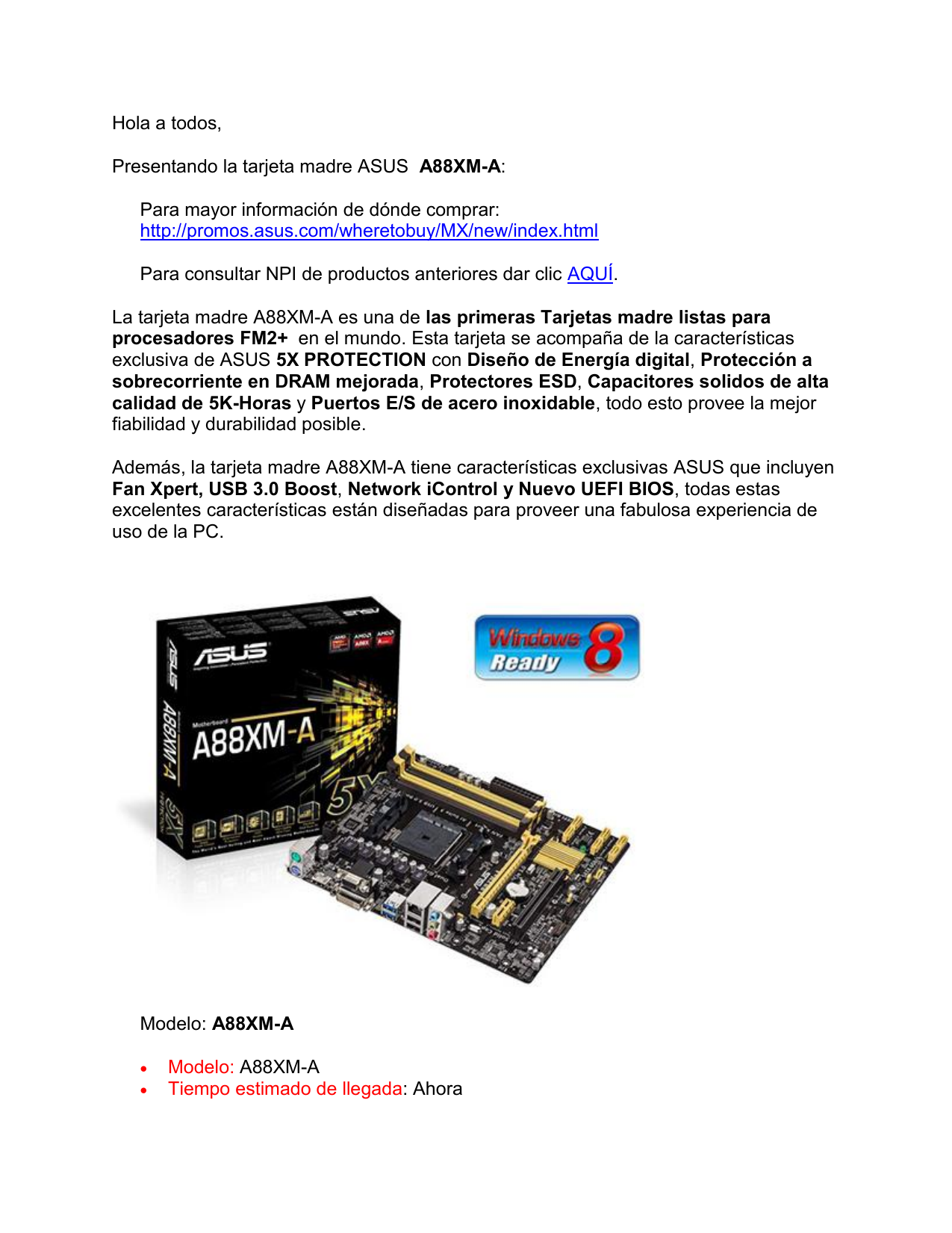 Hola a todos,
Presentando la tarjeta madre ASUS A88XM-A:
Para mayor información de dónde comprar:
http://promos.asus.com/wheretobuy/MX/new/index.html
Para consultar NPI de productos anteriores dar clic AQUÍ.
La tarjeta madre A88XM-A es una de las primeras Tarjetas madre listas para
procesadores FM2+ en el mundo. Esta tarjeta se acompaña de la características
exclusiva de ASUS 5X PROTECTION con Diseño de Energía digital, Protección a
sobrecorriente en DRAM mejorada, Protectores ESD, Capacitores solidos de alta
calidad de 5K-Horas y Puertos E/S de acero inoxidable, todo esto provee la mejor
fiabilidad y durabilidad posible.
Además, la tarjeta madre A88XM-A tiene características exclusivas ASUS que incluyen
Fan Xpert, USB 3.0 Boost, Network iControl y Nuevo UEFI BIOS, todas estas
excelentes características están diseñadas para proveer una fabulosa experiencia de
uso de la PC.
Modelo: A88XM-A


Modelo: A88XM-A
Tiempo estimado de llegada: Ahora







Link al sitio: http://www.asus.com/us/Motherboards/A88XMA/
Numero de parte: A88XM-A
Código UPC: 886227564026
Dimensiones: 10.2 x 10.6 x 2.03 pulgadas
Peso bruto: 2.12 libras
Cantidad por caja: 10
Garantía: 3 Años de garantía
[Tarjeta madre – A88XM-A]
Tarjeta madre socket FM2+ destacando 5X
Protection para mayor Resistencia y Nuevo UEFI
BIOS en chipset A88X
< Resumen especificaciones de Producto >




ASUS 5X Protection – Protección completa que provee la mejor calidad, fiabilidad y
durabilidad
USB 3.0 Boost (UASP Support) – 170% transferencias más rápidas que el USB 3.0
tradicional
New UEFI BIOS – Más amigable, mas fácil y mas intuitivo con información útil.
Network iControl – Manejo del ancho de banda de la red en tiempo real.
< Características Principales >
ASUS 5X PROTECTION
Las tarjetas madre ASUS salvaguardan tú PC con 5X PROTECTION: DIGI+ VRM,
fusibles en DRAM, Guardias ESD, Capacitores Solidos 5K-horas y Puertos E/S con
acero inoxidable que aseguran la mejor calidad, fiabilidad y durabilidad
DIGI+ VRM -> Preciso Control Energético: estabilidad Duradera. Ajuste dinámico y
menores temperaturas pueden aumentar significativamente la habilidad de overclock.
Fusibles en DRAM -> Protección mejorada a sobrecorriente en DRAM, prevención a daños
por corto circuito. El Polyswitch integrado (Fusible reseteable) previene daños por
corto circuito y sobre corriente. Esto se extiende más allá de los puertos E/S hacia la DRAM
para resguardar el tiempo de vida del sistema y sus dispositivos.
Guardias ESD -> Protección ESD mejorada, Tiempo de vida de los componentes extendida.
En las tarjetas madre, hay diminutos ICs cerca o alrededor de los puertos E/S o conectores
tal como USB/LAN/Video. Gracias a estos ICS de protección ESD de ASUS, las tarjetas
madre ASUS están libres de interferencia electroestática y daños.
Capacitores solidos 5K-Horas -> Las tarjetas madre ASUS utilizan capacitores ultra
durables de 5K Horas (5K Hrs. @ 105°C; 50K Hrs. @ 65°C) para mayor durabilidad, Tiempo
de vida aumentado, y rendimiento térmico mejorado.
Puertos E/S de acero inoxidable Extra Durable - > El panel trasero E/S de las tarjetas
Madre ASUS están hechos de acero inoxidable fuerte y resistente a la corrosión, el cual está
dotado de una fina capa de óxido de cromo para aumentar las propiedades anti corrosivas.
Pasando 72 horas en la prueba de resistencia al spray salino, el panel trasero E/S de acero
inoxidable de ASUS tienen un tiempo de uso tres veces mayor comparado con paneles
ordinarios.
ASUS USB 3.0 Boost (UASP Support)
170% transferencias más rápidas que el USB 3.0 tradicional
La tecnología ASUS USB 3.0 Boost soporte UASP (USB Attached SCSI Protocol) en Windows
8. Con la tecnología USB 3.0 Boost, la velocidad de transmisión de dispositivos USB
incrementa significativamente hasta un 170%, sumado al ya veloz USB 3.0. ASUS software
automáticamente acelera la transferencia de datos para periféricos USB 3.0 compatibles sin
la interacción del usuario.



Primero en el mundo con soporte USB 3.0 UASP – 170% más rápido al instante.
Completa solución USB 3.0 – Rendimiento incrementado en modo Turbo o modo
UASP para la mayoría de dispositivos USB.
Solo conecta y disfruta – auto detección asegura el mejor rendimiento.
Network iControl
Control de ancho de banda de la red en tiempo real
Con un solo clic del botón on/off, la aplicación en uso tiene sus datos y ancho de banda con
mayor prioridad sobre otros programas. Adicionalmente, puedes dar prioridad tu software
favorito fácilmente al configurar perfiles a través de la intuitiva interfaz de usuario. Dentro
de los perfiles, los programas pueden ser programados para tener prioridad dentro de un
periodo de tiempo específico para evitar congestiones de la red y largas esperas en las
descargas. En resumen, es un centro de control de la red intuitivo.
AI Suite III
Acceso en un solo lugar a las características innovadoras de ASUS
ASUS AI Suite 3 ofrece una nueva experiencia de usuario a través de interfaz más clara y
más atractiva con soporte a monitores más grandes. Consolida todas las características
exclusivas de ASUS en un paquete simple de usar, permitiéndote supervisar overclocking,
consume de energía, velocidad de ventiladores, voltajes y más. Esta aplicación todo-en-uno
ofrece funcionalidad fácil y diversa de usar, sin necesidad de estar intercambiando entre
diferentes utilidades.
New UEFI BIOS
Más amigable y más intuitivo! Exclusivo modo EZ que agrega información útil de
manera más simple!
El totalmente renovado UEFI BIOS de ASUS proporciona el BIOS gráfico con control de
mouse más fluido, y ahora con características más intuitivas para llevarte rápidamente a
tus páginas favoritas de BIOS y los valores frecuentemente usados a través de atajos
personalizados. Puedes incluso escribir notas rápidas en el BIOS para referencia futura, ve
un log de actividad de los cambios de valores y modificaciones, y renombra los puertos
SATA. El modo EZ tiene un look renovado, actualizado con capacidades extra amigables
como control detallado de ventiladores, perfiles XMP, información SATA, y ajuste rápido del
reloj. En conjunto, perfeccionan tu experiencia de BIOS.
ASUS FanXpert
Active Quiet & Cool
ASUS Fan Xpert te permite inteligentemente ajustar la velocidad de los ventiladores de CPU
y gabinete de acuerdo a las diferentes temperaturas ambiente causadas por diferentes
condiciones climáticas en diferentes regiones geográficas y en la carga de trabajo de tu PC.
La variedad de perfiles integrados ofrece control flexible de los ventiladores para lograr un
ambiente fresco y silencioso.
EPU
Eficiencia energética total y detallado control del consume de CPU
Accede al primer chip en el mundo de ahorro de energía para PC a través de la utilidad AI
Suite 3. Obtén optimización energética en el sistema total al detectar automáticamente la
carga de la PC actual e modera el consumo de energía inteligentemente. Puede reducir
directamente el consumo del CPU a un nivel indicado y manualmente cambiar al modo de
máximo ahorro de energía para un mejor ahorro energético, creando una PC más eficiente.
Exclusivo Modo Ausente* coloca tu Sistema en un estado de extreme ahorro de energía e
incluso apaga los puertos E/S sin uso mientras puede continuar descargando, streaming, y
respaldando el contenido mientras estas lejos de tu PC.
GreenASUS and ErP
Ready
Esta Tarjeta Madre cumple con las condiciones de la Unión Europea relacionada a
productos eléctricos, la cual pide a los productos que mantengan cierta eficiencia
energética para obtener cierto consumo de energía. Esto va acorde a la visión de ASUS de
crear productos amigables para el ambiente y eficientes a través de diseños e innovaciones
para reducir la marca de carbono y aminorar el impacto que tiene en el medio ambiente.
CPU
Chipset
Memory
AMD Socket FM2+ Athlon™/A- Series Processors
Supports CPU up to 4 cores
Supports AMD® Turbo Core 3.0 Technology
* Refer to www.asus.com for CPU support list
AMD A88X (Bolton D4)
4 x DIMM, Max. 64GB, DDR3 2133/1866/1600/1333 MHz Non-ECC, Unbuffered Memory
Dual Channel Memory Architecture
Support AMD Memory Profile (AMP) memory
* The Max. 64GB memory capacity can be supported with DIMMs of 16GB
(or above). ASUS will update QVL once the DIMMs are available on the
market.
* Hyper DIMM support is subject to the physical characteristics of individual
CPUs.
* Refer to www.asus.com for the Memory QVL (Qualified Vendors Lists).
* Due to OS limitation, when installing total memory of 4GB capacity or
more, Windows® 32-bit operation system may only recognize less than 3GB.
Install a 64-bit Windows® OS when you want to install 4GB or more memory
on the motherboard.
Graphic
Integrated AMD Radeon™ HD 7000/8000 Series Graphics in A-series APU
Multi-VGA output support : HDMI/DVI/RGB ports
- Supports HDMI with max. resolution 1920 x 1200 @ 60 Hz
- Supports DVI with max. resolution 2560 x 1600 @ 60 Hz
- Supports RGB with max. resolution 1920 x 1600 @ 60 Hz
Maximum shared memory of 2048 MB
AMD® Dual Graphics technology support *1
Expansion
Slots
1 x PCIe 3.0/2.0 x16 *2
1 x PCIe 2.0 x1
1 x PCI
AMD A88X FCH(Bolton D4) chipset :
6 x SATA 6Gb/s port(s), yellow
Support Raid 0, 1, 5, 10, JBOD
Storage
LAN
Audio
USB Ports
Realtek® 8111G, 1 x Gigabit LAN Controller(s)
Realtek® ALC887-VD 8-Channel High Definition Audio CODEC *3
- Supports : Jack-detection, Multi-streaming, Front Panel Jack-retasking
AMD A88X FCH(Bolton D4) chipset :
4 x USB 3.0/2.0 port(s) (2 at back panel, blue, 2 at mid-board)
6 x USB 2.0/1.1 port(s) (2 at back panel, black, 4 at mid-board)
Special
Features
ASUS 5X Protection :
- ASUS DIGI+ VRM - 3 + 2 Phase digital power design
- ASUS Enhanced DRAM Overcurrent Protection - Short circuit damage
prevention
- ASUS ESD Guards - Enhanced ESD protection
- ASUS High-Quality 5K-Hour Solid Capacitors - 2.5x long lifespan with
excellent durability
- ASUS Stainless Steel Back I/O - 3x more durable corrosion-resistant coating
ASUS EPU :
- EPU
ASUS Exclusive Features :
- AI Suite 3
- Ai Charger
- Anti-Surge
- ASUS UEFI BIOS EZ Mode featuring friendly graphics user interface
- Network iControl
- USB 3.0 Boost
- Disk Unlocker
ASUS Quiet Thermal Solution :
- Stylish Fanless Design Heat-sink solution
- ASUS Fan Xpert
ASUS EZ DIY :
- ASUS CrashFree BIOS 3
- ASUS EZ Flash 2
- ASUS MyLogo 2
ASUS Q-Design :
- ASUS Q-Slot
Operating
System
Support
Windows® 8 , 32bit/64bit
Windows® 7 , 32bit/64bit
Windows® XP , 32bit
Back I/O Ports
1 x PS/2 keyboard (purple)
1 x PS/2 mouse (green)
1 x DVI
1 x D-Sub
1 x HDMI
1 x LAN (RJ45) port(s)
2 x USB 3.0 (blue)
2 x USB 2.0
3 x Audio jack(s)
Internal I/O
Ports
1 x USB 3.0 connector(s) support(s) additional 2 USB 3.0 port(s)
2 x USB 2.0 connector(s) support(s) additional 4 USB 2.0 port(s)
1 x COM port(s) connector(s)
6 x SATA 6Gb/s connector(s)
1 x CPU Fan connector(s)
1 x Chassis Fan connector(s)
1 x S/PDIF out header(s)
1 x 24-pin EATX Power connector(s)
1 x 4-pin ATX 12V Power connector(s)
1 x Internal speaker connector(s)
1 x System panel(s)
Accessories
User's manual
I/O Shield
2 x SATA 6Gb/s cable(s)
BIOS
64 Mb Flash ROM, UEFI AMI BIOS, PnP, DMI2.0, WfM2.0, SM BIOS 2.6, ACPI
4.0a, Multi-language BIOS, ASUS EZ Flash 2, ASUS CrashFree BIOS 3, My
Favorites, Quick Note, Last Modified log, F12 PrintScreen, F3 Shortcut
functions and ASUS DRAM SPD (Serial Presence Detect) memory
information
Support Disc
Drivers
ASUS Utilities
ASUS Update
Anti-Virus Software (OEM Version)
mATX Form Factor
9.3 inch x 8.2 inch ( 23.6 cm x 20.8 cm )
Form Factor
Note
*1: Refer to http://www.amd.com/us/products/technologies/dualgraphics/Pages/dual-graphics.aspx#3 for the discrete GPUs which support
Dual Graphics technology.
*2: Only FM2+ Processors can support PCIe3.0.
*3: Use a chassis with HD audio module in the front panel to support an 8channel audio output.

* Your assessment is very important for improving the work of artificial intelligence, which forms the content of this project