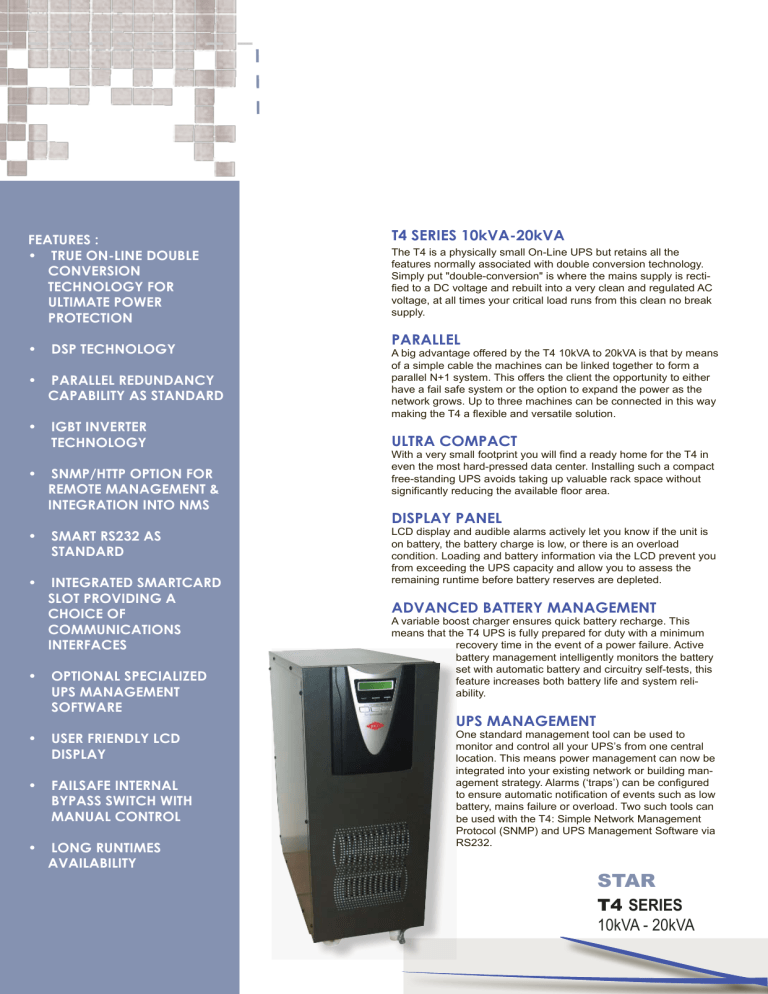 FEATURES :
• TRUE ON-LINE DOUBLE
CONVERSION
TECHNOLOGY FOR
ULTIMATE POWER
PROTECTION
•
DSP TECHNOLOGY
•
PARALLEL REDUNDANCY
CAPABILITY AS STANDARD
•
IGBT INVERTER
TECHNOLOGY
•
SNMP/HTTP OPTION FOR
REMOTE MANAGEMENT &
INTEGRATION INTO NMS
•
SMART RS232 AS
STANDARD
•
INTEGRATED SMARTCARD
SLOT PROVIDING A
CHOICE OF
COMMUNICATIONS
INTERFACES
•
OPTIONAL SPECIALIZED
UPS MANAGEMENT
SOFTWARE
•
USER FRIENDLY LCD
DISPLAY
•
FAILSAFE INTERNAL
BYPASS SWITCH WITH
MANUAL CONTROL
•
LONG RUNTIMES
AVAILABILITY
T4 SERIES 10kVA-20kVA
The T4 is a physically small On-Line UPS but retains all the
features normally associated with double conversion technology.
Simply put "double-conversion" is where the mains supply is rectified to a DC voltage and rebuilt into a very clean and regulated AC
voltage, at all times your critical load runs from this clean no break
supply.
PARALLEL
A big advantage offered by the T4 10kVA to 20kVA is that by means
of a simple cable the machines can be linked together to form a
parallel N+1 system. This offers the client the opportunity to either
have a fail safe system or the option to expand the power as the
network grows. Up to three machines can be connected in this way
making the T4 a flexible and versatile solution.
ULTRA COMPACT
With a very small footprint you will find a ready home for the T4 in
even the most hard-pressed data center. Installing such a compact
free-standing UPS avoids taking up valuable rack space without
significantly reducing the available floor area.
DISPLAY PANEL
LCD display and audible alarms actively let you know if the unit is
on battery, the battery charge is low, or there is an overload
condition. Loading and battery information via the LCD prevent you
from exceeding the UPS capacity and allow you to assess the
remaining runtime before battery reserves are depleted.
ADVANCED BATTERY MANAGEMENT
A variable boost charger ensures quick battery recharge. This
means that the T4 UPS is fully prepared for duty with a minimum
recovery time in the event of a power failure. Active
battery management intelligently monitors the battery
set with automatic battery and circuitry self-tests, this
feature increases both battery life and system reliability.
UPS MANAGEMENT
One standard management tool can be used to
monitor and control all your UPS's from one central
location. This means power management can now be
integrated into your existing network or building management strategy. Alarms ('traps') can be configured
to ensure automatic notification of events such as low
battery, mains failure or overload. Two such tools can
be used with the T4: Simple Network Management
Protocol (SNMP) and UPS Management Software via
RS232.
STAR
T4 SERIES
10kVA - 20kVA
SPECIFICATIONS
ST4100
ST4150
Topology
ST4200
True On-Line, Double Conversion
On-battery Waveform
Pure Sine Wave
Input
Maximum Capacity (kVA/kW)
10kVA/ 7kW
15kVA/ 10.5kW
Nominal Input Voltage
Input Voltage Regulation
304 ~ 478 VAC
Nominal Input Frequency
50/60 ± 4Hz
Input PFC
Input Short Protection
20kVA/ 14kW
380VAC Three Phase (3 Φ 4W + G)
≥0.95 @ full load
50A Circuit Breaker
100A Circuit Breaker
Output
Nominal Output Voltage
220/230/240 VAC Single Phase (1 Φ 2W + G)
Output Voltage Regulation
± 1%
Output T.H.D
≤2% THD (Linear Load), ≤6% THD(Non-Linear Load)
Efficiency – Normal Mode
88%
Efficiency – Battery Mode
88%
Crest Factor
3:1
Start on Battery
Yes
Overload Capability (Normal Mode)
Sustaining 10 min @ 105% ~ 130% load; 1sec @ > 130% load
Overload Capability (Battery Mode)
Shut down UPS after 10 sec @ > 150% load
Output Frequency
50/60 Hz ± 0.05 Hz (Battery Mode)
Battery
Battery Type
Sealed Lead-Acid maintenance-free 12VDC/7Ah per cell
Number of Batteries
40 cells
40 cells
40 cells
Typical Backup Time at Full Load
22 mins
15 mins
11 mins
Recharge Time to 90%
< 8 hours
Charger Current (Max)
4.2A *
Advanced Diagnostics
Front Panel
Indication – LCD
UPS Status, I/P Voltage & Frequency, O/P Voltage & Frequency,
Battery Voltage, Battery Capacity, Loading %, Temperature, History Alarm.
Front Panel Indication – LED
Normal (Green), Warning (Yellow), Fault (Red)
Audible Alarms
Battery Mode, Low Battery, Overload, Fault
Communication Interface
Communication Port
RS232 (Standard), DB9 or USB or AS400 or SNMP / HTTP (Optional)
SNMP Manageable
Yes
Environmental
Audible Noise
< 55dBA @ 1 meter
Mechanical
UPS Dimensions (W x H x D mm)
260 x 717 x 570
Battery Cabinet Dimensions
(W x H x D mm)
260 x 717 x 570
UPS Weight (kgs)
39
55
55
Battery Cabinet (w/battery) (kgs)
143
143
143
Total Weight (kgs)
182
198
198
* All T4 models can have up to 25A charging capabilities when connected in parallel with the ST-CHARGER external super
charger.
All information contained in this brochure is purely indicative and can not be used to form any contractual obligations.
Specification or design can be changed at anytime without prior notice.

* Your assessment is very important for improving the work of artificial intelligence, which forms the content of this project