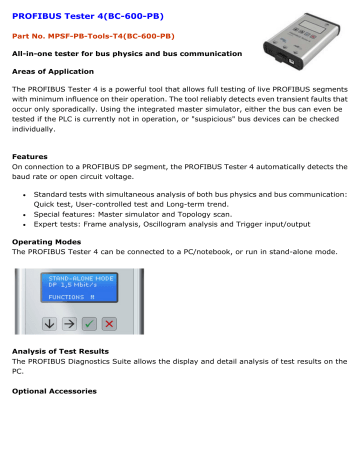 PROFIBUS Tester 4(BC-600-PB)
Part No. MPSF-PB-Tools-T4(BC-600-PB)
All-in-one tester for bus physics and bus communication
Areas of Application
The PROFIBUS Tester 4 is a powerful tool that allows full testing of live PROFIBUS segments
with minimum influence on their operation. The tool reliably detects even transient faults that
occur only sporadically. Using the integrated master simulator, either the bus can even be
tested if the PLC is currently not in operation, or "suspicious" bus devices can be checked
individually.
Features
On connection to a PROFIBUS DP segment, the PROFIBUS Tester 4 automatically detects the
baud rate or open circuit voltage.
•
•
•
Standard tests with simultaneous analysis of both bus physics and bus communication:
Quick test, User-controlled test and Long-term trend.
Special features: Master simulator and Topology scan.
Expert tests: Frame analysis, Oscillogram analysis and Trigger input/output
Operating Modes
The PROFIBUS Tester 4 can be connected to a PC/notebook, or run in stand-alone mode.
Analysis of Test Results
The PROFIBUS Diagnostics Suite allows the display and detail analysis of test results on the
PC.
Optional Accessories
•
D-sub to M12 adaptor set
(Part No.BC-600-PB-CB-M12)
Using the M12 adapter set, you can connect the PROFIBUS Tester
4 to field devices with M12 connectors. The set comprises an M12
adapter cable with special pin layout and an M12 terminating
resistor that you can screw on, if required.
•
External power supply kit
(Part No. BC-MOST-PB)
The portable power supply unit allows up to 4 hours of portable
operation. The power supply kit also includes a charger and a
carrying case.
Attention:
Mains connector type of charger station available for Europe only.
Additional information
•
Product information
•
Device manual
Professional article 〝One-Click Fieldbus Diagnostics〞
•
Advantages and Benefits
The PROFIBUS Tester 4 delivers highly reliable results that make it easy to identify, locate and
correct fieldbus problems. It is the first test tool that can clearly distinguish whether a
problem relates to a physical fault or defect, e.g. at cables or connectors, or to a
communication problem with the PLC or bus devices. The PROFIBUS Tester 4 also helps to
save commissioning time. In addition, regular preventive tests on the live bus ensure
continuous reliable operation and increase plant availability. Should a problem occur, the
PROFIBUS Tester 4 will quickly and reliably locate it to that unplanned system downtimes an
be reduced or even avoided altogether.

* Your assessment is very important for improving the work of artificial intelligence, which forms the content of this project