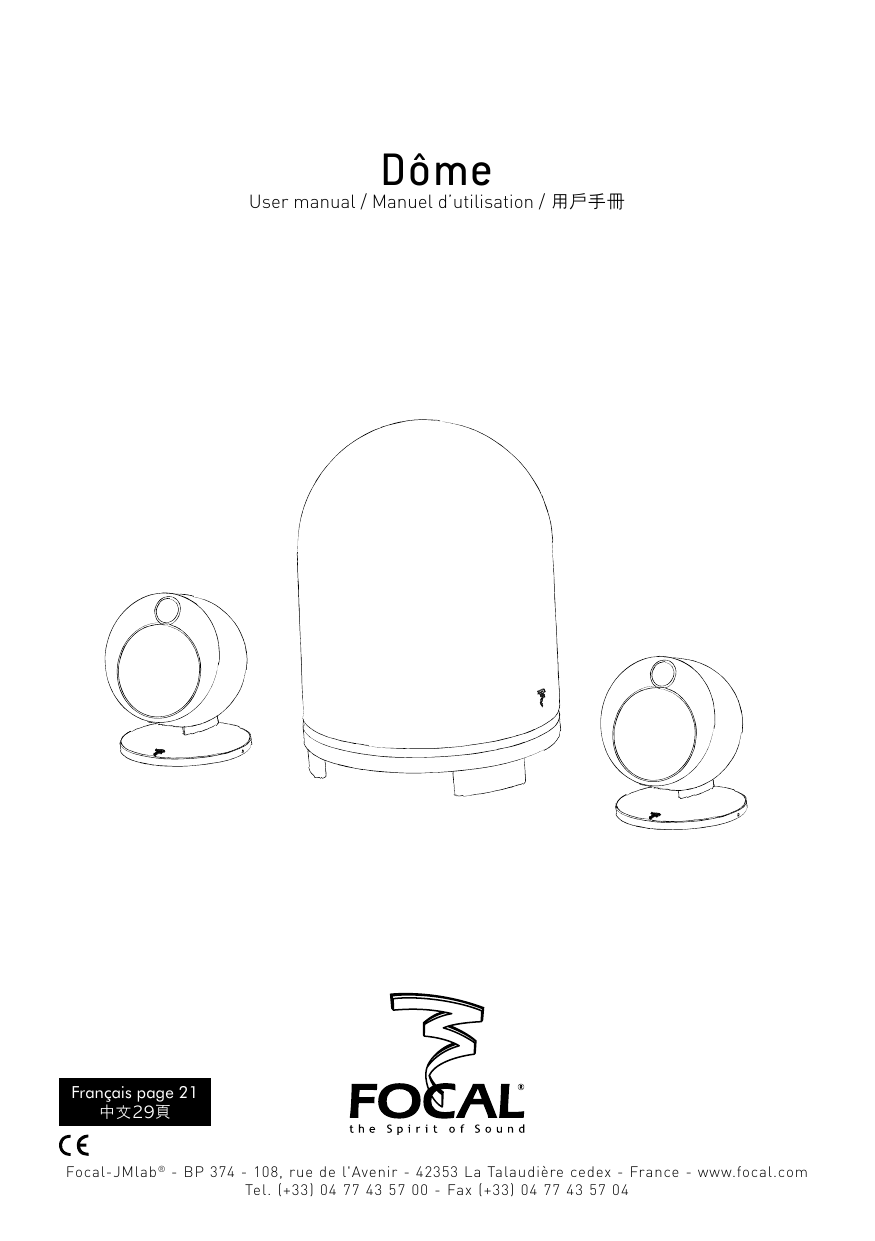 Dôme
User manual / Manuel d'utilisation / 用戶手冊
Français page 21
中文29頁
Focal-JMlab ® - BP 374 - 108, rue de l'Avenir - 42353 La Talaudière cedex - France - www.focal.com
Tel. (+33) 04 77 43 57 00 - Fax (+33) 04 77 43 57 04
Dôme
User manual
A
13
B
1 cm (0,5in)
C
Dôme
User manual
D
14
E
clac !
F
0/90°
G
H
Dôme
User manual
15
2.0/2.1
I
5.1
R
Center
L
Sub
SR
J
SL
Dôme
User manual
16
100/120°
K
> 60 cm (24")
L
M
Dôme
User manual
17
Dôme
User manual
18
Dôme Sat:
Position the crossover switch on Dôme.
Other speaker: Refer to specifications of speakers.
N
On:
Always ON
Auto: The POWER shuts down automatically after 5 mn
without input signal.
The POWER is automatically ON with input signal.
In case of a prolonged absence, we advise you to switch
the main power.
O
Dôme
User manual
P
Q
R
19
Dôme
User manual
20
Specifications
Dôme Sat
Dôme Sub
Type
2-way compact sealed speaker.
Active bass-reflex subwoofer.
Drivers
4" (10cm) Polyglass mid-bass.
8" (21cm) Polyflex woofer.
1" (25mm) Al/Mg inverted dome tweeter.
Frequency response (±3dB)
80Hz - 28kHz
39Hz - 170Hz
Low frequency point (-6dB)
72Hz
30 Hz
Sensitivity (2.83V/1m)
88dB
Nominale impedance
8Ohms
Minimum impedance
4Ohms
Crossover frequency
2500Hz
Recommended amplifier
power
25 - 100W
100W BASH® amplifier
Dimensions (HxWxD)
63/4x511/16x55/8"
(172x144x143mm)
153/4x107/8x107/8"
(400x276x276mm)
Net weight
4.2lbs (1.9kg)
22.2lbs (8.2kg)
Variable crossover 60Hz to 170Hz,
phase inverter 0°/180°,
Autopower,
LFE input.
Conditions of guarantee
All Focal-JMlab loudspeakers are covered by guarantee drawn up by the official Focal-JMlab distributor in your
country. Your distributor can provide all details concerning the conditions of guarantee. Guarantee cover extends at
least to that granted by the legal guarantee in force in the country where the original purchase invoice was issued.

* Your assessment is very important for improving the work of artificial intelligence, which forms the content of this project