JX210P Fax Unit Type Type Standard facsimile with Telephone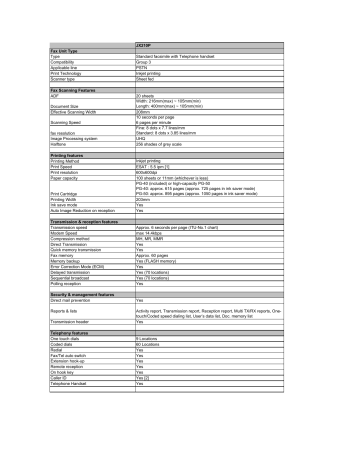 JX210P
Fax Unit Type
Type
Compatibility
Applicable line
Print Technology
Scanner type
Fax Scanning Features
ADF
Document Size
Effective Scanning Width
Scanning Speed
fax resolution
Image Processing system
Halftone
Printing features
Printing Method
Print Speed
Print resolution
Paper capacity
Standard facsimile with Telephone handset
Group 3
PSTN
Inkjet printing
Sheet fed
20 sheets
Width: 216mm(max) ~ 105mm(min)
Length: 400mm(max) ~ 105mm(min)
208mm
10 seconds per page
6 pages per minute
Fine: 8 dots x 7.7 lines/mm
Standard: 8 dots x 3.85 lines/mm
UHQ
256 shades of grey scale
Print Cartridge
Printing Width
Ink save mode
Auto Image Reduction on reception
Inkjet printing
ESAT : 5.5 ipm [1]
600x600dpi
100 sheets or 11mm (whichever is less)
PG-40 (included) or high-capacity PG-50
PG-40: approx. 615 pages (approx. 725 pages in ink saver mode)
PG-50: approx. 895 pages (approx. 1050 pages in ink saver mode)
203mm
Yes
Yes
Transmission & reception features
Transmission speed
Modem Speed
Compression method
Direct Transmission
Quick memory transmission
Fax memory
Memory backup
Error Correction Mode (ECM)
Delayed transmission
Sequential broadcast
Polling reception
Approx. 6 seconds per page (ITU-No.1 chart)
max 14.4kbps
MH, MR, MMR
Yes
Yes
Approx. 60 pages
Yes (FLASH memory)
Yes
Yes (70 locations)
Yes (70 locations)
Yes
Security & management features
Direct mail prevention
Yes
Transmission header
Activity report, Transmission report, Reception report, Multi TX/RX reports, Onetouch/Coded speed dialing list, User's data list, Doc. memory list
Yes
Telephony features
One touch dials
Coded dials
Redial
Fax/Tel auto switch
Extension hook-up
Remote reception
On hook key
Caller ID
Telephone Handset
9 Locations
60 Locations
Yes
Yes
Yes
Yes
Yes
Yes [2]
Yes
Reports & lists
Built-in answering machine
Built-in answering machine
Type
Total recording time
Number of messages
Max time per message
OGM
Remote operation
Time stamp
Message back-up
Call screening
Toll saver
Copier Features
Mono Copy
Copy Resolution
Copy Speed (mono)
Multiple copy
Display type
Display Size
Display languages
General Features
Dimensions with handset and without tray
Weight
Power Source
Power consumption
No
N/a
N/a
N/a
N/a
N/a
N/a
N/a
N/a
N/a
N/a
Yes
Print 600x600 dpi, scan 8dots ×7.7 lines /mm
ESAT : 4.5 ipm [3]
Up to 99 copies
LCD
16x1
16 languages
( English, German, French, Spanish, Italian, Swedish,
Norwegian, Dutch, Finnish, Danish, Portuguese, Slovenian,
Czech, Hungarian, Russian, Polish )
approx W400 x D269 x H174mm
approx. 4.1kg
AC 200-240V 50-60Hz
Approx. 0.9W (Off), 1.7W (sleep), 39W (Maximum)
Footnotes
Print speed may vary depending on system configuration, interface, software,
document complexity, print mode, page coverage etc. and does not take account
[1] data processing time on host computer.
Document print speed on plain paper is measured on the test standard of
ISO/IEC FCD 24734.
To use this feature, you will need to subscribe for a Caller ID service (only
available in some countries). The Caller ID feature uses the ETSI EN 300 778-1
[2]
protocol. Contact your local telephone company for detailed information on this
service.
Copy speed may vary depending on document complexity, copy mode, page
coverage etc. and does not take into account warming up time.
[3]
FSOT and ESAT ADF copy speed on plain paper is measured on the test
standard of ISO/IEC FCD 24735.

* Your assessment is very important for improving the work of artificial intelligence, which forms the content of this project