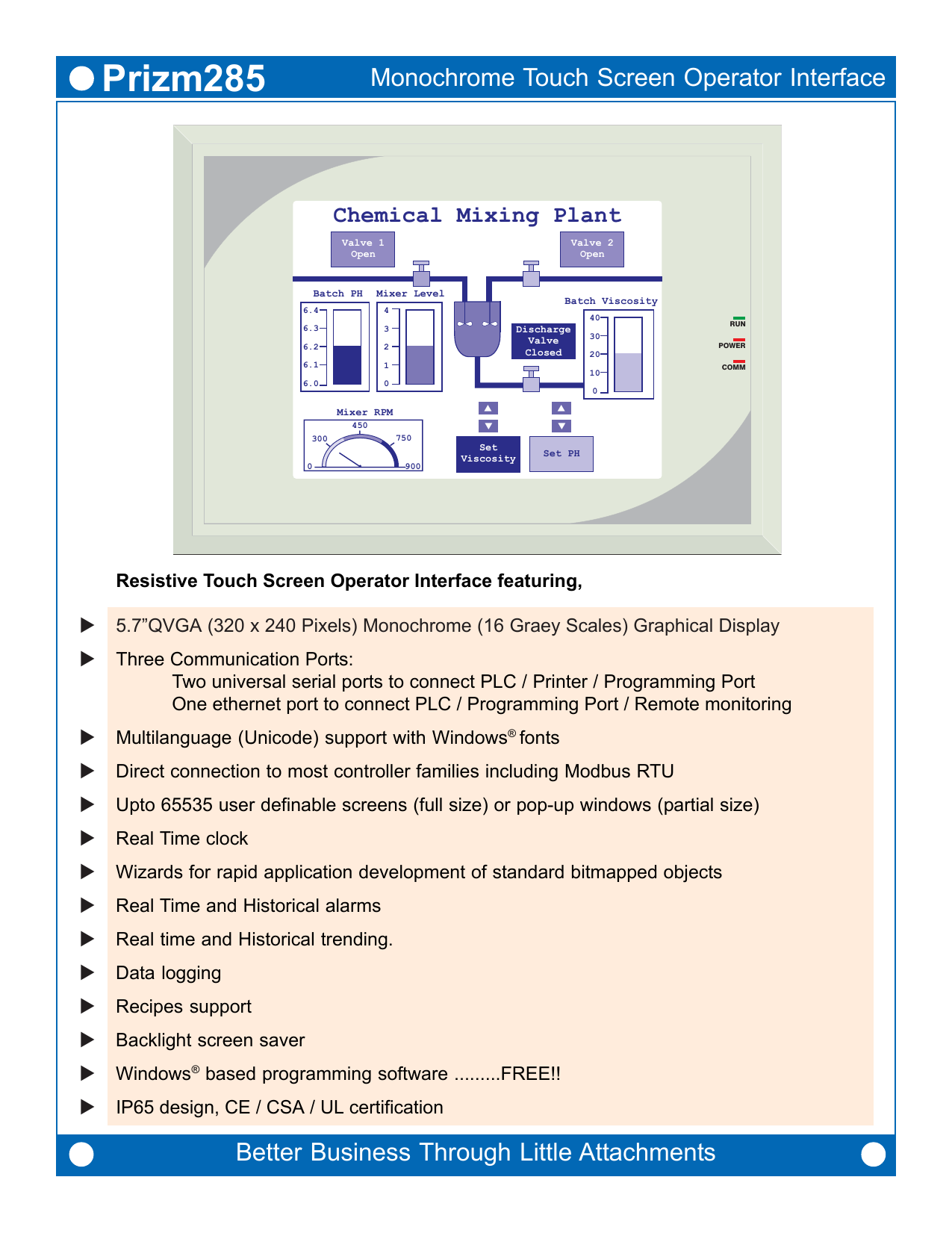 Prizm285
Monochrome Touch Screen Operator Interface
Chemical Mixing Plant
Valve 1
Open
Batch PH
Valve 2
Open
Mixer Level
6.4
4
6.3
3
Batch Viscosity
40
6.2
2
6.1
1
6.0
0
Discharge
Valve
Closed
RUN
30
POWER
20
10
COMM
0
0
q
450
300
q
Mixer RPM
q
q
Set
Viscosity
Set PH
750
900
Resistive Touch Screen Operator Interface featuring,
!
5.7"QVGA (320 x 240 Pixels) Monochrome (16 Graey Scales) Graphical Display
!
Three Communication Ports:
Two universal serial ports to connect PLC / Printer / Programming Port
One ethernet port to connect PLC / Programming Port / Remote monitoring
!
Multilanguage (Unicode) support with Windows® fonts
!
Direct connection to most controller families including Modbus RTU
!
Upto 65535 user definable screens (full size) or pop-up windows (partial size)
!
Real Time clock
!
Wizards for rapid application development of standard bitmapped objects
!
Real Time and Historical alarms
!
Real time and Historical trending.
!
Data logging
!
Recipes support
!
Backlight screen saver
!
Windows® based programming software .........FREE!!
!
IP65 design, CE / CSA / UL certification
Better Business Through Little Attachments
Specifications
Power
Bezel
Operating Temperature *
Storage Temperature
Touch Screen
Humidity
Communication Ports
:
:
:
:
:
:
:
+ 24V DC + 10%, 10 W max.
IP 65 rated Touch Screen
O
O
0 C to 50 C
O
O
-20 C to 80 C
Analog resistive type
10% to 90% (Non-Condensing)
Two serial ports. PLC port for
connecting to a PLC. Second
port for programming of
Prizm, connecting to a serial
printer, a third party device
and another PLC or drive.
Dimensions
Immunity to ESD
Immunity to Transients
Immunity to Radiated RF
Immunity to Conducted RF
Emissions
In-Rush Current
:
:
:
:
:
:
Level 3 as per IEC1000-4-2
Level 3 as per IEC1000-4-4
Level 3 as per IEC1000-4-3
Level 3 as per IEC1000-4-6
EN55011 CISPR A
1A
Ordering Options
All dimensions are
Panel
Gasket
Example:
PZM-285-24-G
12345
126
139
197
184
12345
12345
Mount
Clamp
Model
Gray Case
12345
Bezel
58
Units are also available with Black case. Replace suffix 'G' by 'B' in
unit part number for Black case.
Standard Objects
Prizm285 supports different types of objects that can be defined on the screen. Partial list of objects is as mentioned below:
Text
User can define messages, alarms in simple text format. Four selectable
font sizes are available for simple text objects (1x, 1.5x, 2x and 4x). Alarm
objects can show alarm text, ON / OFF text, status etc.
Buttons
Various types of buttons are provided in prizm setup software required
for different applications. Tasks can be assigned to these buttons such
as wizard control, alarm management etc.
Fonts
True type fonts are supported in Prizm. User can now, use Windows®
fornts as well as Prizm fonts for text messages.
Bargraphs
Prizm Touch Panels support different types of bargraphs like, top to
bottom, bottom to top, left to right and right to left to denote parameters
such as temperature, pressure, level etc. Multiple bargraphs are possible
on one screen.
Lamps
Different types of lamps are provided in Prizm set up software to show
conditions like alarms, go, no-go, ON, OFF etc. User defined images are
possible for lamps.
Analog Meters
Multiple analog meters are made available in prizm setup software for
graphical representation of parameters such as speed, level, temperature,
electrical parameters etc. These analog meters can have different user
defined scales.
Vector Graphics
Different vector graphics such as rectangle, ellipse, lines, circle, etc are
available for users to design graphic screens.
Factory:
Renu Electronics Pvt Ltd.
S.No. 2/6, Baner Road,
Pune 411045, India.
Tel: + 91 20 2729 2840, Fax: + 91 20 2729 2839
Email: [email protected]
Website: www.renuelectronics.com
(Specifications subject to change without prior notice, DS-Prizm285: Rev.5E)
Pop-up Screens / Keypads
Prizm Touch Panels come with pop-up keypads such as numeric keypad
which optimizes the use of Prizm display.
Bitmaps
Different bitmaps can be embedded on the Prizm screen. Transparent
buttons can be used for data entry and set points on bitmap images.
More objects are being added. Contact factory for details.

* Your assessment is very important for improving the work of artificial intelligence, which forms the content of this project