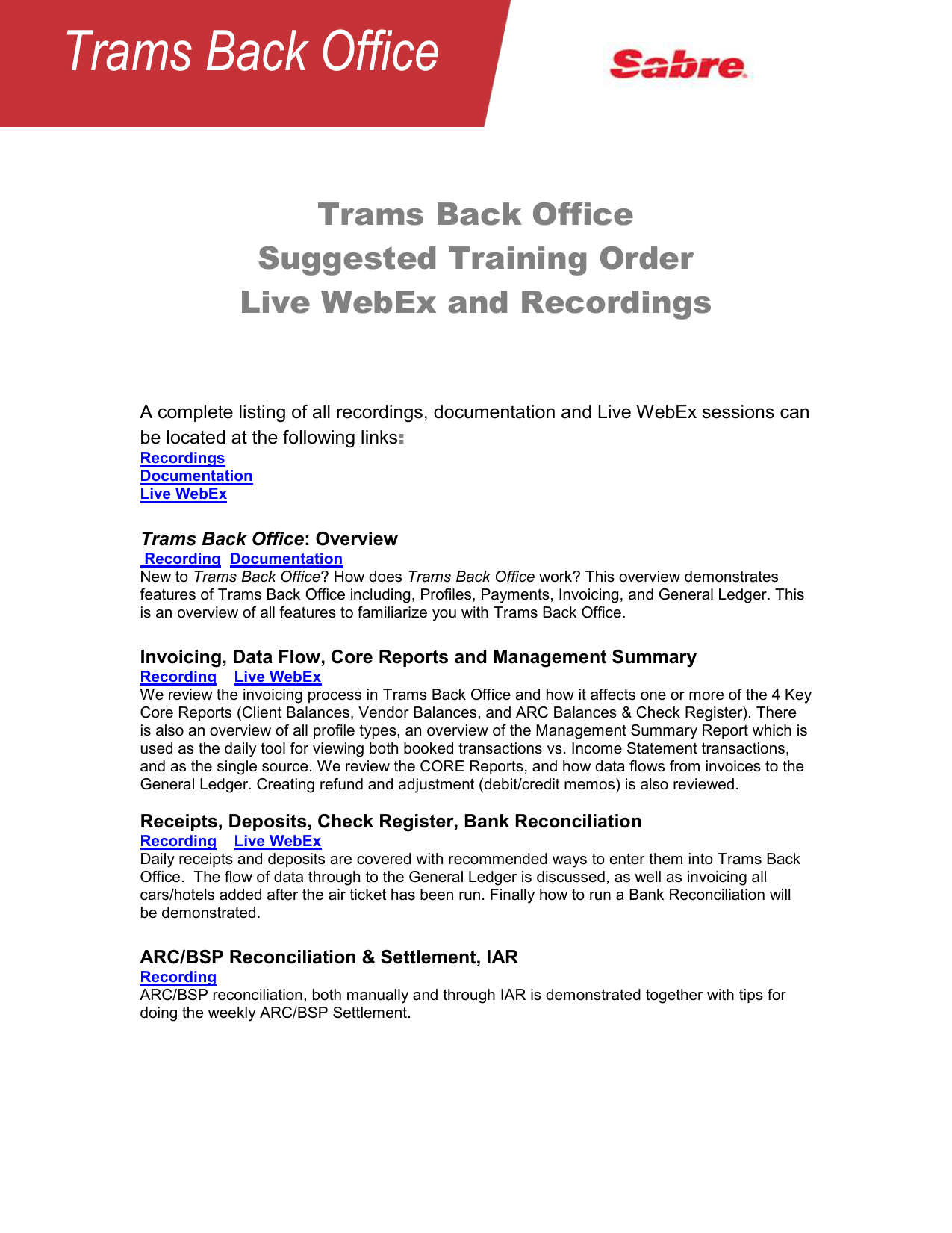 Trams Back Office
Trams Back Office
Suggested Training Order
Live WebEx and Recordings
A complete listing of all recordings, documentation and Live WebEx sessions can
be located at the following links:
Recordings
Documentation
Live WebEx
Trams Back Office: Overview
Recording Documentation
New to Trams Back Office? How does Trams Back Office work? This overview demonstrates
features of Trams Back Office including, Profiles, Payments, Invoicing, and General Ledger. This
is an overview of all features to familiarize you with Trams Back Office.
Invoicing, Data Flow, Core Reports and Management Summary
Recording Live WebEx
We review the invoicing process in Trams Back Office and how it affects one or more of the 4 Key
Core Reports (Client Balances, Vendor Balances, and ARC Balances & Check Register). There
is also an overview of all profile types, an overview of the Management Summary Report which is
used as the daily tool for viewing both booked transactions vs. Income Statement transactions,
and as the single source. We review the CORE Reports, and how data flows from invoices to the
General Ledger. Creating refund and adjustment (debit/credit memos) is also reviewed.
Receipts, Deposits, Check Register, Bank Reconciliation
Recording Live WebEx
Daily receipts and deposits are covered with recommended ways to enter them into Trams Back
Office. The flow of data through to the General Ledger is discussed, as well as invoicing all
cars/hotels added after the air ticket has been run. Finally how to run a Bank Reconciliation will
be demonstrated.
ARC/BSP Reconciliation & Settlement, IAR
Recording
ARC/BSP reconciliation, both manually and through IAR is demonstrated together with tips for
doing the weekly ARC/BSP Settlement.
Advanced Payments
Recording Live WebEx
Learn more about payments in Trams Back Office. An overview of the latest payment screens is
presented along with vouchers, unapplied payments, and the usage of payment codes. We also
review the Global Setting, and Vendor and Client Settings areas in the payment screens .
Payment Import
Recording Quick Steps Recording
The Payment Import menu is an efficient method of importing a file to match, modify and close
invoices for commissions an agency receives. We will discuss who provides these Trams Back
Office compatible files, how to access the files, and what criteria Trams Back Office uses to find a
match with the agency's database
Using Agency Credit Card
Recording Live WebEx Documentation
This class will cover how to account for the use of the agency credit card to pay vendors for client
reservations. Using the agency credit card to pay for group expenses and using the agency credit
card to pay for agency expenses (cash and accrual). Paying the agency credit card bill when
there is a credit balance
General Ledger, General Ledger Reconciliation, EOP, Budget & Agency
Operations Checklist
Recording Live WebEx
The G/L Reconciliation Report is used as a tool for detecting and correcting system errors before
attempting to balance the Core Reports to the G/L Trial Balance Accounts. This report in
combination with the End of Period close is explained with its effect on data entry and financial
statements. When and why to post is also covered. A review of monthly financial statements and
reports is discussed with a review of agency daily, weekly and monthly checklists. Finally,
creating budget entries is demonstrated.
Setting up Agent Profiles, Agent Reporting, and Reconciliation
Recording Live WebEx Documentation
Setting up of agent profiles is reviewed, as well as agent commission tracking and agent
reporting. We also review using the agent reconciliation feature in Trams Back Office.
Management Reports
Recording Live WebEx
This class demonstrates how to use reports to manage your agency accounting routine.
Preparing a daily, weekly and monthly routine using Core reports, using the Agent Statement,
and other reports are demonstrated.
Reporting Simplified Using Report Generator
Recording Live WebEx
Class highlights many of the useful features of Report Generator including a review of creating a
custom report, canned reports and batch reporting.

* Your assessment is very important for improving the work of artificial intelligence, which forms the content of this project