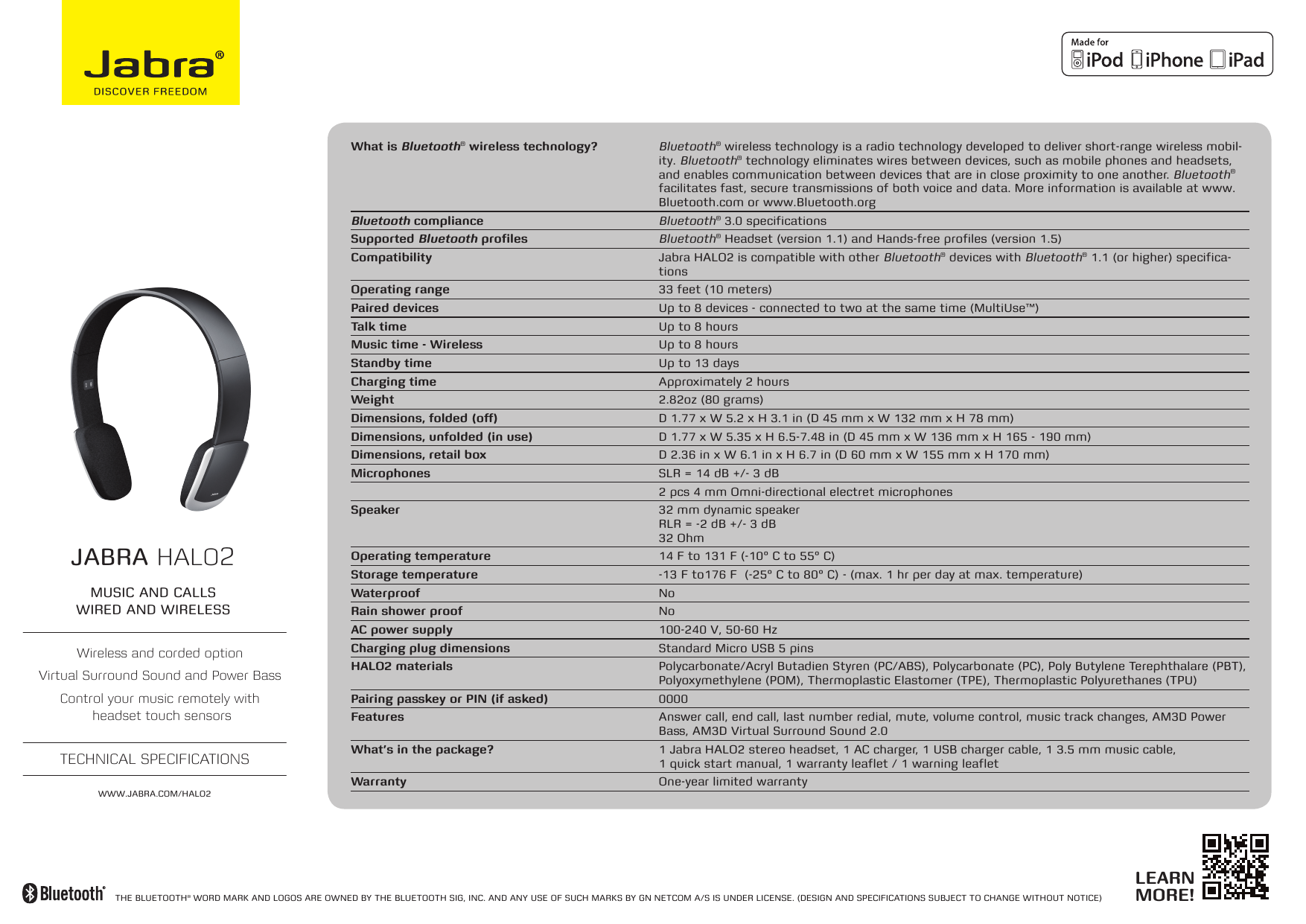 What is Bluetooth® wireless technology?
JABRA HALO2
MUSIC AND CALLS
WIRED AND WIRELESS
Wireless and corded option
Virtual Surround Sound and Power Bass
Control your music remotely with
headset touch sensors
TECHNICAL SPECIFICATIONS
WWW.JABRA.COM/HALO2
Bluetooth® wireless technology is a radio technology developed to deliver short-range wireless mobility. Bluetooth® technology eliminates wires between devices, such as mobile phones and headsets,
and enables communication between devices that are in close proximity to one another. Bluetooth®
facilitates fast, secure transmissions of both voice and data. More information is available at www.
Bluetooth.com or www.Bluetooth.org
Bluetooth compliance
Bluetooth® 3.0 specifications
Supported Bluetooth profiles
Bluetooth® Headset (version 1.1) and Hands-free profiles (version 1.5)
Compatibility
Jabra HALO2 is compatible with other Bluetooth® devices with Bluetooth® 1.1 (or higher) specifications
Operating range
33 feet (10 meters)
Paired devices
Up to 8 devices - connected to two at the same time (MultiUse™)
Talk time
Up to 8 hours
Music time - Wireless
Up to 8 hours
Standby time
Up to 13 days
Charging time
Approximately 2 hours
Weight 2.82oz (80 grams)
Dimensions, folded (off)
D 1.77 x W 5.2 x H 3.1 in (D 45 mm x W 132 mm x H 78 mm)
Dimensions, unfolded (in use)
D 1.77 x W 5.35 x H 6.5-7.48 in (D 45 mm x W 136 mm x H 165 - 190 mm)
Dimensions, retail box
D 2.36 in x W 6.1 in x H 6.7 in (D 60 mm x W 155 mm x H 170 mm)
Microphones
SLR = 14 dB +/- 3 dB
2 pcs 4 mm Omni-directional electret microphones
Speaker
32 mm dynamic speaker
RLR = -2 dB +/- 3 dB
32 Ohm
Operating temperature 14 F to 131 F (-10° C to 55° C)
Storage temperature
-13 F to176 F (-25° C to 80° C) - (max. 1 hr per day at max. temperature)
WaterproofNo
Rain shower proofNo
AC power supply
100-240 V, 50-60 Hz
Charging plug dimensions
Standard Micro USB 5 pins
HALO2 materials
Polycarbonate/Acryl Butadien Styren (PC/ABS), Polycarbonate (PC), Poly Butylene Terephthalare (PBT),
Polyoxymethylene (POM), Thermoplastic Elastomer (TPE), Thermoplastic Polyurethanes (TPU)
Pairing passkey or PIN (if asked)0000
Features
Answer call, end call, last number redial, mute, volume control, music track changes, AM3D Power
Bass, AM3D Virtual Surround Sound 2.0
What's in the package?
1 Jabra HALO2 stereo headset, 1 AC charger, 1 USB charger cable, 1 3.5 mm music cable,
1 quick start manual, 1 warranty leaflet / 1 warning leaflet
Warranty One-year limited warranty
THE BLUETOOTH® WORD MARK AND LOGOS ARE OWNED BY THE BLUETOOTH SIG, INC. AND ANY USE OF SUCH MARKS BY GN NETCOM A/S IS UNDER LICENSE. (DESIGN AND SPECIFICATIONS SUBJECT TO CHANGE WITHOUT NOTICE)
LEARN
MORE!

* Your assessment is very important for improving the work of artificial intelligence, which forms the content of this project