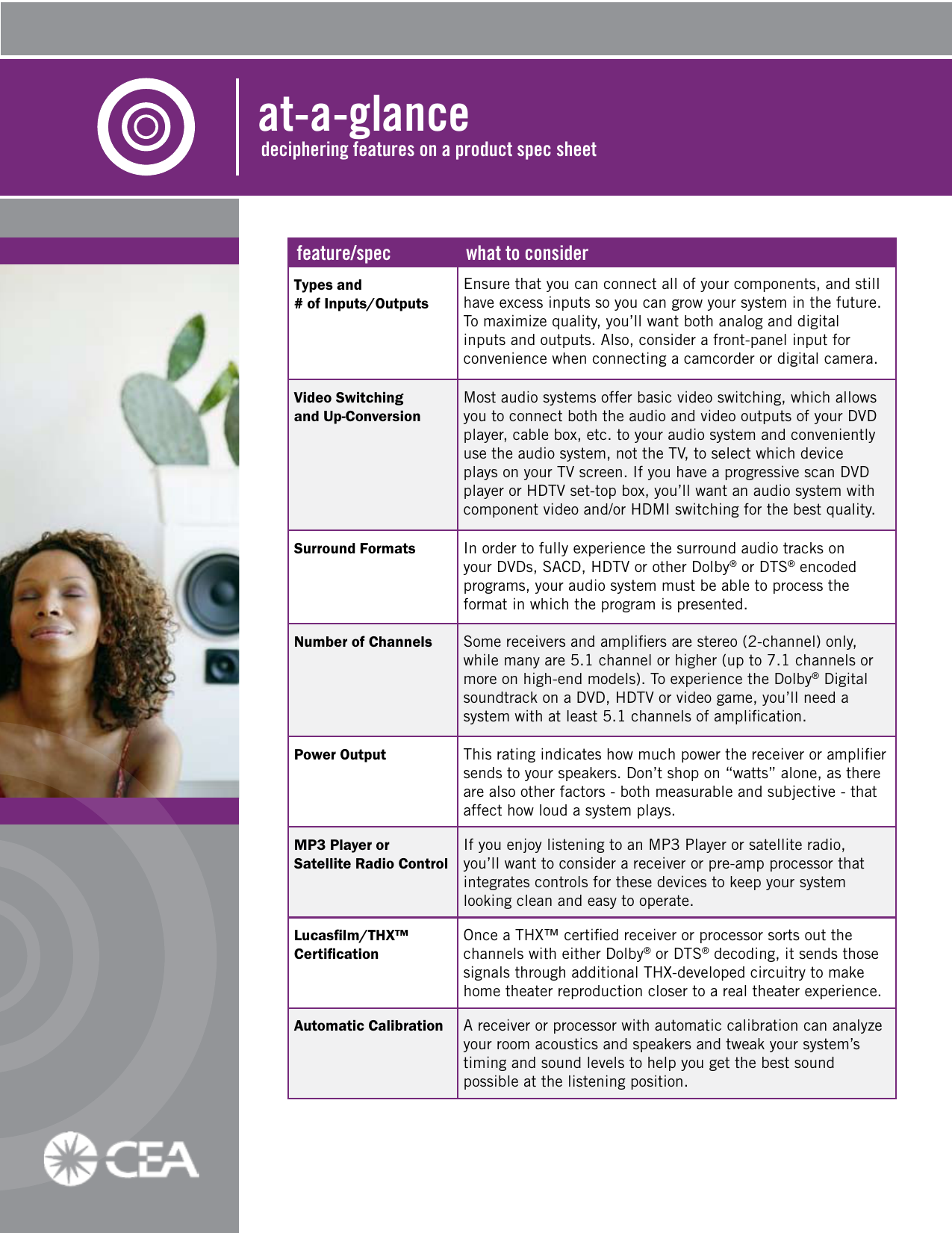 at-a-glance
deciphering features on a product spec sheet
feature/spec
what to consider
Types and
# of Inputs/Outputs
Ensure that you can connect all of your components, and still
have excess inputs so you can grow your system in the future.
To maximize quality, you'll want both analog and digital
inputs and outputs. Also, consider a front-panel input for
convenience when connecting a camcorder or digital camera.
Video Switching
and Up-Conversion
Most audio systems offer basic video switching, which allows
you to connect both the audio and video outputs of your DVD
player, cable box, etc. to your audio system and conveniently
use the audio system, not the TV, to select which device
plays on your TV screen. If you have a progressive scan DVD
player or HDTV set-top box, you'll want an audio system with
component video and/or HDMI switching for the best quality.
Surround Formats
In order to fully experience the surround audio tracks on
your DVDs, SACD, HDTV or other Dolby® or DTS® encoded
programs, your audio system must be able to process the
format in which the program is presented.
Number of Channels
Some receivers and amplifiers are stereo (2-channel) only,
while many are 5.1 channel or higher (up to 7.1 channels or
more on high-end models). To experience the Dolby® Digital
soundtrack on a DVD, HDTV or video game, you'll need a
system with at least 5.1 channels of amplification.
Power Output
This rating indicates how much power the receiver or amplifier
sends to your speakers. Don't shop on "watts" alone, as there
are also other factors - both measurable and subjective - that
affect how loud a system plays.
If you enjoy listening to an MP3 Player or satellite radio,
MP3 Player or
Satellite Radio Control you'll want to consider a receiver or pre-amp processor that
integrates controls for these devices to keep your system
looking clean and easy to operate.
Lucasfilm/THX™
Certification
Once a THX™ certified receiver or processor sorts out the
channels with either Dolby® or DTS® decoding, it sends those
signals through additional THX-developed circuitry to make
home theater reproduction closer to a real theater experience.
Automatic Calibration
A receiver or processor with automatic calibration can analyze
your room acoustics and speakers and tweak your system's
timing and sound levels to help you get the best sound
possible at the listening position.

* Your assessment is very important for improving the work of artificial intelligence, which forms the content of this project