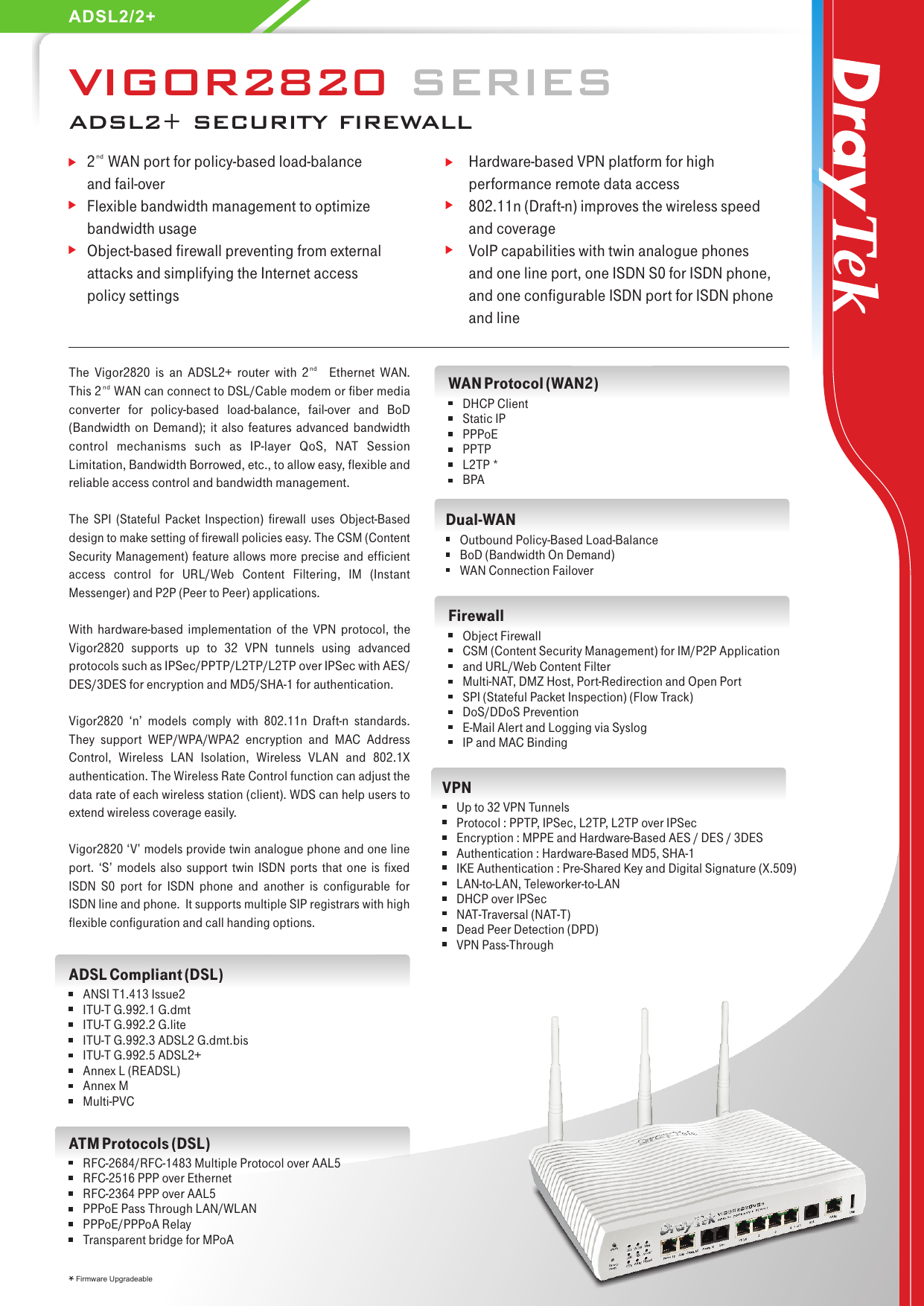 ADSL2/2+
VIGOR2820 SERIES
ADSL2+ SECURITY FIREWALL
2 WAN port for policy-based load-balance
and fail-over
Flexible bandwidth management to optimize
bandwidth usage
Object-based firewall preventing from external
attacks and simplifying the Internet access
policy settings
nd
The Vigor2820 is an ADSL2+ router with 2 nd Ethernet WAN.
This 2 nd WAN can connect to DSL/Cable modem or fiber media
converter for policy-based load-balance, fail-over and BoD
(Bandwidth on Demand); it also features advanced bandwidth
control mechanisms such as IP-layer QoS, NAT Session
Limitation, Bandwidth Borrowed, etc., to allow easy, flexible and
reliable access control and bandwidth management.
The SPI (Stateful Packet Inspection) firewall uses Object-Based
design to make setting of firewall policies easy. The CSM (Content
Security Management) feature allows more precise and efficient
access control for URL/Web Content Filtering, IM (Instant
Messenger) and P2P (Peer to Peer) applications.
With hardware-based implementation of the VPN protocol, the
Vigor2820 supports up to 32 VPN tunnels using advanced
protocols such as IPSec/PPTP/L2TP/L2TP over IPSec with AES/
DES/3DES for encryption and MD5/SHA-1 for authentication.
Vigor2820 'n' models comply with 802.11n Draft-n standards.
They support WEP/WPA/WPA2 encryption and MAC Address
Control, Wireless LAN Isolation, Wireless VLAN and 802.1X
authentication. The Wireless Rate Control function can adjust the
data rate of each wireless station (client). WDS can help users to
extend wireless coverage easily.
Vigor2820 'V' models provide twin analogue phone and one line
port. 'S' models also support twin ISDN ports that one is fixed
ISDN S0 port for ISDN phone and another is configurable for
ISDN line and phone. It supports multiple SIP registrars with high
flexible configuration and call handing options.
ADSL Compliant (DSL)
ANSI T1.413 Issue2
ITU-T G.992.1 G.dmt
ITU-T G.992.2 G.lite
ITU-T G.992.3 ADSL2 G.dmt.bis
ITU-T G.992.5 ADSL2+
Annex L (READSL)
Annex M
Multi-PVC
ATM Protocols (DSL)
RFC-2684/RFC-1483 Multiple Protocol over AAL5
RFC-2516 PPP over Ethernet
RFC-2364 PPP over AAL5
PPPoE Pass Through LAN/WLAN
PPPoE/PPPoA Relay
Transparent bridge for MPoA
Firmware Upgradeable
Hardware-based VPN platform for high
performance remote data access
802.11n (Draft-n) improves the wireless speed
and coverage
VoIP capabilities with twin analogue phones
and one line port, one ISDN S0 for ISDN phone,
and one configurable ISDN port for ISDN phone
and line
WAN Protocol (WAN2)
DHCP Client
Static IP
PPPoE
PPTP
L2TP *
BPA
Dual-WAN
Outbound Policy-Based Load-Balance
BoD (Bandwidth On Demand)
WAN Connection Failover
Firewall
Object Firewall
CSM (Content Security Management) for IM/P2P Application
and URL/Web Content Filter
Multi-NAT, DMZ Host, Port-Redirection and Open Port
SPI (Stateful Packet Inspection) (Flow Track)
DoS/DDoS Prevention
E-Mail Alert and Logging via Syslog
IP and MAC Binding
VPN
Up to 32 VPN Tunnels
Protocol : PPTP, IPSec, L2TP, L2TP over IPSec
Encryption : MPPE and Hardware-Based AES / DES / 3DES
Authentication : Hardware-Based MD5, SHA-1
IKE Authentication : Pre-Shared Key and Digital Signature (X.509)
LAN-to-LAN, Teleworker-to-LAN
DHCP over IPSec
NAT-Traversal (NAT-T)
Dead Peer Detection (DPD)
VPN Pass-Through
ADSL2/2+
VIGOR2820 SERIES
ADSL2+ SECURITY FIREWALL
VoIP
Bandwidth Management
Protocol: SIP, RTP/RTCP
One Dozen SIP Registrars
G.168 Line Echo-Cancellation
Automatic Gain Control
Jitter Buffer (180ms)
Voice codec:
G.711, G.723.1, G.726, VAD / CNG, iLBC
DTMF Tone :
In band / Out band (RFC-2833) / SIP Info
FAX/Modem Support :
Tone detection / G.711 Pass-Through / T.38 for FAX
Supplemental Services :
Internal Call
Call Hold/Retrieve / Waiting
Call Waiting with Caller ID
Call Transfer
Call Forwarding (Always, Busy and No Answer)
Call Barring (Incoming / Outgoing)
DND (Do Not Disturb)
MWI (Message Waiting Indicator) (RFC-3842)
Hotline
ISDN Loop-Through (VS model with TE mode only)
ISDN On-Net/Off-Net (VS model with TE mode only)
Two MSN (Multiple Subscriber Numbers) on each
ISDN S0 port for VoIP call (for VS model)
Dial Plan :
Phone Book
Digit Map
QoS :
Guarantee bandwidth for VoIP
Class-based bandwidth guarantee by user-defined traffic
categories
DiffServ Code Point classifying
4-level priority for each direction (Inbound/Outbound)
Bandwidth borrowed
Bandwidth/Session limitation
Network Feature
Port-based VLAN
DHCP Client / Relay / Server
IGMP Pproxy
Dynamic DNS
NTP Client
Call Scheduling
RADIUS Client
DNS Cache/Proxy
UPnP
Routing protocol:
Static routing
RIP V2
Network Management
Web-Based User Interface (HTTP/HTTPS)
Quick Start Wizard
CLI (Command Line Interface, Telnet/SSH)
Administration Access Control
Configuration Backup / Restore
Built-in Diagnostic Function
Firmware Upgrade via TFTP / FTP / HTTP
Logging via Syslog
SNMP Management MIB-II
Three-Level Management (by project)
TR-069
TR-104
Wireless AP
IEEE802.11n Compliant
Wireless Client List
Wireless LAN Isolation
64/128-bit WEP
WPA/WPA2
Hidden SSID
MAC Address Access Control
Access Point Discovery
WDS (Wireless Distribution System)
802.1x Authentication
Multiple SSID
Wireless Rate-Control
WMM (Wi-Fi Multimedia)
Model Comparison Chart
ISDN
VoIP
Euro ISDN Compatible
Automatic ISDN Backup
Support 64/128Kbps (multilink-PPP)/BOD (Bandwidth On Demand)
Remote Dial-In/LAN-to-LAN connection
Remote Activation
Virtual TA
Bypass the right and left ISDN port during power cut
(if the left ISDN port is NT)
ISDN
Wireless AP
Vigor2820
Vigor2820n
Vigor2820Vn
Vigor2820VS
Vigor2820VSn
Wireless Security
* WPA/ WPA2
* 64/128-bit WEP Encryption
* MAC Address Blocking
* Hidden SSID
* 802.1x Authentication
Internet
ISP 1
Interior line
ISDN Phone
Internet
Analouge Phone
Exterior line
ISP 2
ISDN PBX
VoIP
991-9282000-00
Trademarks and brand names are the properties of their respective owners.
Dual-WAN
The scope of delivery and other details are subject to change without prior notice.

* Your assessment is very important for improving the work of artificial intelligence, which forms the content of this project