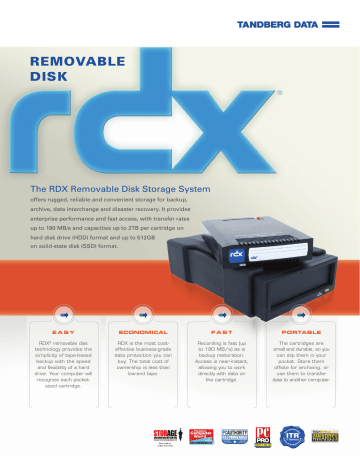 REMOVABLE
DISK
The RDX Removable Disk Storage System
offers rugged, reliable and convenient storage for backup,
archive, data interchange and disaster recovery. It provides
enterprise performance and fast access, with transfer rates
up to 180 MB/s and capacities up to 2TB per cartridge on
hard disk drive (HDD) format and up to 512GB
on solid-state disk (SSD) format.
EASY
ECONOMICAL
FAST
PORTABLE
RDX® removable disk
technology provides the
simplicity of tape-based
backup with the speed
and flexibility of a hard
drive. Your computer will
recognize each pocketsized cartridge.
RDX is the most costeffective business-grade
data protection you can
buy. The total cost of
ownership is less than
low-end tape.
Recording is fast (up
to 180 MB/s) as is
backup restoration.
Access is near-instant,
allowing you to work
directly with data on
the cartridge.
The cartridges are
small and durable, so you
can slip them in your
pocket. Store them
offsite for archiving, or
use them to transfer
data to another computer.
IV
PROTECT YOUR DATA
THE RIGHT DATA
STORAGE
RDX protects the following:
The key to helping businesses
protect their data is a reliable
storage solution like RDX
removable disk technology.
> Remote offices
> Small businesses
> Individual networks
> Workstations and servers
> Personal data
SOME
RD X INDUSTRY
SEGMENTS
>Security
>Medical
>Video/Audio/Photo
>Education
>Manufacturing
>Commercial
>Financial
>Government
>Broadcast
>Legal
>Transportation
> Real Estate
>Retail
> Food Service
RDX provides the following
customer benefits:
RDX BENEFITS
RDX is perfect to safeguard the > Fast Access
Blistering disk-based speed and
mission-critical data of businesses
access, and near-instant file retrieval
that must work with limited
> Budget-Friendly
budgets and resources.
Cost-effective solution that suits all
sectors from SOHO users to small to
medium sized businesses
> Flexible
With a choice of blazing fast USB 3.0
SuperSpeed and SATA, users can fit the
RDX solution to their requirements
> Convenient & Secure
Provides the convenience of tape with
the ability to take off-site copies for
archiving and peace of mind
> Rugged and Tough
The cartridges last over 10 years and
are rugged and shockproof to ensure
they remain in perfect working order
CASE
STUDIES
''
RDX media allows customers
to implement data protection best
practices by rotating cartridges
to provide layers of unlimited
protection.
Today, backups are quick and painless
Recovery is even quicker. I can meet
compliance regulations, avoid managerial
headaches, and have a bullet-proof
backup system with the RDX. I'm now
free to focus on what I do best, which is
to deliver results for my patients—and
relieve their pain as much as possible."
Dr. Rick Nalin, Dentist
WITH RDX
DID YOU KNOW?
> RDX comes in multiple high capacities in HDD and SSD formats
> RDX drives and media shipments increase each year
> RDX has been adopted by major OEMs to replace low-end tape
> RDX is an excellent replacement for aging low-end
storage technologies
> RDX customers typically use a 3-cartridge rotation system
> RDX technology allows users to retrieve files in milliseconds
> RDX media can be safely archived for at least 10 years
> RDX is compatible with all popular backup applications
> RDX provides offsite protection for both physical and virtual
server environments
RDX vs. TAPE: A COMPARISON CHART
WORLDWIDE
FEATURE
RDX
AIT-5
LTO-4
A C C E P TA N C E
Capacity (Native)
Up to 2TB
36GB
160GB
400GB
800GB
Future Roadmap
Yes
No
No
No
Yes
180 MB/s
3 MB/s
12 MB/s
12 MB/s
120 MB/s
<1sec.
40 sec.
50 sec.
45 sec.
60 sec.
No need
Yes
Yes
Yes
Yes
been shipped worldwide
5,000
50
100
100
200
since 2007.
Performance (Native)
Access Time (sec/avg)
Cleaning Cartridge
Cartridge Usage
"
DAT72 DAT320
With RDX, we also
know we can continue to scale our
capacity by adding additional cartridges.
The IT consultant made a good call for
us—RDX is easy-to-use, cost effective,
and fast; it's an excellent match for
our operation."
Ed Stephan,
VP of Design & Technology,
Orr Felt Company
"
THE replaced tape
We
ORR FELT
drives
with RDX, a
COMPANY
reliable, durable and
portable solution,
perfectly adapted for our small and
medium-size business customers. This
solution combines ease of use, durability,
low cost, high transfer rates and direct
access to files, as well as scalability of the
capacities available on the hard drive."
Jean-Pierre*,
Busschaert, Les Systèmes Canacomp Inc.
*Installed RDX into a McDonald's® Restaurant.
More than 600,000
RDX drives and 2 million
RDX media units have
RDX Facts
RDX is a removable disk-based
technology for data backup and archive
R DX T E C HN O L O G Y R O ADM AP
applications. RDX combines all the features
of tape (removability, portability, long archive
life, cartridge automation) with all the benefits
of hard disk (high performance, random
access, high reliability and low cost).
A typical RDX customer switches to RDX
from tape drives, fixed disk drives, USB, DVD
or external hard drives for superior data
protection, disaster recovery, long-term
storage and data interchange.
RDX offers much higher data rate and
instant file access, as well as lower cost
compared to popular tape formats.
RDX is completely forward and
backward compatible which means all
future RDX cartridges will work with today's
docks, and all future RDX drives will work
with today's cartridges.
RDX is fast and designed to
sustain data transfers up to
180 MB/sec. RDX provides instant
le access and dramatically
faster data backups and restores
of critical files.
"
The growing number of
major OEMs offering RDX
removable disk technology is a
strong indication of its market
acceptance."
Randy Kerns,
Industry Analyst
Evaluator Group
RDX cartridge capacities
range from 320GB to 2TB in
HDD format and from 64GB to 512GB in SSD
format—all on a single cartridge.
R D X ® Q U I K S TAT I O N ™
New data protection appliances, based on RDX,
provide fast, easy and automated backup
and recovery operations with the added bonus
of removability for off-site archive.
RDXBenefits_APAC_2014
RDX is a registered trademark of Tandberg Data. All rights reserved.

* Your assessment is very important for improving the work of artificial intelligence, which forms the content of this project