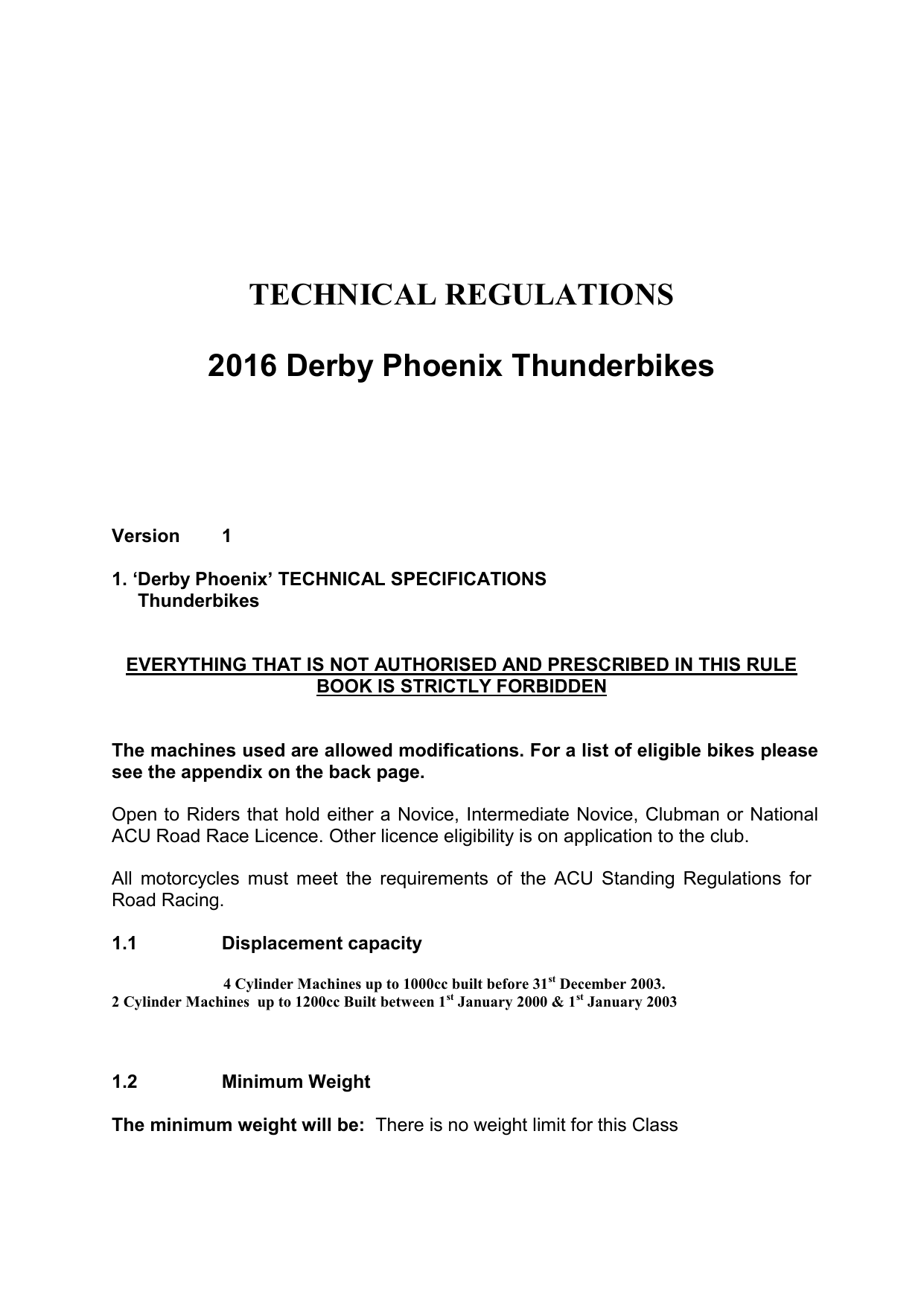 TECHNICAL REGULATIONS
2016 Derby Phoenix Thunderbikes
Version
1
1. 'Derby Phoenix' TECHNICAL SPECIFICATIONS
Thunderbikes
EVERYTHING THAT IS NOT AUTHORISED AND PRESCRIBED IN THIS RULE
BOOK IS STRICTLY FORBIDDEN
The machines used are allowed modifications. For a list of eligible bikes please
see the appendix on the back page.
Open to Riders that hold either a Novice, Intermediate Novice, Clubman or National
ACU Road Race Licence. Other licence eligibility is on application to the club.
All motorcycles must meet the requirements of the ACU Standing Regulations for
Road Racing.
1.1
Displacement capacity
4 Cylinder Machines up to 1000cc built before 31st December 2003.
2 Cylinder Machines up to 1200cc Built between 1 st January 2000 & 1st January 2003
1.2
Minimum Weight
The minimum weight will be: There is no weight limit for this Class
The use of titanium in the construction of the front forks, the handlebars and the
wheel spindles is forbidden. For wheel spindles, the use of light alloys is also
forbidden.
1.3
Number Plate Colours
Thunderbike Open - White Background, Black Numbers.
Sizes and positioning as per ACU regulations
1.4
Fuel
All engines must be able to function on normal unleaded fuel (95 octane RON)
available from the majority of normal filling stations open to the general public and
pumped on the forecourt or E85 Bio-ethanol pump fuels
The maximum octane rating permissible is 102 RON.
The use of an octane boosting additive is strictly not allowed
Specifically excluded fuel is AVGAS.
1.5
Machine Specifications
All items not mentioned in the following articles must remain as originally
produced by the Manufacturer for that model. The date of the frame
manufacture is used as a base date for the machine eligibility.
1.5.1 Frame Body and Rear sub frame
The main frame may only be altered by the addition of gussets or tubes
.
All motorcycles must display a vehicle identification number on the mainframe
body (chassis number). If no number is displayed an application for eligibility
must be made to the Chief Technical Officer before the start of the meeting
Rear sub frame may be may be modified or replaced
The paint scheme or chassis paint colour is not restricted.
Engine mounting brackets or plates may be modified or replaced
Additional crash protectors may be added
1.5.2 Front Forks
Forks structure – Forks and Yokes are Free
Steering damper may be added or replaced with an after-market damper.
The steering damper cannot act as a steering lock limiting device.
1.5.3 Rear Fork (Swing arm)
Rear Fork structure – Rear Fork is Free
For safety reasons, it is compulsory to use a chain guard fitted in such a way
to reduce the possibility that any part of the rider's body should become
trapped between the lower chain run and the rear wheel sprocket.
1.5.4 Rear Suspension Unit
Rear suspension unit (shock absorber) may be modified or replaced.
The rear ride height adjuster may be modified or replaced.
The rear suspension linkage may be modified or replaced
Rear suspension unit spring may be replaced
1.5.5 Wheels
Wheels are free, provided they remain the same size as those for the machine
when originally fitted. Carbon wheels are not allowed.
1.5.6 Brakes
Front and rear brake discs may be changed. (No carbon or ceramics allowed)
Front and rear brake calipers may be replaced
.
The front master cylinder is free.
Rear master cylinder is free.
Front and rear hydraulic brake lines may be changed.
The brake fluid reservoir may be replaced and/or repositioned.
The split of the front brake lines for both front brake calipers must be made above
the lower fork bridge (lower triple clamp).
Front and rear brake pads may be changed.
1.5.7 Tyres
Thunderbike Open - Slicks, treaded and full wets are all allowed
1.5.8 Foot Rest / Foot Controls
Foot rest/foot controls may be relocated but brackets must be mounted to the frame
at the original mounting points. The two original points of fixture (for the footrest,
foot-controls and on the shift shaft) must remain as original.
Footrests may be rigidly mounted or a folding type which must incorporate a device
to return them to the normal position.
The end of the footrest must have at least an 8 mm solid spherical radius.
Non-folding metallic footrests must have an end (plug) which is permanently fixed,
made of Plastic, Aluminium, Teflon® or an equivalent type material (minimum radius
8mm).
1.5.9 Handle Bars and Hand Controls
Handle bars and handle bar controls may be replaced.
Handle bars and hand controls may be relocated.
Clutch and brake levers may be exchanged.
Engine stop switch must be located on the handle bars.
1.5.10
Fairing / Bodywork
Motorcycles that were not originally equipped with streamlining are allowed to
add streamlining.
The colour scheme is free.
The original combination instrument/fairing brackets may be replaced.
other fairing brackets may be altered or replaced.
All
The lower fairing has to be constructed to hold, in case of an engine
breakdown, at least half of the total oil and engine coolant capacity used in the
engine (minimum 4 litres). The lower edge of the openings in the fairing must
be positioned at least 50 mm above the bottom of the fairing.
Front mudguards may be replaced and may be spaced upward for increased
tyre clearance.
All Motorcycles MUST retain standard bodywork silhouette. Tall & Double
Bubble screens are permitted.
1.5.11 Fuel Tank
Fuel tanks must be either OEM OR made of steel or aluminum.
Fuel tanks with tank breather pipes must be fitted with non-return valves
As per the ACU rule book
1.5.12 Seat
Seat, seat base and associated bodywork may be replaced.
All exposed edges must be rounded.
1.5.13 Wiring Harness
The wiring harness is free.
1.5.14 Battery
Free
1.5.15 Air Box
The air box can be removed or modified
The air filter element may be removed, modified or replaced.
The oil breather line must be connected and discharge into a separate tank.
1.5.16 Fuel System
Fuel Injection
The fuel injection bodies may be changed
The amount and type of Injectors may be changed
Carburettors
Inlet manifolds can be modified. The use of Short Manifolds is allowed
Carburettor jets, slide spring and needles may be replaced.
The slide metering holes may be changed.
Bell mouths can be changed.
The use of Smoothbore type carburettors is allowed
1.5.17
Fuel Supply
Quick connectors or dry break quick connectors may be used.
Fuel vent lines may be replaced.
Fuel filters may be added, re-positioned or removed
1.5.18
Cylinder Head
Material may be added to or removed from the cylinder head.
The valve, valve seats, guides, and springs may be modified or replaced
1.5.19
Camshaft
Modifications are Free.
1.5.20
Cam Sprockets / Pulleys
Modifications are Free.
1.5.21
Crankshaft
Modifications are Free
1.5.22
Oil Pumps and Oil Lines
Pump modifications are allowed.
Oil lines may be modified or replaced. Oil lines containing positive pressure, if
replaced, must be of metal reinforced construction with swaged or threaded
connectors.
If not already standard equipment an oil cooler may be fitted.
1.5.23
Connecting Rods
May be replaced
1.5.24 Pistons
Pistons may be replaced or modified
1.5.25 Piston Rings
Piston rings may be replaced.
1.5.26 Piston Pins and Clips
Piston pins and clips may be replaced.
1.5.27 Cylinders
Cylinders can be bored and replated subject to the capacity limit
The cylinder head and base gaskets may be changed.
1.5.28 Crankcase and Alternator Case
No modifications are allowed (including lightening). Repair by welding to areas
damaged by a chain breakage will be allowed providing they are oil tight.
The crankcase/gearbox casing, ignition, clutch and generator covers may be
protected by additional means i.e. protective covers made of stainless steel or
carbon Kevlar® composites.
Engine case guards in the form of strengthened engine side covers may be
installed. These covers must be constructed of the same material and be no
lighter in weight than the standard material.
DP Classic Superbike Championship has a Measured Horsepower Limit of
130BHP.
1.5.29 Transmission / Gearbox
Additions to gearbox or selector mechanism, such as quick shift systems, are
allowed.
Countershaft sprocket, rear wheel sprocket, chain pitch and size can be
changed.
Transmission/gearbox ratios are Free
1.5.30 Clutch
Friction and drive discs may be changed.
Clutch springs may be changed.
The clutch basket (outer) may be replaced.
The Clutch Centre (inner) may be changed
The clutch casing can be changed or modified
The use of electro-mechanical or electro-hydraulic actuating systems are not allowed
The original clutch assembly may be modified or replaced with an aftermarket back
torque limiting unit (slipper type).
1.5.31
Ignition/Engine Control System
Ignition/engine control system (ECU) may be modified or changed
The use of flash memory ('flash RAM') for fuel injection mapping is allowed. An
additional control unit to change the fuel mixture may be fitted.
1.5.32
Flywheel, Generator, alternator, electric starter
The charging system may be removed or modified.
The electric start system may be removed or modified.
1.5.33
Exhaust System
Exhaust pipes and silencers may be changed or modified.
For safety reasons, the exposed edges of the exhausts pipe(s) outlet must be
rounded to avoid any sharp edges.
The noise limit is as specified in the relevant ACU rulebook.
1.5.34
Fasteners
Standard fasteners may be replaced with fasteners of any material and design.
The strength and design must be equal to or exceed the strength of the standard
fastener it is replacing, if it is part of the structural integrity of the machine.
1.6.1
The following items MAY be altered or replaced from those fitted
to the homologated motorcycle:
Any type of lubrication, brake or suspension fluid may be used.
Any type of spark plug.
Any inner tube (if fitted) or inflation valves may be used.
Wheel balance weights may be discarded, changed or added to.
If used Wheel balance weights must be suitably taped.
Gaskets and gasket materials.
Instrument and instrument bracket and associated cables.
Painted external surface finishes and decals.
1.6.2 The following items MAY be removed:
Tachometer.
Speedometer.
Chain guard
Bolt on accessories on a rear sub frame.
1.6.3 The following items MUST be removed:
Headlamp and rear lamp.
Turn signal indicators (when not incorporated in the fairing). The openings in
the fairing must be covered by a suitable material.
Rear-view mirrors.
Horn.
Licence plate bracket.
Toolbox.
Helmet hooks and luggage carrier hooks.
Passenger foot rests.
Passenger grab rails if bolted on to the chassis.
Safety bars, centre and side stands must be removed (fixed brackets must
remain).
1.6.4 The following items MUST be altered:
Motorcycles must be equipped with a functional ignition kill switch or button
mounted on either side of the handlebar (within reach of the hand while on the
hand grips) that is capable of stopping a running engine.
Throttle controls must be self closing when not held by the hand.
All motorcycles must have a closed breather system. The oil breather line
must be connected and discharge into a catch tank.
Where an oil breather pipe is fitted, the outlet must discharge into a catch tank
located in an easily accessible position and which must be emptied before the
start of a race.
Oil cooler must not be mounted on or above the rear mudguard.The minimum
size of a catch tank shall be as specified in the ACU Handbook
1.6.5
Additional Equipment
Additional equipment not on the original motorcycle may be added. Such as data
acquisition computers, fuel injection aids, lap timing equipment, traction control
systems, recording equipment, Quick-shifters etc
An exception to this rule is Cameras, which may be added according to the ACU
rules, whereby the written permission of the Clerk of the Course is required and the
safety of its installation checked by the Scrutineers
As per ACU Regulations a safety light must be fitted for wet races. A switch must be
fitted to turn the safety light on whilst seated in the riding position.
1.6.5
Superbike Machine Eligibility List Example With Exceptions
Example Of Eligible Machines.
Honda Fireblade upto 954cc
Suzuki GSXR1000 upto 2003
Yamaha R1 upto 2003
Kawasaki ZX9R upto 2003
Ducati 998/999
Aprilia Mille Gen 2 RSVR1000
All Bikes must retain standard Bore & Stroke.
2.1.1 Compliance Control
At the end of the race, the series organisers can request that all classified
motorcycles are placed in a parc-fermé for a period of at least 30 minutes.
Any motorcycle can be checked for compliance with these rules, and any
other technical requirement, if requested by a representative of the series
organisers or the Meetings Chief Technical Officer
The series organisers may require a rider or team to provide such parts or
samples as they deem necessary without the need to resort to the ACU
protest procedure.
2.1.2 Conflicts with other rule-books
In the event that there is a conflict between this rule book and the ACU
technical regulations, the ACU technical regulations have priority.
2.1.3
Protest Procedure
In case of a dispute concerning the interpretation of these rules, or the
conformity of any parts, the decision of the series organisers will be final.
In the event that a RIDER wishes to protest another entrant's bike, they must
make that protest known to the Steward or Clerk of the Course within 30
minutes of the end of a race.
All RIDER protests will be investigated under the process defined within the
ACU handbook.
RIDER Protests will only be investigated after the payment of a deposit (as
defined in the ACU handbook for that year) that will be returned if the protest
is upheld. If the protest is in relation to the eligibility of an engine and
disassembly of the engine is required, the rider submitting the protest will pay
the appropriate fee as defined in the ACU handbook for that year.
Appendix 1
At the discretion of the Clerk of the Course any machine may be selected for an
unofficial capacity check.
This check will be made without recourse to dismantling the engine. Typically by
using a measured amount of engine oil poured into one or more cylinders of the
engine or by any other means chosen.
Refusal to present a machine for measurement will be construed as an admission of
attempting to compete with an oversize engine.
The displacement must remain within 25cc(4 cylinder), 50cc (2 cylinder), of the
original design for the engine concerned allowing for rebore repairs. Measurement
results will be made public.