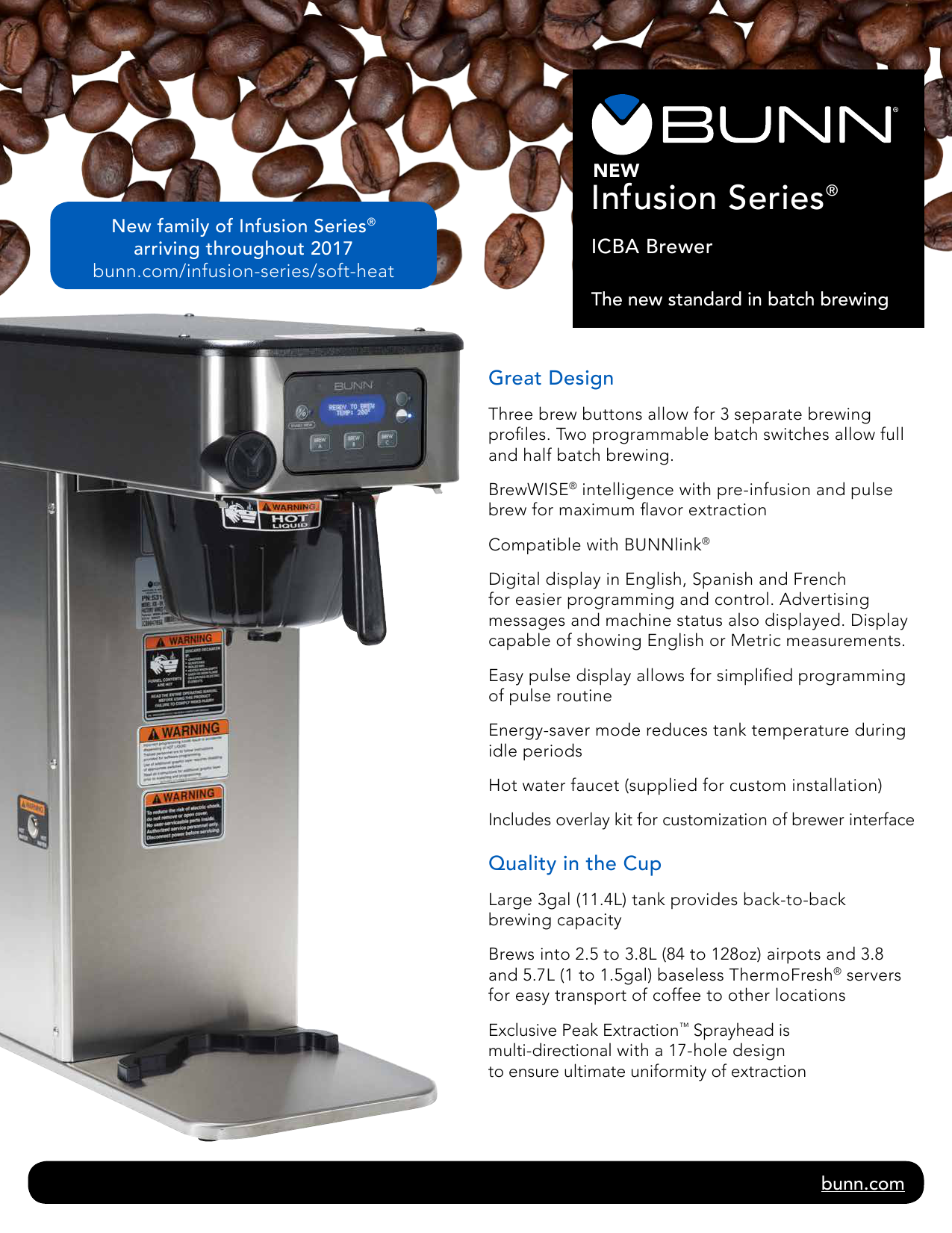 NEW
New family of Infusion Series®
arriving throughout 2017
bunn.com/infusion-series/soft-heat
Infusion Series®
ICBA Brewer
The new standard in batch brewing
Great Design
Three brew buttons allow for 3 separate brewing
profiles. Two programmable batch switches allow full
and half batch brewing.
BrewWISE® intelligence with pre-infusion and pulse
brew for maximum flavor extraction
Compatible with BUNNlink®
Digital display in English, Spanish and French
for easier programming and control. Advertising
messages and machine status also displayed. Display
capable of showing English or Metric measurements.
Easy pulse display allows for simplified programming
of pulse routine
Energy-saver mode reduces tank temperature during
idle periods
Hot water faucet (supplied for custom installation)
Includes overlay kit for customization of brewer interface
Quality in the Cup
Large 3gal (11.4L) tank provides back-to-back
brewing capacity
Brews into 2.5 to 3.8L (84 to 128oz) airpots and 3.8
and 5.7L (1 to 1.5gal) baseless ThermoFresh® servers
for easy transport of coffee to other locations
Exclusive Peak Extraction™ Sprayhead is
multi-directional with a 17-hole design
to ensure ultimate uniformity of extraction
bunn.com
Infusion Series®
ICBA Brewer
(10.00" W x 19.9" D x 26.9" H)
254mm W x 505mm D x 665mm H
Capacity:180.8 oz (5.35 liters)
8oz (236ml) cups/per hour
DESCRIPTION
CAPACITY
ELECTRICAL
Product #
Model
Finish
Servings/hr
Volts
Amps
Watts
Hertz
Input H2O Temp
Phase
Cord
Attached
Shipping
Weight
53100.0500
Infusion ICBA
SS
180.8
220-240
13.2-14.1
2900-3400
50-60
60˚F (15.5˚C)
1
Yes
46.860lbs (21.256kgs)
Plumbing: 20-90 PSI / 138-621 kPa. 3/8" Male Flare Fitting
This is a pre-launch informational sales flyer. BUNN reserves the right to make product design changes prior to publishing the approved Specification Sheet.
BUNN® reserves the right to change specifications and product design without notice. Such revisions do not entitle the buyer to corresponding changes, improvements, additions, or
replacements for previously purchased equipment. For most current specifications and other info visit bunn.com.

* Your assessment is very important for improving the work of artificial intelligence, which forms the content of this project