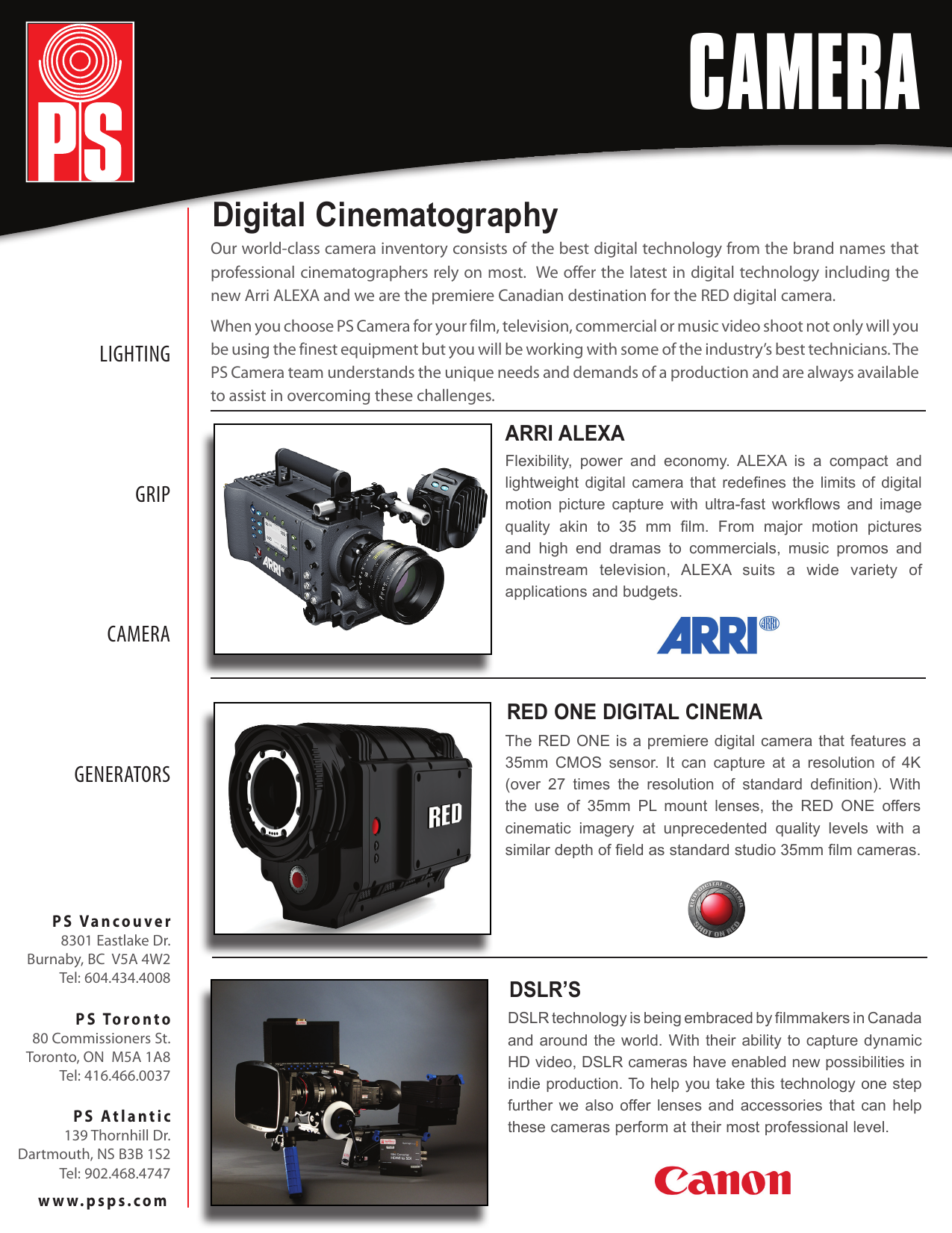 Camera
Digital Cinematography
Our world-class camera inventory consists of the best digital technology from the brand names that
professional cinematographers rely on most. We offer the latest in digital technology including the
new Arri ALEXA and we are the premiere Canadian destination for the RED digital camera.
LIGHTING
When you choose PS Camera for your film, television, commercial or music video shoot not only will you
be using the finest equipment but you will be working with some of the industry's best technicians. The
PS Camera team understands the unique needs and demands of a production and are always available
to assist in overcoming these challenges.
ARRI ALEXA
GRIP
Flexibility, power and economy. ALEXA is a compact and
lightweight digital camera that redefines the limits of digital
motion picture capture with ultra-fast workflows and image
quality akin to 35 mm film. From major motion pictures
and high end dramas to commercials, music promos and
mainstream television, ALEXA suits a wide variety of
applications and budgets.
CAMERA
RED ONE DIGITAL CINEMA
GENERATORS
The RED ONE is a premiere digital camera that features a
35mm CMOS sensor. It can capture at a resolution of 4K
(over 27 times the resolution of standard definition). With
the use of 35mm PL mount lenses, the RED ONE offers
cinematic imagery at unprecedented quality levels with a
similar depth of field as standard studio 35mm film cameras.
P S Va n c o u v e r
8301 Eastlake Dr.
Burnaby, BC V5A 4W2
Tel: 604.434.4008
P S To r o n t o
80 Commissioners St.
Toronto, ON M5A 1A8
Tel: 416.466.0037
PS Atlantic
139 Thornhill Dr.
Dartmouth, NS B3B 1S2
Tel: 902.468.4747
w w w. p s p s . c o m
DSLR'S
DSLR technology is being embraced by filmmakers in Canada
and around the world. With their ability to capture dynamic
HD video, DSLR cameras have enabled new possibilities in
indie production. To help you take this technology one step
further we also offer lenses and accessories that can help
these cameras perform at their most professional level.

* Your assessment is very important for improving the work of artificial intelligence, which forms the content of this project