5.25" External Enclosure for SATA drives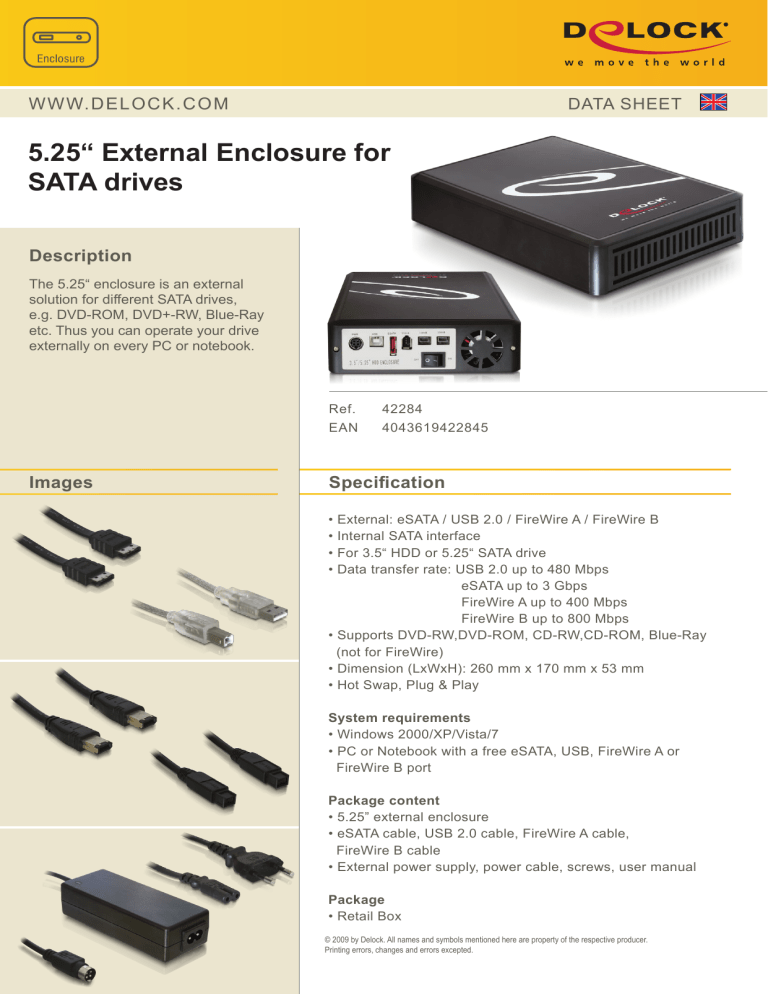 DATA SHEET
WWW. D E L O C K . C O M
5.25" External Enclosure for
SATA drives
Description
The 5.25" enclosure is an external
solution for different SATA drives,
e.g. DVD-ROM, DVD+-RW, Blue-Ray
etc. Thus you can operate your drive
externally on every PC or notebook.
Images
Ref.
42284
EAN
4043619422845
Specification
•
•
•
•
External: eSATA / USB 2.0 / FireWire A / FireWire B
Internal SATA interface
For 3.5" HDD or 5.25" SATA drive
Data transfer rate: USB 2.0 up to 480 Mbps
eSATA up to 3 Gbps
FireWire A up to 400 Mbps
FireWire B up to 800 Mbps
• Supports DVD-RW,DVD-ROM, CD-RW,CD-ROM, Blue-Ray
(not for FireWire)
• Dimension (LxWxH): 260 mm x 170 mm x 53 mm
• Hot Swap, Plug & Play
System requirements
• Windows 2000/XP/Vista/7
• PC or Notebook with a free eSATA, USB, FireWire A or
FireWire B port
Package content
• 5.25" external enclosure
• eSATA cable, USB 2.0 cable, FireWire A cable,
FireWire B cable
• External power supply, power cable, screws, user manual
Package
• Retail Box
© 2009 by Delock. All names and symbols mentioned here are property of the respective producer.
Printing errors, changes and errors excepted.

* Your assessment is very important for improving the work of artificial intelligence, which forms the content of this project