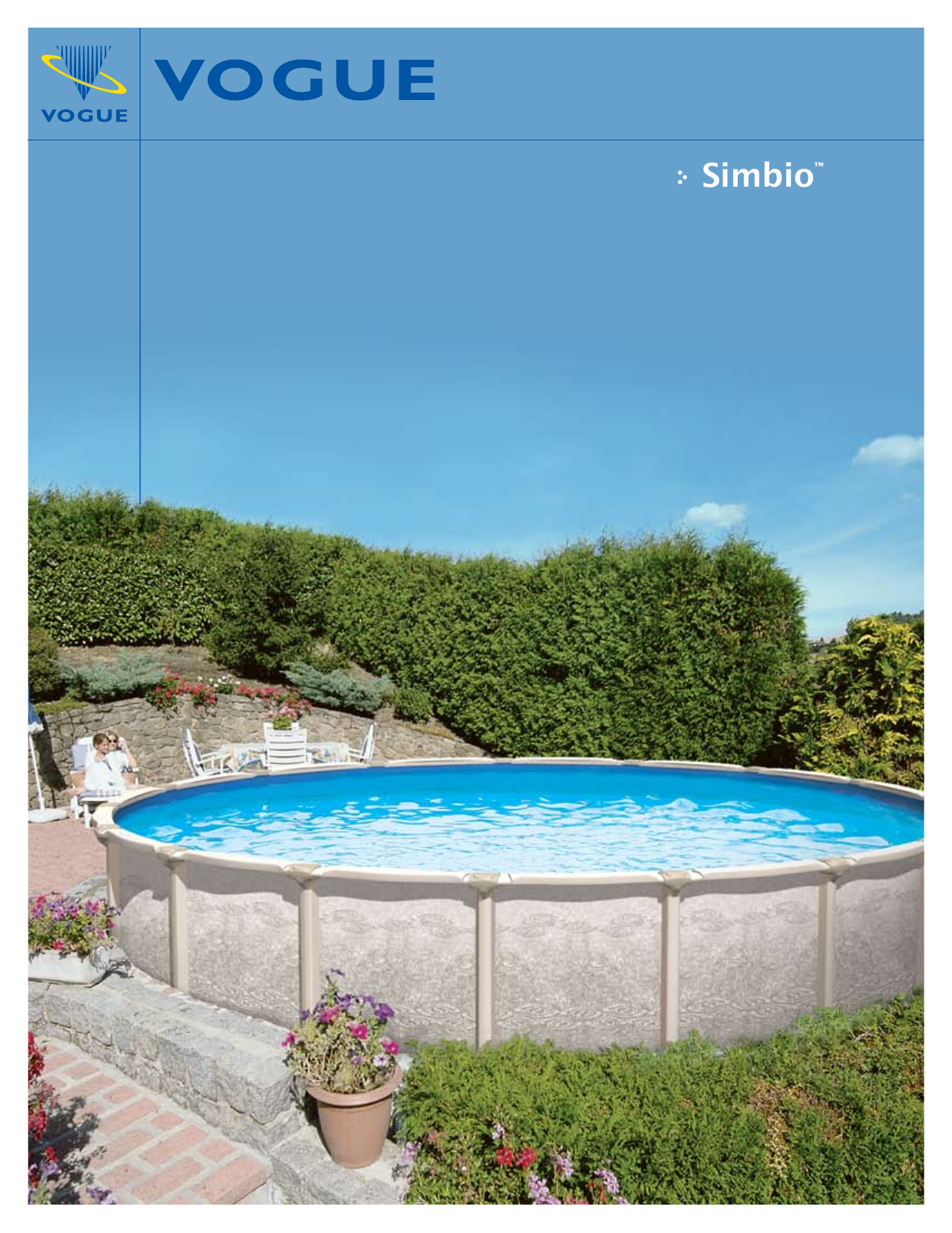 Simbio
™
half a century
of family fun!
Quality and innovation have made
Vogue a world-renowned name in
the global aboveground pool industry.
With many years in the business, our
enthusiasm for great pools and summer
adventure is as strong as ever – and we
demonstrate it with every pool we make!
be a kid all
over again
Spend the whole day outside by the pool
throwing the frisbee around
taking an ice cream break
looking for shapes in the clouds
going for a refreshing dip in the pool
blowing soap bubbles with the kids...
When it is hot outside, nothing beats
wading in the cool waters of a Vogue
outdoor pool!
Simbio™
By combining the strength of steel and the aesthetics of
injection-molded resin, Simbio gives you the best of both
worlds. Thanks to advanced engineering, superior materials
and renowned durability, aboveground pools reach new
heights with Simbio.
12' (3.66 m) 15' (4.57 m)
18' (5.49 m) 21' (6.40 m)
24' (7.32 m) 27' (8.23 m)
30' (9.14 m)
12' x 23' (3.66 m x 7.11 m)
15' x 30' (4.57 m x 9.14 m)
18' x 33' (5.49 m x 10.16 m)
Oval pool
with invisible
supports
Ellipse/Orion wall
Wall height: Ellipse 52" (1.32 m)/Orion 54" (1.37 m)
The wall is available in shades of clay for all models and
sizes. It is protected by a resin-based paint called Resin Shield,
which provides an extra layer of resistance against corrosion.
y.e.s.
durability never looked so good!
Injection-molded resin and super-sturdy steel are the key to this pool's incredible endurance. Simbio's
high-impact resin is extremely resilient and 100% non-corrosive, so it will not chip or discolor. In addition,
steel provides unparalleled strength and durability. With this advanced technology, Simbio is sure to stand
the test of time… and to keep looking great!
HOT-DIPPED GALVANIZED STEEL
structure
7-inch injected resin top ledge
Ledge cover made from
SynproTM resin
• Rounded corners and a design
that hides screws
• Never chips or discolors
corrugation
• A rippled finish lets the wall resist both
water pressure and external shocks
wall joint1
• Computer-designed wall joint
ensures better resistance
to water pressure
• Wall reinforced with steel bars
• Oversized bolts augment stability
1
Depending on the machine used for production,
your wall will be shipped with one of the two
pictured wall joint designs.
L
IM
ITE
D WA R R A
30
YEARS
3 FULL YEARS
+27 PRO-RATA
NT
Y
275
TM
TM
RESIN
D
SHIEL
upright
• 5-inch fully supportive steel upright
bottom wall
channel
• The steel bottom wall channel is
painted with a Tuf Base coating
Vog-lok™ system
• Pre-grooved parts to make screw
installation easy
• Screws lock in place to maintain
structural integrity
• Concept exclusive to Vogue
WORLD-RENOWNED INNOVATIVE ABOVEGROUND POOLS
Trendium Pool Products Inc.
7050 St-Patrick Street, LaSalle, Quebec CANADA H8N 1V2
The purchase of an aboveground pool provides years of pleasure and fun, but it also involves water
safety. Although we cannot supply a full-time lifeguard, we strongly recommend that you implement
the following safety rules. These will help provide a pleasant atmosphere for you and your family.
• NEVER jump or dive in an aboveground pool.
• Maintain constant adult supervision when
children are in or near any body of water.
• Read all of the safety, installation and
maintenance information contained in your
pool's instruction manual and water safety
brochure before you start installing your pool.
• Inspect your pool, barriers, alarms, and other
related equipment on a regular basis in order
to ensure they are in good working order and
that they are safe.
• Ask your city about any specific rules and
regulations that apply to aboveground pools.
Your pool's installation, maintenance and
safety manuals contain detailed tips and
recommendations. They must be read, followed
and applied on a regular basis, as they will
prevent unnecessary accidents and will ensure
many summers of pleasant and safe family fun.
• Follow your instruction manual and
maintenance instructions.
SWIM SAFELY AND STAY SAFE
• Never remove applied or posted safety
stickers or signs from your pool or pool area.
Printed in Canada • Manufactured by Trendium Pool Products Inc. • The dimensions, weights, illustrations and other
specifications are approximate. • The company reserves the right to modify and/or discontinue without notification any
feature in any pool model.
© Copyright 2008, Trendium Pool Products Inc. • B200-42A 09/08
www.voguepools.com
Your authorized Vogue dealer is:
LEMIEUX BÉDARD COMMUNICATIONS INC.
• Barriers to prevent unsupervised access,
especially by young children, should be built,
installed and checked on a regular basis to
ensure they are in good working order.

* Your assessment is very important for improving the work of artificial intelligence, which forms the content of this project