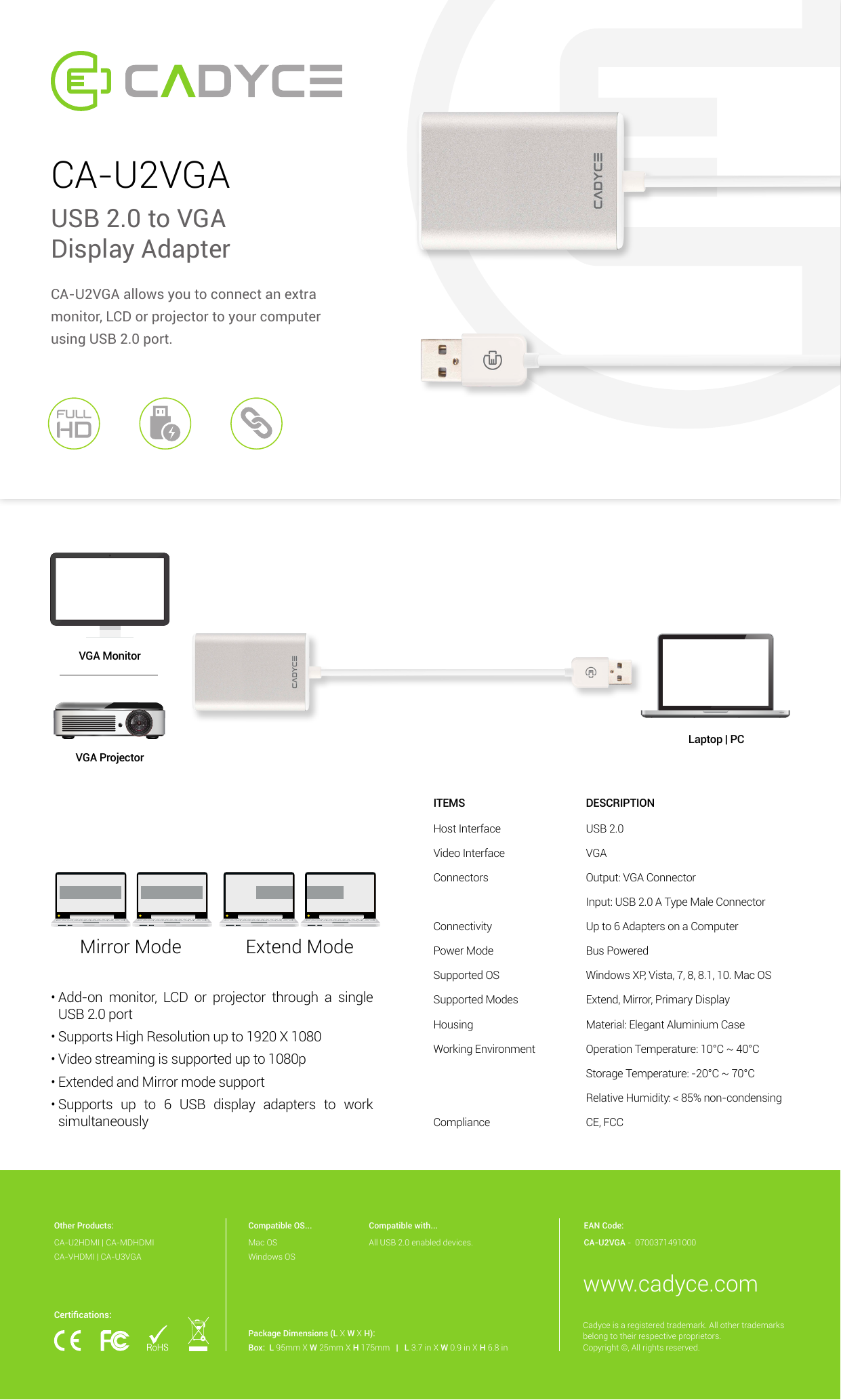 CA-U2VGA
USB 2.0 to VGA
Display Adapter
CA-U2VGA allows you to connect an extra
monitor, LCD or projector to your computer
using USB 2.0 port.
VGA Monitor
Laptop | PC
VGA Projector
ITEMSDESCRIPTION
Mirror Mode
Extend Mode
• Add-on monitor, LCD or projector through a single
USB 2.0 port
• Supports High Resolution up to 1920 X 1080
• Video streaming is supported up to 1080p
• Extended and Mirror mode support
• Supports up to 6 USB display adapters to work
simultaneously
Host Interface
USB 2.0
Video Interface
VGA
Connectors
Output: VGA Connector
Input: USB 2.0 A Type Male Connector
Connectivity
Up to 6 Adapters on a Computer
Power Mode
Bus Powered
Supported OS
Windows XP, Vista, 7, 8, 8.1, 10. Mac OS
Supported Modes
Extend, Mirror, Primary Display
Housing
Material: Elegant Aluminium Case
Working Environment
Operation Temperature: 10°C ~ 40°C
Storage Temperature: -20°C ~ 70°C
Relative Humidity: < 85% non-condensing
Compliance
CE, FCC
Other Products:
Compatible OS...
Compatible with...
EAN Code:
CA-U2HDMI | CA-MDHDMI
Mac OS
All USB 2.0 enabled devices.
CA-U2VGA - 0700371491000
CA-VHDMI | CA-U3VGA
Windows OS
www.cadyce.com
Certifications:
Package Dimensions (L X W X H):
Box: L 95mm X W 25mm X H 175mm | L 3.7 in X W 0.9 in X H 6.8 in
Cadyce is a registered trademark. All other trademarks
belong to their respective proprietors.
Copyright ©, All rights reserved.

* Your assessment is very important for improving the work of artificial intelligence, which forms the content of this project