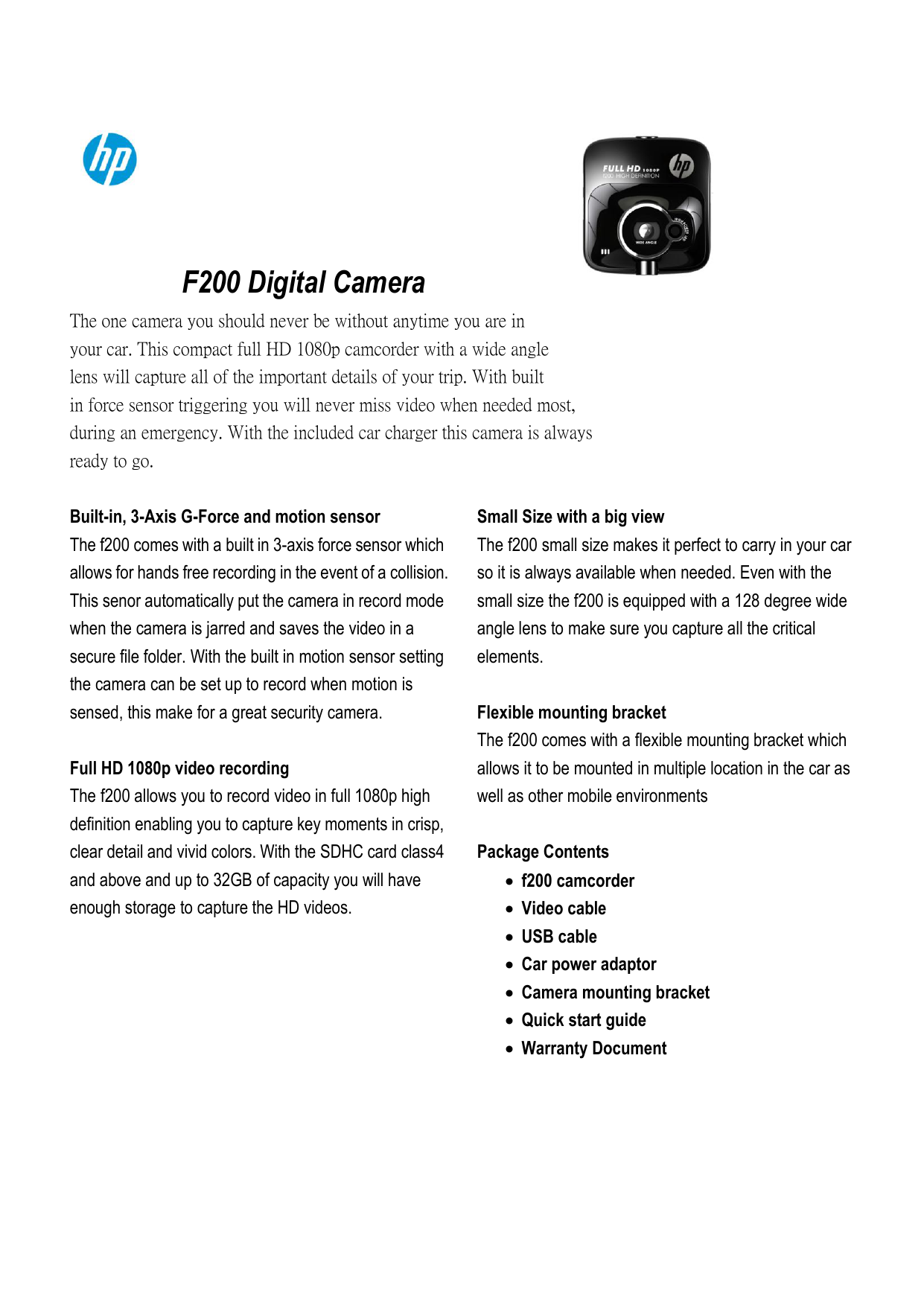 F200 Digital Camera
The one camera you should never be without anytime you are in
your car. This compact full HD 1080p camcorder with a wide angle
lens will capture all of the important details of your trip. With built
in force sensor triggering you will never miss video when needed most,
during an emergency. With the included car charger this camera is always
ready to go.
Built-in, 3-Axis G-Force and motion sensor
Small Size with a big view
The f200 comes with a built in 3-axis force sensor which
allows for hands free recording in the event of a collision.
This senor automatically put the camera in record mode
The f200 small size makes it perfect to carry in your car
so it is always available when needed. Even with the
small size the f200 is equipped with a 128 degree wide
when the camera is jarred and saves the video in a
secure file folder. With the built in motion sensor setting
the camera can be set up to record when motion is
sensed, this make for a great security camera.
angle lens to make sure you capture all the critical
elements.
Full HD 1080p video recording
The f200 allows you to record video in full 1080p high
definition enabling you to capture key moments in crisp,
clear detail and vivid colors. With the SDHC card class4
and above and up to 32GB of capacity you will have
enough storage to capture the HD videos.
Flexible mounting bracket
The f200 comes with a flexible mounting bracket which
allows it to be mounted in multiple location in the car as
well as other mobile environments
Package Contents







f200 camcorder
Video cable
USB cable
Car power adaptor
Camera mounting bracket
Quick start guide
Warranty Document
Digital Car Camcorder f200
SPECIFICATIONS
LCD display dimension
G-Sensor
Image Sensor
Effective Pixel
Total Pixel
Screen Resolution
Video format
Still image resolution
Video Resolution
White Balance
Still image format
Internal memory
Storage media
Interface
System requirement
Power
Dimensions
Weight
Package contents
Warranty
2.4" LCD Color TFT
Built-in, 3-Axis G-Force Sensor Supports Event to trigger Emergency Video
Recording
3M 1/3.2"CMOS Sensor
2592(H) x 1944(V)
2752(H) x 2004(V)
112K Pixels (480*234)
Graphic (RGB)480×234 Delta type
MOV format (H.264+ADPCM codec)
5MP, 2592 x 1944
1080p(1920x1080) or 720p (1280x720), 30fps
Auto
DCF (JPEG, Exif: 2.2 )
32M x 8bit (256Gb) NAND Flash Only for Storage of Firmware Code
Supports SDHC card class4 or above, up to 32GB (for HD Video Recording)
Mini USB port
10 pin Mini-USB to AV out
Mini C Type; HDMI v1.3 certificated;1m
Mac OS 10.4 or higher
Windows: XP SP2/Vista/Win 7
Li-ion battery
65x62x27 mm, Body only (20mm)
78g
QSG, Car Cigar Charger (4 meters), Car Bracket + CD ROM
One year limited hardware warranty from date of purchase
Questions about the HP Bridge Camera?
Look us up online at http://www.hp.com
Hewlett-Packard Company, Palo Alto, CA 94304
Manufactured and distributed under license from Hewlett-Packard.
Actual product image may vary from image shown on data sheet.
All specifications are subject to change without notice.
Windows and Windows Vista are the trademarks or registered
trademarks of Microsoft Corporation in the US and other countries.
Other product names may be the trademarks of their respective
manufacturers.

* Your assessment is very important for improving the work of artificial intelligence, which forms the content of this project