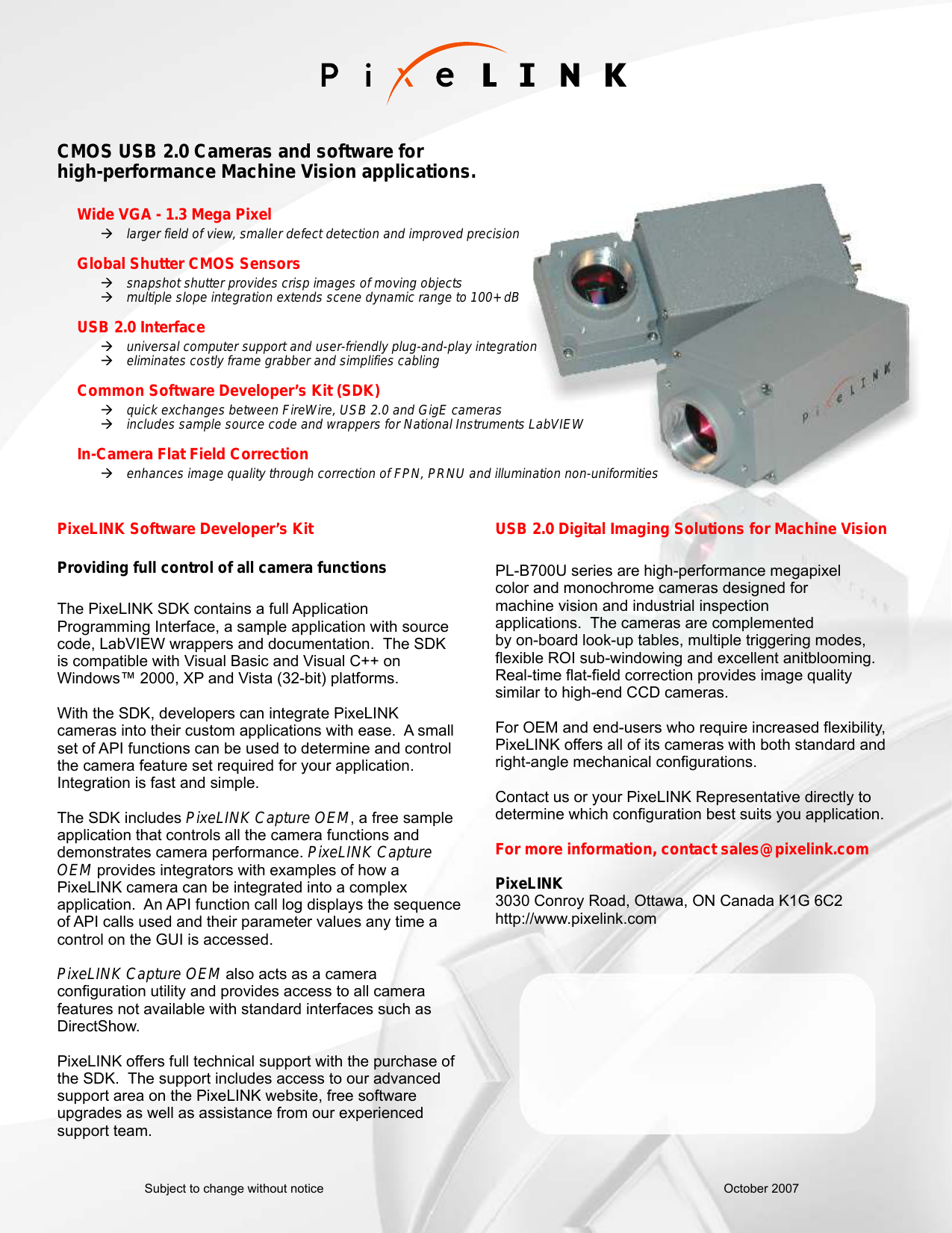 CMOS USB 2.0 Cameras and software for
high-performance Machine Vision applications.
Wide VGA - 1.3 Mega Pixel
à
larger field of view, smaller defect detection and improved precision
Global Shutter CMOS Sensors
à
snapshot shutter provides crisp images of moving objects
à
multiple slope integration extends scene dynamic range to 100+ dB
USB 2.0 Interface
à
universal computer support and user-friendly plug-and-play integration
à
eliminates costly frame grabber and simplifies cabling
Common Software Developer's Kit (SDK)
à
quick exchanges between FireWire, USB 2.0 and GigE cameras
à
includes sample source code and wrappers for National Instruments LabVIEW
In-Camera Flat Field Correction
à
enhances image quality through correction of FPN, PRNU and illumination non-uniformities
PixeLINK Software Developer's Kit
USB 2.0 Digital Imaging Solutions for Machine Vision
Providing full control of all camera functions
PL-B700U series are high-performance megapixel
color and monochrome cameras designed for
machine vision and industrial inspection
applications. The cameras are complemented
by on-board look-up tables, multiple triggering modes,
flexible ROI sub-windowing and excellent anitblooming.
Real-time flat-field correction provides image quality
similar to high-end CCD cameras.
The PixeLINK SDK contains a full Application
Programming Interface, a sample application with source
code, LabVIEW wrappers and documentation. The SDK
is compatible with Visual Basic and Visual C++ on
Windows™ 2000, XP and Vista (32-bit) platforms.
With the SDK, developers can integrate PixeLINK
cameras into their custom applications with ease. A small
set of API functions can be used to determine and control
the camera feature set required for your application.
Integration is fast and simple.
The SDK includes PixeLINK Capture OEM, a free sample
application that controls all the camera functions and
demonstrates camera performance. PixeLINK Capture
OEM provides integrators with examples of how a
PixeLINK camera can be integrated into a complex
application. An API function call log displays the sequence
of API calls used and their parameter values any time a
control on the GUI is accessed.
For OEM and end-users who require increased flexibility,
PixeLINK offers all of its cameras with both standard and
right-angle mechanical configurations.
Contact us or your PixeLINK Representative directly to
determine which configuration best suits you application.
For more information, contact [email protected]
PixeLINK
3030 Conroy Road, Ottawa, ON Canada K1G 6C2
http://www.pixelink.com
PixeLINK Capture OEM also acts as a camera
configuration utility and provides access to all camera
features not available with standard interfaces such as
DirectShow.
PixeLINK offers full technical support with the purchase of
the SDK. The support includes access to our advanced
support area on the PixeLINK website, free software
upgrades as well as assistance from our experienced
support team.
Subject to change without notice
October 2007
CMOS USB 2.0
MACHINE VISION CAMERAS
www.pixelink.com
PL-B741U
Camera Model >
PL-B741EU
PL-B742U
PL-B761U
PL-B762U
Camera Specifications
Mono
Mono
Color
Mono
1280 x 1024
1280 x 1024
1280 x 1024
752 x 480
Color / Mono
Resolution
Color
752 x 480
Frame Rate at Full Resolution
Sensor Type
25
25
25
55
55
CMOS
CMOS
CMOS
CMOS
CMOS
Shutter Type
Global
Global
Global
Global
Global
Lens Format
C 2/3"
6.7 µm
C 2/3"
6.7 µm
C 2/3"
6.7 µm
C 1/3"
6.0 µm
C 1/3"
6.0 µm
11.01 mm
11.01 mm
11.01 mm
5.35 mm
5.35 mm
8 or 10
8 or 10
8 or 10
8 or 10
8 or 10
2.8W
2.8W
3.3W
TBD
TBD
Pixel Pitch
Sensor Diagonal
Bit Depth
Power Consumption (Watts)
Variable ROI
Right-angle Capable
Yes
Yes
Yes
Yes
All camera models are available with right angled case by adding suffix -R to part number
Interface (USB 2.0)
Yes
1 x 4 PIN Connector
Frame rates will vary based on host system variables and configuration
Camera Features via USB 2.0
Trigger Options
Hardware - Optically Isolated 5-12V @ 4-11mA, Software and Free Running
General Purpose Outputs
2 Optically Isolated - Maximum 40V Differential, Maximum 15mA
Image Quality Measures
(See the Knowledge Base at http://www.pixelink.com for a description of Image Quality Measures)
Peak Responsivity (DN/(nJ/cm2))
9.8
10.8
7.3
28.1
17.5
54.6 dB
54.6 dB
54.6 dB
56.7 dB
56.7 dB
FPN
< 1%
< 1%
< 1%
<1%
<1%
PRNU
< 1%
< 1%
< 1.5%
<1.5%
<1.5%
< 2 DN
< 2 DN
< 2 DN
<1.5 DN
<1.5 DN
Optional
Optional
Free Download at http://www.pixelink.com
Optional
Optional
Optional
Yes
Yes
Dynamic Range
Read Noise
Software
PixeLINK Capture OEM
SDK (incl. LabView Wrappers)
DirectShow Compatible
Windows Compatible
Yes
Windows™ 2000, XP and Vista (32-bit)
Yes
Yes
SENSOR CENTER LINE
ALL MODELS ARE AVAILABLE
IN STRAIGHT CASES AND
RIGHT ANGLE CASES
RIGHT ANGLE CASE SPECIFICATIONS
Subject to change without notice
Copyright © 2007 PixeLINK. All rights reserved. PixeLINK is a trademark or registered trademark.
All other product names are trademarks or registered trademarks or their respective owners.

* Your assessment is very important for improving the work of artificial intelligence, which forms the content of this project