SPECIFICATIONS FOR 2014 FOUR WHEEL DRIVE FRONT END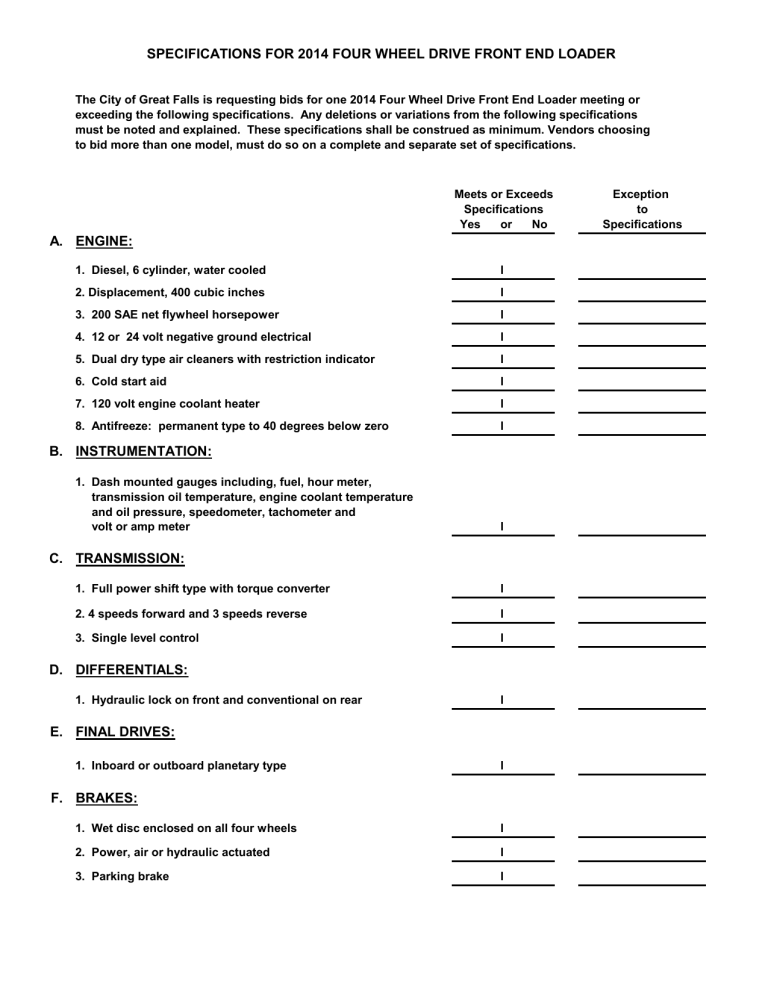 SPECIFICATIONS FOR 2014 FOUR WHEEL DRIVE FRONT END LOADER
The City of Great Falls is requesting bids for one 2014 Four Wheel Drive Front End Loader meeting or
exceeding the following specifications. Any deletions or variations from the following specifications
must be noted and explained. These specifications shall be construed as minimum. Vendors choosing
to bid more than one model, must do so on a complete and separate set of specifications.
Meets or Exceeds
Specifications
Yes
or
No
A. ENGINE:
1. Diesel, 6 cylinder, water cooled
l
2. Displacement, 400 cubic inches
l
3. 200 SAE net flywheel horsepower
l
4. 12 or 24 volt negative ground electrical
l
5. Dual dry type air cleaners with restriction indicator
l
6. Cold start aid
l
7. 120 volt engine coolant heater
l
8. Antifreeze: permanent type to 40 degrees below zero
l
B. INSTRUMENTATION:
1. Dash mounted gauges including, fuel, hour meter,
transmission oil temperature, engine coolant temperature
and oil pressure, speedometer, tachometer and
volt or amp meter
l
C. TRANSMISSION:
1. Full power shift type with torque converter
l
2. 4 speeds forward and 3 speeds reverse
l
3. Single level control
l
D. DIFFERENTIALS:
1. Hydraulic lock on front and conventional on rear
l
E. FINAL DRIVES:
1. Inboard or outboard planetary type
l
F. BRAKES:
1. Wet disc enclosed on all four wheels
l
2. Power, air or hydraulic actuated
l
3. Parking brake
l
Exception
to
Specifications
FOUR WHEEL DRIVE FRONT END LOADER
PAGE 2
Meets or Exceeds
Specifications
Yes
or
No
G. TIRES:
1. 23.5R x 25 L3 Radial
l
2. One spare tire and wheel (mounted)
l
H. STEERING:
1. Hydraulic with center point articulation, front and
rear wheels to track at all times
l
2. Maximum turning radius (over tire): 22 feet
l
I. BUCKET:
1. General purpose, 4 cubic yard capacity
l
2. Bolt on reversible cutting edge
l
3. Lift hooks
l
4. Auxiliary spill guard.
l
5. Universal mount fast attachment coupler system
allowing operator to change a variety of attachments
without leaving cab. Must be compatible with JRB
attachments on City Street Division equipment
l
6. Forty five degree roll back
l
7. Bucket teeth: cast, bolt on general purpose with
attachment pins
l
J. BUCKET CONTROLS:
1. Lift circuit - automatic adjustable kickout
l
2. Tilt circuit - automatic adjustable bucket positioner
l
3. Single joystick control
l
K. HYDRAULIC SYSTEM:
1. Hydraulic lift , lower, dump, roll back and float
l
2. 60 GPM rating
l
L. CAB:
1. Rollover protection structure (ROPS)
l
2. Falling objects protection structure (FOPS)
l
3. Windshield wipers and washers on front and rear glass
l
4. Air conditioning, heater, defroster, pressurizer
l
5. Adjustable suspension type cloth seat
l
6. Seat belts
l
7. Opening rear window
l
Exception
to
Specifications
FOUR WHEEL DRIVE FRONT END LOADER
PAGE 3
Meets or Exceeds
Specifications
Yes
or
No
M. LIGHTS:
1. Front and rear working (halogen)
l
2. Directional lights
l
3. Stop and tail lights
l
4. Dome light
l
5. Strobe on top of cab with limbguard
l
N. MISCELLANEOUS:
1. Operating weight: 39,000 lbs
l
2. Tipping load: 27,000 lbs at full turn
l
3. Breakout force: 40,000 lbs with quick coupler
l
4. Installed backup alarm
l
5. Amerex five pound ABC fire extinguisher installed with
adjustable heavy-duty bracket
l
6. Dual inside mount rear view mirrors
l
7. Fenders: front and rear
l
8. Rear counterweights
l
9. 50 gallon minimum fuel tank
l
10. Automatic ride control system
l
11. Slow moving vehicle emblem
l
12. AM/FM Radio
l
O. TRAINING:
1. Four hours operator and service training to be
provided at City of Great Falls Public Works Complex
l
P. MANUALS:
1. Two complete set owner-operator manuals
l
2. One complete set service and parts manuals
l
3. One complete power train and emissions diagnostic
manual
l
4. One complete electrical schematic
l
Q. DELIVERY:
1. The complete unit (F.O.B. City Public Works
Complex, Great Falls, Montana) shall be delivered
within 120 calendar days after the date of the City
Purchase Order.
l
Exception
to
Specifications
FOUR WHEEL DRIVE FRONT END LOADER
PAGE 4
Meets or Exceeds
Specifications
Yes
or
No
Exception
to
Specifications
Q. DELIVERY (cont):
2. A late delivery penalty of $100.00 per City work day
shall be deducted from the purchase price.
l
R. DEMONSTRATION:
1. The City may require, before the award of any bid, a
demonstration for two City personnel of the unit bid,
at no additional cost to the City of Great Falls.
l
S. COMPLETE UNIT SERVICE & WARRANTY:
State warranty terms and conditions including those of other manufacturers if applicable:
(Warranty period will begin after acceptance by the City -- not upon delivery)
Bidder must indicate one location within the City of Great Falls, other than City Shops where unit is to be
taken for warranty service. Successful bidder will be responsible for ensuring all warranty work is
accomplished. This obligation will not be transferred by bidder. Bidder must be located within 25 miles of
the City of Great Falls Public Works Complex and provide 24 hour parts and service response with
certified field service technicians to perform service on a specific brand of machine.
T. USER'S LIST:
Bidder to supply list of at least three current users of loader bid with name,
address and telephone number:
NAME
ADDRESS
TELEPHONE
1.
2.
3.
U. BID PRICE (F.O.B. City Shop Complex, 1025 25th Ave NE):
1. Initial bid price for one unit:
$
2. Trade-in allowance (optional) is to be considered on the vehicle listed
below. Trade-in provision is optional for the bidder and the City. Unit can
be inspected at the City Shop Complex from 8:00 a.m. to 4:00 p.m., Monday
through Friday by appointment (406) 771-1401, Ext 106. Trade-in will not
be released until new unit is received, inspected by City personnel and is
operating.
1995 Case 821 Serial #JEE0040747 (trade does not include bucket)
$
3. Net bid price with any trade-in:
(Bid award will be based on U.1. or U.3.)
$
MAKE OF VEHICLE:
MODEL :
NAME OF COMPANY, ADDRESS & TELEPHONE:
PREPARED BY:
(Printed or typed name and position)
(Signature)
FOUR WHEEL DRIVE FRONT END LOADER
NOTES:
PAGE 5
All parts and accessories which are required to constitute a complete working unit shall be
furnished whether herein stipulated or not. The unit shall be new and of the latest model
and design in standard production. All equipment catalogued as standard shall be furnished
and included in the purchase price. Only new models in current production which are
catalogued by manufacturer or for which manufacturer's published literature and
specifications are available will be considered.
Payment will not be made until the unit is received at the City Shop, checked by City
personnel and any and all discrepancies are corrected.
With the bid shall be included manufacturer's descriptive literature and specification on unit
being bid. Bidder shall list any exceptions to these specifications. Bidder will supply all
manuals with unit at time of delivery.
The City of Great Falls reserves the right to determine products of equal value or quality.
Vendors will not be allowed to make unauthorized substitutions after the bid award is made.
If there are any questions, please contact Dale Calvert, Vehicle Maintenance Supervisor, PO Box
5021, Great Falls, Montana 59403, or (406) 771-1401, Ext 106.

* Your assessment is very important for improving the work of artificial intelligence, which forms the content of this project