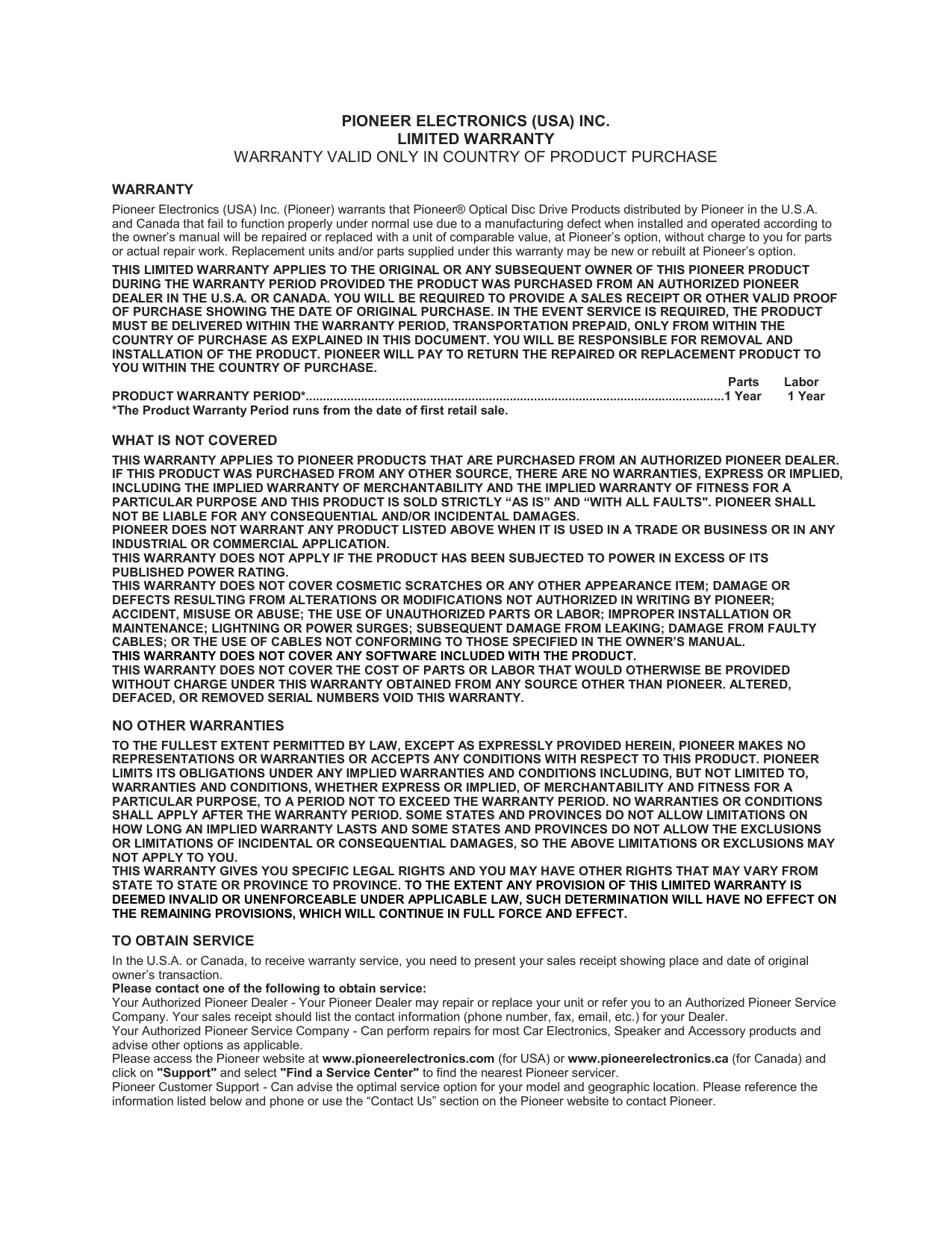 PIONEER ELECTRONICS (USA) INC.
LIMITED WARRANTY
WARRANTY VALID ONLY IN COUNTRY OF PRODUCT PURCHASE
WARRANTY
Pioneer Electronics (USA) Inc. (Pioneer) warrants that Pioneer® Optical Disc Drive Products distributed by Pioneer in the U.S.A.
and Canada that fail to function properly under normal use due to a manufacturing defect when installed and operated according to
the owner's manual will be repaired or replaced with a unit of comparable value, at Pioneer's option, without charge to you for parts
or actual repair work. Replacement units and/or parts supplied under this warranty may be new or rebuilt at Pioneer's option.
THIS LIMITED WARRANTY APPLIES TO THE ORIGINAL OR ANY SUBSEQUENT OWNER OF THIS PIONEER PRODUCT
DURING THE WARRANTY PERIOD PROVIDED THE PRODUCT WAS PURCHASED FROM AN AUTHORIZED PIONEER
DEALER IN THE U.S.A. OR CANADA. YOU WILL BE REQUIRED TO PROVIDE A SALES RECEIPT OR OTHER VALID PROOF
OF PURCHASE SHOWING THE DATE OF ORIGINAL PURCHASE. IN THE EVENT SERVICE IS REQUIRED, THE PRODUCT
MUST BE DELIVERED WITHIN THE WARRANTY PERIOD, TRANSPORTATION PREPAID, ONLY FROM WITHIN THE
COUNTRY OF PURCHASE AS EXPLAINED IN THIS DOCUMENT. YOU WILL BE RESPONSIBLE FOR REMOVAL AND
INSTALLATION OF THE PRODUCT. PIONEER WILL PAY TO RETURN THE REPAIRED OR REPLACEMENT PRODUCT TO
YOU WITHIN THE COUNTRY OF PURCHASE.
Parts
Labor
PRODUCT WARRANTY PERIOD*.........................................................................................................................1 Year
1 Year
*The Product Warranty Period runs from the date of first retail sale.
WHAT IS NOT COVERED
THIS WARRANTY APPLIES TO PIONEER PRODUCTS THAT ARE PURCHASED FROM AN AUTHORIZED PIONEER DEALER.
IF THIS PRODUCT WAS PURCHASED FROM ANY OTHER SOURCE, THERE ARE NO WARRANTIES, EXPRESS OR IMPLIED,
INCLUDING THE IMPLIED WARRANTY OF MERCHANTABILITY AND THE IMPLIED WARRANTY OF FITNESS FOR A
PARTICULAR PURPOSE AND THIS PRODUCT IS SOLD STRICTLY "AS IS" AND "WITH ALL FAULTS". PIONEER SHALL
NOT BE LIABLE FOR ANY CONSEQUENTIAL AND/OR INCIDENTAL DAMAGES.
PIONEER DOES NOT WARRANT ANY PRODUCT LISTED ABOVE WHEN IT IS USED IN A TRADE OR BUSINESS OR IN ANY
INDUSTRIAL OR COMMERCIAL APPLICATION.
THIS WARRANTY DOES NOT APPLY IF THE PRODUCT HAS BEEN SUBJECTED TO POWER IN EXCESS OF ITS
PUBLISHED POWER RATING.
THIS WARRANTY DOES NOT COVER COSMETIC SCRATCHES OR ANY OTHER APPEARANCE ITEM; DAMAGE OR
DEFECTS RESULTING FROM ALTERATIONS OR MODIFICATIONS NOT AUTHORIZED IN WRITING BY PIONEER;
ACCIDENT, MISUSE OR ABUSE; THE USE OF UNAUTHORIZED PARTS OR LABOR; IMPROPER INSTALLATION OR
MAINTENANCE; LIGHTNING OR POWER SURGES; SUBSEQUENT DAMAGE FROM LEAKING; DAMAGE FROM FAULTY
CABLES; OR THE USE OF CABLES NOT CONFORMING TO THOSE SPECIFIED IN THE OWNER'S MANUAL.
THIS WARRANTY DOES NOT COVER ANY SOFTWARE INCLUDED WITH THE PRODUCT.
THIS WARRANTY DOES NOT COVER THE COST OF PARTS OR LABOR THAT WOULD OTHERWISE BE PROVIDED
WITHOUT CHARGE UNDER THIS WARRANTY OBTAINED FROM ANY SOURCE OTHER THAN PIONEER. ALTERED,
DEFACED, OR REMOVED SERIAL NUMBERS VOID THIS WARRANTY.
NO OTHER WARRANTIES
TO THE FULLEST EXTENT PERMITTED BY LAW, EXCEPT AS EXPRESSLY PROVIDED HEREIN, PIONEER MAKES NO
REPRESENTATIONS OR WARRANTIES OR ACCEPTS ANY CONDITIONS WITH RESPECT TO THIS PRODUCT. PIONEER
LIMITS ITS OBLIGATIONS UNDER ANY IMPLIED WARRANTIES AND CONDITIONS INCLUDING, BUT NOT LIMITED TO,
WARRANTIES AND CONDITIONS, WHETHER EXPRESS OR IMPLIED, OF MERCHANTABILITY AND FITNESS FOR A
PARTICULAR PURPOSE, TO A PERIOD NOT TO EXCEED THE WARRANTY PERIOD. NO WARRANTIES OR CONDITIONS
SHALL APPLY AFTER THE WARRANTY PERIOD. SOME STATES AND PROVINCES DO NOT ALLOW LIMITATIONS ON
HOW LONG AN IMPLIED WARRANTY LASTS AND SOME STATES AND PROVINCES DO NOT ALLOW THE EXCLUSIONS
OR LIMITATIONS OF INCIDENTAL OR CONSEQUENTIAL DAMAGES, SO THE ABOVE LIMITATIONS OR EXCLUSIONS MAY
NOT APPLY TO YOU.
THIS WARRANTY GIVES YOU SPECIFIC LEGAL RIGHTS AND YOU MAY HAVE OTHER RIGHTS THAT MAY VARY FROM
STATE TO STATE OR PROVINCE TO PROVINCE. TO THE EXTENT ANY PROVISION OF THIS LIMITED WARRANTY IS
DEEMED INVALID OR UNENFORCEABLE UNDER APPLICABLE LAW, SUCH DETERMINATION WILL HAVE NO EFFECT ON
THE REMAINING PROVISIONS, WHICH WILL CONTINUE IN FULL FORCE AND EFFECT.
TO OBTAIN SERVICE
In the U.S.A. or Canada, to receive warranty service, you need to present your sales receipt showing place and date of original
owner's transaction.
Please contact one of the following to obtain service:
Your Authorized Pioneer Dealer - Your Pioneer Dealer may repair or replace your unit or refer you to an Authorized Pioneer Service
Company. Your sales receipt should list the contact information (phone number, fax, email, etc.) for your Dealer.
Your Authorized Pioneer Service Company - Can perform repairs for most Car Electronics, Speaker and Accessory products and
advise other options as applicable.
Please access the Pioneer website at www.pioneerelectronics.com (for USA) or www.pioneerelectronics.ca (for Canada) and
click on "Support" and select "Find a Service Center" to find the nearest Pioneer servicer.
Pioneer Customer Support - Can advise the optimal service option for your model and geographic location. Please reference the
information listed below and phone or use the "Contact Us" section on the Pioneer website to contact Pioneer.
Shipping Your Unit for Service – YOU MUST FIRST CONTACT PIONEER TO GET RETURN AUTHORIZATION. PLEASE DO
NOT SEND IN YOUR PRODUCT WITHOUT CONTACTING CUSTOMER SUPPORT. If you have a return authorization number,
please package the product carefully and send it transportation prepaid by a traceable, insured method to an Authorized Service
Company or Pioneer. Use adequate padding material to prevent damage in transit.
Include your name, address and a telephone number where you can be reached during business hours.
For questions about your product, please call or write:
CUSTOMER SUPPORT
PIONEER ELECTRONICS (USA) INC.
P.O. BOX 1720
LONG BEACH, CALIFORNIA 90801 U.S.A.
1-800-421-1404
http://www.pioneerelectronics.com
DISPUTE RESOLUTION
Following our response to any initial request to Customer Support, should a dispute arise between you and Pioneer, Pioneer makes
available its Complaint Resolution Program to resolve the dispute. The Complaint Resolution Program is available to you without
charge. In the U.S.A., you are required to use the Complaint Resolution Program before you exercise any rights under, or seek any
remedies, created by Title I of the Magnuson-Moss Warranty-Federal Trade Commission Improvement Act, 15 U.S.C. 2301et seq.
To use the Complaint Resolution Program call 1-800-421-1404 and explain to the customer service representative the problem you
are experiencing, steps you have taken to have the product repaired during the warranty period and the name of the authorized
Distributor/Dealer from whom the Pioneer product was purchased.
After the complaint has been explained to the representative, a resolution number will be issued. Within forty (40) days of receiving
your complaint, Pioneer will investigate the dispute and will either: (1) respond to your complaint in writing informing you what action
Pioneer will take, and in what time period, to resolve the dispute; or (2) respond to your complaint in writing informing you why it will
not take any action.