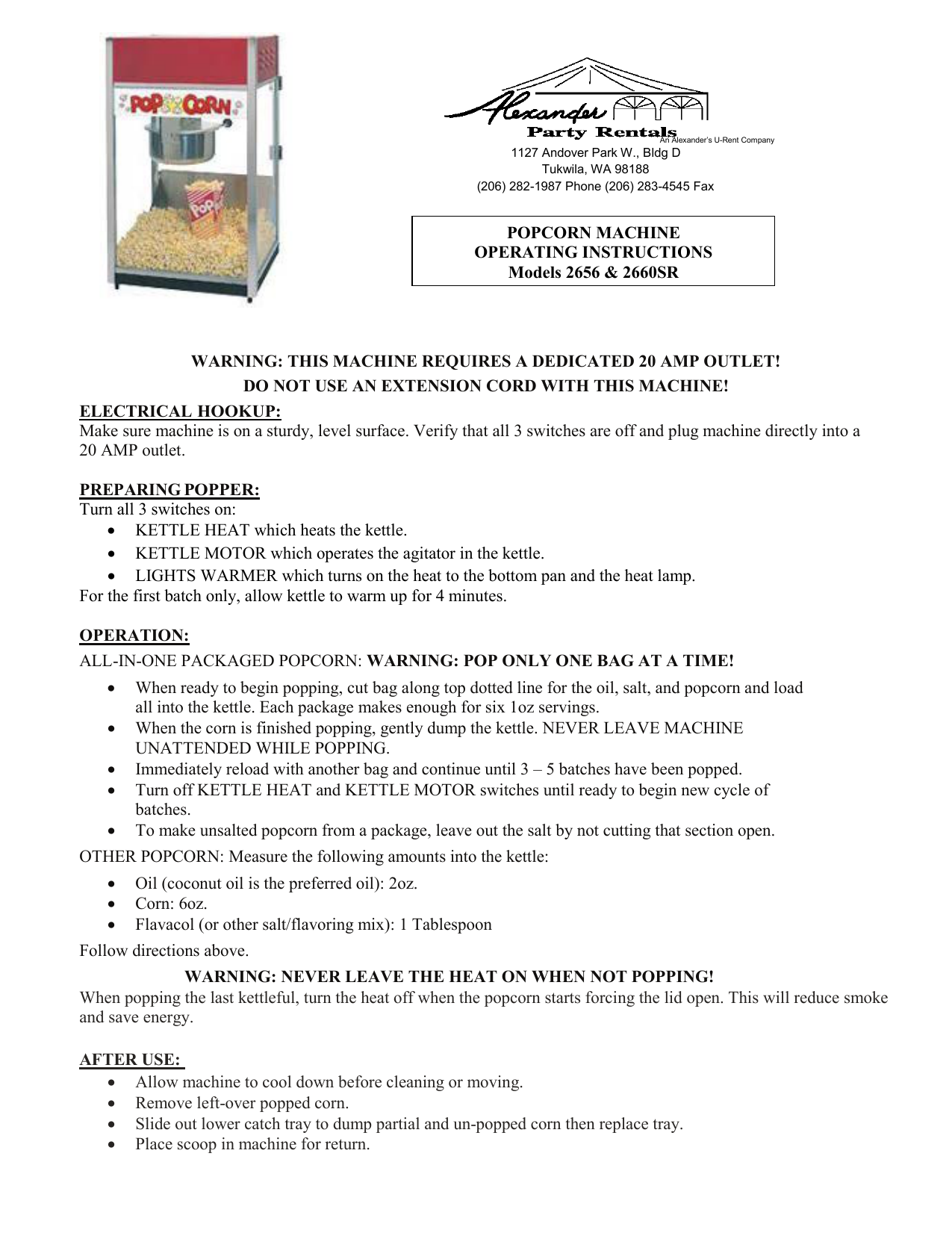 An Alexander's U-Rent Company
1127 Andover Park W., Bldg D
Tukwila, WA 98188
(206) 282-1987 Phone (206) 283-4545 Fax
POPCORN MACHINE
OPERATING INSTRUCTIONS
Models 2656 & 2660SR
WARNING: THIS MACHINE REQUIRES A DEDICATED 20 AMP OUTLET!
DO NOT USE AN EXTENSION CORD WITH THIS MACHINE!
ELECTRICAL HOOKUP:
Make sure machine is on a sturdy, level surface. Verify that all 3 switches are off and plug machine directly into a
20 AMP outlet.
PREPARING POPPER:
Turn all 3 switches on:
• KETTLE HEAT which heats the kettle.
• KETTLE MOTOR which operates the agitator in the kettle.
• LIGHTS WARMER which turns on the heat to the bottom pan and the heat lamp.
For the first batch only, allow kettle to warm up for 4 minutes.
OPERATION:
ALL-IN-ONE PACKAGED POPCORN: WARNING: POP ONLY ONE BAG AT A TIME!
•
•
•
•
•
When ready to begin popping, cut bag along top dotted line for the oil, salt, and popcorn and load
all into the kettle. Each package makes enough for six 1oz servings.
When the corn is finished popping, gently dump the kettle. NEVER LEAVE MACHINE
UNATTENDED WHILE POPPING.
Immediately reload with another bag and continue until 3 – 5 batches have been popped.
Turn off KETTLE HEAT and KETTLE MOTOR switches until ready to begin new cycle of
batches.
To make unsalted popcorn from a package, leave out the salt by not cutting that section open.
OTHER POPCORN: Measure the following amounts into the kettle:
•
•
•
Oil (coconut oil is the preferred oil): 2oz.
Corn: 6oz.
Flavacol (or other salt/flavoring mix): 1 Tablespoon
Follow directions above.
WARNING: NEVER LEAVE THE HEAT ON WHEN NOT POPPING!
When popping the last kettleful, turn the heat off when the popcorn starts forcing the lid open. This will reduce smoke
and save energy.
AFTER USE:
• Allow machine to cool down before cleaning or moving.
• Remove left-over popped corn.
• Slide out lower catch tray to dump partial and un-popped corn then replace tray.
• Place scoop in machine for return.

* Your assessment is very important for improving the work of artificial intelligence, which forms the content of this project