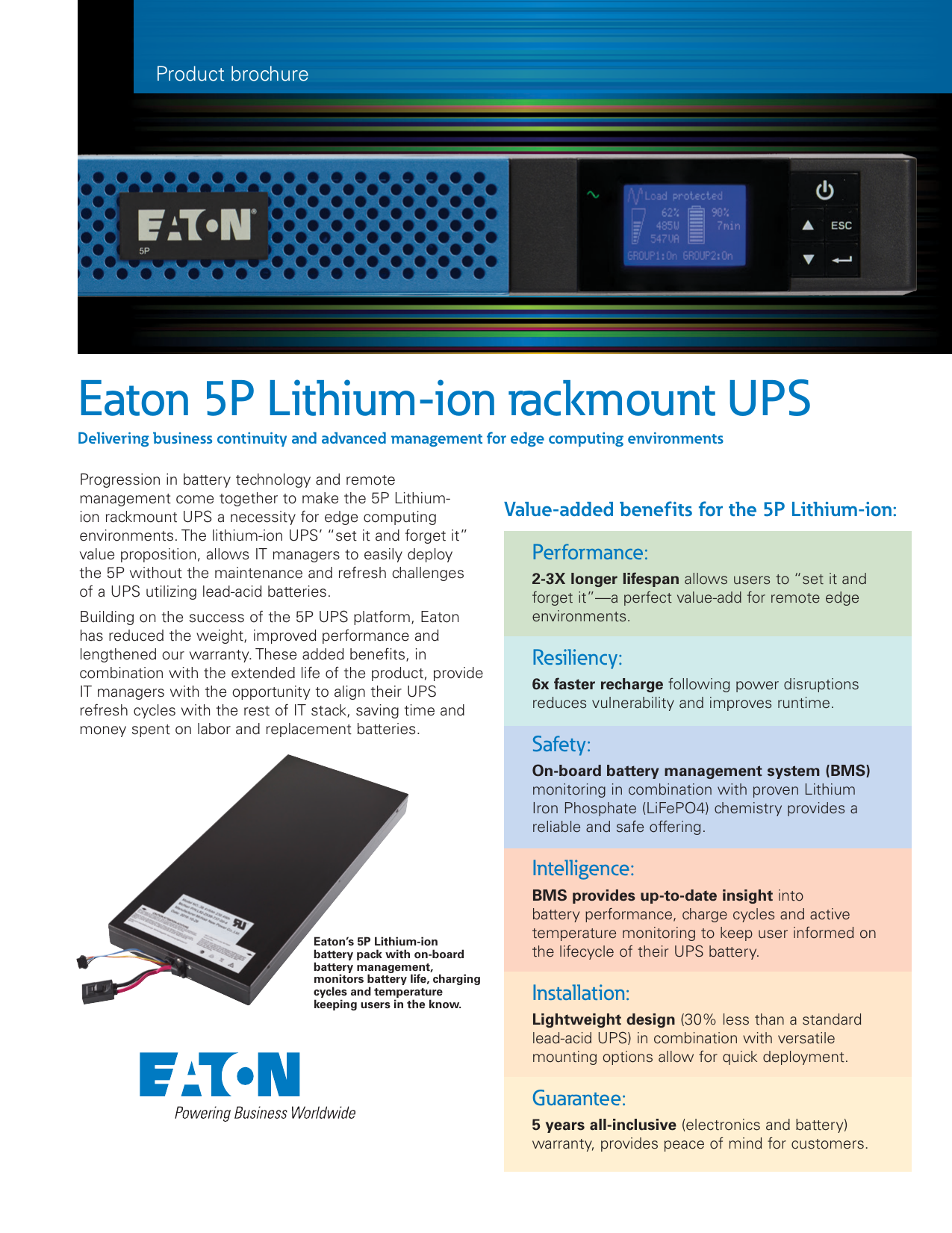 Product brochure
Eaton 5P Lithium-ion rackmount UPS
Delivering business continuity and advanced management for edge computing environments
Progression in battery technology and remote
management come together to make the 5P Lithiumion rackmount UPS a necessity for edge computing
environments. The lithium-ion UPS' "set it and forget it"
value proposition, allows IT managers to easily deploy
the 5P without the maintenance and refresh challenges
of a UPS utilizing lead-acid batteries.
Building on the success of the 5P UPS platform, Eaton
has reduced the weight, improved performance and
lengthened our warranty. These added benefits, in
combination with the extended life of the product, provide
IT managers with the opportunity to align their UPS
refresh cycles with the rest of IT stack, saving time and
money spent on labor and replacement batteries.
Value-added benefits for the 5P Lithium-ion:
Performance:
2-3X longer lifespan allows users to "set it and
forget it"—a perfect value-add for remote edge
environments.
Resiliency:
6x faster recharge following power disruptions
reduces vulnerability and improves runtime.
Safety:
On-board battery management system (BMS)
monitoring in combination with proven Lithium
Iron Phosphate (LiFePO4) chemistry provides a
reliable and safe offering.
BATTERY PACK PIC
Intelligence:
Eaton's 5P Lithium-ion
battery pack with on-board
battery management,
monitors battery life, charging
cycles and temperature
keeping users in the know.
BMS provides up-to-date insight into
battery performance, charge cycles and active
temperature monitoring to keep user informed on
the lifecycle of their UPS battery.
Installation:
Lightweight design (30% less than a standard
lead-acid UPS) in combination with versatile
mounting options allow for quick deployment.
Guarantee:
5 years all-inclusive (electronics and battery)
warranty, provides peace of mind for customers.
5P LITHIUM-ION RACKMOUNT SELECTION GUIDE*
Catalog number
Description
Rating (VA/watts)
Input connection Output receptacles
Dimensions (H x W x D), in
Net weight, lb
C14
1.7 (1U) x 17.2 x 21.8
33
1U Global Rackmount, 208V/230V, 50/60Hz model
5P1550GR-L
5P 1550VA Lithium-ion UPS
1550/1100
(6) C13
*Due to continuous product improvement programs, all specifications are subject to change without notice.
Please visit Eaton.com/5Prm to view complete and updated product specifications, including complete battery runtimes.
5P Lithium-ion Options
What's in the box
Catalog number
Connectivity
•
•
•
•
•
•
•
•
Catalog number
NETWORK-MS
Network Card-MS
RELAY-MS
Relay / Serial Interface Card
116750224-001
Environmental Monitoring Probe
Mounting hardware
RK2PA
1U two-post rail kit (optional) for all models except 5P55OR
5P UPS
Quick start guide
USB cable
RS-232 serial cable
4-post rail kit
2 IEC-to-IEC jumper cables
Output cable locking system
Input cable locking system
Rear panel overview
Model: 5P1550GR-L
1
4
8
2
3
5
6
1
C14 Input
5
Primary outlets: (3) C13 always on 2
RS-232 serial communications port and USB port
(cable included)
6
Load segment group 1: (2) C13 managed outlets
3
Remote power off (RPO) and remote on/off (ROO) port
7
Load segment group 2: (1) C13 managed outlets
4
Ground bonding screw
8
Network card slot
7
By the numbers: 5P 1U 1500 VA UPS
Characteristic
VRLA battery
Lithium-ion battery
Lithium-ion benefit
Average battery lifespan
3–4 years
8 years
2–3X longer life
Recharge time to full capacity
24 hours
4 hours
6X faster recovery
Battery weight
19 lb.
11 lb.
40% lighter weight
Battery replacement cost
$400*
$0
$0 OpEx expenditure
Warranty
3 years
5 years
2X warranty coverage
*Battery and labor cost for one replacement
To interact with the Eaton 5P Lithium-ion rackmount
UPS, please visit:
Eaton.com/5Prm
Composable
Infrastructure
Tested
Eaton
1000 Eaton Boulevard
Cleveland, OH 44122
United States
Eaton.com
R E A DY
TECHNOLOGY
ALLIANCE
Eaton is a registered trademark.
Eaton.com/powerquality
All other trademarks are property of their
respective owners.
© 2017 Eaton
All Rights Reserved
Printed in USA
Pub No. BR153077EN / GG
September 2017
ENERGY STAR and the ENERGY STAR
mark are registered U.S. marks. ENERGY
STAR is a registered mark owned by the
U.S. government.
Follow us on social media to get the
latest product and support information.

* Your assessment is very important for improving the work of artificial intelligence, which forms the content of this project