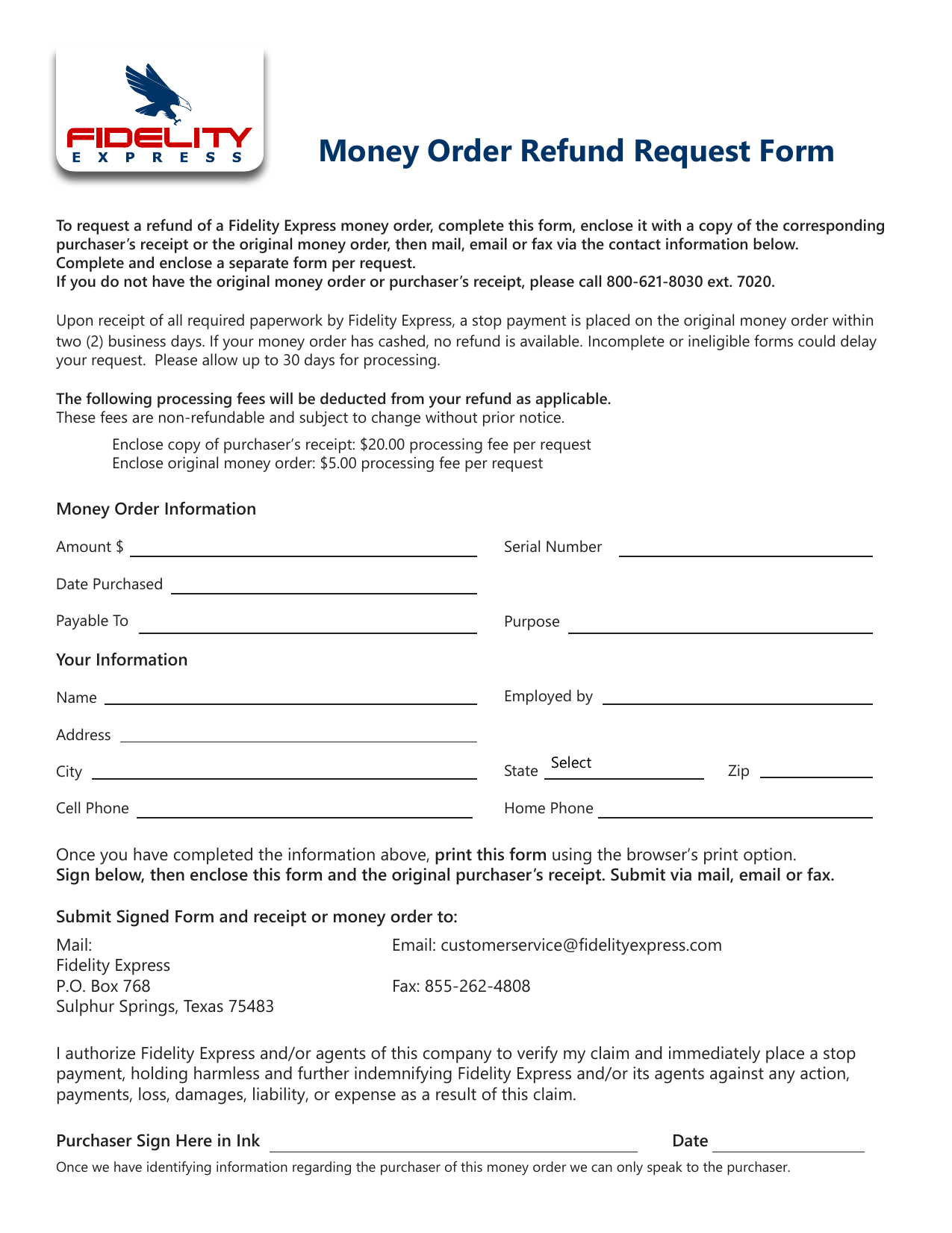 Money Order Refund Request Form
To request a refund of a Fidelity Express money order, complete this form, enclose it with a copy of the corresponding
purchaser's receipt or the original money order, then mail, email or fax via the contact information below.
Complete and enclose a separate form per request.
If you do not have the original money order or purchaser's receipt, please call 800-621-8030 ext. 7020.
Upon receipt of all required paperwork by Fidelity Express, a stop payment is placed on the original money order within
two (2) business days. If your money order has cashed, no refund is available. Incomplete or ineligible forms could delay
your request. Please allow up to 30 days for processing.
The following processing fees will be deducted from your refund as applicable.
These fees are non-refundable and subject to change without prior notice.
Enclose copy of purchaser's receipt: $20.00 processing fee per request
Enclose original money order: $5.00 processing fee per request
Serial Number
Purpose
Employed by
Select
State
Zip
Once you have completed the information above, print this form using the browser's print option.
Sign below, then enclose this form and the original purchaser's receipt. Submit via mail, email or fax.
Submit Signed Form and receipt or money order to:
Mail: Fidelity Express
P.O. Box 768
Sulphur Springs, Texas 75483
Email: [email protected]
Fax: 855-262-4808
I authorize Fidelity Express and/or agents of this company to verify my claim and immediately place a stop
payment, holding harmless and further indemnifying Fidelity Express and/or its agents against any action,
payments, loss, damages, liability, or expense as a result of this claim.
Purchaser Sign Here in Ink
Date
Once we have identifying information regarding the purchaser of this money order we can only speak to the purchaser.

* Your assessment is very important for improving the work of artificial intelligence, which forms the content of this project