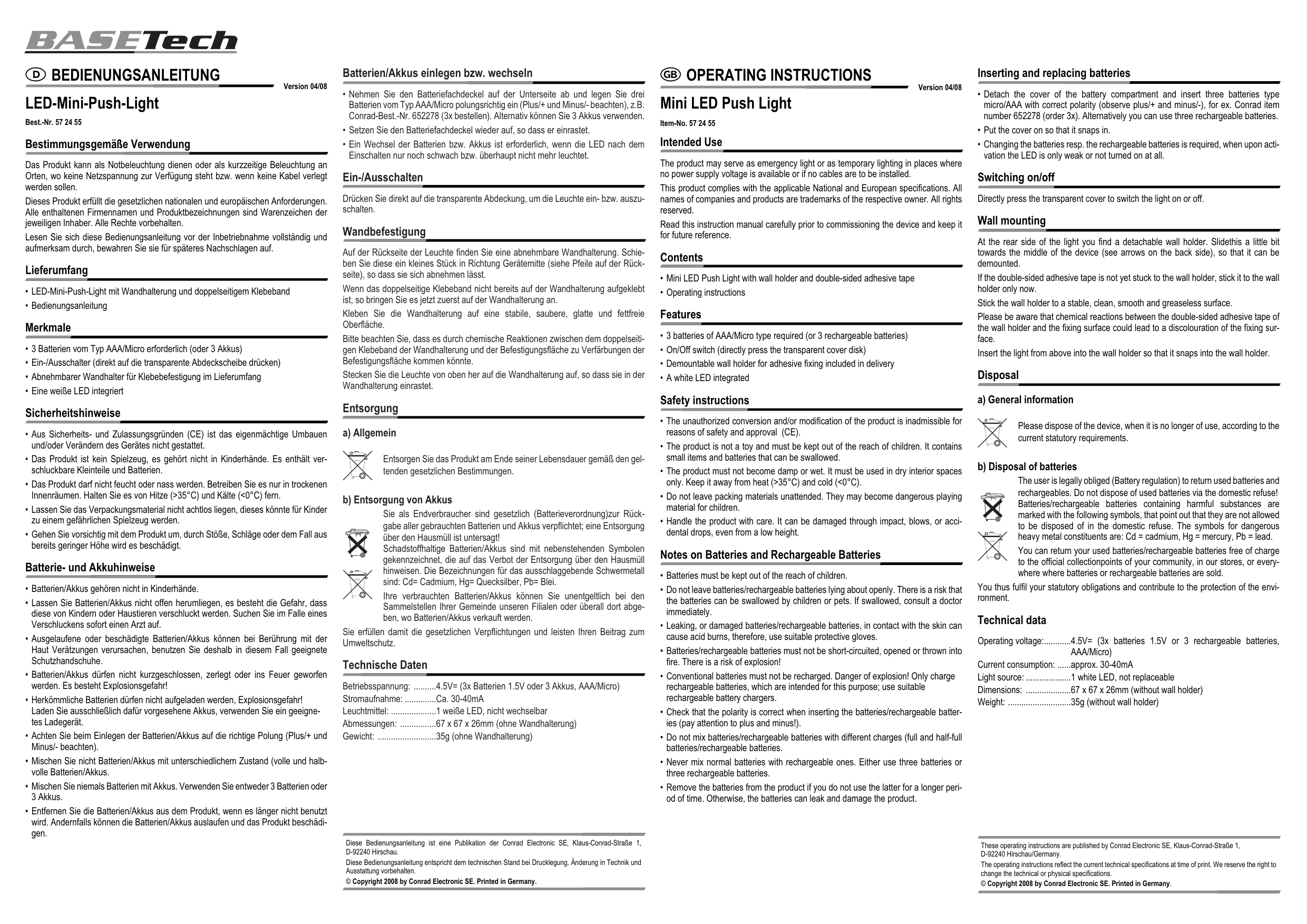 BEDIENUNGSANLEITUNG
Batterien/Akkus einlegen bzw. wechseln
Version 04/08
LED-Mini-Push-Light
Best.-Nr. 57 24 55
Bestimmungsgemäße Verwendung
Das Produkt kann als Notbeleuchtung dienen oder als kurzzeitige Beleuchtung an
Orten, wo keine Netzspannung zur Verfügung steht bzw. wenn keine Kabel verlegt
werden sollen.
Dieses Produkt erfüllt die gesetzlichen nationalen und europäischen Anforderungen.
Alle enthaltenen Firmennamen und Produktbezeichnungen sind Warenzeichen der
jeweiligen Inhaber. Alle Rechte vorbehalten.
Lesen Sie sich diese Bedienungsanleitung vor der Inbetriebnahme vollständig und
aufmerksam durch, bewahren Sie sie für späteres Nachschlagen auf.
Lieferumfang
• LED-Mini-Push-Light mit Wandhalterung und doppelseitigem Klebeband
• Bedienungsanleitung
Merkmale
•
•
•
•
3 Batterien vom Typ AAA/Micro erforderlich (oder 3 Akkus)
Ein-/Ausschalter (direkt auf die transparente Abdeckscheibe drücken)
Abnehmbarer Wandhalter für Klebebefestigung im Lieferumfang
Eine weiße LED integriert
Sicherheitshinweise
• Aus Sicherheits- und Zulassungsgründen (CE) ist das eigenmächtige Umbauen
und/oder Verändern des Gerätes nicht gestattet.
• Das Produkt ist kein Spielzeug, es gehört nicht in Kinderhände. Es enthält verschluckbare Kleinteile und Batterien.
• Das Produkt darf nicht feucht oder nass werden. Betreiben Sie es nur in trockenen
Innenräumen. Halten Sie es von Hitze (>35°C) und Kälte (<0°C) fern.
• Lassen Sie das Verpackungsmaterial nicht achtlos liegen, dieses könnte für Kinder
zu einem gefährlichen Spielzeug werden.
• Gehen Sie vorsichtig mit dem Produkt um, durch Stöße, Schläge oder dem Fall aus
bereits geringer Höhe wird es beschädigt.
Batterie- und Akkuhinweise
• Batterien/Akkus gehören nicht in Kinderhände.
• Lassen Sie Batterien/Akkus nicht offen herumliegen, es besteht die Gefahr, dass
diese von Kindern oder Haustieren verschluckt werden. Suchen Sie im Falle eines
Verschluckens sofort einen Arzt auf.
• Ausgelaufene oder beschädigte Batterien/Akkus können bei Berührung mit der
Haut Verätzungen verursachen, benutzen Sie deshalb in diesem Fall geeignete
Schutzhandschuhe.
• Batterien/Akkus dürfen nicht kurzgeschlossen, zerlegt oder ins Feuer geworfen
werden. Es besteht Explosionsgefahr!
• Herkömmliche Batterien dürfen nicht aufgeladen werden, Explosionsgefahr!
Laden Sie ausschließlich dafür vorgesehene Akkus, verwenden Sie ein geeignetes Ladegerät.
• Achten Sie beim Einlegen der Batterien/Akkus auf die richtige Polung (Plus/+ und
Minus/- beachten).
• Mischen Sie nicht Batterien/Akkus mit unterschiedlichem Zustand (volle und halbvolle Batterien/Akkus.
• Mischen Sie niemals Batterien mit Akkus. Verwenden Sie entweder 3 Batterien oder
3 Akkus.
• Entfernen Sie die Batterien/Akkus aus dem Produkt, wenn es länger nicht benutzt
wird. Andernfalls können die Batterien/Akkus auslaufen und das Produkt beschädigen.
• Nehmen Sie den Batteriefachdeckel auf der Unterseite ab und legen Sie drei
Batterien vom Typ AAA/Micro polungsrichtig ein (Plus/+ und Minus/- beachten), z.B.
Conrad-Best.-Nr. 652278 (3x bestellen). Alternativ können Sie 3 Akkus verwenden.
• Setzen Sie den Batteriefachdeckel wieder auf, so dass er einrastet.
• Ein Wechsel der Batterien bzw. Akkus ist erforderlich, wenn die LED nach dem
Einschalten nur noch schwach bzw. überhaupt nicht mehr leuchtet.
Ein-/Ausschalten
Drücken Sie direkt auf die transparente Abdeckung, um die Leuchte ein- bzw. auszuschalten.
Wandbefestigung
Auf der Rückseite der Leuchte finden Sie eine abnehmbare Wandhalterung. Schieben Sie diese ein kleines Stück in Richtung Gerätemitte (siehe Pfeile auf der Rückseite), so dass sie sich abnehmen lässt.
Wenn das doppelseitige Klebeband nicht bereits auf der Wandhalterung aufgeklebt
ist, so bringen Sie es jetzt zuerst auf der Wandhalterung an.
Kleben Sie die Wandhalterung auf eine stabile, saubere, glatte und fettfreie
Oberfläche.
Bitte beachten Sie, dass es durch chemische Reaktionen zwischen dem doppelseitigen Klebeband der Wandhalterung und der Befestigungsfläche zu Verfärbungen der
Befestigungsfläche kommen könnte.
Stecken Sie die Leuchte von oben her auf die Wandhalterung auf, so dass sie in der
Wandhalterung einrastet.
Entsorgung
a) Allgemein
Entsorgen Sie das Produkt am Ende seiner Lebensdauer gemäß den geltenden gesetzlichen Bestimmungen.
b) Entsorgung von Akkus
Sie als Endverbraucher sind gesetzlich (Batterieverordnung)zur Rückgabe aller gebrauchten Batterien und Akkus verpflichtet; eine Entsorgung
über den Hausmüll ist untersagt!
Schadstoffhaltige Batterien/Akkus sind mit nebenstehenden Symbolen
gekennzeichnet, die auf das Verbot der Entsorgung über den Hausmüll
hinweisen. Die Bezeichnungen für das ausschlaggebende Schwermetall
sind: Cd= Cadmium, Hg= Quecksilber, Pb= Blei.
Ihre verbrauchten Batterien/Akkus können Sie unentgeltlich bei den
Sammelstellen Ihrer Gemeinde unseren Filialen oder überall dort abgeben, wo Batterien/Akkus verkauft werden.
Sie erfüllen damit die gesetzlichen Verpflichtungen und leisten Ihren Beitrag zum
Umweltschutz.
Technische Daten
Betriebsspannung: ..........4.5V= (3x Batterien 1.5V oder 3 Akkus, AAA/Micro)
Stromaufnahme: ..............Ca. 30-40mA
Leuchtmittel: ....................1 weiße LED, nicht wechselbar
Abmessungen: ................67 x 67 x 26mm (ohne Wandhalterung)
Gewicht: ..........................35g (ohne Wandhalterung)
Diese Bedienungsanleitung ist eine Publikation der Conrad Electronic SE, Klaus-Conrad-Straße 1,
D-92240 Hirschau.
Diese Bedienungsanleitung entspricht dem technischen Stand bei Drucklegung. Änderung in Technik und
Ausstattung vorbehalten.
© Copyright 2008 by Conrad Electronic SE. Printed in Germany.
OPERATING INSTRUCTIONS
Inserting and replacing batteries
Version 04/08
Mini LED Push Light
Item-No. 57 24 55
Intended Use
The product may serve as emergency light or as temporary lighting in places where
no power supply voltage is available or if no cables are to be installed.
This product complies with the applicable National and European specifications. All
names of companies and products are trademarks of the respective owner. All rights
reserved.
Read this instruction manual carefully prior to commissioning the device and keep it
for future reference.
Contents
• Mini LED Push Light with wall holder and double-sided adhesive tape
• Operating instructions
Features
•
•
•
•
3 batteries of AAA/Micro type required (or 3 rechargeable batteries)
On/Off switch (directly press the transparent cover disk)
Demountable wall holder for adhesive fixing included in delivery
A white LED integrated
Safety instructions
• The unauthorized conversion and/or modification of the product is inadmissible for
reasons of safety and approval (CE).
• The product is not a toy and must be kept out of the reach of children. It contains
small items and batteries that can be swallowed.
• The product must not become damp or wet. It must be used in dry interior spaces
only. Keep it away from heat (>35°C) and cold (<0°C).
• Do not leave packing materials unattended. They may become dangerous playing
material for children.
• Handle the product with care. It can be damaged through impact, blows, or accidental drops, even from a low height.
Notes on Batteries and Rechargeable Batteries
• Batteries must be kept out of the reach of children.
• Do not leave batteries/rechargeable batteries lying about openly. There is a risk that
the batteries can be swallowed by children or pets. If swallowed, consult a doctor
immediately.
• Leaking, or damaged batteries/rechargeable batteries, in contact with the skin can
cause acid burns, therefore, use suitable protective gloves.
• Batteries/rechargeable batteries must not be short-circuited, opened or thrown into
fire. There is a risk of explosion!
• Conventional batteries must not be recharged. Danger of explosion! Only charge
rechargeable batteries, which are intended for this purpose; use suitable
rechargeable battery chargers.
• Check that the polarity is correct when inserting the batteries/rechargeable batteries (pay attention to plus and minus!).
• Do not mix batteries/rechargeable batteries with different charges (full and half-full
batteries/rechargeable batteries.
• Never mix normal batteries with rechargeable ones. Either use three batteries or
three rechargeable batteries.
• Remove the batteries from the product if you do not use the latter for a longer period of time. Otherwise, the batteries can leak and damage the product.
• Detach the cover of the battery compartment and insert three batteries type
micro/AAA with correct polarity (observe plus/+ and minus/-), for ex. Conrad item
number 652278 (order 3x). Alternatively you can use three rechargeable batteries.
• Put the cover on so that it snaps in.
• Changing the batteries resp. the rechargeable batteries is required, when upon activation the LED is only weak or not turned on at all.
Switching on/off
Directly press the transparent cover to switch the light on or off.
Wall mounting
At the rear side of the light you find a detachable wall holder. Slidethis a little bit
towards the middle of the device (see arrows on the back side), so that it can be
demounted.
If the double-sided adhesive tape is not yet stuck to the wall holder, stick it to the wall
holder only now.
Stick the wall holder to a stable, clean, smooth and greaseless surface.
Please be aware that chemical reactions between the double-sided adhesive tape of
the wall holder and the fixing surface could lead to a discolouration of the fixing surface.
Insert the light from above into the wall holder so that it snaps into the wall holder.
Disposal
a) General information
Please dispose of the device, when it is no longer of use, according to the
current statutory requirements.
b) Disposal of batteries
The user is legally obliged (Battery regulation) to return used batteries and
rechargeables. Do not dispose of used batteries via the domestic refuse!
Batteries/rechargeable batteries containing harmful substances are
marked with the following symbols, that point out that they are not allowed
to be disposed of in the domestic refuse. The symbols for dangerous
heavy metal constituents are: Cd = cadmium, Hg = mercury, Pb = lead.
You can return your used batteries/rechargeable batteries free of charge
to the official collectionpoints of your community, in our stores, or everywhere where batteries or rechargeable batteries are sold.
You thus fulfil your statutory obligations and contribute to the protection of the environment.
Technical data
Operating voltage:............4.5V= (3x batteries 1.5V or 3 rechargeable batteries,
AAA/Micro)
Current consumption: ......approx. 30-40mA
Light source: ....................1 white LED, not replaceable
Dimensions: ....................67 x 67 x 26mm (without wall holder)
Weight: ............................35g (without wall holder)
These operating instructions are published by Conrad Electronic SE, Klaus-Conrad-Straße 1,
D-92240 Hirschau/Germany.
The operating instructions reflect the current technical specifications at time of print. We reserve the right to
change the technical or physical specifications.
© Copyright 2008 by Conrad Electronic SE. Printed in Germany.
NOTICE D'EMPLOI
Mise en place et remplacement des piles / accus
Version 04/08
Mini Push-Light à LED
N° de commande 57 24 55
Utilisation conforme
Le produit peut servir comme éclairage de secours ou comme éclairage de courte
durée dans des endroits sans tension de réseau ou encore où il ne faut pas poser de
câbles.
Ce produit répond aux exigences légales nationales et européennes. Tous les noms
de société et toutes les désignations de produit sont des marques déposées de leurs
propriétaires respectifs. Tous droits réservés.
Lisez attentivement l´intégralité de ce mode d'emploi avant la mise en service de
l´appareil et conservez celle-ci pour pouvoir la consulter ultérieurement.
Etendue de la fourniture
• Mini- Push-Light à LED avec support mural et ruban adhésif double face
• Mode d'emploi
Caractéristiques
• 3 piles de type AAA / Micro requises (ou 3 accus)
• Interrupteur marche / arrêt (presser directement sur la vitre transparente)
• Support mural démontable pour fixation par adhésif compris dans l'étendue de la
fourniture
• LED blanche intégrée
• Enlever le couvercle du compartiment de piles et insérer trois piles de type AAA /
Micro en respectant la bonne polarité (Positif / + et Négatif / -), par ex. Conrad N°
de commande 652278 (requis trois fois). À la place des trois piles vous pouvez utiliser 3 accumulateurs.
• Replacez le couvercle du compartiment de piles de manière à ce qu'il s'enclenche.
• Un changement des piles ou des accus est nécessaire quand la LED ne s'allume
plus que faiblement ou plus du tout après la mise en marche.
Mise en marche / arrêt
Appuyer directement sur le cache transparent pour allumer ou éteindre la lampe.
Fixation murale
Sur la face arrière de la lampe se trouve un support mural démontable. Pousser ce
dernier en direction du centre de l'appareil (voir flèches sur facearrière) pour pouvoir
l'enlever.
Si le ruban adhésif double face ne se trouve pas déjà sur le support mural, appliquezle maintenant d'abord sur le support mural.
Coller le support mural sur un surface stable, propre, lisse et exempte de graisse.
Il est à noter que des réactions chimiques entre le ruban adhésif double face du support mural et la surface de fixation risquent de causer des décolorations de la surface de fixation.
Glisser la lampe par le haut sur le support mural de sorte qu'elle s'y enclenche.
Elimination
a) Généralités
Consignes de sécurité
• Pour des raisons de sécurité et d'homologation (CE), toute transformation ou modification arbitraire de l'appareil sont interdites.
• Cet appareil n'est pas un jouet, tenez-le hors de portée des enfants. Il comprend de
petites pièces pouvant être avalées et une pile.
• Le produit ne doit pas être humidifié, ni mouillé. Ne l'utilisez que dans des locaux
secs à l'intérieur. Évitez la chaleur (>35°C) et le froid (<0°C).
• Ne pas laisser le matériel d'emballage sans surveillance, il pourrait constituer un
jouet dangereux pour les enfants.
• Ce produit doit être manipulé avec précaution ; les coups, les chocs ou une chute,
même de faible hauteur, peuvent l'endommager.
Conseils relatifs aux piles et aux accus
• Les piles et les accumulateurs ne doivent pas être laissés à portée des enfants.
• Ne laissez pas traîner des piles ou accus, ils risquent d'être avalés par des enfants
ou des animaux domestiques. Dans un tel cas, immédiatement consulter un
médecin.
• Des piles / accus présentant des fuites ou dommages peuvent brûler la peau, pour
cette raison utiliser des gants de protection appropriés.
• Ne pas court-circuiter les piles / accus et ne pas les démonter ou jeter au feu.
Risque d'explosion !
• Les piles traditionnelles ne doivent pas être rechargées. Risque d'explosion ! Ne
recharger que les accus prévus à cet effet, n'utilisez que des chargeurs d'accus
appropriés.
• Respecter la polarité lors de la mise en place des piles / accumulateurs (respecter
les pôles positif / + et négatif / -).
• Ne combinez pas des piles / accus d'un état de charge différent (piles / accus chargé(e)s pleinement et piles / accus chargé(e)s à moitié)
• Ne jamais combiner piles et accumulateurs. Utilisez soit 3 piles, soit 3 accumulateurs.
• Sortez les piles / accus du produit si vous ne les utilisez pas pour une longue durée.
Sinon, les piles / accus pourraient s'écouler et endommager ainsi le produit.
Il convient de procéder à l'élimination du produit au terme de sa durée de
vie conformément aux prescriptions légales en vigueur.?
b) Elimination des accus
Le consommateur est tenu de par la loi (loi sur la récupération et l'élimination des piles) de restituer les piles et accus usagés ; il est interdit de
les jeter dans la poubelle ordinaire !
Les piles / accumulateurs contenant des substances nocives sont marqués par les symboles indiqués ci-contre qui signalent l'interdiction de les
jeter dans une poubelle ordinaire. Les désignations pour le métal lourd
prépondérant sont : Cd = cadmium, Hg = mercure, Pb = plomb.
Vous pouvez rapporter gratuitement vos piles et accumulateurs usagés
aux centres derécupération de votre commune, à nos succursales ou à
tous les points de vente de piles et d'accumulateurs.
Vous répondez ainsi aux exigences légales et contribuez à la protection de l'environnement.
Caractéristiques techniques
Tension de service : ..............4,5 V= (3x piles 1,5V ou 3 Accus, AAA / Micro)
Consommation de courant : ..env. 30-40 mA
Ampoule : ..............................1 LED blanche, non remplaçable
Dimensions :..........................67 x 67 x 26 mm (sans support mural)
Poids :....................................35 g (sans support mural)
Cette notice est une publication de la société Conrad Electronic SE, Klaus-Conrad-Straße 1,
D-92240 Hirschau/Allemagne.
Cette notice est conforme à la règlementation en vigueur lors de l´impression. Sous réserve de modifications techniques et d'èquipement.
© Copyright 2008 par Conrad Electronic SE. Imprimé en Allemagne.
Gebruiksaanwijzing
Plaatsen resp. vervangen van de (oplaadbare) batterijen
Version 04/08
Mini push-light met LED´s
Bestnr. 57 24 55
Beoogd gebruik
Het product kan als noodverlichting dienen of als tijdelijke verlichting op plaatsen,
waar geen stroom aanwezig is resp. waar geen kabels gelegd mogen worden.
Dit product voldoet aan de wettelijke nationale en Europese eisen. Alle voorkomende
bedrijfsnamen en productaanduidingen zijn handelsmerken van de betreffende
eigenaren. Alle rechten voorbehouden.
Lees deze handleiding voor het in bedrijf nemen grondig en aandachtig door, en
bewaar ze voor later gebruik.
Omvang van de levering
• Mini push-light met LED's met wandhouder en dubbelzijdig kleefband
• Gebruiksaanwijzing
Kenmerken
•
•
•
•
3 batterijen van het type AAA/Micro vereist (of 3 oplaadbare batterijen)
Aan-/uitschakelaar (direct op het doorzichtige dekglas drukken)
Afneembare wandhouder voor kleefbevestiging in de levering inbegrepen
Een geïntegreerde witte LED
Veiligheidsinstructies
• Uit veiligheids- en toelatingsoverwegingen (CE) is het eigenmachtig ombouwen
en/of wijzigen van het apparaat niet toegestaan.
• Het product is geen speelgoed, en is niet geschikt voor kinderen. Het bevat kleine
inslikbare onderdelen en batterijen.
• Het product mag niet vochtig of nat worden. Gebruik het product enkel in droge
binnenruimtes. Houd het uit de buurt van hitte (>35°C) en kou (<0°C).
• Laat het verpakkingsmateriaal niet rondslingeren. Dit kan voor kinderen gevaarlijk
speelgoed zijn.
• Behandel het product voorzichtig, door stoten, schokken of een val - zelfs van
geringe hoogte - kan het beschadigen.
Tips voor (oplaadbare) batterijen
• Houd (oplaadbare) batterijen buiten het bereik van kinderen.
• Laat (oplaadbare) batterijen niet rondslingeren, kinderen of huisdieren zouden ze
kunnen inslikken. Raadpleeg bij inslikken onmiddellijk een arts.
• Lekkende of beschadigde (oplaadbare) batterijen kunnen bij contact met de huid
verwondingen veroorzaken. Draag daarom in dit geval geschikte beschermende
handschoenen.
• (Oplaadbare) batterijen mogen niet kortgesloten, gedemonteerd of in het vuur
worden geworpen. Explosiegevaar!
• Gewone batterijen mogen niet worden opgeladen, explosiegevaar! Laad
uitsluitend batterijen op, die hiervoor bestemd zijn, gebruik een geschikte oplader.
• Let bij het plaatsen van de (oplaadbare) batterijen op de juiste polariteit (kijk goed
naar plus/+ en min/-).
• Combineer geen (oplaadbare) batterijen die in verschillende toestanden verkeren
(volle en halfvolle (oplaadbare) batterijen).
• Meng batterijen niet met oplaadbare batterijen. Gebruik ofwel 3 batterijen ofwel 3
oplaadbare batterijen.
• Haal de (oplaadbare) batterijen uit het product als u het langere tijd niet gebruikt.
Anders kunnen de (oplaadbare) batterijen gaan lekken en het product beschadigen.
• Neem het deksel van het batterijvakje aan de onderkant en plaats drie batterijen van
het type micro/AAA met de juiste polariteit (let op plus/+ en min/-), b.v. Conrad
bestelnr. 652278 (3x bestellen). Als alternatief kunt u drie oplaadbare batterijen
gebruiken.
• Plaats het dekseltje van het batterijvak er zo op, dat dit erin vastklikt.
• De (oplaadbare) batterijen dienen vervangen te worden, wanneer de LED na het
aanzetten nauwelijks of niet meer brandt.
Aan- en uitzetten
Druk direct op het transparente dekglas om het nachtlampje aan of uit te zetten.
Wandbevestiging
Op de achterkant van de lamp bevindt zich een afneembare wandhouder. Schuif deze
een klein stukje in de richting van het midden van het apparaat (zie pijl op de
achterkant), zodat deze eraf kan worden genomen.
Wanneer het dubbelzijdige kleefband niet reeds op de wandhouder is geplakt, plak dit
dan nu eerst op de wandhouder.
Plak de wandhouder op een stabiel, schoon, glad en vetvrij oppervlak.
Houd er rekening mee, dat chemische reacties tussen het dubbelzijdige kleefband
van de wandhouder en het bevestigingsoppervlak tot verkleuringen van het
bevestigingsoppervlak kunnen leiden.
Plaats de lamp van bovenaf in de wandhouder, zodat deze in de wandhouder
vastklikt.
Verwijdering
a) Algemeen
Verwijder het product aan het einde van zijn levensduur volgens de
geldende wettelijke bepalingen voor afvalverwerking.
b) Verwijdering van (oplaadbare) batterijen
U ben als eindverbruiker volgens de KCA-voorschriften wettelijk verplicht
alle lege (oplaadbare) batterijen in te leveren; verwijdering via het huisvuil is niet toegestaan!
(Oplaadbare) batterijen met schadelijke stoffen worden gekenmerkt door
nevenstaande symbolen die erop wijzen dat deze niet via het gewone
jhuisvuil afgevoerd mogen worden. De aanduidingen voor de gebruikte
zware metalen zijn: Cd = cadmium, Hg = kwik, Pb = lood.
Uw lege (oplaadbare) batterijen kunt u kostenloos inleveren bij de
verzamelpunten van uw gemeente, in onze vestigingen en op alle
plaatsen waar (oplaadbare) batterijen worden verkocht.
Zo voldoet u aan de wettelijke verplichtingen voor afvalscheiding en draagt u bij aan
de bescherming van het milieu.
Technische gegevens
Voedingsspanning: ..........4,5 V= (3x batterijen 1,5 of 3 oplaadbare batterijen,
AAA/Micro)
Stroomopname: ..............Ca. 30-40 mA
Verlichting: ......................1 witte LED, niet uitwisselbaar
Afmetingen:......................67 x 67 x 26 mm (zonder wandhouder)
Gewicht: ..........................35 gr. (zonder wandhouder)
Deze gebruiksaanwijzing is een publicatie van Conrad Electronic SE, Klaus-Conrad-Straße 1,
D-92240 Hirschau/Duitsland
Deze gebruiksaanwijzing voldoet aan de technische eisen bij het ter perse gaan. Wijzigingen in techniek en
uitrusting voorbehouden.
*04-08/KH
© Copyright 2008 by Conrad Electronic Benelux B.V. Printed in Germany.