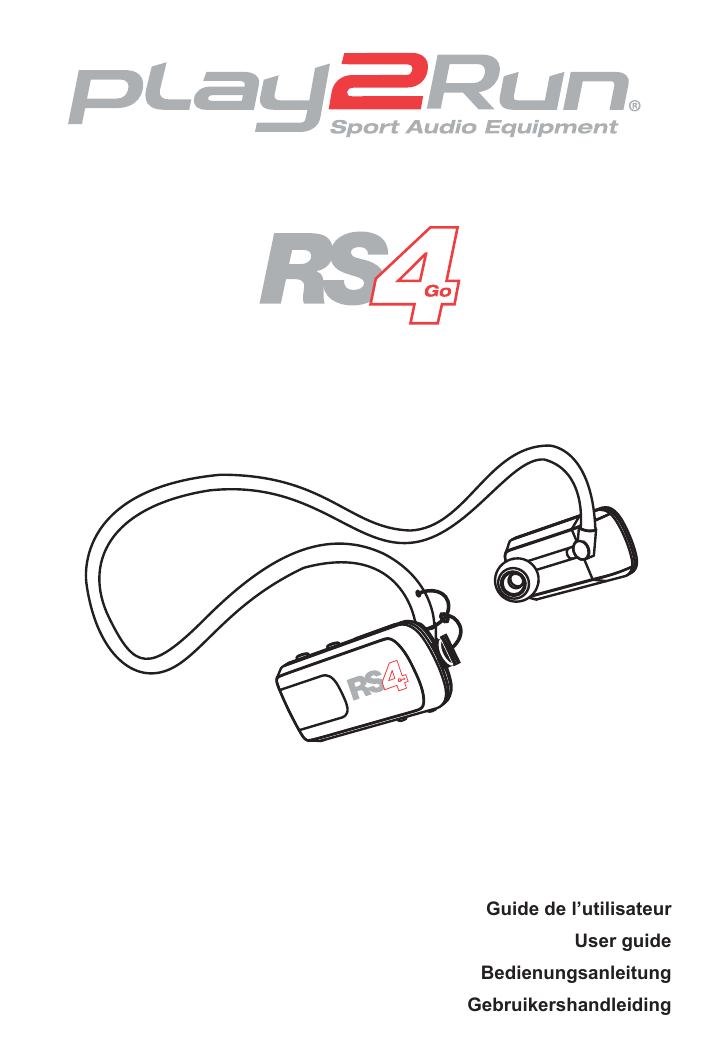 Guide de l'utilisateur
User guide
Bedienungsanleitung
Gebruikershandleiding
Français
► Guide de démarrage
• Pour charger et ajouter de la musique à votre RS4, ouvrez le
bouchon du port USB comme vous le montre la figure ci-contre.
Note : Pour cette opération votre RS4 ne doit pas être sous tension et
complètement sec.
• Raccordez la petite fiche USB au connecteur du RS4. Raccordez l'autre fiche
USB à votre ordinateur. La LED du RS4 clignote pour vous indiquer que la
batterie du RS4 est en charge.
1
2
• Ouvrez le lecteur du RS4 avec l'explorateur de fichiers de votre ordinateur. Ne formatez pas le lecteur du RS4,
cela détruirait les fonctionnalités de lecture et annulerait la garantie.
• Faîte glisser vos fichiers MP3 ou WMA directement à la racine du lecteur (D'autres formats sont susceptibles
de bloquer le lecteur).
• La LED arrête de clignoter lorsque la batterie est complètement chargée.
• Lorsque la copie des morceaux est terminée, fermez l'explorateur de fichiers.
Éjectez le lecteur correctement avant de débrancher le cordon USB.
• Débranchez le lecteur et replacez le bouchon en faisant 1/4 de tour dans le sens des aiguilles d'une montre.
Assurez vous que le bouchon est correctement fermé afin de garantir une étanchéité parfaite.
► Contenu de l'emballage
6 terminaisons
sèches taille 1
(Hors de l'eau)
1 guide
d'utilisation
1 cordon USB
1 lecteur RS4
3 bouchons
6 terminaisons
étanches taille
unique (Piscine)
6 terminaisons
sèches taille 2
(Hors de l'eau)
2 tailles de terminaisons sèches sont livrées pour garantir un confort idéal. Le confort sonore optimal est
obtenu avec les terminaisons taille 2.
► Description des fonctions
Terminaison
Ecouteur
Bouchon
Power On/Off
Play/Pause
Avance
Retour
Vol + / Vol -
Français
Touche
Action
Lecture
Pause
Appui de 4 secondes On /Off
Power ON/OFF
Appui court
Pause
Retour lecture
Appui simple
Lecture morceau suivant
Sélection du morceau suivant
Maintenu appuyé
Avance rapide
Sélection du morceau suivant
Appui simple
Lecture morceau précédant
Sélection Morceau précédant
Maintenu appuyé
Retour rapide
Sélection Morceau précédant
Appui simple
Augmente le volume d'un cran
Augmente le volume d'un cran
Maintenu appuyé
Augmente le volume rapidement Augmente le volume rapidement
Appui simple
Diminue le volume d'un cran
Diminue le volume d'un cran
Maintenu appuyé
Diminue le volume rapidement
Diminue le volume rapidement
Avance
Retour
Volume +
Volume -
► Installation et recommandations
• Pour installer votre RS4, positionnez le comme l'indique la figure ci-contre : serretête vers l'arrière et module de commande dans votre main droite.
L
R
• Positionnez les écouteurs dans les oreilles.
• Réglez chaque écouteur de sorte que leurs positions soient confortables.
• Chaque écouteur peut être pivoté, avancé ou reculé et la position du serre-tête
est ajustable en hauteur.
• La position idéale du serre-tête se situe
à peu près au milieu du crâne. C'est dans cette position que le RS4
résistera le mieux aux mouvements de votre corps
• Lors de l'utilisation en milieux aquatiques, assurez vous que les
terminaisons à triples franges (terminaisons étanches) sont installées.
Le RS4 ne sera étanche qu'avec ces terminaisons correctement
ajustées.
Il se peut que le volume diminue lors d'utilisation aquatique.
Cela est du à la formation d'une fine pellicule d'eau sur la
membrane étanche. Pour palier à ce problème, retirez les
terminaisons, soufflez sur la membrane et évacuez les résidus d'eau présents dans les terminaisons.
Sinon, retirez les terminaisons et laissez sécher votre RS4.
Français
► Caractéristiques
Degré IP
IPX8
Dimensions
124 x 33 x 150 mm
Poids
22g
Port USB
USB 2.0
Batterie
Lithium 190mAh
Mémoire
4GB
Fichiers audio
MP3 8bps~320Kbps, WMA 32Kbps~192Kbps
Formatage
FAT16, FAT32
Niveau de sortie
100dB max.
Réponse en fréquence
20Hz-20KHz
Rapport signal sur bruit
>70dB
Distortion
<0.1%
Limites d'utilisation
-5°C~40°C (41°F~104°F)
Autonomie
Environ 10 heures
► Dépannage
Problème
Solution
Les touches ne répondent pas
La lecture s'arrête soudainement
Le lecteur s'éteint tout seul
Assurez vous que la batterie est chargée.
Si non, connectez votre RS4 à votre ordinateur jusqu'à la charge totale de
la batterie.
Aucun son ne sort
Ajustez le volume
Assurez vous que les fichiers MP3 ne sont pas endommagés
Impossible d'ajouter des morceaux
Vérifiez la connection USB
Vérifiez l'espace disponible sur le lecteur
L'ordinateur ne voit pas le lecteur
Vérifiez la connection USB
Redémarrez votre ordinateur avant de reconnecter le lecteur
Le lecteur ne lit pas un fichier MP3
Assurez vous que le fichier que vous essayez de lire n'est pas
endommagé ou incomplet
Français
► Précautions
A pleine puissance, l'écoute prolongée du baladeur
peut endommager l'oreille de l'utilisateur.
• N'utilisez pas votre lecteur dans des environnements extrêmes, ce lecteur est conçu pour fonctionner dans une
plage de températures allant de -5°C à +40°C.
• Ne choquez pas votre lecteur, cela entraînerait des risques de détériorations de la coque étanche et/ou la
destruction des parties internes.
• Lors du chargement ou du déchargement des fichiers musicaux, ne déconnectez pas le câble USB, il en
résulterait une détérioration du programme interne.
• N'ouvrez pas votre lecteur, aucune partie interne n'est réparable en dehors de nos ateliers.
• Assurez vous que le volume soit au minimum avant de mettre votre lecteur hors tension, cela vous garantit de
ne pas subir de choc lors de la prochaine mise sous tension.
• Le degré d'étanchéité du RS4 est IPX8, cela signifie qu'il peut être immergé à une profondeur maximale de 1,5
mètres pendant une durée maximale de 60 minutes.
• La société Play2Run® ne peut être tenue responsable de la perte ou de la détérioration des fichiers que vous
manipulez.
• La société Play2Run® apporte le plus grand soin à la fabrication de ses produits pour vous garantir la
meilleure qualité. Des modifications peuvent donc être effectuées sans notification préalable. C'est pourquoi
les caractéristiques techniques et la configuration physique des produits peuvent différer des spécifications
et illustrations présentées dans ce manuel. Pour bénéficier des dernières informations et mises à jour sur les
produits Play2Run® connectez-vous sur www.play2run.com
● L'utilisation du RS4 sur la voie publique ou dans
des lieux où vous devez pouvoir communiquer avec
votre entourage peut s'avérer dangereuse.
● Il est strictement interdit d'utiliser le RS4 en
conduisant un véhicule
● Le son optimal est obtenu avec les terminaisons sèches.
● Avec les terminaisons étanches, les basses fréquences sont amoindries.
English
► Quick start Guide
• To charge the battery and upload music, open the USB cover as the drawing
enclosed.
Note : Please be sure that the RS4 is not ON and completely dry.
• Connect the mini USB to the headphones. Then connect the USB to your
computer. The light on the RS4 will flash during the battery charging.
• The light will stop flashing when the battery is full.
1
2
• Open the RS4 directory with your computer's file explorer. Do not format the RS4 otherwise this will damaged
the functionality and cancel the warranty.
• Drag and drop your files (mp3 and WMA only) into the root folder. Do not put other files type this can freeze
the player.
• When the audio files are upload closed the folder and eject the RS4.
Please eject the RS4 correctly before to unplug it.
• Unplug the mini USB and replace the USB cover by turning clockwise. Be sure that the cover is correctly closed
and sealed against water.
► Included into the pack
6 dry ear buds
size 1
(running)
3 caps cover
1 USB cord
1 RS4 player
6 waterproof unique
size ear buds
(swimming pool)
1 user guide
6 dry ear buds
size 2
(running)
2 sizes of dry ear buds are delivered to ensure optimum comfort. The optimal acoustic comfort is achieved
with size 2 ear buds.
► Functions description
Earbud
Speaker
USB port
cover
Power On/Off
Play/Pause
Next
Previous
Vol + / Vol -
English
Key
Action
Play mode
Hold 4 seconds
On /Off
Press
Pause
Paused mode
Power ON/OFF
Resume play
Press
Play next track
Select next track
Press and hold
Fast forward
Select next track
Press
Play previous track
Select previous track
Press and hold
Rewind track
Select previous track
Press
Volume up once
Volume up once
Press and hold
Quick volume increase
Quick volume increase
Press
Volume down once
Volume down once
Press and hold
Quick volume decrease
Quick volume decrease
Next
Previous
Volume +
Volume -
► Wearing recommendations
• To adjust the RS4, wear it as the right drawing : Headset behind and function
keys in the right hand.
L
R
• Put the ear buds into your ears.
• Adjust the position correctly to have good sound quality and feel comfortable.
• You can adjust the position by
rotate and slide the speaker onto the
headset.
• The ideal position of the headset is approximate on the middle of
the head. As this it should not move. When you use the RS4 into
water be sure that you have installed the waterproof ear buds. The
RS4 can be used into sweat condition only with the waterproof ear
buds otherwise leak can cause severe damage.
The sound level may drop down under water. Because a thin film
of water appears on the speakers. If this happens, take off the ear
buds and blow off the water film. Squeeze the ear buds to let
the water come out. You can also take off the ear buds and let the RS4 dry.
English
► Specifications
IP rate
IPX8
Dimensions
124 x 33 x 150 mm
Weight
22g
USB connection
USB 2.0
Battery
Lithium 190mAh
Memory
4GB
Audio files compatible
MP3 8bps~320Kbps, WMA 32Kbps~192Kbps
File format
FAT16, FAT32
Output level
100dB max.
Frequency response
20Hz-20KHz
S/N
>70dB
Distortion
<0.1%
Operating environment
-5°C~40°C (41°F~104°F)
operating time
About 10 hours
► Troubleshooting
Problem
Solution
Key are not working
Stop suddenly while playing
Power turns off
Be sure that the battery is fully charged.
No sound from speakers
Check the volume level.
Check audio files.
Impossible to add music
Check USB connection.
Check the memory capacity.
Computer does not detect the RS4
Check USB connection.
Restart your computer and connect your RS4 alone only.
Failure to play some mp3 files
Make sure that the mp3 format is compatible and not
damaged.
English
► Warning
Risk of hearing loss listen music to a reasonnable
level
• Do not use your RS4 in an extrem environment as temperature below -5°C and +40°C.
• Avoid impact on your player otherwise it may damage external or internal parts.
• During upload or download do not disconnect your RS4. it may cause programm error
• Do not open, dismantle or try to repair the RS4.
• Be sure that sound level is low before to switch off the player. this can avoid hearing shocks at the next start.
• The IP rate is IPX8, this means a 1,5m depth during 60 minutes maximum use under water.
• Play2Run® is not responsible for any data losses or damages.
• Play2Run® is always trying to improve his products to provide the highest quality level. Modifications may
occurs without prior notice. That's why specifications and outlook may change from this user guide. Please
check Play2Run® website to be inform about all the updated information : www.play2run.com
● For safety reason do not use the player when
driving, ridding or jogging on the road.
● Be careful to use it with low sound level to be able
to communicate with people around.
● The best sound is achieved with the dry earbuds.
● With waterproof earbuds, low frequencies are diminished.
Deutsch
► Kurzanleitung
• Zum
Laden
des
Akkus
oder
zum
überspielen
von
öffnen Sie bitte die Abdeckung der USB Buchse (siehe
Musiktiteln,
Zeichnung).
Bitte stellen Sie sicher, dass der RS4 in einem trockenen Zustand ist und
ausgeschaltet ist. Eindringende Feuchtigkeit kann in der USB Buchse zu
Beschädigungen und Fehlfunktionen führen.
• Verbinden Sie die Kopfhörerbuchse des Kopfhörers mittels Adapterkabels mit
der USB Buchse an Ihrem Computer. Die LED am RS4 wird während des AkkuLadevorgangs blinken.
1
2
• Die LED Anzeige wird erlischen, wenn das Akku vollkommen geladen ist.
• Öffnen Sie das Titelverzeichnis des RS4 mittels Datei Explorers auf Ihrem PC. Bitte formatieren Sie nicht das Verzeichnis
auf dem RS4, da es hierdurch zu Beschädigung des Players führen kann und die Gewährleistung erlischt.
• Kopieren Sie die gewünschten Musiktitel mittels "Drag and Drop" Funktion von Ihrem Computer Verzeichnis in das
Verzeichnis des RS4 Players. Kopieren Sie nur Dateien im mp3 und WMA Format! Andere Formate können zum Absturz
der Software führen!
• Wenn alle Titel auf den RS4 überspielt wurden, schließen Sie das Ordner-Verzeichnis und trennen Sie den Player vom
USB Kabel.
Bitte erst vom Computer trennen wenn der Ordner des Players ordnungsgemäß abgespeichert wurde!
• Ziehen Sie den Mini USB Stecker des Adapter-Kabels ab und verschließen diesen wieder mittels Kopfhöreranschlusses
durch drehen. Stellen Sie sicher, dass die Buchse gegen mögliches, eindringendes Wasser geschützt ist!
► Inhalt der Verpackung
6 x normal
Ohrstöpfsel Größe 1
1 x USB Kabel
3 x Abdeckungen
1 x RS4 Player
6 x normale
Ohrstöpfsel Größe 2
Bedienungsanleitung
6 x große wasserdichte
Ohrstöpfsel
Um Ihnen den Besten Tragekomfort zu bieten, liegen dem Packungsinhalt zwei unterschiedliche Größen von
Ohrstöpfseln bei. Das Beste Klangergebnis wird jedoch mit der Größe 2 erzielt.
► Funktionsbeschreibung
Ohrstopfen
Lautsprecher
USB
Abdeckung
Vol + / Vol -
Power Aus/An
Wiedergabe/Pause
Vor- Rücklauf
Deutsch
Taste
Aktion
Wiedergabe
4 sec. drücken
An / Aus
Kurz drücken
Pause
Pause
Power An/Aus
Wiedergabe
Drücken
Nächstes Stück
Nächstes Stück
Drücken und halten
Schnellvorlauf
Nächstes Stück
Drücken
Vorheriges Stück
Vorheriges Stück
Drücken und halten
Schnellrücklauf
Vorheriges Stück
Drücken
Lauter
Lauter
Drücken und halten
Schnell Anstieg
Schnell Anstieg
Drücken
Leiser
Leiser
Drücken und halten
Schnell Absenkung
Schnell Absenkung
Next
Previous
Volume +
Volume -
► Tragepostion des Kopfhörers
• Bitte setzen Sie den RS4 Kopfbügel wie in den beiden Zeichnung beschrieben
auf Ihren Kopf.
L
R
• Drücken Sie bitte die beiden Ohrstopfen vorsichtig in den Gehörgang Ihrer Ohren.
• Durch leichtes drehen und schieben können Sie die optimale Trageposition
anpassen. Der Kopfhörer sollte bequem und fest sitzen! Idealerweise sollte sich
der Bügel in der Mitte Ihres Kopfes befinden (siehe Zeichnung).
Falls Sie den RS4 Kopfbügel Player im Wasser benutzen, stellen
Sie bitte sicher, dass Sie die wasserfesten Ohrenstopfen richtig
platziert haben. Bei extrem schweißtreibenden Sportarten
müssen ebenfalls immer die wetterfesten Ohrenstopfen montiert
sein! Eindringendes Wasser kann den Player beschädigen!
Falls Wasser eingedrungen ist sollten Sie den Kopfhörer abnehmen, die
Ohrenstopfen abziehen und das verbliebene Wasser aus den Ohrenstopfen
drücken. Den evtl. verbleibenden Wasserfilm auf der Membran können Sie
heraus pusten und dann anschließend den Player und die Stopfen trocknen
lassen (siehe Zeichnung).
Deutsch
► Technische Daten
IP Rate
IPX8
Abmessungen
124 x 33 x 150 mm
Gewicht
22g
USB Anschluß
USB 2.0
Batterie
Lithium 190mAh
Speicher
4GB
Audio Datei Formate
MP3 8bps~320Kbps, WMA 32Kbps~192Kbps
Datei Formate
FAT16, FAT32
Schalldruck
100dB max.
Frequenzbereich
20Hz-20KHz
S/N
>70dB
Klirrfaktor
<0.1%
Betriebskonfiguration
-5°C~40°C (41°F~104°F)
Betriebsbereitschaft
ca. 10 Stunden
► Problembehebung
Problem
Lösung
Keine Funktion der Taste
Stoppt während der Wiedergabe
Gerät schaltet aus
Stellen Sie sicher, dass der Akku geladen ist.
Kein Ton
Kontrollieren Sie die Lautstärke-Einstellung.
Überprüfen Sie die Audio Datei.
Musikstücke können nicht hinzugefügt werden
Überprüfen Sie die USB Verbindung.
Speicherkapazität erreicht - Musikstücke löschen.
Der PC erkennt nicht den RS4
Überprüfen Sie die USB Verbindung.
Starten Sie Ihren PC neu und verbinden Sie nurden RS4.
Einige MP3 Stücke können nicht abgespielt
werden
Stellen Sie sicher, dass Sie das richtige dateiformat
verwenden und die Datei nicht beschädigt ist.
Deutsch
► Warnung
Hohe Lautstärkepegel können Ihr Hörvermögen
beeinträchtigen und möglicherweise zum
Gehörverlust führen!
• Benutzen Sie den RS4 nicht in Umgebungen mit extremen Temperaturen! Die Umgebungstemperatur sollte in
dem Bereich von -5 bis +40°C liegen.
• Ein Betrieb außerhalb dieser Umgebungstemperatur ist nicht ratsam und kann zu Beschädigungen des Players
führen und dem Verlust der Gewährleistung!
• Bitte öffnen Sie nie den RS4 Player oder versuchen diesen zu reparieren!
• Reduzieren Sie die Wiedergabelautstärke bevor Sie den RS4 Player ausschalten, damit Sie sich selbst oder
andere Personen beim der nächsten Benutzung nicht unerwarteter hoher Lautstärke aussetzen.
• Wetterfestigkeit: Die IP Klassifizierung entspricht dem IPX8 Status. Somit kann der Kopfhörer/Player maximal
60 Minuten bis zu einer Eintauchtiefe bis 1,5m unter Wasser betrieben werden.
• Play2Run® und deren autorisierte Vertriebspartner schließt jedliche Haftung für Datenverluste oder
Beschädigung aus!
• Play2Run® ist stets bemüht in Verbesserungen und Veränderungen die der Produktentwicklung dienen in die
Produktion einfliessen zu lassen.
• Modifikationen und Änderungen bedürfen keiner vorherigen Ankündigung. Dadurch ist es möglich, dass Ihr
gekauftes Produkt von dieser Anleitung abweicht.
• Bitte besuchen Sie die Webseite Play2Run®. Dort finden Sie stets aktuelle Produktinformationen und neue
Bedienungsanleitungen zu den Produkten.
• www.play2run.com für Deutschland: www.play2run.de
Zu Ihrer eigenen Sicherheit und um Gefährdungen anderer auszuschließen, benutzen Sie niemals den Player beim Fahren von Kraftfahrzeugen, Fahrrädern, beim Reiten oder beim Joggen im öffentlichen
Straßenverkehr oder auf öffentlichen Plätzen.
Achten Sie darauf, dass Sie den Player nicht mit hoher Lautstärke
benutzen! Eine Kommunikation mit Ihrer Umwelt sollte jederzeit möglich sein.
Der beste Sound wird mit dem normal Ohrhöher erreicht.
Mit den wasserdichten Ohrhörern werden niedrige Frequenzen verringert.
Nederlands
► Snelstarthandleiding
• Open
de
USB
cover
zoals
afgebeeld
in
de
hiernaast om de batterij op te laden en muziek te
tekening
uploaden.
(n.b : zorg ervoor dat de RS4 niet aanstaat en volledig droog is)
• Sluit de mini-USB aan op de RS4 en sluit de USB kabel aan op uw computer.
De led op de RS4 knippert tijdens het opladen.
1
2
• De led stopt met knipperen als de batterij vol is.
• De RS4 is beschikbaar als een externe harde schijf op uw computer. Open de file explorer en open de RS4
verwisselbare schijf. Formatteer de RS4 schijf NOOIT. Hierdoor wordt de functionaliteit van de RS4 beschadigd
en vervalt de garantie.
• Sleep de MP3 bestanden die u wilt uploaden naar de root van de RS4 schijf. Gebruik enkel MP3 of WMA
bestanden. Uploaden van bestanden van een ander type kan ervoor zorgen dat de RS4 niet meer kan afspelen.
Selecteer hardware veilig verwijderen op uw computer en verwijder de RS4 op de juiste manier.
• Ontkoppel de mini-USB en sluit de USB cover van de RS4 door deze in de richting van de klok te draaien. Let
erop dat de cover goed is gesloten, anders kan er vocht binnendringen.
► Inhoud van de verpakking
1 USB kabel
6 droge oordopjes
maat 1 (joggen,
fitness e.d)
3 caps cover
1 RS4 player
1 handleiding
6 waterdichte oordopjes
1 maat
(zwembad)
6 droge oordopjes
maat 2 (joggen,
fitness e.d)
Er worden 2 maten droge oordopjes meegeleverd voor een optimaal comfort. Het beste geluid wordt bereikt
met de oordopjes maat 2.
► Beschrijving van de functies
Oordopje
Speaker
USB port
cover
Power On/Off
Play/Pause
Volgende
vorige
Vol + / Vol -
Nederlands
Toets
Actie
Afspeelmode
Paused mode
4 sec. indrukken
On /Off
Kort indrukken
Pause
Afspelen
Kort indrukken
Speel volgende af
Selecteer volgende
Ingedrukt houden
Vooruit spoelen
Selecteer volgende
Power ON/OFF
Volgende
Kort indrukken
Speel vorige af
Selecteer vorige
Ingedrukt houden
Achteruit spoelen
Selecteer vorige
Kort indrukken
Volume 1 stap omhoog
Volume 1 stap omhoog
Ingedrukt houden
Volume hoger
Volume hoger
Kort indrukken
Volume 1 stap lager
Volume 1 stap lager
Ingedrukt houden
Volume lager
Volume lager
Vorige
Volume +
Volume -
► Aanbevelingen voor dragen van de RS4
• Om de RS4 goed te dragen: neem de headset in de hand zoals in bijgevoegde
tekening met de headset naar achteren en functietoetsen in de rechterhand
L
R
• Plaats de headset op het hoofd en doe de oordoppen in de oren
• Verstel de headset zodanig dat het geluid optimaal is en de R4 comfortabel zit
• De headset kan versteld worden door te draaien en de speaker op de headset
te verschuiven.
• De ideale positie van de headset is ongeveer midden op het hoofd. Indien correct
geplaatst beweegt de headset niet.
• Als u de RS4 in water gebruikt, vergeet dan niet om de waterdichte
oordoppen te gebruiken. Bij gebruik van de RS4 in combinatie met
veel zweet dient u tevens de waterdichte oordoppen te gebruiken.
Onder water kan het geluidsniveau omlaag gaan. Dit wordt
veroorzaakt door een dunne waterfilm op de speaker.
Als dat gebeurt verwijder dan de oordoppen van de RS4 en blaas de
waterfilm eraf. Knijp in de oordoppen om het water eruit te laten. U kunt
ook na gebruik de oordoppen eraf halen en de RS4 laten drogen.
Nederlands
► Specificaties
Beschermingsklasse
IPX8
Afmetingen
124 x 33 x 150 mm
Gewicht
22g
USB aansluiting
USB 2.0
Batterij
Lithium 190mAh
Geheugen
4GB
Compatible bestanden
MP3 8bps~320Kbps, WMA 32Kbps~192Kbps
Bestandsopmaak
FAT16, FAT32
Geluidsdruk
100dB max.
Frequentiebereik
20Hz-20KHz
Signaal/ruisverhouding
>70dB
Vervorming
<0.1%
Min/max temperatuur
-5°C~40°C (41°F~104°F)
Gebruiksduur met volle batterij
Ongeveer 10 uur
► Probleemoplossing
Probleem
Oplossing
Toetsen werken niet
Afspelen stopt abrupt
Power gaat uit
Controleer of de batterij is opgeladen.
Geen geluid uit de speakers
Controleer volumeinstelling.
Controleer de bestanden.
Niet mogelijk om muziek toe te voegen
Controleer de USB aansluiting.
Controleer of het geheugen niet vol is.
Computer detecteert de RS4 niet
Controleer de USB aansluiting.
Herstart uw computer en probeer de RS4 opnieuw aan
te sluiten.
Sommige bestanden kunnen niet afspelen
Controleer of de MP3 bestanden compatibel en
onbeschadigd zijn
Nederlands
► Waarschuwingen
Risico van gehoorbeschadiging. Zet het volume niet
te hard!
• Gebruik de RS4 niet in extreme omstandigheden onder -5 en boven + 40 graden.
• Oefen geen druk uit op de RS4. Hiermee kunt u onderdelen beschadigen.
• Tijdens up/en downloaden nooit de USB kabel verwijderen. Dit kan het geheugen beschadigen.
• De RS4 niet openen, ontmantelen of proberen te repareren.
• Zet het volume laag wanneer u de RS4 uitzet. Dit voorkomt een schok aan uw gehoor bij de volgende keer dat
u de RS4 inschakelt.
• De RS4 heeft een IP beschermingsklasse IPX8. Dit betekent dat de RS4 bestand is tegen maximaal 60 minuten
onder water op maximaal 1,5 meter diepte.
• Play2Run® is niet aansprakelijk voor verlies van data, beschadiging of gehoorschade.
• Play2Run is altijd bezig haar producten te verbeteren. Dit product kan zonder voorafgaande waarschuwing
worden gewijzigd. Hierdoor kunnen specificaties of uiterlijk gewijzigd zijn ten opzichte van deze handleiding.
Kijk op de Play2Run website voor een gewijzigde versie : www.play2run.nl.
● Voor de veiligheid de RS4 niet gebruiken op de
openbare weg.
● Als u met anderen moet communiceren zet dan het
volume zeer laag.
● Het beste geluid wordt bereikt met de droge oordopjes.
● Met waterdichte oordopjes, worden lage frequenties verminderd.