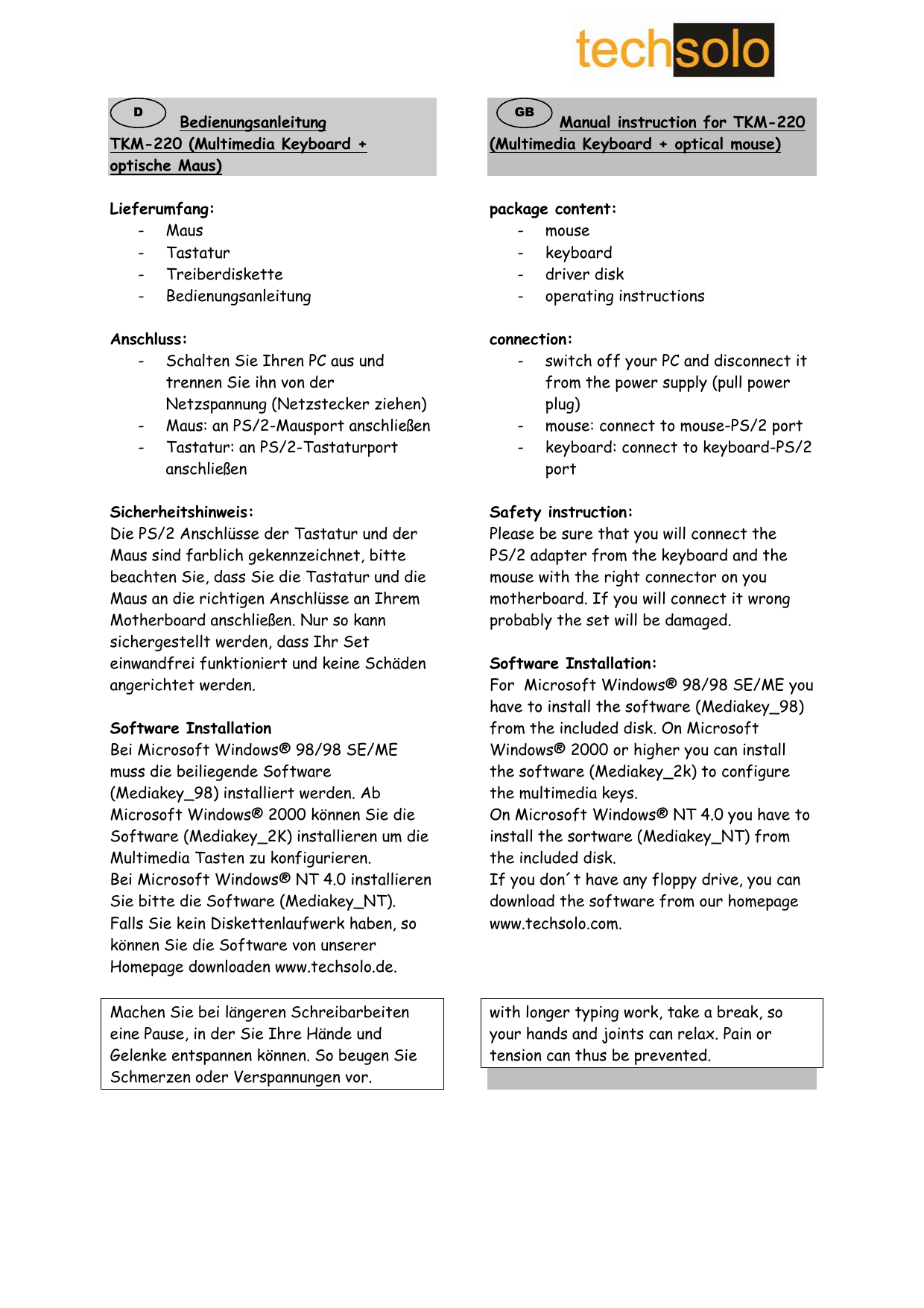 D
GB
Bedienungsanleitung
TKM-220 (Multimedia Keyboard +
optische Maus)
Manual instruction for TKM-220
(Multimedia Keyboard + optical mouse)
Lieferumfang:
- Maus
- Tastatur
- Treiberdiskette
- Bedienungsanleitung
package content:
- mouse
- keyboard
- driver disk
- operating instructions
Anschluss:
- Schalten Sie Ihren PC aus und
trennen Sie ihn von der
Netzspannung (Netzstecker ziehen)
- Maus: an PS/2-Mausport anschließen
- Tastatur: an PS/2-Tastaturport
anschließen
connection:
- switch off your PC and disconnect it
from the power supply (pull power
plug)
- mouse: connect to mouse-PS/2 port
- keyboard: connect to keyboard-PS/2
port
Sicherheitshinweis:
Die PS/2 Anschlüsse der Tastatur und der
Maus sind farblich gekennzeichnet, bitte
beachten Sie, dass Sie die Tastatur und die
Maus an die richtigen Anschlüsse an Ihrem
Motherboard anschließen. Nur so kann
sichergestellt werden, dass Ihr Set
einwandfrei funktioniert und keine Schäden
angerichtet werden.
Safety instruction:
Please be sure that you will connect the
PS/2 adapter from the keyboard and the
mouse with the right connector on you
motherboard. If you will connect it wrong
probably the set will be damaged.
Software Installation
Bei Microsoft Windows® 98/98 SE/ME
muss die beiliegende Software
(Mediakey_98) installiert werden. Ab
Microsoft Windows® 2000 können Sie die
Software (Mediakey_2K) installieren um die
Multimedia Tasten zu konfigurieren.
Bei Microsoft Windows® NT 4.0 installieren
Sie bitte die Software (Mediakey_NT).
Falls Sie kein Diskettenlaufwerk haben, so
können Sie die Software von unserer
Homepage downloaden www.techsolo.de.
Machen Sie bei längeren Schreibarbeiten
eine Pause, in der Sie Ihre Hände und
Gelenke entspannen können. So beugen Sie
Schmerzen oder Verspannungen vor.
Software Installation:
For Microsoft Windows® 98/98 SE/ME you
have to install the software (Mediakey_98)
from the included disk. On Microsoft
Windows® 2000 or higher you can install
the software (Mediakey_2k) to configure
the multimedia keys.
On Microsoft Windows® NT 4.0 you have to
install the sortware (Mediakey_NT) from
the included disk.
If you don´t have any floppy drive, you can
download the software from our homepage
www.techsolo.com.
with longer typing work, take a break, so
your hands and joints can relax. Pain or
tension can thus be prevented.
F
PL
Mode d'emploi
pour le TKM-220 (clavier multimédial avec
une souris optique)
Instrukcja obsługi zestawu
TKM-220 Klawiatura podświetlana + mysz
optyczna
Contenu de la livraison :
- souris
- clavier
- support de données avec logiciel
- mode d'emploi
zawartość opakowania :
- mysz
- klawiatura
- sterowniki
- instrukcja obsługi
Branchment :
- Éteignez votre ordinateur et
débranchez-le de la prise de courant
de secteur
- Souris : se branche sur l'interface
PS/2 de souris
- Clavier : se branche sur l'interface
PS/2 de clavier
podłączanie :
- wyłącz komputer i wyjmij wtyczkę
zasilania z gniazdka
- mysz : podłącz mysz do
odpowiedniego portu PS/2
- klawiatura : podłącz klawiaturę do
odpowiedniego portu PS/2
Instructions de sécurité:
Soyez sûr que vous avez connecté les
connecteurs PS/2 de votre clavier et de la
souris aux connexion correct de votre
mainboard. Si vous faites des connexion
fautes il est possible que vous faites
dommage au lot.
instrukcja bezpieczeństwa :
Upewnij się, że mysz i klawiatura jest
podłączona do właściwych portów PS/2 na
płycie głównej. W przypadku błędnego
podłaczenia może dojść do uszkodzenia
zestawu
Installation du pilote
Pour Windows ® 98/98 SE/ME vous devrez
installer les pilotes qui sont inclus dans la
disque. Si vous travaille avec Windows®
2000 ou mieux vous ne devez pas installer
les pilotes, parce que là Windows a déjà
installer les pilotes nécessaire
instalacja oprogramowania :
Aby uzyskać możliwość używania klawiszy
dodatkowych zainstaluj sterowniki
odpowiednie dla systemu operacyjengo :
- dla Windows® 98/98 SE/ME >
(Mediakey_98)
- dla Windows® 2000 lub nowszy >
(Mediakey_2k)
- dla Windows® NT 4.0 >
(Mediakey_NT)
z załączonego nośnika ze sterownikami.
Jeżeli nie posiadasz stacji dyskietek,
możesz pobrać aktualne sterowniki ze strony
www.techsolo.pl
En cas de travail prolongé sur ordinateur,
instaurez une pause dans le but de relaxer
vos mains et articulations. Cette relaxation
est titre préventif contre les douleurs et
contractions.
Przy dłuższej pracy zaleca się regularne
przerwy. Pozwoli to uniknąć bulów mięśni
oraz nadmiernego zmęczenia.

* Your assessment is very important for improving the work of artificial intelligence, which forms the content of this project