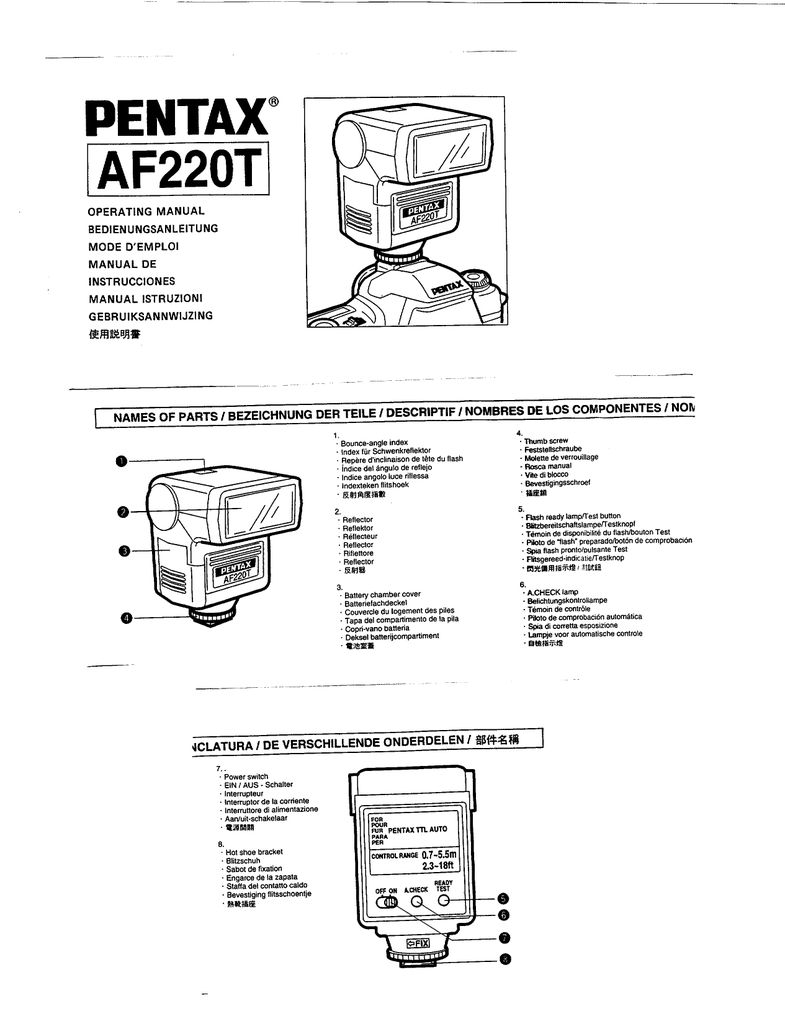 PENTAX
AF220T
OPERATING MANUAL
BEDIENUNGSANLEITUNG
MODE D'EMPLOI
MANUAL DE
INSTRUCCIONES
MANUAL ISTRUZIONI
GEBRUIKSANNWIJZING
(EA EF
| NAMES OF PARTS / BEZEICHNUNG DER TEILE / DESCRIPTIF / NOMBRES DE LOS COMPONENTES / NON
+ Bounce-angle index
- Index fiir Schwenkrefiekior
- Repère dinclinaison de tête du flash
- indice del ángulo de reflejo
- Couvercle du logement des piles
- Tapa del compartimento de la pila
- Copri-vano batteria
- Deksel batterijcompartiment
- GEER
. Thumb screw
- Feststelischraube
- Molette de verrouillage
- Rosca manual
« Indice angolo luce riflessa - Vite di blocco
- indexteken flitshoek - Bevestigingsschroef
- REIBEER TER
. 5.
- Reflector - Flash ready lamp/Test button
- Reflektor - Bitzbereitschaftslampe/Testknopt
- Réfiecteur - Témoin de disponibilité du flash/bouton Test
- Reflector » Piloto de "flash" preparado/botón de comprobación
- Riflettore - Spia flash pronto/pulsante Test
- Reflector - Fitsgereed-indicatie/Testknop
- RAR - PIAGET SIRE
. 6.
- Battery chamber cover - ACHECK lamp
- Batteriefachdeckel
- Belichtungskontrollampe
- Témoin de contróle
- Pitoto de comprabación automática
- Spia di corretta esposizione
» Lampje voor automatische controle
- BIER
ICLATURA / DE VERSCHILLENDE ONDERDELEN / SIG:28 |
7.
- Power switch
- EIN / AUS - Schalter
+ Interrupteur
» Interruptor de la corriente
- Interruttore di alimentazione
- Aan/uit-schakelaar
-% я
RBH FUR PENTAX TTL AUTO
PARA
8. PER
- Hot shoe bracket
- Bliizschuh CONTROL RANGE 0.7-5.5M
- Sabot de fixation 2.3-18ft
- Engarce de la zapata
- Stafta del contatto caldo
- Bevestiging flitsschoentje
- RAM IE
a
T=
READY
OFF ON ACHECK TEST
OPERATING MANUAL (ENGLISH)
Please read this manual carefully before
operating the flash.
A WARNING
- The electric circuits inside the camera contain
high voltage working parts. Never attempt to
disassemble the flash unit yourself.
- Never touch internal parts of the flash unit if
they become exposed from dropping the flash
unit or for some other reason, as there is
danger of electric shock.
A CAUTION
- Do not use the flash near anyone's eyes, as it
may hurt them. Be particularly careful with the
flash around infants.
PRECAUTIONS
- Replace all batteries at the same time. Do not
mix battery brands and types, or mix oid
batteries with new ones.
- Remove batteries when not using the flash
unit for long periods of time. Batteries tend to
leak if left too long in the unit. This may cause
serious damage.
- Do not dispose of the battery in fire, as it may
explode.
- If the AF220T is used with any camera other
than a Pentax, it may cause malfunction, or
may damage the electronic circuitry of the
camera.
NOTES ON FLASH PHOTOGRAPHY
- If you take a flash photo of two persons, one
very near and the other distant, in one picture,
the near person tends to be overexposed. So,
in such case, keep an extremely near subject
out of the frame.
- If the subject you are shooting in place like a
theater is small, not in the camera of the
picture area, and the central background is
black, it tends to be overexposed.
SPECIFICATIONS
Type: Clip-on type, Series-control TTL auto
flash, Specially designed for use with the
camera incorporated TTL flash control device.
Guide Number: 22 (1SO 100m)
Fiash Coverage Angle: Covers picture area of
35mm lens.)
Color Temperature: Equivalent to daylight
TTL flash range: 0.7m - 5.5m (2.3 - 18ft)
Aperture Auto Set Function: With any Pentax
programmed AE with its lens setto "A"
Usable Film Speed: ISO 25 - 1600
Power Source: Four AA-size batteries (1.5V
4); Alkaline, Manganese or Ni-Cd batteries
Number of Flashes & Recycling Time(Approx.)
Power Recycling Number of
Source Time Flashes
Alkaline 6 sec 280
Manganese 10 sec 70
Ni-Cd battery 4 sec 100
(Based on Pentax testing conditions)
Dimensions: 62(W) x 104.5(H) x 69.5(D)mm
2.4" (W)x 4.1" (H)x 2.7" (D)
Weight : 165 g (5.8 02)
3.
READY
OFF ON'\A.CHECK TIT,
(D) O -C-
у
LD
1. Open
Offnen
ouverture
Abrir
Aprire
Openen
HE
2. insert batteries/Close
Batterien einlegen und schließen.
Introduire les piles/Fermeture
Colocar las pilas/Cerrar
Inserire le batterie/chiudere
Batterijen inleggen/sluiten
RAT / BAA
Slide into the hot shoe
Anschluf Mittelkontakt
Monter le flash sur le sabot
Conexiôn contacto central
Inserire sul contatto caldo
In flitsschoentje schuiven
FEE RE AAR BHP
. Turn the switch "ON"
Den Schalter einschalten "ON"
Mettre l'interrupteur d'alimentation sur
"ON"
Pônga el interruptor de la posiciôn "ON"
Portare l'interruttore su "ON"
Schakelaar op "ON" zetten
1SPABAIER ON" (UE
—_— 1
5. Adjustable bounce flash head
A bounce flash helps avoid harsh shadows
and softens the overall picture effect. The
bounce angle is click-adjustable for 60°,90°
upwards.
Verstellbarer Reflektor fiir indirekte
Blitzaufnahmen.
Er 1áBt sich um 60° oder urn 90° nach oben
schwenken um Schlagschatten zu vermeiden
und um einen weicheren Gesamteindruck zu
erhalten.
5
| 5 3-18ft | 6. Automatic Exposure Check
Ue If the "A.CHECK" lamp lights up just after
flash, it indicates a correct exposure has been
__, READY made
OFF CN. ACIFXQK TEST ;
О; O Bei korrekter Belichtung leuchtet die
"A. CHECK"
Lampe nach dem Ausiósen auf.
Sollte sie nicht blinken, verringern Sie den
Abstand zum Motiv.
Contróle d'exposition automatique.
Si le témoin de contróle A s'allume juste
apres léclair du flash, cela indique que
l'exposition est correcte.
-— ——
TTL Auto Flash Range (ISO 100)
Table no.1 — A A |
f/stop Flash Range : 1SO0 FILM SPEED, APERTURE, AND FLASH
RANGE
1.2 2.8 - 18. 9.2 - 60ft
14 D. ИЕ 6.6 EN In the Programmed AE mode, the aperture is
2 14-11m (4.6 - 36.1 ft) automatically set to the f-stop as shown in Table
| 28 1- 78m (3.3 _ 25.61) No.3. The flash range (flash to subject distance)
4 0.7 - 5.5m (2.3 - 18ft) is fixed from 0.7m to 5.5m (2.3 - 18ft.).
5.6 0.7 - 3.9m (2.3 - 12.8ft) In the Aperture Priority AE and Manual
8 0.7 - 2.7m (2.3 - 8.9ft) Exposure control modes, a proper f-stop must
41 0.7- 2m (2.3-6.56ft) be manually selected in accordance with Table
16 0.7 - 1.3m (2.3 . 4.38) No.1. Otherwise, a proper exposure will not be
_ 4, an obtained.
22 0.7- im (2.3 - 3.3ft) Table no.3
| f/sto | t
At 1SO 400, the distances are doubled, while at = > Р > Us =
ISO 25, the distances are halved. 50 28 800 11
100 4 1600 16
COMPATIBLE CAMERAS AND EXPOSURE 200 5.6
MODES
This flash is designed to work with the camera
incorporates TTL Flash function. The dedicated Specifications are subject to change without
functions are shown in Table 2 below. any obligation on the part of the manufacturer.
Table no.2
Kar/Karz Mount
cameras, 645
Programmed At О*
Aperture-Prioriry AE O
Exposure mode
* Upon completion of charging, the flash-sync
speed and Programmed f-stop will be set
automatically.
** Upon completion of charging, the flash-sync
speed will be set automatically. However, the
aperture should be set manually.

* Your assessment is very important for improving the work of artificial intelligence, which forms the content of this project