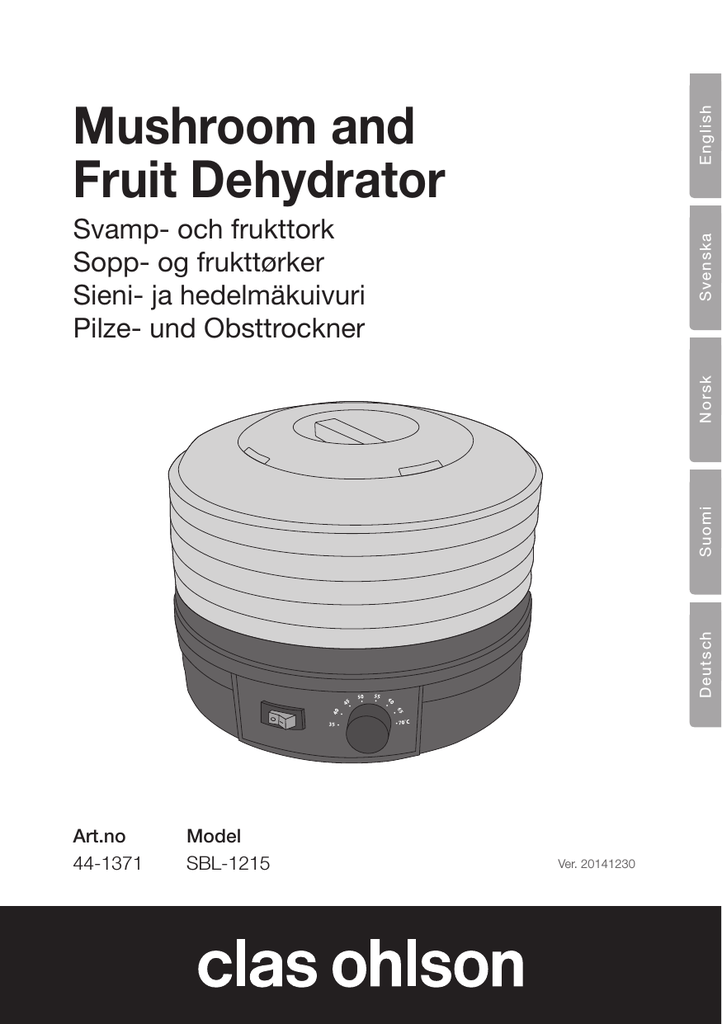 E ngl i sh
Mushroom and
Fruit Dehydrator
Deut s ch
S uomi
N orsk
S ve n sk a
Svamp- och frukttork
Sopp- og frukttørker
Sieni- ja hedelmäkuivuri
Pilze- und Obsttrockner
Art.noModel
44-1371SBL-1215
Ver. 20141230
2
Art.no 44-1371
Model SBL-1215
Please read the entire instruction manual before using the product and then save
it for future reference. We reserve the right for any errors in text or images and any
necessary changes made to technical data. If you have any questions concerning
technical problems please contact our Customer Services.
Safety
• This dehydrator can be used by children aged from 8 years
and above if they have been given supervision or instruction
concerning use of the appliance in a safe way and if they
understand the hazards involved.
• Cleaning and user maintenance shall not be made by children
unless they are older than 8 and supervised.
• The dehydrator may be used by persons with reduced physical,
sensory or mental capability, lack of experience or knowledge
which could jeopardise their safety, provided they have been
given proper supervision or instruction regarding the safe use
of the product and understand any hazards involved.
• Never let children play with the dehydrator.
• Keep the dehydrator and its mains lead out of reach of children
aged less than 8 years.
• The dehydrator must only be used with a power supply
corresponding to the voltage specified on the rating plate of
the dehydrator.
• Make sure that the plug is designed for and fits the wall socket.
Never try to modify the plug or use any kind of plug adaptor.
• Never use the dehydrator if it or the mains lead has been
damaged in any way. The mains lead should be checked
regularly. Never use the dehydrator if the mains lead or plug is
damaged.
3
E ngl i sh
Mushroom and Fruit Dehydrator
E ngl i sh
• The mains lead must be changed if damaged. This is to
prevent the risk of electric shock or fire and should only be
carried out by the manufacturer, authorised service facility or
a qualified tradesman.
• The dehydrator must not be plugged into a wall socket
controlled by any kind of time switch or remote control.
• Place the dehydrator on a firm, level surface where there is no
risk of it tipping over.
• Always turn the dehydrator off before unplugging it.
• Never place the dehydrator onto a cooker hob, into an oven
or into a freezer.
• Always unplug the dehydrator from the wall socket when it is
not in use.
• The dehydrator is only intended for normal domestic use and
only in the manner described in this instruction manual.
• Never immerse the dehydrator, its mains lead or plug in water
or other liquid. Doing so could result in an electric shock.
The dehydrator should not be washed in the dishwasher.
• Children should be kept under continuous supervision if they
are in close proximity to the dehydrator while it is in use.
• Never attempt to dismantle or modify the dehydrator in any way.
• Never use accessories which are not approved by
the manufacturer or retailer.
• Do not let the mains lead hang over the edge of the table or
counter. Do not let the mains lead come into contact with
sharp edges or hot surfaces.
• Repairs should only be carried out by qualified tradesmen.
• Keep the dehydrator out of direct sunlight.
• The dehydrator is only intended for indoor use and must not
be used outdoors or in humid environments. Never touch
the mains lead with wet hands. Doing so could result in
an electric shock.
4
Product description
1. Lid
1
2. Drying trays (× 5)
3. Power switch [ 1/0 ] (on/off)
4. Temperature setting knob
5. Base unit
2
3
4
5
5
E ngl i sh
• Never use the dehydrator close to flammable substances
or materials such as curtains or paper. The base of
the dehydrator will become hot during use, make sure that air
can circulate around it and that the ventilation openings are
not blocked. Failure to take these precautions could result in
the appliance overheating.
• Do not place anything on top of the dehydrator. Let
the dehydrator cool before moving it.
• The dehydrator is only intended for drying food, never place
anything else in the dehydrator such as paper or plastic items,
and never store anything inside the dehydrator.
• Do not use the dehydrator without the drying racks in place.
They are required in order for the air to circulate properly.
Always use the dehydrator with all the drying racks in place
even if they are not all filled with food.
• It is important that the drying racks are thoroughly cleaned
since they come into contact with foodstuffs.
• The dehydrator should not be used for more than 40 hours at
a time.
E ngl i sh
Dehydration
Drying or dehydrating is one of the oldest methods of food preservation. Food contains
a certain amount of water which can be removed by dehydration. Removing the moisture
from foodstuffs prevents the growth of bacteria and moulds which would otherwise
cause the food to deteriorate. This makes it possible to keep foodstuffs for several
years under favourable conditions. Dehydration concentrates the aromatic substances
in foodstuffs and intensifies the flavour. Dehydration is an environmentally friendly
method of preservation which uses no preservatives and one in which the foodstuffs
retain most of their vitamins and minerals. Dehydration is suitable for fruits, vegetables,
mushrooms, herbs and teas.
The air is warmed up and blown through the drying racks, causing most of the moisture in
the food to evaporate and be blown out through the openings in the lid. The contents
of every drying tray will be dried but the trays must be swapped around in order
for their contents to be dried as efficiently and evenly as possible. The contents of
the lowest tray will be dried the most efficiently, so the trays should all be circulated
through the different positions at regular intervals.
Operating instructions
Before using for the first time
1. Remove all packaging.
2. Place the dehydrator on a flat stable and heat-resistant surface. Bear in mind that
it is unwise to move the dehydrator during the drying process. Make sure that
there is at least 15 cm free space around the outside of the dehydrator to ensure
adequate air circulation in and around the dehydrator.
3. Fit all the (empty) drying trays and then the lid onto the base unit. Switch the dehydrator on and let it run empty for about 30 minutes before switching it off and
letting it cool down (this only needs to be done prior to initial use). Wash the drying
trays and the lid, rinse and dry them thoroughly. The dehydrator might emit a slight
odour of burning the first time it is used, but this is quite normal. Wipe the exterior
of the base unit with a damp cloth.
Preparations
1. Wash or clean the raw ingredients before drying to cleanse them of any traces of
chemicals, dirt, insects, etc.
2. Inspect any fruit or veg before placing it onto the drying tray. Remove any food that
is discoloured, overripe, or damaged, otherwise it could ruin everything on the tray.
3. Slice the food to be dried into 6 mm thick slices. Thinner slices will dry quicker
but they will shrink more. Slices of unpeeled fruit should be laid with the cut side
facing up. Lay each piece separately so that it does not overlap any of the others
on the tray.
6
5. Make sure that the power switch is set to 0 (off) before the dehydrator is plugged
into an electrical socket.
Dehydration
The food selected for dehydrating should be fresh and fully ripe. It is impossible to
achieve good results if the food that you start with is overripe, bruised or otherwise
deteriorated. Do not dehydrate wet produce, once rinsed the food should be allowed
to air dry for a while before you begin to dehydrate it.
1. Spread the food over the tray in an even layer.
2. Place the drying trays with the food on them onto the base unit and then put the lid on.
3. Plug the dehydrator into an electrical socket and switch the power switch to 1 (on).
4. Set the temperature using the table below as a guide and let the produce dehydrate for the recommended time (depending on the type and amount of produce).
The greater the moisture content of the food, the longer the drying time it will need.
All of the included drying trays must be used regardless of whether they contain
any food.
5. The contents of
the lowest tray will
be dried the most
efficiently, so
the trays should all
be circulated through
the different positions
at regular intervals
to ensure that all
the food is dried to
the same degree.
Lid
Lid
1
2
3
4
5
Lid
5
4
3
2
1
3
2
1
5
4
Base unit
Base unit
Base unit
Start
Change
Change
6. Check the progress of the dehydration from time to time to ensure that you do not
dehydrate the food too much. The food should be removed from the dehydrator
when it is dehydrated. The dehydrated food should be stored in a cool, dark place
in a suitable container.
7. Turn the dehydrator off and unplug it when you have finished.
8. Wash the lid and the drying trays.
7
E ngl i sh
4. Spread the food over the tray in an even layer. Herbs should be dried very carefully,
just remove the stalks. They do not need to be broken down any more. Herbs
need turning from time to time to stop them sticking to the tray.
E ngl i sh
Pre-treatment
In order to prevent certain types of fruit from discolouring, we recommend that the fruit
is first dipped into a solution made of one teaspoon lemon juice mixed with one cup
of water. The fruit should then be wiped with a paper towel. The lemon juice can be
substituted with pineapple juice or other source of vitamin C. Certain fruits such as figs,
plums, grapes and bilberries contain a natural protective layer of wax. They should be
treated like this: Lower them into boiling water for 1 to 2 minutes, take them out, let
them drain and then lower them immediately into cold water again before taking them
out, draining them and wiping them dry. Slice them and then dehydrate them.
Blanching
The majority of raw produce should be blanched before dehydration to help preserve
its flavour and appearance. This involves boiling the produce very briefly (1–5 minutes).
Place the prepared produce in a basket or strainer and immerse it in a pot of boiling
water for a couple of minutes before removing it and letting it drain. Let the produce
dry completely before you put it onto the drying tray and switch the dehydrator on.
Blanching is a suitable method for helping preserve the colour of apples, apricots,
figs, nectarines, peaches, pears and plums. The result will be sweetened candied fruit.
Different methods should be tried until you achieve the best result.
Recommended drying temperature (these temperatures are approximate only,
the dehydration time depends on the thickness of the slices, moisture content, etc.)
Experiment until you determine the optimum temperatures and times.
Type of food
Recommended temperature
Flowers
35–40 ºC
Herbs
40 ºC
Baked goods
40–50 ºC
Vegetables
50–55 ºC
Fruit (apples)
55–60 ºC
Fruit (pears)
55–60 ºC
Fruit (apricots, peaches, plums)
55–60 ºC
Meat, fish
65–70 ºC
Mushrooms
40–50 ºC
8
Vegetables should be ripe, fresh and undamaged.
Sort
Pre-treatment
Drying time (hours)
Apples
Cut into slices or rings.
4–15
Apricots
Cut into halves or quarters.
8–36
Fresh pineapple
Peel and slice into rings.
6–36
Tinned pineapple
Slice and drain.
6–36
Ripe bananas
Cut into 4 mm rounds or strips.
5–24
Strawberries
Cut in half, small ones whole.
5–24
Pears
Remove the core, cut into halves or slices. 5–24
Plums
Whole or cut in half, with or without stones. 5–24
Grapes
Pierce, choose seedless if possible.
6–36
Cherries
Whole with stones.
6–36
Peaches
Remove the stone, cut into halves or slices.
5–24
Citrus fruit
Slice with or without peel.
6–36
Rhubarb
Use thin stalks only, rinse and slice into
3 cm pieces.
4–16
Mushrooms
Cleanse the mushrooms and slice them,
leave small ones whole.
4–6
Storing dehydrated produce
Dehydrated food must be stored correctly in order for it to keep its colour, flavour and
quality for as long as possible.
We recommend that the dehydrated food be packed into freezer bags and stored in
a cool, dark place, the cooler the better. Make sure that the food is completely dry
before packing it in the bags, squeeze out as much air as possible before sealing
the bags. The bags should then be kept in an airtight storage jar. Inspect the bags
after a few days, if there is condensation inside the bags, the food is not properly
dehydrated and needs to be dehydrated again.
9
E ngl i sh
Which foods are suitable to be dehydrated?
E ngl i sh
Care and maintenance
• Unplug the mains lead before cleaning the product.
• Clean the product using a soft, moist cloth. Use a mild detergent – never use
a solvent or strong, abrasive detergent, as this may damage the product.
• Wash the lid and the drying trays.
Disposal
This product should be disposed of in accordance with local regulations.
If you are unsure how to proceed, contact your local council.
Specifications
Voltage
220–240 V AC, 50/60 Hz
Power
250 W
Adjustable drying temperature
35–70 °C
Drying tray diameter
27 cm
10
Svamp- och frukttork
Art.nr 44-1371
Modell SBL-1215
Säkerhet
• Torken får användas av barn från 8 år om de har fått instruktioner
om hur den på ett säkert sätt ska användas och förstår faror
och risker som kan uppkomma.
• Rengöring och skötsel får utföras av barn från 8 år i vuxens närvaro.
• Torken får användas av personer med någon form av funktions­
nedsättning, brist på erfarenhet eller kunskap som skulle
kunna äventyra säkerheten, om de har fått instruktioner om
hur produkten på ett säkert sätt ska användas och förstår
faror och risker som kan uppkomma.
• Låt aldrig barn leka med torken.
• Håll torken och dess nätkabel utom räckhåll för barn under 8 år.
• Torken får endast anslutas till ett vägguttag med spänning enligt
märkskylten på torken.
• Kontrollera att stickproppen passar i vägguttaget. Försök aldrig
modifiera stickproppen och använd aldrig någon form av adapter.
• Använd inte torken om den eller nätkabeln är skadade på
något sätt. Nätsladden bör regelbundet kontrolleras. Använd
aldrig torken om nätsladden eller stickproppen är skadade.
• Om nätsladden skadats får den, för att risk för elektrisk stöt
eller brand ska undvikas, endast bytas av tillverkaren, dess
serviceställe eller av en kvalificerad yrkesman.
• Torken får inte anslutas till ett vägguttag med någon form av
timer eller fjärrstyrning.
• Placera torken på en plan och stadig yta där den inte riskerar att
dras ner av misstag.
11
S ve n sk a
Läs igenom hela bruksanvisningen före användning och spara den sedan för framtida bruk.
Vi reserverar oss för ev. text- och bildfel samt ändringar av tekniska data.
Vid tekniska problem eller andra frågor, kontakta vår kundtjänst.
S ve n sk a
•
•
•
•
•
•
•
•
•
•
•
•
•
•
•
Slå alltid av torken innan stickproppen dras ut ur vägguttaget.
Placera aldrig torken uppe på spisen, i ugnen eller i frysen.
Dra alltid ut stickproppen ur vägguttaget när torken inte används.
Torken får endast användas för privat bruk i hemmet på det sätt
som beskrivs i den här bruksanvisningen.
Sänk aldrig ner torken, nätkabeln eller stickproppen i vatten
eller någon annan vätska. Risk för elektrisk chock. Torken får
aldrig diskas i diskmaskin.
Barn måste övervakas kontinuerligt om de vistas i torkens
närhet när den används.
Försök inte demontera eller förändra torken på något sätt.
Använd inga ev. tillbehör som inte godkänts av tillverkaren
eller försäljningsstället.
Låt inte nätkabeln hänga ner över bords- eller bänkkant. Låt den
inte heller komma i kontakt med vassa kanter eller heta ytor.
Reparationer får endast utföras av kvalificerad servicepersonal.
Skydda torken från direkt solljus.
Torken är avsedd för inomhusbruk, och får inte användas
utomhus eller i fuktiga miljöer. Vidrör aldrig nätkabeln med
fuktiga händer. Risk för elektrisk chock.
Använd aldrig maskinen i närheten av eldfarliga ämnen eller
under föremål som t.ex. gardiner eller papper. Torkens underdel
blir varm vid användning, se till att luften kan cirkulera runt
den, se till att torkens ventilationsöppningar inte blockeras.
Risk för överhettning.
Placera inget ovanpå torken, låt den kallna innan den flyttas.
Torken är endast avsedd för att torka matvaror, placera aldrig
något annat i torken som t.ex. papper, plastdetaljer eller liknande, förvara aldrig något i torken.
12
Produktbeskrivning
1. Lock
1
2. Torkgaller (× 5)
3. Strömbrytare [ 1/0 ] (på/av)
4. Temperaturinställning
5. Basenhet
2
3
4
5
Torkning
Torkning är en av de äldsta metoderna för att bevara födoämnen. Födoämnena innehåller mer eller mindre vatten som vi tar bort genom torkning. Då tas möjligheten bort
för mögeltillväxt och förruttnelse. Det gör det möjligt att spara de torkade födoämnena
i flera år under gynnsamma förvaringsförhållanden. Torkningen medför att aromatiska
ämnen koncentreras och gör födoämnena smakrikare. Torkning är en miljövänlig
metod utan konserveringsmedel, de flesta vitaminer eller mineraler behålls. Torkning är
lämpligt för frukt, grönsaker, svamp, örter och teer.
Luften värms upp och blåser sedan genom alla torkgallren, den mesta fukten blåser ut
via öppningarna i locket. Innehållet på varje torkgaller torkas men de måste skifta plats
för att torkningen ska bli så effektiv som möjligt, samt att slutresultatet blir lika i alla
torkgaller. Torkningen blir effektivast i det undre torkgallret därför bör torkgallren flyttas
mellan de olika positionerna.
13
S ve n sk a
• Använd inte torken utan monterade torkgaller. De behövs för
att luften ska cirkulera på rätt sätt. Använd alltid torken med
alla torkgaller monterade även om några av dem inte är fyllda
med något.
• Det är viktigt att torkgallren blir riktigt rengjorda eftersom de har
kontakt med livsmedel.
• Torken bör inte användas mer än 40 timmar i sträck.
Användning
Innan första användning
1. Ta bort allt förpackningsmaterial.
S ve n sk a
2. Placera torken på en plan, stabil och värmetålig yta. Tänk på att det är olämpligt
att flytta torken under pågående torkning. Se till att det är minst 15 cm fritt
utrymme runt torken så luftcirkulationen i och runt torken säkerställs.
3. Sätt fast alla torkgaller (utan råvaror) och sedan locket på basenheten. Slå på torken
och låt den gå tom i ca 30 minuter, stäng sedan av torken och låt den svalna (detta
behöver endast göras innan första användningstillfället). Diska torkgaller och lock,
skölj och torka av noga. Torken kan dofta lite bränt vid första användningstillfället,
det är helt naturligt. Torka av basenheten utvändigt med en fuktad tvättduk.
Förberedelser
1. Rensa, rengör och tvätta råvarorna innan torkning så att de är helt rena och alla
spår av ev. kemikalier är borta.
2. Syna den frukt och de grönsaker som ska torkas innan du lägger i dem i torkgallren.
Ta bort allt som är missfärgat, övermoget eller skadat på råvarorna, det kan annars
förstöra allt som ligger på torkgallren.
3. Skiva upp det som ska torkas, gör ca 6 mm tjocka skivor. Tunna skivor torkar
snabbare men de minskar mycket i storlek. Oskalad frukt som skivas ska vändas
så att den skurna sidan är vänd uppåt. Låt varje del ligga enskilt så att de inte
överlappar varandra
4. Sprid ut det som ska torkas i ett jämnt fördelat lager i torkgallren. Örter ska torkas
mycket försiktigt, ta endast bort stjälken. De behöver inte delas mera. Örterna
behöver vändas ibland under torkningen annars kan de fastna i torkgallren.
5. Se till att torken är avstängd (0) innan du ansluter stickproppen till ett eluttag.
Torkning
Råvarorna ska vara fräscha och fullmogna innan torkningen påbörjas. Det är omöjligt
att torka skämd, övermogen frukt och grönsaker med dålig kvalitet och få ett fullgott
resultat efter torkning. Torka inte blöta råvaror, efter sköljning måste de ligga på tork en
stund innan torkningen påbörjas.
1. Sprid ut råvarorna som ska torkas i ett jämnt fördelat lager i torkgallren.
2. Placera torkgallren med råvarorna på basenheten, lägg sedan på locket.
3. Anslut stickproppen till ett eluttag och starta torken genom att ställa
strömbrytaren i läge 1.
4. Ställ in önskat temperaturområde enligt tabellen och låt dem torka i rekommenderad
tid (torktiden beror på vilken råvara och vilken mängd). Ju mer vätska som råvarorna
innehåller ju längre blir torktiden. Alla medföljande torkgaller ska användas oavsett
om de har något innehåll eller är tomma.
14
Lock
Lock
1
2
3
4
5
Lock
5
4
3
2
1
3
2
1
5
4
Basenhet
Basenhet
Basenhet
Start
Flytta
Flytta
6. Kontrollera torkningen då och då så att du inte torkar råvarorna för länge, ta bort
de torkade råvarorna när de är färdigtorkade. Förvara de torkade råvarorna mörkt
och svalt i lämpligt emballage.
7. Stäng av torken och dra ur stickproppen när torkningen är klar.
8. Diska locket och torkgallren.
Förbehandling
För att förhindra att vissa typer av frukt missfärgas rekommenderar vi att råvarorna
sänks ner i ett kärl med en lösning som kan bestå av t.ex. en tesked citronjuice
blandat med en kopp vatten. Ta upp frukten och torka av noga med ett torkpapper.
Citronjuicen kan ersättas av ananasjuice eller C-vitamin. Vissa frukter som t.ex.
fikon, plommon, grapefrukt, blåbär etc. har ett naturligt skyddande vaxskikt. De ska
behandlas så här: Sänk ner dem i kokande vatten i 1 till 2 minuter, ta upp dem och låt
vattnet rinna av och sänk omedelbart ner dem i kallt vatten, ta upp dem och torka av
dem. Skiva dem och torka.
Blanchering
De flesta råvaror bör blancheras innan torkning, det minskar förändring av smak och
utseende. Det innebär att det kokas en kort tid (1 till 5 minuter). Placera råvarorna
i en nätkorg eller liknande och sänk ner den i ett kärl med kokande vatten, ta upp
nätkorgen efter angiven tid. Låt ytan på råvarorna torka helt innan du lägger dem
i torkgallren och startar torken.
Blanchering är lämpligt för äpple, aprikos, fikon, nektarin, persika, päron och plommon
för att bevara råvarornas färg. Resultatet kan bli som sötad, kanderad frukt, prova dig
fram till ett bra slutresultat.
Rekommenderad torktemperatur (detta är riktvärden, torktiden beror på skivornas
tjocklek, fukthalt mm.) Prova dig fram till optimal temperatur och tid.
15
S ve n sk a
5. Torkningen blir
effektivast i det
undre torkgallret
därför bör torkgallren
flyttas mellan de
olika positionerna
så att torkningen blir
lika i alla torkgallren.
S ve n sk a
Materialtyp
Rekommenderad temperatur
Blommor
35–40 ºC
Örter
40 ºC
Bröd och bakverk
40–50 ºC
Grönsaker
50–55 ºC
Frukt (äpplen)
55–60 ºC
Frukt (päron)
55–60 ºC
Frukt (aprikoser, persikor, plommon)
55–60 ºC
Kött, fisk
65–70 ºC
Svamp
40–50 ºC
Vilka råvaror är lämpliga att torka?
Grönsaker ska vara mogna, färska och oskadade.
Sort
Förbehandling
Torktid i timmar
Äpplen
Skär i bitar eller i cirklar.
4–15
Aprikoser
Skär i halvor eller kvartar.
8–36
Färsk ananas
Skala och skär i cirklar.
6–36
Konserverad ananas
Skär i bitar, låt rinna av.
6–36
Mogna bananer
Skär i 4 mm tjocka skivor eller strips.
5–24
Jordgubbar
Skär upp halvor, små torkas hela.
5–24
Päron
Ta ur kärnhus, skär i halvor eller skivor.
5–24
Plommon
Hela eller halva, med eller utan kärna
5–24
Vindruvor
Snitta dem, välj helst kärnfria.
6–36
Körsbär
Hela med kärnorna.
6–36
Persikor
Ta ur kärnan, skär i halvor eller skivor.
5–24
Citrusfrukter
Skär i skivor med eller utan skal.
6–36
Rabarber
Använd endast tunna stjälkar,
skölj av och skär i 3 cm bitar.
4–16
Svamp
Rensa svampen noga, skär dem
i skivor, små svampar torkas hela.
4–6
16
Förvaring av torkade födoämnen
Torkade råvaror måste förvaras rätt för att behålla färg, smak och kvalitet så länge som möjligt.
Skötsel och underhåll
• Dra ur stickproppen innan rengöring.
• Torka av produkten med en lätt fuktad, mjuk trasa. Använd ett milt rengöringsmedel,
aldrig lösningsmedel eller starka, slipande rengöringsmedel, det kan skada produkten.
• Diska lock och torkgaller.
Avfallshantering
När du ska göra dig av med produkten ska detta ske enligt lokala föreskrifter.
Är du osäker på hur du ska gå tillväga, kontakta din kommun.
Specifikationer
Spänning
220–240 V AC, 50/60 Hz
Effekt
250 W
Inställbar torktemperatur
35–70 °C
Torkyta
Ø 27 cm
17
S ve n sk a
De torkade råvarorna förvaras lämpligen i s.k. fryspåsar på mörk och sval plats, ju svalare
desto bättre hållbarhet. Se till att födoämnena är helt torra och lägg i det i påsen, tryck
ur så mycket luft som möjligt och förslut sedan påsen. Förvara sedan påsen i lufttätt
förvaringskärl. Kontrollera plastpåsarna efter några dagar, finns det vattendroppar på
plastpåsens insida är inte påsens innehåll helt torkat, då måste innehållet torkas om.
Sopp- og frukttørker
Art.nr. 44-1371
Modell SBL-1215
Les brukerveiledningen grundig før produktet tas i bruk og ta vare på den for framtidig bruk.
Vi reserverer oss mot ev. feil i tekst og bilde, samt forandringer av tekniske data.
Ved tekniske problemer eller spørsmål, ta kontakt med vårt kundesenter.
N orsk
Sikkerhet
• Produktet kan brukes av personer over 8 år dersom de har
fått instruksjon i hvordan den fungerer og hvilke farer som er
forbundet med dette.
• Rengjøring og stell kan utføres av barn fra 8 års alderen med
tilsyn av voksne.
• Produktet kan benyttes av personer med funksjonshemming
og manglende erfaring og kunnskap om produktet, dersom
noen har lært dem opp i bruken av produktet og forståelse for
faren ved bruk av det.
• La aldri barn leke med produktet.
• Hold produktet og strømledning utenfor barns rekkevidde
(gjelder barn under 8 år).
• Produktet skal kun kobles til strømuttak med den spenningen
som produktet er merket med.
• Kontroller at støpselet passer i strømuttaket. Støpselet må
ikke modifiseres og det må ikke brukes noen form for adapter.
• Bruk ikke frukttørkeren dersom strømkabelen eller støpselet
er skadet. Strømledningen bør kontrolleres regelmessig.
Bruk ikke tørkeren dersom strømledning eller støpsel er skadet.
• Dersom strømledningen er skadet skal den, for å unngå
elektrisk støt eller brann, skiftes av produsenten, på et
serviceverksted eller av annen fagperson.
• Produktet må ikke kobles til strømuttaket via timer eller annen
form for fjernstyring.
18
19
N orsk
• Plasser frukttørkeren på en plan og stabil plass, hvor det ikke
er fare for at den kan falle etc.
• Slå alltid av tørkeren før støpselet trekkes ut av strømuttaket.
• Maskinen må ikke plasseres oppå komfyrer, i stekeovner
eller fryseren.
• Trekk alltid støpselet ut fra strømuttaket når tørkeren ikke er
i bruk.
• Tørkeren er kun beregnet for normal bruk i hjemmet på den
måten som beskrives her i brukerveiledningen.
• Senk aldri sopp- og frukttørkeren, strømledning eller støpselet
ned i vann eller annen væske. Fare for elektrisk støt.
Sopp-/frukttørkeren må ikke vaskes i oppvaskmaskin.
• Barn må ikke oppholde seg nær produktet, når det er i bruk,
uten tilsyn av voksne.
• Produktet må ikke modifiseres, endres på eller demonteres.
• Det må ikke benyttes tilbehør som ikke er anbefalt av
produsent/forhandler.
• Legg ikke strømkabelen over skarpe kanter. La den heller ikke
komme i kontakt med varme flater.
• Reparasjoner må kun utføres av kvalifiserte personer.
• Tørkeren skal ikke plasseres i direkte sollys.
• Produktet skal ikke brukes ute eller i fuktige omgivelser. Berør
ikke strømledningen med fuktige hender. Fare for elektrisk støt.
• Produktet må ikke brukes nær brannfarlige stoffer eller under
gjenstander som f.eks. gardiner og papir. Tørkerens underdel
blir varm ved bruk. Pass på at luften kan sirkulere fritt rundt
den og at ingen av ventilasjonsåpningene blir blokkert.
Fare for overoppheting.
• Ikke plasser noen gjenstander oppå frukttørkeren og la den bli
kald før du flytter på den.
N orsk
• Produktet er kun beregnet til tørking av matvarer. Bruk ikke
produktet til tørking av andre ting/materialer som f.eks. papir,
plastgjenstander eller liknende. Tørkeren må heller ikke brukes
til oppbevaring.
• Bruk ikke tørkeren uten at tørkeristene er montert. De trengs
for at luften skal kunne sirkulere riktig. Alle ristene skal være
montert ved bruk selv om man ikke fyller dem opp.
• Det er viktig at tørkeristene blir grundig rengjort etter bruk fordi
tørkeren blir brukt til næringsmidler.
• Denne tørkeren må ikke benyttes i mer enn 40 timer i strekk.
Produktbeskrivelse
1. Lokk
1
2. Tørkerist (5 stk.)
3. Strømbryter [ 1/0 ] (på/av)
4. Temperaturinnstilling
5. Hovedenhet
2
3
4
5
Tørking
Tørking er en gammel metode for oppbevaring av matvarer. Ved tørkingen fjernes vannet
i næringsmidlene. Da fjernes også muligheten til muggvekst og forråtnelse. Dette muliggjør oppbevaring av matvarer i flere år når de øvrige forholdene tillater det. Tørkingen gjør
at smakene blir konsentrerte og mer fyldig. Tørking er en miljøvennlig måte å ta vare på
matvarer på, uten bruk av konserveringsmidler. De fleste vitaminer og mineraler beholder
sin verdi. Tørking passer for frukt, grønnsaker, sopp, urter og teer.
Luften varmes opp og blåses deretter gjennom tørkeristene. De meste av fuktigheten
siver ut gjennom åpningene i lokket. Innholdet på hver av ristene tørkes, men for at
tørkingen skal være effektiv bør man skifte plass på ristene. Mest effektiv er tørkingen
på den nederste tørkeristen.
20
Bruk
Før første gangs bruk
1. Fjern all emballasje.
2. Frukttørkeren plasseres på et jevnt og stabilt underlag. Husk at tørkeren ikke bør
flyttes mens den er i bruk. Pass på at det er minst 15 cm fritt rom rundt tørkeren
så luften kan sirkulere fritt.
3. Sett på plass alle tørkeristene (uten råvarer på) og deretter lokket til baseenheten.
Slå på tørkeren og la den gå i ca. 30 minutter. Skru den så av og la den bli kald
(dette er kun noe som bør gjøres før første gangs bruk). Vask tørkerister og lokk
godt, skyll og tørk grundig. Første gang frukttørkeren brukes kan det komme en
svak lukt av brent, noe som er helt normalt. Tørk av baseenheten utvendig med en
fuktet vaskeklut.
1. Rens, rengjør og skyll råvarene før tørking, slik at de er rene og at alle spor av
kjemikalier er fjernet.
2. Inspiser frukten eller grønnsakene som skal tørkes før du legger dem på plass på
tørkeristen. Fjern alt som er misfarget, overmodent eller skadet.
3. Skjær opp det som skal tørkes i skiver med tykkelse på ca. 6 mm. Jo tynnere
skiver, desto hurtigere tørking. Skivet frukt skal tørkes med skjæreflaten vendt opp.
Spre frukten godt utover ristene så delene ikke ligger oppå hverandre.
4. Fordel det som skal tørkes jevn på ristene. Urter skal tørkes forsiktig. Fjern stilkene
før tørking. De trenger ikke å deles opp mer. Urtene må snus på under tørkingen
så de ikke fester seg på tørkegitteret.
5. Pass på at produktet er avstengt (0) før støpselet kobles til strømuttaket.
Tørking
Råvarene skal være friske og modne før tørkingen starter. Resultatet ved tørking av
overmodne ingredienser med dårlig kvalitet vil aldri bli bra. Ikke tørk våte råvarer.
Etter vasking må råvarene tørke utvendig før de legges til tørk i maskinen.
1. Fordel det som skal tørkes jevn på ristene.
2. Sett på plass tørkeristene med råvarene på på hoveddelen og sett lokket på plass.
3. Støpselet plugges i et strømuttak og tørkeren startes ved at strømbryteren innstilles på 1.
4. Still inn på ønsket temperatur (se tabell) og la ingrediensene tørke i anbefalt tid.
Tiden er avhengig av hvilke råvarer man skal tørke og hvilken mengde. Jo mer
væske, desto lengre tørketid. Uansett mengde som skal tørkes, så må alle
tørkeristene være på plass, selv om noen av dem skulle bli stående tomme.
21
N orsk
Forberedelser
5. Tørkingen er mest
effektiv på den
nederste risten,
derfor bør man
skifte plass under
tørkingen.
Lokk
Lokk
1
2
3
4
5
Lokk
5
4
3
2
1
3
2
1
5
4
Hovedenhet
Hovedenhet
Hovedenhet
Start
Skift
Skift
6. Følg med på tørkingen og pass på at råvarene ikke blir tørket for lenge. Fjern råvarene
etterhvert som de blir ferdige. Ferdig tørkede råvarer bør oppbevares mørkt og
kjølig, og i passende emballasje.
7. Skru av tørkeren og trekk ut støpselet når tørkingen er ferdig.
N orsk
8. Vask lokk og tørkerister.
Preparering før tørking
Enkelte råvarer kan bli misfarget under tørking og vi anbefaler at råvarene prepareres
før tørking. Dette kan f.eks. gjøres ved at råvarene dyppes i en blanding bestående av
en teskjed sitronjuice til en kopp vann. Ta opp frukten og tørk grundig med tørkepapir.
Sitronjuicen kan erstattes med ananasjuice eller C-vitaminer. Enkelte frukter, som f.eks.
fiken, plommer, grapefrukt, blåbær etc. har en naturlig beskyttende vokslag. De skal
behandles slik: Senk dem den i kokende vann i 1–2 minutter. Ta dem opp, la vannet
renne av og senk dem umiddelbart i kaldt vann. Ta dem opp og tørk dem med papir.
Skjær opp i skiver og legg dem til tørk i maskinen.
Blansjering/forvelling
De fleste råvarer bør blancheres før tørking. Dette hindrer forringelse av smak og
utseende. Dette innebærer koking i 1–5 minutter. Plasser råvarene i en nettkurv eller
liknende og senk den ned i en gryte med kokende vann. Ta opp kurven etter den tiden
som er angitt. La råvarene bli tørre på utsiden før de legges på tørkeristen.
Blansjering passer for epler, aprikoser, fiken, nektariner, fersken, pærer og plommer.
Dette gjør at råvarene beholder fargen. Resultatet kan bli søt, kandisert frukt. Prøv deg
frem til det beste resultatet.
Anbefalte tørketemperaturer (Dette er kun veiledende tider. Tørketiden kommer an på
råvarenes tykkelse, vanninnhold etc.). Prøv deg fram til optimal temperatur og tid.
22
Råvarer
Anbefalt temperatur
Blomster
35–40 ºC
Urter
40 ºC
Brød og bakverk
40–50 ºC
Grønnsaker
50–55 ºC
Frukt (epler)
55–60 ºC
Frukt (pærer)
55–60 ºC
Frukt (aprikoser, fersken, plommer)
55–60 ºC
Kjøtt, fisk
65–70 ºC
Sopp
40–50 ºC
Grønnsaker skal være modne, ferske og uskadet.
Råvarer
Preparering
Tørketid (timer)
Epler
Skjær i biter eller sirkler.
4–15
Aprikoser
Del i to eller fire.
8–36
Fersk ananas
Fjern skallet og skjær i sirkler.
6–36
Konservert ananas
Skjær i biter og la en del av laken renne av.
6–36
Modne bananer
Skjær i 4 mm tykke skiver.
5–24
Jordbær
Deles i to eller tørkes hele.
5–24
Pærer
Fjern kjernehuset og del i to eller i skiver.
5–24
Plommer
Hele eller halve, med eller uten kjerne.
5–24
Druer
Snitt dem, velg helst kjernefrie.
6–36
Kirsebær
Hele med kjerner.
6–36
Fersken
Ta ut kjernen, del i to eller skjær i skiver.
5–24
Sitrusfrukter
Deles i skiver med eller uten skall.
6–36
Rabarbra
Bruk kun tynne stilker, skyll og skjær
i 3 cm biter.
4–16
Sopp
Rens soppen grundig, skjær i skiver. Små
sopp tørkes hele.
4–6
23
N orsk
Hvilke råvarer egner seg best til tørking?
Oppbevaring av tørkede ingredienser
Tørkede råvarer må oppbevares riktig for å beholde farge, smak og kvalitet.
Tørkede råvarer oppbevares best i fryseposer på et mørkt, kaldt sted. Jo kaldere,
desto bedre. Pass på at ingrediensene er helt tørre. Legg dem i poser, press ut så
mye luft som mulig og lukk posene. Legg deretter posene i en lufttett boks. Kontroller
plastposene etter noen dager. Hvis det er kondens i posene er ikke ingrediensene
tørket nok. Tørk dem mer.
Stell og vedlikehold
N orsk
• Trekk alltid ut støpselet før rengjøring.
• Rengjør produktet med en myk, lett fuktet klut. Bruk et mildt rengjøringsmiddel
ved behov. Unngå å bruke løsemidler og slipende rengjøringsmidler. Det kan
skade produktet.
• Vask lokk og tørkerister.
Avfallshåndtering
Når produktet skal kasseres, må det skje i henhold til lokale forskrifter. Hvis du er
usikker, ta kontakt med lokale myndigheter.
Spesifikasjoner
Spenning
220–240 V AC, 50/60 Hz
Effekt
250 W
Justerbar tørketemperatur
35–70 °C
Tørkeflate
Ø 27 cm
24
Sieni- ja hedelmäkuivuri
Tuotenro 44-1371
Malli SBL-1215
Lue käyttöohje ennen tuotteen käyttöönottoa ja säilytä se tulevaa tarvetta varten.
Pidätämme oikeuden teknisten tietojen muutoksiin. Emme vastaa mahdollisista tekstitai kuvavirheistä. Jos tuotteeseen tulee teknisiä ongelmia, ota yhteys myymälään tai
asiakaspalveluun (yhteystiedot käyttöohjeen lopussa).
• Yli 8-vuotiaat lapset saavat käyttää laitetta, jos heitä on
ohjeistettu sen turvallisesta käytöstä ja käytön mahdollisista
vaaroista.
• Yli 8-vuotiaat lapset saavat puhdistaa laitteen aikuisen valvonnassa.
• Henkilöt, joilla on fyysisiä tai psyykkisiä rajoitteita tai henkilöt,
joilla ei ole riittävästi laitteen käytön turvallisuuteen vaikuttavia
taitoja tai kokemusta, saavat käyttää laitetta, jos heitä on
ohjeistettu sen turvallisesta käytöstä ja käytön mahdollisista
vaaroista.
• Älä anna lasten leikkiä laitteella.
• Pidä laite ja sen virtajohto alle 8-vuotiaiden lasten ulottumattomissa.
• Laitteen saa liittää ainoastaan pistorasiaan, jossa on sama
jännite kuin laitteen merkkikilvessä.
• Varmista, että pistoke sopii pistorasiaan. Älä muuta pistoketta
äläkä käytä sovitinta.
• Älä käytä laitetta, jos se tai sen virtajohto on vioittunut.
Tarkista virtajohdon kunto säännöllisesti. Älä käytä laitetta,
jos sen virtajohto tai pistoke on vioittunut.
• Vioittuneen johdon saa vaihtaa ainoastaan valmistaja, sen
määräämä huoltopiste tai valtuutettu ammattilainen. Näin
vähennetään sähköiskujen ja tulipalojen riskiä.
• Laitetta ei saa liittää pistorasiaan ajastimella tai kauko-ohjaimella.
• Aseta laite tasaiselle ja vakaalle pinnalle, josta se ei pääse
putoamaan.
25
S uomi
Turvallisuus
•
•
•
•
•
•
•
•
S uomi
•
•
•
•
•
•
•
Sammuta laite ennen kuin irrotat pistokkeen pistorasiasta.
Älä sijoita laitetta takan, hellan tai pakastimen päälle.
Irrota pistoke pistorasiasta, kun et käytä laitetta.
Laitetta saa käyttää ainoastaan yksityiskäytössä kotona
käyttöohjeessa kuvatulla tavalla.
Älä upota laitetta, virtajohtoa tai pistoketta veteen tai
muuhun nesteeseen. Sähköiskuvaara. Laitetta ei saa pestä
astianpesukoneessa.
Lapsia ei saa jättää laitteen läheisyyteen ilman valvontaa
käytön aikana.
Älä pura tai muuta laitetta millään tavalla.
Käytä laitteessa vain valmistajan tai jälleenmyyjän
hyväksymiä tarvikkeita.
Virtajohto ei saa olla pöydän reunaa vasten. Virtajohto ei saa
joutua kosketuksiin kuumien pintojen kanssa.
Laitteen saa korjata ainoastaan valtuutettu huoltoliike.
Älä altista laitetta suoralle auringonvalolle.
Laite on tarkoitettu sisäkäyttöön, eikä sitä saa käyttää ulkona
tai kosteissa tiloissa. Älä koske virtajohtoon kosteilla käsillä.
Sähköiskuvaara.
Älä käytä laitetta helposti syttyvien aineiden tai esineiden,
kuten verhojen tai paperin, läheisyydessä. Laitteen alaosa
kuumenee käytössä. Varmista, että ilma pääsee kiertämän
laitteen ympärillä, ja että ilma-aukot eivät ole tukossa.
Ylikuumenemisvaara.
Älä laita laitteen päälle mitään. Anna laitteen jäähtyä ennen
sen siirtämistä.
Laite on tarkoitettu ainoastaan ruokatarvikkeiden
kuivaamiseen. Älä kuivaa laitteella mitään muuta, kuten
paperia, muovia tms. Älä käytä laitetta säilytykseen.
26
• Älä käytä laitetta ilman ritilöitä. Ritilöiden tulee olla paikallaan,
jotta ilma pääsee kiertämään oikealla tavalla. Kaikkien ritilöiden
tulee aina olla asennettuina käytön aikana, vaikka niiden päällä
ei olisi elintarvikkeita.
• Puhdista ritilät kunnolla, koska ne ovat kosketuksissa elintarvikkeisiin.
• Älä käytä laitetta yhtäjaksoisesti yli 40 tuntia.
Tuotekuvaus
1. Kansi
1
2. Kuivausritilä (× 5)
3. Virtakytkin [ 1/0 ] (päälle/pois)
4. Lämpötilan säätö
5. Runko
2
4
5
Kuivaus
Kuivaus on vanhimpia elintarvikkeiden säilömistapoja. Ruoka-aineet sisältävät
vettä, joka poistuu kuivatessa. Kuivaaminen estää elintarvikkeen homehtumisen tai
mätänemisen. Sen ansiosta kuivattuja elintarvikkeita voidaan säilöä useita vuosia
suotuisissa olosuhteissa. Kuivauksen ansiosta aromaattiset aineet tiivistyvät, mikä
vahvistaa elintarvikkeiden makua. Kuivaus on ympäristöystävällinen säilömistapa, jossa
ei tarvita säilöntäaineita. Useimmat vitamiinit ja mineraalit säilyvät kuivatessa. Kuivaus
soveltuu hyvin hedelmille, vihanneksille, sienille, yrteille ja teelle.
Kuivuri lämmittää ilman ja puhaltaa sen ritilöiden läpi. Suurin osa kosteudesta poistuu
kannen aukoista. Kuivuri kuivattaa kaikilla ritilöillä olevat elintarvikkeet, mutta ritilöiden
järjestystä pitää vaihtaa, jotta kuivaaminen olisi mahdollisimman tehokasta ja jotta
lopputulos olisi mahdollisimman tasainen. Kuivaaminen on tehokkainta alimmalla
ritilällä, ja sen vuoksi ritilöiden paikkoja pitää vaihtaa kuivauksen aikana.
27
S uomi
3
Käyttö
Ennen ensimmäistä käyttökertaa
1. Poista kaikki pakkausmateriaali.
2. Aseta kuivain tasaiselle, vakaalle ja lämmönkestävälle alustalle. Ota huomioon,
että kuivainta ei voi siirtää kuivauksen aikana. Varmista, että kuivaimen ympärillä
on vähintään 15 cm vapaata tilaa, jotta ilma pääsee kiertämään riittävästi.
3. Laita kaikki kuivausritilät paikoilleen (ilman elintarvikkeita), ja laita kansi paikalleen.
Laita kuivain päälle ja anna sen käydä tyhjänä noin 30 minuutin ajan. Sammuta
sen jälkeen kuivain ja anna sen jäähtyä. Tämä toimenpide pitää tehdä vain
ensimmäisellä käyttökerralla. Tiskaa, huuhtele ja kuivaa ritilät ja kansi huolella.
Kuivain saattaa haista hieman palaneelle ensimmäisellä käyttökerralla, mutta tämä
on täysin normaalia. Pyyhi kuivain ulkopuolelta kostutetulla liinalla.
Esivalmistelut
1. Puhdista raaka-aineet ennen kuivaamista jotta ne ovat täysin puhtaat ja jotta niistä
poistuu mahdolliset kemikaalit.
S uomi
2. Tarkasta hedelmät ja vihannekset, ennen kuin laitat ne kuivausritilöille. Poista kaikki
värjäytyneet, ylikypsät ja vahingoittuneet kohdat.
3. Viipaloi kuivattavat elintarvikkeet noin 6 mm:n siivuiksi. Ohuet viipaleet kuivuvat
nopeammin, mutta ne myös kutistuvat paljon. Kuorimattomat hedelmät tulee
kääntää kuori alaspäin. Laita viipaleet erilleen ritilälle niin, että ne eivät ole toistensa
päällä.
4. Levitä kuivattavat elintarvikkeet tasaisesti ritilälle. Yrtit tulee kuivata erittäin
varovasti. Poista ainoastaan varret. Poista yrteistä varret, mutta älä leikkaa niitä
enempää. Käännä yrttejä kuivauksen aikana, jotta ne eivät tartu kuivausritilään.
5. Varmista, että kuivain on sammutettu (0), ennen kuin liität pistokkeen pistorasiaan.
Kuivaus
Kuivaa vain tuoreita ja kypsiä raaka-aineita. Lopputulos on huono, jos kuivaat pilaantuneita,
ylikypsiä tai heikkolaatuisia hedelmiä ja vihanneksia. Älä kuivaa märkiä raaka-aineita.
Anna raaka-aineiden kuivua ennen kuivaamisen aloittamista.
1. Levitä kuivattavat raaka-aineet tasaisesti ritilälle.
2. Aseta ritilät kuivaimeen ja laita kansi kiinni.
3. Liitä pistoke pistorasiaan ja käynnistä kuivain asettamalla virtakytkin asentoon 1.
4. Valitse lämpötila-alue taulukon mukaisesti ja noudata taulukon suositusaikaa.
Kuivausaika riippuu raaka-aineesta ja sen määrästä. Kuivumisaika on sitä pidempi,
mitä enemmän raaka-aineessa on nestettä. Laita kuivaimeen kaikki ritilät, vaikka
osa niistä olisi tyhjinä.
28
5. Kuivaaminen on
tehokkainta alimmalla
ritilällä, ja sen vuoksi
ritilöiden paikkoja
pitää vaihtaa
kuivauksen aikana.
Kansi
Kansi
1
2
3
4
5
Kansi
5
4
3
2
1
3
2
1
5
4
Runko
Runko
Runko
Aloitus
Vaihto
Vaihto
6. Tarkkaile kuivausta säännöllisin väliajoin, jotta raaka-aineet eivät kuivu liikaa.
Poista raaka-aineet, kun ne ovat riittävän kuivat. Säilytä kuivattuja raaka-aineita
pimeässä ja viileässä sopivassa pakkauksessa.
7. Sammuta kuivain ja irrota pistoke, kun olet valmis.
8. Tiskaa kansi ja ritilät.
Jotkut hedelmät saattavat värjäytyä. Se voidaan kuitenkin estää upottamalla raakaaineet nesteeseen, jossa voi olla esim. yksi teelusikallinen sitruunamehua ja yksi
kupillinen vettä. Ota hedelmät nesteestä ja kuivaa ne huolellisesti talouspaperilla.
Sitruunamehun sijaan voi käyttää myös ananasmehua tai C-vitamiinia. Joillakin
hedelmillä, kuten viikunoilla, luumuilla, viinirypäleillä, mustikoilla ym., on suojaava
vahakerros. Käsittele ne seuraavalla tavalla: Laita ne kiehuvaan veteen 1–2 minuutin
ajaksi, nosta ne vedestä ja anna veden valua pois. Laita ne sen jälkeen välittömästi
kylmään veteen, nosta ne pois vedestä ja anna niiden kuivua. Viipaloi ja kuivaa.
Ryöppääminen
Useimmat raaka-aineet tulee ryöpätä ennen kuivaamista. Ryöppäys vähentää
ulkonäkö- ja makumuutoksia. Keitä raaka-aineita 1–5 minuutin ajan. Aseta raakaaineet verkkokoriin tai vastaavaan, ja upota ne kiehuvaan veteen. Nosta raaka-aineet
vedestä 1–5 minuutin kuluttua. Anna raaka-aineiden pinnan kuivua kokonaan ennen
kuin laitat ne kuivaimeen.
Ryöppäys auttaa omenaa, aprikoosia, viikunaa, nektariinia, persikkaa, päärynää ja
luumua säilyttämään niiden luonnollisen värin. Lopputulos muistuttaa makeutettua
hedelmää. Parhaan lopputuloksen saat kokeilemalla.
Suositellut kuivauslämpötilat (arvot ovat suuntaa antavat, kuivausaika riippuu
viipaleiden paksuudesta, nestepitoisuudesta ym.) Sopivan lämpötilan ja ajan saat
kokeilemalla.
29
S uomi
Esikäsittely
Materiaali
Suosituslämpötila
Kukat
35–40 ºC
Yrtit
40 ºC
Leivät ja leivonnaiset
40–50 ºC
Vihannekset
50–55 ºC
Hedelmä (omena)
55–60 ºC
Hedelmä (päärynä)
55–60 ºC
Hedelmä (aprikoosi, persikka, luumu)
55–60 ºC
Liha, kala
65–70 ºC
Sienet
40–50 ºC
Mitkä raaka-aineet sopivat kuivattavaksi?
S uomi
Vihannesten tulee olla kypsiä, tuoreita ja virheettömiä.
Laji
Esikäsittely
Kuivumisaika
tunteina
Omena
Leikkaa paloiksi tai viipaleiksi.
4–15
Aprikoosi
Leikkaa kahteen tai neljään osaan.
8–36
Tuore ananas
Kuori ja leikkaa ympyröiksi.
6–36
Säilykeananas
Leikkaa paloiksi, anna valua kuivaksi.
6–36
Kypsä banaani
Leikkaa 4 mm:n paksuisiksi viipaleiksi.
5–24
Mansikat
Leikkaa isot kahteen osaan, kuivaa pienet kokonaisina. 5–24
Päärynä
Poista siemenkota, leikkaa kahteen osaan tai viipaloi.
5–24
Luumu
Puolita tai kuivaa kokonaisena kivellä tai ilman
5–24
Viinirypäleet
Halkaise, suosittelemme kivettömiä rypäleitä.
6–36
Kirsikka
Kuivaa kokonaisena siemenen kanssa.
6–36
Persikka
Poista kivi, leikkaa puolikkaiksi tai viipaleiksi.
5–24
Sitrushedelmät
Leikkaa viipaleiksi. Kuorella tai ilman.
6–36
Raparperi
Käytä vain ohuita varsia. Huuhtele ja leikkaa
cm:n viipaleiksi.
4–16
Sieni
Puhdista huolellisesti. Leikkaa viipaleiksi.
Kuivaa pienet sienet kokonaisina.
4–6
30
Kuivattujen raaka-aineiden säilöminen
Kuivatut raaka-aineet tulee säilöä oikein, jotta niiden väri, maku ja laatu säilyvät
mahdollisimman hyvin.
Säilytä kuivatut raaka-aineet esim. pakastepusseissa pimeässä ja viileässä paikassa.
Varmista, että raaka-aineet ovat kuivat, ja laita ne pussiin. Paina pussista pois ylimääräinen
ilma, ja sulje pussi. Säilytä pussia ilmatiiviissä säilytysrasiassa. Tarkasta muovipussit
muutaman päivän kuluttua. Jos pussin sisäpuolella on vesitippoja, sisältö ei ole täysin kuivaa.
Huolto ja puhdistaminen
• Irrota pistoke pistorasiasta ennen puhdistamista.
• Pyyhi tuote tarvittaessa pehmeällä, kevyesti kostutetulla liinalla. Käytä mietoa
puhdistusainetta. Älä käytä vahvoja, hankaavia puhdistusaineita tai liuotinaineita,
sillä ne voivat vahingoittaa tuotetta.
• Pese kansi ja ritilät käsin.
Kierrättäminen
Kierrätä tuote asianmukaisesti, kun poistat sen käytöstä.
Tarkempia kierrätysohjeita saat kuntasi jäteneuvonnasta.
Jännite
220–240 V AC, 50/60 Hz
Teho
250 W
Säädettävä kuivauslämpötila
35–70 °C
Kuivausalan halk.
27 cm
31
S uomi
Tekniset tiedot
Pilze- und Obsttrockner
Art.Nr. 44-1371
Modell SBL-1215
Vor Inbetriebnahme die Bedienungsanleitung vollständig durchlesen und für künftigen
Gebrauch aufbewahren. Irrtümer, Abweichungen und Änderungen behalten wir uns vor.
Bei technischen Problemen oder anderen Fragen freut sich unser Kundenservice über
eine Kontaktaufnahme.
Deut s ch
Sicherheit
• Das Gerät ist nur dann für Kinder ab 8 Jahren geeignet, wenn
diese in die sichere Handhabung eingeführt worden sind und
Risiken und Gefahren der Benutzung verstehen.
• Reinigung und Wartung kann von Kindern ab 8 Jahren unter
Aufsicht eines Erwachsenen durchgeführt werden.
• Das Gerät ist für Personen mit eingeschränkten physischen,
sensorischen oder geistigen Fähigkeiten bzw. mangelnder
Erfahrung/mangelndem Wissen nur dann geeignet, wenn
diese in die sichere Handhabung eingeführt worden sind und
die Risiken und Gefahren der Benutzung verstehen.
• Kein Kinderspielzeug.
• Das Gerät inklusive Netzkabel außer Reichweite von Kindern
unter 8 Jahren halten.
• Das Gerät darf nur an Steckdosen mit der auf dem Typenschild
angegebenen Spannung angeschlossen werden.
• Sicherstellen, dass der Stecker unverändert in die Steckdose passt.
Den Stecker nicht verändern und keinen Adapter benutzen.
• Bei Defekten am Gerät oder am Netzkabel diese nicht mehr
benutzen. Das Netzkabel regelmäßig auf Fehler überprüfen.
Das Gerät niemals benutzen, wenn Netzkabel oder Netzstecker
beschädigt sind.
• Um Stromschläge oder Feuer zu vermeiden, das Netzkabel
bei Beschädigung nur vom Hersteller, seinem Kundendienst
oder qualifiziertem Fachpersonal austauschen lassen.
32
33
Deut s ch
• Das Gerät niemals an eine Steckdose mit Zeitschaltuhr, Timer
oder Fernsteuerung anschließen.
• Das Gerät auf eine ebene, stabile Fläche stellen, von der es
nicht versehentlich heruntergezogen werden kann.
• Vor dem Ziehen des Netzsteckers das Gerät immer erst
ausschalten.
• Das Gerät niemals auf dem Herd, im Ofen oder Gefrierschrank
aufstellen.
• Bei Nichtbenutzung stets den Netzstecker ziehen.
• Das Gerät ist nur für den Hausgebrauch und für die in dieser
Bedienungsanleitung beschriebene Benutzung vorgesehen.
• Niemals das Gerät, das Netzkabel oder den Netzstecker in
Wasser oder andere Flüssigkeiten tauchen. Stromschlaggefahr.
Das Gerät nie in der Spülmaschine reinigen.
• Während der Benutzung der Maschine Kinder ständig unter
Aufsicht halten, wenn sich diese in der Nähe des Gerätes befinden.
• Niemals versuchen, das Gerät auseinanderzunehmen oder
umzubauen.
• Nur Zubehör benutzen, das vom Hersteller bzw. der Verkaufsstelle
empfohlen wird.
• Das Netzkabel nicht über die Arbeitsplatte oder die Tisch­
kante herunterhängen lassen. Das Kabel nicht mit scharfen
Kanten oder heißen Flächen in Berührung kommen lassen.
• Reparaturen unbedingt qualifizierten Servicetechnikern überlassen.
• Das Gerät vor direkter Sonneneinstrahlung schützen.
• Das Gerät ist für den Innenbereich vorgesehen und darf nicht
im Außenbereich oder in feuchten Umgebungen benutzt werden.
Das Netzkabel niemals mit feuchten Händen anfassen.
Stromschlaggefahr.
• Das Gerät nie in der Nähe von entzündbaren Stoffen oder
unter Gegenständen wie Gardinen oder Papier betreiben.
Das Unterteil des Gerätes wird bei der Benutzung warm,
daher sicherstellen, dass die Luft um das Gerät zirkulieren
kann und dass die Lüftungsöffnungen nicht blockiert sind.
Überhitzungsgefahr.
• Nichts auf dem Gerät ablegen und vor dem Umsetzen das
Gerät erst abkühlen lassen.
• Das Gerät ist nur zum Trocknen von Lebensmitteln vorgesehen,
niemals andere Dinge wie Papier, Kunststoff etc. hineinlegen
und nie etwas im Gerät aufbewahren.
• Das Gerät nie ohne Trockenrost benutzen. Dies ist nötig,
damit die Luft richtig zirkuliert. Das Gerät nur dann mit allen
Trockenrosten benutzen, wenn alle mit etwas befüllt sind.
• Es ist wichtig, die Trockenroste gründlich zu reinigen, da sie
direkten Kontakt mit Lebensmitteln haben.
• Das Gerät nicht mehr als 40 Stunden am Stück betreiben.
Produktbeschreibung
1. Deckel
1
Deut s ch
2. Trockenrost (× 5)
3. Schalter [ 1/0 ] (ein/aus)
4. Temperaturwahl
5. Basiseinheit
2
3
4
5
34
Trocknen
Trocken ist eine der ältesten Methoden um Lebensmittel haltbar zu machen.
Lebensmittel enthalten mehr oder weniger Wasser, das durch das Trocken entfernt
wird. Dadurch ist es nicht mehr möglich, dass diese verschimmeln oder verrotten.
Unter optimalen Bedingungen können die getrockneten Lebensmittel mehrere Jahre
aufbewahrt werden. Das Trocknen führt dazu, dass Aromen konzentriert werden,
wodurch die Lebensmittel mehr Geschmack gewinnen. Trocknen ist eine umwelt­
freundliche Methode ohne Konservierungsmittel, die meisten Vitamine und Mineralien
bleiben erhalten. Trocken ist geeignet für Obst, Gemüse, Pilze, Kräuter und Tees.
Die Luft wird erwärmt und bläst dann durch alle Trockenroste, wobei die meiste
Feuchtigkeit durch die Öffnungen im Deckel herausgeblasen wird. Der Inhalt trocknet
auf allen Trockenrosten, für einen optimalen Effekt sollen diese aber ab und zu den
Platz tauschen, damit das Ergebnis so gleich wie möglich wird. Das Trocken ist am
effektivsten auf dem untersten Rost, daher sollten die Trockenroste zwischen den
versch. Positionen wechseln.
Bedienung
Vor dem ersten Gebrauch
1. Das Verpackungsmaterial vollständig entfernen.
3. Alle Trockenroste (ohne Rohwaren) und den Deckel an der Basiseinheit befestigen.
Das Gerät einschalten und ca. 30 min lang leer laufen lassen, dann ausschalten
und abkühlen lassen (dies muss nur vor dem ersten Einsatz durchgeführt werden).
Trockenrost und Deckel reinigen, abwaschen und gründlich abtrocknen. Das Gerät
kann beim ersten Betrieb etwas angebrannt riechen, das ist völlig normal.
Die Basiseinheit außen mit einem leicht feuchten Tuch abwischen.
Vorbereitungen
1. Die Rohwaren vor dem Trocknen verlesen, reinigen und abwaschen, sodass diese
komplett sauber und ohne Spuren von Chemikalien sind.
2. Das Obst und Gemüse, das getrocknet werden soll, begutachten bevor es auf
den Trockenrost gelegt wird. Alle Verfärbungen, überreife oder beschädigte Stellen
an den Rohwaren entfernen, dies kann sonst alles, was auf dem Trockenrost liegt,
untauglich machen.
3. Die Rohwaren in ca. 6 mm dicke Scheiben schneiden. Dünne Scheiben trocknen
schneller, schrumpfen aber sehr zusammen. Ungeschälte, geschnittene Früchte so
hinlegen, dass die Schnittfläche nach oben zeigt. Die einzelnen Teile so legen,
dass sie sich nicht überlappen.
35
Deut s ch
2. Das Gerät auf einer ebenen, stabilen und hitzebeständigen Fläche aufstellen.
Bitte beachten, dass das Gerät während dem Betrieb nicht bewegt werden soll.
Sicherstellen, dass es min. 15 cm freier Raum um das Gerät herum gibt, damit
die Luftzirkulation im und um das Gerät herum funktionieren kann.
4. Die Rohwaren gleichmäßig auf dem Trockenrost verteilen. Kräuter sehr vorsichtig
trocknen, nur die Stängel entfernen. Die Kräuter müssen ansonsten nicht noch
weiter zerkleinert werden. Die Kräuter ab und zu wenden, damit sie nicht am
Trockenrost festkleben.
5. Sicherstellen, dass das Gerät ausgeschaltet ist (0), bevor der Stecker
an die Steckdose angeschlossen wird.
Trocknen
Die Rohwaren müssen frisch und reif sein, wenn der Trockenprozess beginnt. Es
ist unmöglich verdorbenes, überreifes Obst oder Gemüse mit schlechter Qualität
zu trocknen und dennoch ein gutes Trockenergebnis zu erhalten. Keine nassen
Rohwaren trocknen, nach dem Abwaschen erst trocknen lassen, bevor sie in
das Gerät gelegt werden.
1. Die Rohwaren gleichmäßig auf dem Trockenrost verteilen.
2. Die Trockenrost mit den Rohwaren in die Basiseinheit einlegen, dann den Deckel
aufsetzen.
3. Den Stecker an die Steckdose anschließen und den Schalter auf 1 stellen um
das Gerät zu starten.
Deut s ch
4. Den gewünschten Temperaturbereich gemäß der Tabelle einstellen und die empfohlene
Zeitdauer trocknen lassen (die Trockendauer beruht auf der Art und Menge der
Rohwaren). Je mehr Flüssigkeit die Rohwaren enthalten, desto länger beträgt
die Trockendauer. Alle mitgelieferten Trockenroste benutzen, egal ob etwas darauf
liegt oder ob sie leer sind.
5. Das Trocken ist
am effektivsten
auf dem untersten
Rost, daher sollten
die Trockenroste
zwischen den
versch. Positionen
wechseln, damit
das Trockenergebnis
auf allen Ebenen
gleich ist.
Deckel
Deckel
1
2
3
4
5
Deckel
5
4
3
2
1
3
2
1
5
4
Basiseinheit
Basiseinheit
Basiseinheit
Anfang
Drehen
Drehen
6. Den Tockenvorgang ab und zu kontrollieren, damit die Rohwaren nicht zu lange
getrocknet werden. Fertig getrocknete Rohwaren herausnehmen. Die getrockneten
Rohwaren dunkel und kühl in einem geeigneten Behälter aufbewahren.
7. Wenn der Trockenprozess abgeschlossen ist, das Gerät abschalten und den
Stecker abziehen.
8. Deckel und Trockenroste abspülen.
36
Vorbehandlung
Um zu verhindern, dass bestimmte Obstsorten sich verfärben, empfehlen wir diese in
einen Behälter mit einer Lösung bestehend aus einer Tasse Wasser mit einem Teelöffel
Zitronensaft zu tauchen. Die Frucht herausnehmen und gründlich mit Küchenpapier
abtrocknen. Der Zitronensaft kann mit Ananassaft oder Vitamin-C-Pulver ersetzt werden.
Bestimmte Früchte wie z. B. Feigen, Pflaumen, Grapefruit oder Heidelbeeren haben
eine natürliche Schutzschicht aus Wachs. Diese Früchte folgendermaßen behandeln:
1 bis 2 Minuten in kochendes Wasser geben, herausnehmen und das Wasser abtropfen
lassen, dann sofort in kaltes Wasser schütten, herausnehmen und abtrocknen.
In Scheiben schneiden und trocknen.
Blanchieren
Die meisten Rohwaren müssen vor dem Trocknen blanchiert werden, damit das Aussehen
und der Geschmack sich so wenig wie nötig verändern. Dies bedeutet, dass die Rohr­
waren kurz gekocht werden (1 bis 5 Minuten). Die Rohwaren in einen Drahtkorb o. Ä legen
und in einen Topf mit kochendem Wasser senken, nach der angegebenen Zeitspanne
wieder herausnehmen. Die Oberfläche der Rohwaren komplett trocknen lassen. bevor sie
auf den Trockenrost gelegt werden und das Gerät gestartet wird.
Das Blanchieren ist geeignet für Äpfel, Aprikosen, Feigen, Nektarinen, Pfirsiche, Birnen
und Pflaumen um die Farbe der Rohwaren zu bewahren. Das Ergebnis kann süßen,
kandierten Früchten ähneln, das optimale Ergebnis selbst herausfinden.
Empfohlene Trockentemperatur (dies sind Richtwerte, die Trockendauer beruht auf
der Scheibendicke, dem Feuchtigkeitsgehalt usw.).
Materialsorte
Empfohlene Temperatur
Blüten
35–40 ºC
Frische Kräuter
40 ºC
Brot und Gebäck
40–50 ºC
Gemüse
50–55 ºC
Obst (Äpfel)
55–60 ºC
Obst (Birnen)
55–60 ºC
Obst (Aprikosen, Pfirsiche, Pflaumen)
55–60 ºC
Fleisch, Fisch
65–70 ºC
Pilze
40–50 ºC
37
Deut s ch
Die optimale Temperatur und Dauer durch Ausprobieren herausfinden.
Welche Rohwaren eignen sich zum Trocknen?
Deut s ch
Gemüse soll reif, frisch und unbeschädigt sein.
Sorte
Vorbehandlung
Trockendauer
in Stunden
Äpfel
In Stücke oder Kreise schneiden.
4–15
Aprikosen/Marillen
In Hälften oder Viertel schneiden.
8–36
Frische Ananas
Schälen und in Kreise schneiden.
6–36
Konservierte Ananas
Abtropfen lassen und in Stücke schneiden.
6–36
Reife Bananen
In 4 mm dicke Scheiben oder Stäbe
schneiden.
5–24
Erdbeeren
Halbieren, kleine Erdbeeren werden
ganz getrocknet.
5–24
Birnen
Kerngehäuse entfernen, in Hälften oder
Scheiben schneiden.
5–24
Pflaumen
Ganz oder halb, mit oder ohne Kern.
5–24
Trauben
Einschneiden, möglichst eine Sorte ohne Kerne.
6–36
Kirschen
Ganze mit Kernen.
6–36
Pfirsiche
Kern entfernen, in Hälften oder Scheiben
schneiden.
5–24
Zitrusfrüchte
Mit oder ohne Schale in Scheiben schneiden.
6–36
Rhabarber
Nur dünne Stiele verwenden, abspülen und
in 3 cm große Stücke schneiden.
4–16
Pilze
Die Pilze sorgfältig säubern, in Scheiben
schneiden, kleine Pilze werden ganz getrocknet.
4–6
Aufbewahrung von getrockneten Lebensmitteln
Getrocknete Rohwaren müssen korrekt aufbewahrt werden, um Farbe, Geschmack
und Qualität so lange wie möglich beizubehalten.
Die getrockneten Rohwaren werden idealerweise in Gefrierbeuteln an einem dunklen
und kühlen Platz aufbewahrt, je kühler, desto bessere Haltbarkeit. Sicherstellen,
dass die Lebensmittel komplett trocken sind, diese in den Beutel legen, soviel Luft
wie möglich herausdrücken und den Beutel dann verschließen. Die Tüte in einem
luftdichten Behälter aufbewahren. Nach ein paar Tagen die Beutel kontrollieren, sind
Wassertropfen im Beutel zu sehen, ist der Inhalt nicht komplett trocken und muss
erneut getrocknet werden.
38
Pflege und Wartung
• Vor der Reinigung den Stecker aus der Steckdose ziehen.
• Das Produkt mit einem weichen, leicht befeuchteten Tuch reinigen. Ein mildes
Reinigungsmittel verwenden, keine scharfen Chemikalien oder Scheuermittel.
• Deckel und Trockenroste abspülen.
Hinweise zur Entsorgung
Bitte das Produkt entsprechend den lokalen Bestimmungen entsorgen.
Weitere Informationen sind von der Gemeinde oder den kommunalen
Entsorgungsbetrieben erhältlich.
Technische Daten
220–240 V AC, 50/60 Hz
Leistungsaufnahme
250 W
Einstellbare Temperatur
35–70 °C
Trockenfläche
Ø 27 cm
Deut s ch
Spannung
39
Sverige
Kundtjänst
tel: 0247/445 00
fax: 0247/445 09
e-post: kundservice@clasohlson.se
Internetwww.clasohlson.se
Post
Clas Ohlson AB, 793 85 INSJÖN
Norge
Kundesenter
tlf.: 23 21 40 00
faks: 23 21 40 80
e-post: kundesenter@clasohlson.no
Internettwww.clasohlson.no
Post
Clas Ohlson AS, Postboks 485 Sentrum, 0105 OSLO
Suomi
Asiakaspalvelu
puh.: 020 111 2222
sähköposti: asiakaspalvelu@clasohlson.fi
Internetwww.clasohlson.fi
Osoite
Clas Ohlson Oy, Maistraatinportti 4 A, 00240 HELSINKI
Great Britain
Customer Service
contact number: 020 8247 9300 e-mail: customerservice@clasohlson.co.uk
Internetwww.clasohlson.co.uk
Postal
10 – 13 Market Place
Kingston Upon Thames
Surrey
KT1 1JZ
Deutschland
Kundenservice
Unsere Homepage www.clasohlson.de besuchen und
auf Kundenservice klicken.