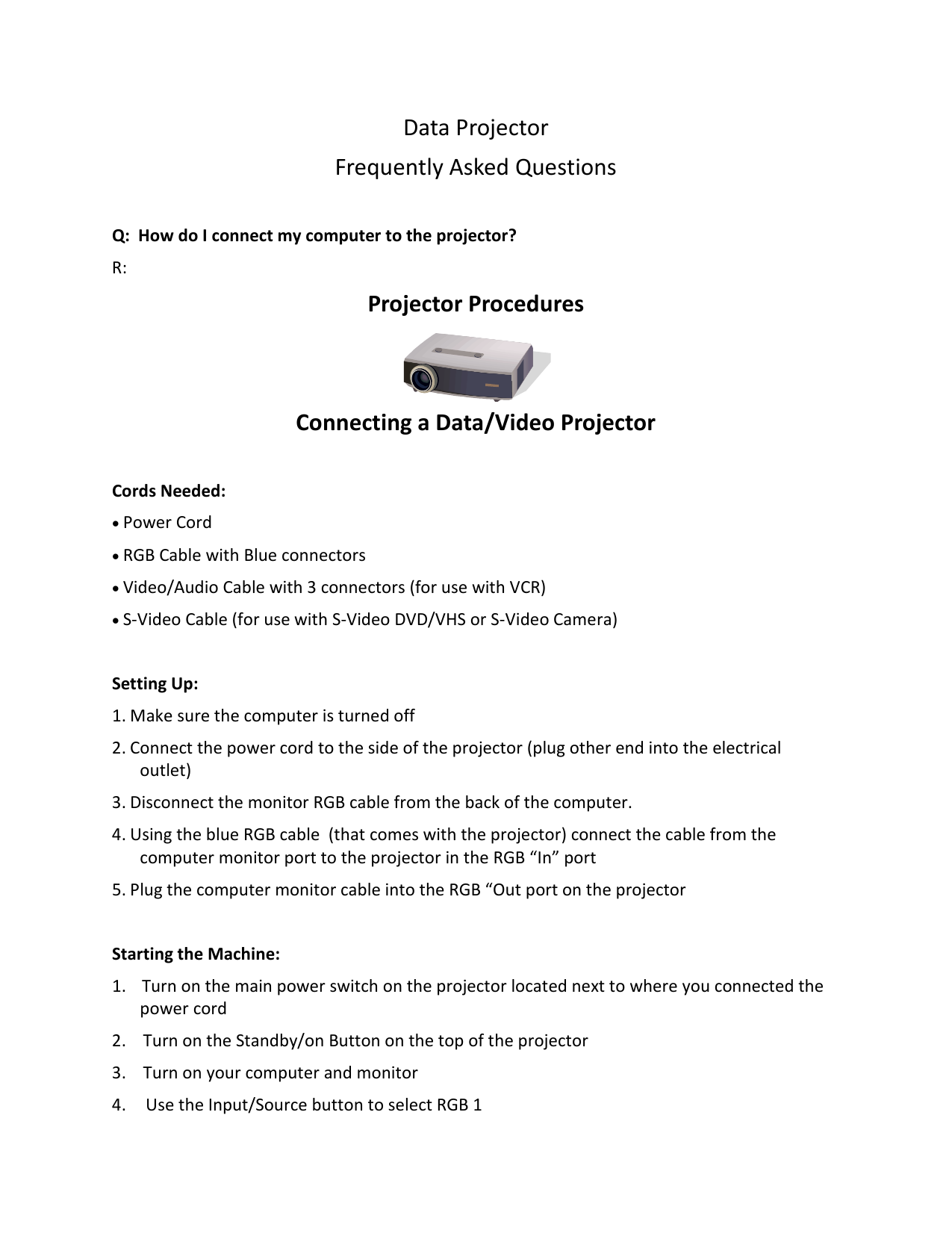 Data Projector
Frequently Asked Questions
Q: How do I connect my computer to the projector?
R:
Projector Procedures
Connecting a Data/Video Projector
Cords Needed:
• Power Cord
• RGB Cable with Blue connectors
• Video/Audio Cable with 3 connectors (for use with VCR)
• S-Video Cable (for use with S-Video DVD/VHS or S-Video Camera)
Setting Up:
1. Make sure the computer is turned off
2. Connect the power cord to the side of the projector (plug other end into the electrical
outlet)
3. Disconnect the monitor RGB cable from the back of the computer.
4. Using the blue RGB cable (that comes with the projector) connect the cable from the
computer monitor port to the projector in the RGB "In" port
5. Plug the computer monitor cable into the RGB "Out port on the projector
Starting the Machine:
1. Turn on the main power switch on the projector located next to where you connected the
power cord
2. Turn on the Standby/on Button on the top of the projector
3. Turn on your computer and monitor
4.
Use the Input/Source button to select RGB 1
Turning off the Machine:
DO NOT TURN OFF THE MAIN POWER SWITCH ON THE DATA/VIDEO PROJECTOR WITHOUT
FIRST LETTING THE LAMP COOL. TO DO THIS:
• Press the standby/on button for about 3 seconds
• The lamp will shut off and the fan will continue to
run cooling the lamp
• The fan will stop automatically
• It is now safe to turn off the main power switch.
Q: I can see the image on my computer screen, but not through the projector. What is
wrong?
R: Try several Things:
1. Make sure the connections are correct.
2. Turn off the computer and turn it back on.
3. Using the menu button on the projector set the video input to RGB1 or VGA 1.
4. Set the computers' Display Setting to 640x480.
Q: Can I use the projector to show a video using a DVD/VHS ?
R: Yes. To connect the DVD/VHS Player to the projector, use the cable with the red, white and
yellow plugs on the end. Connect to the like colored connections on the DVD/VHS Player
and on the projector. Using the menu button on the projector set the video input to VIDEO.

* Your assessment is very important for improving the work of artificial intelligence, which forms the content of this project