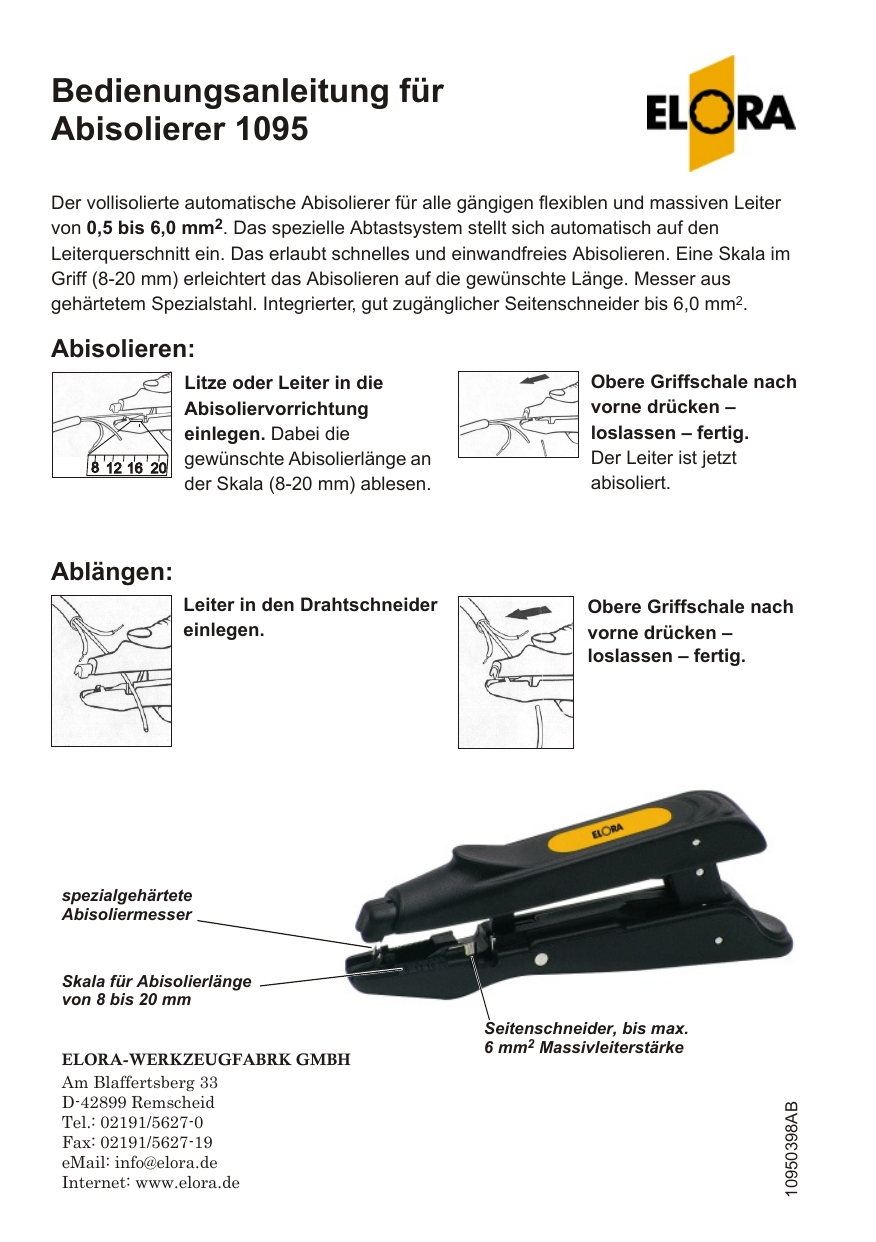 Bedienungsanleitung für
Abisolierer 1095
Der vollisolierte automatische Abisolierer für alle gängigen flexiblen und massiven Leiter
von 0,5 bis 6,0 mm2. Das spezielle Abtastsystem stellt sich automatisch auf den
Leiterquerschnitt ein. Das erlaubt schnelles und einwandfreies Abisolieren. Eine Skala im
Griff (8-20 mm) erleichtert das Abisolieren auf die gewünschte Länge. Messer aus
gehärtetem Spezialstahl. Integrierter, gut zugänglicher Seitenschneider bis 6,0 mm2.
Abisolieren:
8 12 16 20
Litze oder Leiter in die
Abisoliervorrichtung
einlegen. Dabei die
gewünschte Abisolierlänge an
der Skala (8-20 mm) ablesen.
Obere Griffschale nach
vorne drücken –
loslassen – fertig.
Der Leiter ist jetzt
abisoliert.
Leiter in den Drahtschneider
einlegen.
Obere Griffschale nach
vorne drücken –
loslassen – fertig.
Ablängen:
spezialgehärtete
Abisoliermesser
Skala für Abisolierlänge
von 8 bis 20 mm
Seitenschneider, bis max.
6 mm2 Massivleiterstärke
10950398AB
ELORA-WERKZEUGFABRK GMBH
Am Blaffertsberg 33
D-42899 Remscheid
Tel.: 02191/5627-0
Fax: 02191/5627-19
eMail: info@elora.de
Internet: www.elora.de
User Instructions
The fully insulated automatic wire stripper for all common stranded and solid conductors
of 0,5-6,0 mm² (20-10 AWG). The special scanning system adjusts automatically to the wire diameter
and allows fast and accurate stripping. A gauge scale inside the handle simplifies stripping to a
pre-set length. The blades are made of specially hardened steel. Comes with an easily accessible
built-in side cutter for max. 6,0 mm² (10 AWG).
GB
Mode d'emploi
Le dénudeur automatique entièrement isolé pour tous les fils courants monobrins et multibrins de 0,5 à 6,0
mm² de section. Le système spécial de réglage s'ajuste automatiquement au diamètre du fil et permet le dénudage rapide
et impeccable. Une échelle (8 à 20 mm) intégrée dans la poignée simplifie le dénudage à une longeur voulue. Les lames
sont en acier spécial trempé. Avec coupe-fil positionné bien accessible pour max. 6,0 mm².
F
Istruzioni per l'uso
Lo spelafili interamente isolato per tutti i tipi di filo cablato e pieno da 0,5 a 6,0 mm². Lo speciale sistema di
"scanning" (auto-posizionamento) regola automaticamente l'attrezzo sul diametro del filo, consentendo una spelatura
rapida ed accurata. Una scala millimetrata nell'impugnatura semplifica la spelatura ad una lunghezza pre-definita. Le lame
sono realizzate in acciaio speciale temprato. L'attrezzo è completado da una lama integrata di facile accesso per un
massimo di 6,0 mm².
I
Modo de empleo
El pelacable automático completamente aislado para todo tipo de conductores flexibles de 0,5-6,0 mm². El
sistema especial de reglaje se ajusta automáticamente al diámetro del cable y permite un pelado rápido e impecable.
Una escala (8-20 mm) integrada en el mango simplifica el pelado a una longitud deseada. Las cuchillas son de acero
templado especial. Cortacables integrado y facilmente accesible, hasta 6,0 mm².
E
8 12 16 20
Stripping:
Dénuder:
Spelatura:
Pelar:
Insert wire (stranded or solid) into the stripping device of the tool mouth.
Introduire le conducteur monobrin ou multibrin dans les mâchoires.
Inserire il filo (flessibile o rigido) nella "bocca" spela-fili dell'attrezzo.
Introducir el cable en el dispositivo para pelar.
Push tool handle forward - finished.
Presser la poignée vers l'avant - c'est fini.
Prensar mango hacia delante - listo.
Spingere l'impugnatura dell'attrezzo in avanti - finito.
Cutting:
Sectionner:
Taglio:
Cortar:
Insert wire into side cutter.
Introduire le conducteur dans le coupe-fil.
Inserire il filo nel cutter laterale.
Colocar el conductor en la abertura para cortar.
Squeeze tool handle - finished.
Serrer la poignée - c'est fini.
Taglio: Inserire il filo nel cutter laterale.
Cortar: Colocar el conductor en la abertura para cortar.

* Your assessment is very important for improving the work of artificial intelligence, which forms the content of this project