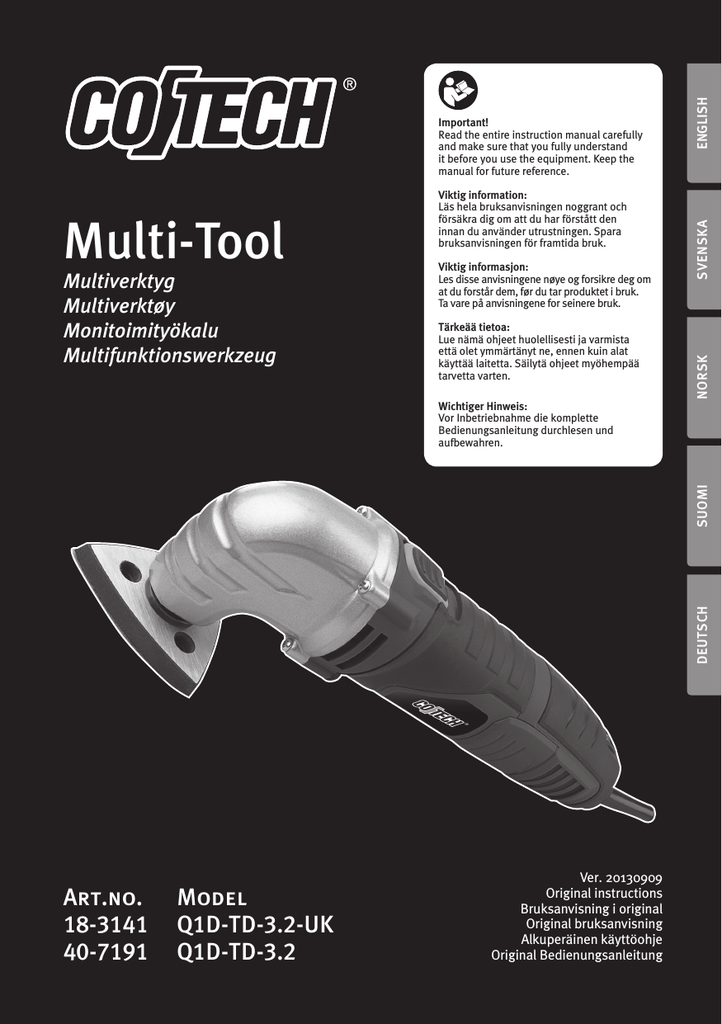 Multiverktyg
Multiverktøy
Monitoimityökalu
Multifunktionswerkzeug
Viktig informasjon:
Les disse anvisningene nøye og forsikre deg om
at du forstår dem, før du tar produktet i bruk.
Ta vare på anvisningene for seinere bruk.
Tärkeää tietoa:
Lue nämä ohjeet huolellisesti ja varmista
että olet ymmärtänyt ne, ennen kuin alat
käyttää laitetta. Säilytä ohjeet myöhempää
tarvetta varten.
ENGLISH
SVENSKA
Multi-Tool
Viktig information:
Läs hela bruksanvisningen noggrant och
försäkra dig om att du har förstått den
innan du använder utrustningen. Spara
bruksanvisningen för framtida bruk.
NORSK
Important!
Read the entire instruction manual carefully
and make sure that you fully understand
it before you use the equipment. Keep the
manual for future reference.
DEUTSCH
SUOMI
Wichtiger Hinweis:
Vor Inbetriebnahme die komplette
Bedienungsanleitung durchlesen und
aufbewahren.
Art.no.Model
18-3141Q1D-TD-3.2-UK
40-7191Q1D-TD-3.2
Ver. 20130909
Original instructions
Bruksanvisning i original
Original bruksanvisning
Alkuperäinen käyttöohje
Original Bedienungsanleitung
2
Art. no 18-3141 Model Q1D-TD-3.2-UK
40-7191
Q1D-TD-3.2
Please read the entire instruction manual before using the product and save it for future
reference. We reserve the right for any errors in text or images and any necessary changes
made to technical data. If you have any questions regarding technical problems please
contact Customer Services.
Contents
Safety4
Specifications6
Product description
7
Changing accessories
9
Operation9
Care and maintenance
10
Troubleshooting guide
10
Disposal10
3
ENGLISH
Multi-Tool 250 W
ENGLISH
Safety
General Safety Requirements – EN 60745-1
Caution: Read all instructions. Failing to adhere to the following instructions may lead to
electric shock, fire and/or serious injury. The term "power tools" in the warning text below
refers to your handheld mains operated or battery operated tool.
SAVE THESE INSTRUCTIONS.
1) Work area
a) Keep the work area clean and well illuminated. Cluttered and poorly lit areas invite
accidents.
b) Do not use power tools in explosive environments, e.g. near to flammable liquids,
gases or dust. Power tools generate sparks that can easily ignite dust or fumes.
c) Keep children and other bystanders away from the area where you are using
the power tool. Distractions can cause you to lose your concentration and control.
2) Electrical safety
a) The power tool's plug must fit correctly into the wall socket. Never modify the plug in
any way. Never use an adaptor together with earthed power tools. Unmodified plugs
and suitable wall sockets decrease the risk of electric shock.
b) Avoid physical contact with earthed objects, such as pipes, radiators, ovens or
refrigerators. There is an increased risk of electrical shock if your body is earthed.
c) Do not expose the power tool to rain or other wet conditions. If water gets inside
a power tool it increases the risk of electric shock.
d) Do not abuse the mains lead. Never use the lead to carry the tool or pull the plug from
the wall socket. Keep the lead away from heat, oil, sharp edges and movable parts.
Damaged or tangled leads increase the risk of electric shock.
e) When using power tools outdoors, use an extension lead that is suitable for this purpose.
Use of an extension lead designed for outdoor use decreases the risk for electric shock.
3) Personal safety
a) Pay attention to what you are doing and use common sense when using power tools.
Never use power tools if you are tired or under the influence of drugs, alcohol or
medication. One moment of inattention while using a power tool may result in
serious injury.
b) Wear protective clothing. Always wear safety glasses. Using protective clothing such
as dust masks, non-slip safety shoes, helmets and ear defenders when needed
decreases the risk of injury.
c) Avoid accidental starts. Make sure that the power switch is set to OFF before
connecting the device to a wall socket. Never carry a power tool with your finger on
the trigger and never connect the power tool to a wall socket when the switch is set
to ON, since it may result in injury.
4
e) Do not overreach. Make sure you stand steady and well balanced at all times. This will
allow you to have more control in unexpected situations.
f) Wear suitable clothing. Do not wear loose-fitting clothing or jewellery. Keep hair,
clothes and gloves away from moving parts. Loose-fitting clothes, jewellery or long hair
could become caught in moving parts.
g) If equipment for dust extraction or collecting is available make sure it is connected and
used properly. Using technical aids may decrease dust related hazards.
4) Use and maintenance of power tools
a) Do not force the power tool. Use a power tool suitable for the work you are about
to perform. The proper power tool will perform the task better and safer if used at
the correct feed rate.
b) Never use the power tool if the power switch does not switch the tool on and off
properly. All power tools that cannot be controlled by the power switch are dangerous
and must be repaired.
c) Unplug the lead from the wall socket before making any adjustments,
changing accessories or storing the power tool. These precautions reduce the risk of
the power tool starting unexpectedly.
d) Store power tools that are not being used out of children's reach. Do not allow people
who are unfamiliar with the tool or its functions to operate the tool. Power tools can be
dangerous if they fall into the hands of inexperienced users.
e) Maintaining power tools. Check for any incorrect settings, parts that catch, broken
parts or anything else which may cause the power tool to malfunction. If something
is damaged it must be repaired before use. Many accidents are caused by poorly
maintained power tools.
f) Keep tools sharp and clean. Properly maintained cutting tools with sharp blades are
less likely to jam and are easier to control.
g) Use the power tool, accessories and similar according to the instructions and in an
appropriate way suitable for the type of power tool used. Also, take into consideration
your work environment and the type of work to be done. Using the power tool for
a purpose other than that for which it is intended could result in a dangerous situation.
5) Service
Repairs and service should only be performed by qualified tradesmen, and only with
original spare parts. This guarantees that the safety of the power tool is maintained.
5
ENGLISH
d) Remove all service tools/keys before switching on the hand tool. A service tool left on
a moving part of the power tool may result in injury.
ENGLISH
Specific safety warnings for multi-tools
• This power tool is intended for sawing, sanding, polishing and cutting. Read all safety
warnings, instructions, illustrations, and specifications that are included with this tool.
Neglecting to follow all of the instructions listed below can result in electric shock,
fire and/or serious injury.
• Do not use accessories which are not intended to be used with this tool and which are
not recommended by the manufacturer. Even if the accessory can be attached to your
power tool, there is no guarantee that it can be used safely.
• Wear personal protective equipment. Depending on how you use the machine,
use face protection or safety glasses. If necessary use a mask, ear protection, gloves,
and work clothing, which protect against small debris or splinters from the work object.
Eye protection should protect against flying debris produced in different work phases.
The breathing protection should be able to filter particles, which are produced by
the work. Prolonged exposure to loud noise can result in hearing damage.
• Keep all bystanders at a distance. Everyone who visits the place of work must wear
personal protective equipment. Debris from the object worked upon or from a damaged
accessory can fly away and result in injury outside of the work's immediate vicinity.
• Only hold the power tool by its isolated grip when working in positions where the tool
might possibly cut through hidden cables or its own mains lead. Tool which come in
contact with an electric cable can electrify metal parts of the power tool and subject
the user to an electric shock.
• Regularly clean the motor's ventilation ports. The motor's fan pulls in dust, which gets
inside the outer casing and a build up of this collected metal dust can lead to electrical
dangers.
• Do not use the power tool near flammable material. Sparks can easily ignite
flammable material.
• Do not use accessories, which require liquid coolants. The use of water or other liquid
coolants can result in electric shock or electrocution.
Specific safety instructions for sanding
• Extra caution should be taken when sanding lead paint, wood, metal or other materials
which produce toxic dust. Make sure any bystanders in the work area are well protected.
• Remember that dust caused by sanding can be very flammable when mixed with air.
Specifications
Power supply
230 V AC, 50 Hz
Speed
10 000–21 000 min -1
Sound power (LwA)
97 dB(A) K: 3 dB(A)
Power
250 W
Sound pressure (LpA)
86 dB(A) K: 3 dB(A)
1.2 kg
Vibration ah
6,60 m/s² K: 1.5 m/s²
Weight
6
Cotech Multi-Tool. A very versatile product that saws, cuts, and sands wood, metal,
plaster, laminate, etc.
a
e
b
d
f
d
c
g
h
i
A) ON/OFF switch
B) Speed selector
C) Allen key
D) Ventilation ports
E) Tool attachment
F) Locking screw and washer
G) Segment saw blade HSS
H) Delta sanding plate
I ) Plunge-cutter saw blade
7
ENGLISH
Product description
ENGLISH
Supplied accessories
Segment saw blade HSS
Oscillating saw blade for cutting-off/parting-off. This tool
is ideal for sawing in those hard-to-reach places such
as in corners when laying floors or skirting boards.
This saw blade can even saw through nails.
Delta sanding plate
Perfect for sanding those hard-to-reach places, such as
corners. Changing the grade of sandpaper used allows you
to sand wood, stone, paint and so forth.
Plunge-cutter saw blade
Ideal for deep incisions in wood, e.g. cutting holes for
fitting air vents. Can also be used for sawing in confined
spaces. This saw blade can even saw through nails.
Extra accessories
The Cotech range includes several other accessories compatible with this multi-tool,
amongst others:
• Saw blades for metal.
• Saw blades and sanding pads for cement, wall tiles and plastic.
• Scraper blades for carpets, carpet adhesive and tile adhesive.
• Different types of sandpaper.
8
ENGLISH
Changing accessories
1. First remove any accessory that might
already be in the tool. Undo the locking
screw by turning it anticlockwise using
the supplied allen key.
2. Fit the accessory onto the tool
attachment making sure that
the holes pass over the lugs.
3. Tighten the locking screw using the allen key.
Changing sanding sheets
The sanding sheets are attached with hook and loop fasteners. Remove the old sanding
sheet, brush off the hook and loop fabric on the sanding pad if necessary, and then attach
the new sanding sheet.
Operation
Starting the machine
1. Before connecting the machine to the power point, make sure that the ON/OFF switch
(A) is set to OFF.
2. Start the machine by sliding the ON/OFF switch to the ON position.
Speed selection
• The speed can be regulated using the speed selector (B).
• The choice of speed depends on the type of work being carried out and the type of
material being worked. Experiment until you find the best setting.
Cutting-off and sawing
• If you are using the plunge-cutter saw blade, make sure that there are no nails
or screws in the workpiece. Remove any nails and screws or use the segment saw
blade HSS instead.
• If you are cutting wall tiles, bear in mind that the tool will be subjected to hard wear
during prolonged use.
9
ENGLISH
Sanding
• Always use undamaged sandpaper and change it often. This will not only give you
better results but also prolong the life of your multi-tool.
• Do not use excessive force when sanding, apply a constant, light pressure. Applying
too much pressure will not speed up the sanding process; it will merely wear out
the sandpaper and the multi-tool more quickly.
• Do not use sandpaper that you have previously used for sanding metal to sand
wood with.
Care and maintenance
• Always keep the motor's ventilation openings free of dust and debris.
• Clean the machine regularly using a moist cloth and washing up liquid.
Avoid using strong detergents.
Troubleshooting guide
The machine does
not start.
No power.
Check the power point.
Worn brushes.
Contact us in case of motor or
electrical faults.
Short circuit.
Faulty power switch.
The machine
runs slowly.
Worn/damaged accessory.
Sharpen or change the accessory.
Speed too low.
Do not press down too hard.
The motor is overheated.
Strange noise.
Mechanical fault.
Contact us in case of motor or
electrical faults.
Faulty windings.
Heavy vibration.
Loose accessory.
Tighten the tool and make sure it is
set correctly.
Sparks in
the motor.
Brushes jammed.
Contact us in case of motor or
electrical faults.
Winding short circuited.
Dirt on commutator.
Disposal
Follow local ordinances when disposing of this product.
If you are unsure of how to dispose of this product, please contact your municipality.
10
Multiverktyg 250 W
Läs igenom hela bruksanvisningen före användning och spara den sedan för framtida
bruk. Vi reserverar oss för ev. text- och bildfel samt ändringar av tekniska data.
Vid tekniska problem eller andra frågor, kontakta vår kundtjänst (se adressuppgifter
på baksidan).
Innehållsförteckning
Säkerhet12
Specifikationer14
Produktbeskrivning15
Byte av verktyg
17
Användning17
Skötsel och underhåll
18
Felsökningsschema18
Avfallshantering18
11
SVENSKA
Art. nr 18-3141 Modell Q1D-TD-3.2-UK
40-7191
Q1D-TD-3.2
Säkerhet
Generella säkerhetsföreskrifter – EN 60745-1
Varning! Läs alla instruktioner. Om nedanstående instruktioner inte följs kan detta leda till
elektrisk stöt, brand och/eller allvarlig skada. Termen "elektriskt handverktyg" i varningstexten nedan refererar till ditt nätanslutna eller batteridrivna handverktyg.
SVENSKA
SPARA DESSA INSTRUKTIONER.
1) Arbetsutrymmet
a) Håll arbetsutrymmet rent och väl upplyst. Belamrade och mörka utrymmen inbjuder
till olyckor.
b) Använd inte elektriska handverktyg i explosiva miljöer, som i närheten av lättantändliga
vätskor, gaser eller damm. Elektriska handverktyg genererar gnistor som kan antända
damm eller ångor.
c) Håll undan barn och åskådare medan du använder det elektriska handverktyget.
Störningsmoment kan göra att du tappar kontrollen.
2) Elektrisk säkerhet
a) Det elektriska handverktygets stickpropp måste passa i vägguttaget. Modifiera aldrig
stickproppen på något vis. Använd aldrig adapter tillsammans med jordade elektriska
handverktyg. Omodifierade stickproppar och passande vägguttag minskar risken för
elektrisk stöt.
b) Undvik kroppskontakt med jordade föremål, som rör, element, köksspis eller kylskåp.
Det innebär ökad risk för elektrisk stöt om din kropp är jordad.
c) Utsätt inte det elektriska handverktyget för regn eller våta förhållanden.
Om vatten tränger in i ett elektriskt handverktyg ökar det risken för elektrisk stöt.
d) Misshandla inte nätsladden. Använd aldrig nätsladden för att bära, dra eller rycka
stickproppen ur vägguttaget. Håll nätsladden undan från värme, olja, vassa kanter och
rörliga delar. Skadade eller trassliga nätsladdar ökar risken för elektrisk stöt.
e) När du använder ett elektriskt handverktyg utomhus, använd en skarvsladd anpassad
för detta ändamål. Användning av en skarvsladd för utomhusbruk minskar risken för
elektrisk stöt.
3) Personlig säkerhet
a) Var uppmärksam på vad du gör och använd sunt förnuft när du använder ett elektriskt
handverktyg. Använd inte ett elektriskt handverktyg om du är trött eller påverkad av
droger, alkohol eller medicinering. Ett ögonblicks ouppmärksamhet när du använder
ett elektriskt handverktyg kan resultera i allvarlig personskada.
b) Använd skyddsutrustning. Bär alltid skyddsglasögon. Användning av skyddsutrustning
som andningsskydd, halksäkra skyddsskor, hjälm och hörselskydd vid behov minskar
risken för personskada.
12
c) Undvik oavsiktlig start. Se till att strömbrytaren är i läge OFF innan du ansluter
stickproppen till vägguttaget. Att bära ett elektriskt handverktyg med ett finger på
strömbrytaren/avtryckaren eller att ansluta ett elektriskt handverktyg till elnätet när
strömbrytaren är i läge ON inbjuder till olyckor.
e) Sträck dig inte för långt. Se till att du står stadigt med god balans hela tiden.
Detta möjliggör bättre kontroll i oväntade situationer.
f) Bär lämplig klädsel. Bär inte löst sittande kläder eller smycken. Håll hår, kläder och
handskar undan från rörliga delar. Lösa kläder, smycken eller långt hår kan fastna
i rörliga delar.
g) Om utrustning för utsugning och uppsamling av damm finns tillgängligt, se till att denna
är ansluten och används ordentligt. Användning av dessa hjälpmedel kan minska
dammrelaterade faror.
4) Användning och underhåll av det elektriska handverktyget
a) Pressa inte det elektriska handverktyget. Använd ett elektriskt handverktyg som är
avsett för det arbetsmoment du utför. Korrekt elektriskt handverktyg gör jobbet bättre
och säkrare med avsedd matningshastighet.
b) Använd inte det elektriska handverktyget om strömbrytaren inte slår på och stänger av
verktyget. Alla elektriska handverktyg som inte kan kontrolleras med strömbrytaren är
farliga och måste repareras.
c) Tag stickproppen ur vägguttaget innan du utför några justeringar, byter tillbehör eller
lägger undan det elektriska handverktyget för förvaring. Dessa åtgärder i förebyggande
syfte minskar risken för att starta det elektriska handverktyget oavsiktligt.
d) Förvara elektriska handverktyg som inte används utom räckhåll för barn och låt inte
personer som inte är förtrogna med det elektriska handverktyget eller dessa instruktioner använda det. Elektriska handverktyg är farliga om de kommer i händerna på ovana
användare.
e) Underhåll elektriska handverktyg. Kontrollera om något är felinställt, om rörliga delar
kärvar, om delar har gått sönder eller något annat som kan påverka funktionen av det
elektriska handverktyget. Om något är skadat måste det repareras före användning.
Många olyckor beror på dåligt underhållna elektriska handverktyg.
f) Håll verktygen vassa och rena. Ordentligt underhållna skärverktyg med vassa eggar är
mindre benägna att kärva och lättare att kontrollera.
g) Använd det elektriska handverktyget, tillbehör och liknande enligt instruktionerna och
på det sätt som är ämnat för just den typen av elektriskt handverktyg, och ta även
hänsyn till arbetsförhållandena och den typ av arbete som ska utföras. Användning av
det elektriska handverktyget för arbeten andra än vad det är ämnat för kan resultera
i en farlig situation.
5)Service
Låt behörig personal utföra service och reparationer, och endast med originalreservdelar.
Detta garanterar att säkerheten på det elektriska handverktyget behålls.
13
SVENSKA
d) Tag bort alla serviceverktyg/nycklar innan du slår på det elektriska handverktyget.
Ett kvarglömt serviceverktyg på en roterande del av det elektriska handverktyget
kan resultera i personskada.
Särskilda säkerhetsvarningar för multiverktyg
SVENSKA
• Detta elektriska handverktyg är avsett för sågning, slipning, putsning och kapning.
Läs alla säkerhetsvarningar, instruktioner, illustrationer och specifikationer som
medföljer detta verktyg. Underlåtelse att följa alla instruktioner nedan kan resultera
i elektrisk chock, brand och/eller allvarlig skada.
• Använd inte tillbehör som inte är speciellt avsedda och rekommenderade av
verktygstillverkaren. Även om tillbehöret kan monteras på ditt elektriska handverktyg
är det ingen försäkran om säker användning.
• Bär personlig skyddsutrustning. Beroende på hur du använder maskinen, använd
ansiktsskydd eller skyddsglasögon. Vid behov, använd ansiktsmask, hörselskydd,
handskar och arbetsförkläde som skyddar mot små slippartiklar eller flisor från
arbetsstycket. Ögonskyddet ska kunna skydda mot kringflygande skräp som bildas
vid olika arbetsmoment. Andningsskyddet ska kunna filtrera partiklar som bildas vid
arbetet. Långvarig vistelse i buller kan orsaka hörselskador.
• Håll åskådare på behörigt avstånd från arbetsplatsen. Alla som besöker arbetsplatsen
måste bära personlig skyddsutrustning. Flisor från arbetsstycket eller från ett trasigt
tillbehör kan flyga iväg och orsaka skada utanför arbetets omedelbara närområde.
• Håll det elektriska handverktyget endast i isolerade grippytor när du utför arbetsmoment där verktyget kan komma i kontakt med gömda kablar eller den egna sladden.
Verktyg som kommer i kontakt med en strömförande kabel kan göra utsatta metalldelar av verktyget strömförande och utsätta användaren för elektriska stötar.
• Rengör regelbundet motorns ventilationsöppningar. Motorns fläkt drar åt sig damm
som kommer in under höljet, och överflödigt metallspån som ansamlats kan orsaka
elektriska faror.
• Använd inte det elektriska handverktyget i närheten av lättantändliga material.
Gnistor kan antända dessa material.
• Använd inte tillbehör som kräver kylvätskor. Användning av vatten eller andra
kylvätskor kan resultera i elektrisk chock eller dödande elektrisk stöt.
Särskilda säkerhetsinstruktioner vid slipning
• Var extra noggrann vid slipning av färg som kan innehålla bly eller vid slipning av
trä, metall eller andra material som kan avge giftigt slipdamm. Se då också till att
personer som vistas på eller i närheten av arbetsplatsen är skyddade.
• Tänk på att slipdamm kan vara mycket brandfarligt i blandning med luft.
Specifikationer
Strömförsörjning 230 V AC, 50 Hz
Ljudeffekt (LwA)
97 dB(A) K: 3 dB(A)
Hastighet
10 000–21 000 min
Ljudtryck (LpA)
86 dB(A) K: 3 dB(A)
Effekt
250 W
Vibration ah
6,60 m/s² K: 1,5 m/s²
Vikt
1,2 kg
-1
14
Produktbeskrivning
Multiverktyg Cotech.
Mångsidig maskin som sågar, kapar och slipar i trä, metall, gips, laminat m.m.
SVENSKA
a
e
b
d
f
d
c
g
h
i
A) Strömbrytare av/på
B)Hastighetsväljare
C)Insexnyckel
D)Ventilationsöppningar
E)Verktygsfäste
F) Spärrskruv och bricka
G) Cirkelformat sågblad HSS
H) Slipsula
I) Instickssågblad
15
Medföljande verktyg
Cirkelformat sågblad HSS
SVENSKA
För insågssnitt och kapning. Passar utmärkt vid sågning där
det är svårt att komma åt, till exempel i hörn när du vill kapa
monterade golv- eller taklister. Detta sågblad klarar även att
såga genom spikar.
Slipsula
Passar mycket bra vid slipning där det är svårt att komma
åt, till exempel i hörn. Beroende på slippapper kan du slipa
trä, sten, färg m.m.
Instickssågblad
Idealiskt för djupa instickssnitt i trä, till exempel om du
ska montera ett ventilationsgaller eller liknande. Passar
även bra för sågning där det är svårt att komma åt.
Detta sågblad klarar även att såga genom spikar.
Extra tillbehör
I Cotech-sortimentet finns flera andra tillbehör som passar till detta multiverktyg, bl.a.:
• Sågblad för metall.
• Sågklingor och slipplattor för cementfogar, väggplattor och plast.
• Skrapblad för mattor, mattlim och kakellim.
• Olika typer av slippapper.
16
SVENSKA
Byte av verktyg
1. Demontera först bort det verktyg som
eventuellt redan sitter på plats. Använd
den medföljande insexnyckeln och dra
moturs så att spärrskruven lossnar.
2. Passa sedan in verktygets hål med
piggarna på verktygsfästet.
3. Dra åt spärrskruven med hjälp av insexnyckeln.
Byte av slippapper
Slippapperet sitter fast med kardborre. Dra bort det använda slippapperet, rengör vid
behov kardborrsväven på verktyget och sätt sedan fast nytt slippapper.
Användning
Starta maskinen
1. Innan du ansluter maskinen till vägguttaget, se till att strömbrytaren (A) står i läge OFF.
2. Starta sedan maskinen genom att skjuta strömbrytaren framåt till läge ON.
Val av hastighet
• Du kan under användning ställa in hastigheten med hastighetsväljaren (B).
• Vilken hastighet du ska välja beror på typ av jobb du ska utföra samt vilket material
som du ska bearbeta. Prova dig fram till det som fungerar bäst.
Kapning och sågning
• Om du använder instickssågblad, se till att inga spikar eller skruvar är i vägen där du
ska såga. Ta bort spikar och skruvar eller använd cirkelformat sågblad HSS.
• Om du kapar väggplattor, tänk på att verktyget slits hårt vi långvarig användning.
17
Slipning
• Använd alltid felfria slippapper och byt ofta. Det gör att resultatet blir bättre och även
att du ökar multiverktygets livslängd.
• Tryck inte för hårt när du slipar utan arbeta med ett jämnt lätt tryck. Slipeffekten
blir inte högre om du trycker hårt utan det medför endast att både slippapper och
multiverktyget slits snabbare.
SVENSKA
• Använd inte slippapper som du har slipat metall med till att sedan slipa på trä.
Skötsel och underhåll
• Håll alltid motorns ventilationsöppningar fria från spån och skräp.
• Rengör maskinen regelbundet med diskmedel och en fuktig trasa.
Undvik starka rengöringsmedel.
Felsökningsschema
Maskinen går inte.
Ingen ström.
Kontrollera att uttaget är
strömförande.
Slitna kolborstar.
Kontakta oss vid motor- och elfel.
Kortslutning.
Fel på strömbrytaren.
Maskinen går sakta.
Slött eller skadat verktyg.
Slipa om eller byt ut verktyget.
För lågt varvtal.
Mata inte så hårt.
Motorn är överhettad.
Ovanliga ljud hörs.
Mekaniskt hinder.
Kontakta oss vid motor- och elfel.
Lindning delvis korsluten.
Starka vibrationer.
Verktyget sitter löst.
Dra åt verktyget och se till att det
är rätt installerat.
Gnistbildning i
motorn.
Kolborstarna sitter fast.
Kontakta oss vid motor- eller elfel.
Lindningen kortsluten.
Kollektorn är smutsig.
Avfallshantering
När du ska göra dig av med produkten ska detta ske enligt lokala föreskrifter.
Är du osäker på hur du ska gå tillväga, kontakta din kommun.
18
Multiverktøy 250 W
Art.nr.18-3141
Modell:Q1D-TD-3.2-UK
40-7191
Q1D-TD-3.2
Les bruksanvisningen nøye før produktet tas i bruk, og ta vare på den for ev. framtidig bruk.
Vi reserverer oss mot ev. tekst- og bildefeil, samt forandringer av tekniske data. Ved tekniske problemer eller andre spørsmål, ta kontakt med vårt kundesenter. (Se opplysninger
om kundesenteret i denne bruksanvisningen).
Innholdsfortegnelse
Sikkerhet20
Spesifikasjoner22
Skifte av verktøy
NORSK
Produktbeskrivelse23
25
Bruk25
Stell og vedlikehold
26
Feilsøkingsskjema26
Avfallshåndtering26
19
Sikkerhet
Generelle sikkerhetsforskrifter - EN 60745-1
Advarsel! Les gjennom hele instruksjonen. Hvis ikke instruksjonen følges, kan dette føre til
elektrisk støt, brann og/eller alvorlige skader. Med "elektrisk håndverktøy" i teksten nedenfor, menes verktøy koblet til strømnettet eller batteridrevne håndverktøy.
TA VARE PÅ DENNE INSTRUKSJONEN.
1) Arbeidsplassen
a) Hold arbeidsplassen ren, ryddig og godt opplyst. Rotete arbeidsplass eller dårlig
opplyste områder kan føre til ulykker.
NORSK
b) Ikke bruk elektriske håndverktøy i eksplosjonsfarlige miljøer, som for eksempel nær
lettantennelige væsker, gasser eller støv. Elektrisk håndverktøy kan danne gnister,
som kan antenne støv eller trespon.
c) Hold barn og andre tilskuere på god avstand mens du bruker elektriske håndverktøy.
Du kan lett miste kontrollen dersom du blir forstyrret mens du arbeider.
2) Sikkerhet ved bruk av elektrisk strøm
a) Støpselet til det elektriske verktøyet må passe inn i strømuttaket. Det må ikke gjøres
endringer på støpselet. Bruk aldri adapter sammen med elektrisk håndverktøy som
krever jording. Ved bruk av originale kontakter/støpsler reduseres faren for elektrisk støt.
b) Unngå kroppskontakt med jordede gjenstander, som rør, ovner, komfyrer og kjøleskap.
Kroppskontakt med disse øker faren for elektrisk støt.
c) Elektrisk håndverktøy bør ikke utsettes for regn eller fuktighet. Hvis det kommer vann
inn i et elektrisk håndverktøy, øker faren for elektrisk støt.
d) Påse at ikke strømledningen blir skadet. Bær aldri apparatet i strømledningen.
Trekk heller ikke i strømledningen når støpselet skal tas ut av strømuttaket.
Hold ledningen unna varme, olje, skarpe kanter og bevegelige deler.
Skadede eller deformerte ledninger kan øke faren for elektrisk støt.
e) Ved bruk av elektrisk håndverktøy utendørs, skal man benytte en skjøteledning som
er beregnet til dette formålet. Når skjøteledning som er beregnet for utendørs bruk
benyttes, minsker faren for elektrisk støt.
3) Personlig sikkerhet
a) Vær våken og bruk sunn fornuft når du bruker et elektrisk verktøy. Ikke bruk elektriske
håndverktøy når du er trøtt eller påvirket av rusmidler, alkohol eller sterke medisiner.
Når du bruker elektrisk håndverktøy kan et lite øyeblikks uoppmerksomhet resultere
i store personskader.
b) Bruk verneutstyr. Benytt alltid vernebriller. Bruk av verneutstyr som støvmaske, sklisikre
såler på skoene, hjelm og hørselsvern, ved behov, reduserer faren for personskade.
c) Unngå uønsket oppstart. Påse at strømbryteren står i posisjon OFF før strømmen
kobles til. Det å bære et elektrisk håndverktøy med en finger på avtrekkeren/
strømbryteren, eller å koble til strømmen mens strømbryteren står i posisjon ON,
kan forårsake ulykker.
20
d) Fjern alle nøkler/serviceverktøy før det elektriske håndverktøyet startes. Et gjenglemt
serviceverktøy på en roterende del, kan forårsake personskader.
e) Strekk deg ikke for langt. Påse at du står stødig og har god balanse hele tiden. Da er
du bedre forberedt når uventede situasjoner oppstår.
f) Benytt fornuftige arbeidsklær. Ikke bruk løstsittende klær og smykker. Hold klær,
hansker og smykker unna bevegelige deler. Løse klær, smykker eller langt hår, kan
feste seg i bevegelige deler.
g) Hvis det er mulig å koble til en støvsamler/støvsuger, bør dette gjøres. Ved bruk av
sådanne hjelpemidler, kan en redusere faren for støvrelaterte skader og ulykker.
4) Bruk og vedlikehold av det elektriske håndverktøyet
b) Ikke bruk det elektriske håndverktøyet dersom det er feil på strømbryteren og den
ikke skrur verktøyet på/av med din kontroll. Alle elektriske håndverktøy, som ikke kan
kontrolleres med en strømbryter, er farlige og må repareres.
c) Trekk ut støpselet før justeringer utføres, ved skifte av tilbehør eller når verktøyet legges
til oppbevaring. Dette for å unngå at elektrisk håndverktøy får en ukontrollert start.
d) Oppbevar elektrisk håndverktøy utilgjengelig for barn. Påse også at elektrisk
håndverktøy er utilgjengelig for personer som ikke har fått tilstrekkelig opplæring på
eller er fortrolig med verktøyet. Elektrisk håndverktøy kan være farlige dersom de
kommer i hendene på ukyndige.
e) Hold det elektriske håndverktøyet ved like. Kontroller at verktøyet ikke er feilinnstilt, at
bevegelige deler ikke beveger seg usymmetrisk, at ingen deler er skadet eller at det
elektriske håndverktøyet har andre feil, som kan påvirke dets funksjon. Dersom noe er
skadet må dette repareres før verktøyet tas i bruk. Mange ulykker skyldes dårlig eller
manglende vedlikehold.
f) Hold verktøyene skarpe og rene. Påse også at det elektriske verktøyet holdes skarpt.
Godt vedlikeholdt skjæreverktøy, med skarpe egger, er lettere å kontrollere.
g) Følg instruksjonen, ta hensyn til arbeidsforholdene og hva slags type arbeid som skal
utføres. Bruk av elektrisk håndverktøy til andre arbeidsoperasjoner enn det som det er
beregnet til, kan skape farlige situasjoner.
5) Service
La profesjonelle fagfolk utføre service og reparasjoner. Benytt kun originale reservedeler.
Dette for å opprettholde sikkerheten ved bruk av det elektriske håndverktøyet.
21
NORSK
a) Ikke press et elektrisk håndverktøy. Bruk elektriske håndverktøy som er beregnet til den
arbeidsoperasjonen du skal utføre. Riktig hastighet på matingen er viktig for å utføre
bedre og sikrere arbeid.
Spesielle sikkerhetsforanstaltninger for multiverktøy
• Dette elektriske håndverktøyet er beregnet for saging, sliping, pussing og kapping.
Les alle sikkerhetsadvarsler, instruksjoner, illustrasjoner og spesifikasjoner som følger
med dette verktøyet. Hvis du unngår å følge alle instruksjonene nedenfor kan det
resultere i elektrisk støt, brann og/eller alvorlige skader.
• Bruk ikke tilbehør som ikke er spesielt beregnet for verktøyet og anbefalt av
verktøyprodusenten. Selv om tilbehøret kan monteres på ditt elektriske håndverktøy,
er ikke dette noen forsikring om sikker bruk.
NORSK
• Benytt alltid personlig verneutstyr. Avhengig av hvordan du bruker maskinen, bruk
beskyttelse for ansikt eller vernebriller. Ved behov, bruk ansiktsmaske, hørselsvern,
hansker og arbeidsforkle, som beskytter mot små slipepartikler eller fliser fra
arbeidsstykket. Vernebrillene skal kunne beskytte mot flygende biter som dannes ved
forskjellige arbeidsoperasjoner. Støvmasken skal kunne filtrere partikler, som dannes
ved arbeidet. Langvarig opphold i støy kan forårsake hørselskader.
• Hold tilskuere på sikker avstand fra arbeidsplassen. Alle som besøker arbeidsplassen
må ha på seg personlig verneutstyr. Fliser fra arbeidsstykket eller fra ødelagte tilbehør,
kan bli slynget ut og forårsake skade utenfor arbeidets umiddelbare nærområde.
• Hold det elektriske håndverktøyet kun på de isolerte gripeflatene når arbeidsoperasjoner utføres og når verktøyet kan komme i kontakt med skjulte kabler eller sin
egen ledning. Verktøy som kommer i kontakt med en strømførende kabel kan gjøre
utsatte metalldeler av verktøyet strømførende og utsette operatøren for elektriske støt.
• Rengjør motorens ventilasjonsåpninger regelmessig. Motorens vifte trekker til seg støv,
som kommer inn under dekselet. Overflødige metallspon samles opp og kan forårsake
elektriske farer.
• Bruk ikke det elektriske håndverktøyet i nærheten av lettantennelige materialer.
Gnister kan antenne disse materialene.
• Bruk ikke tilbehør som krever kjølevæsker. Bruken av vann eller andre kjølevæsker
kan resultere i elektrisk sjokk eller dødelig elektrisk støt.
Spesielle sikkerhetsforanstaltninger ved sliping
• Vær ekstra forsiktig ved sliping av maling som kan inneholde bly, eller ved sliping av
tre, metall og andre materialer som kan avgi giftig slipestøv. Påse da også at personer
som ferdes på eller i nærheten av arbeidsplassen er beskyttet.
• Slipestøv kan være svært brannfarlig sammen med luft.
Spesifikasjoner
Strømforsyning
230 V AC, 50 Hz
Lydeffekt (LwA)
97 dB(A) K: 3 dB(A)
Hastighet
10 000–21 000 min -1
Lydtrykk (LpA)
86 dB(A) K: 3 dB(A)
Effekt
250 W
Vibrasjon ah
6,60 m/s² K: 1,5 m/s²
Vekt
1,2 kg
22
Produktbeskrivelse
Multiverktøy Cotech. Allsidig maskin som både sager, kapper og sliper tre så vel som
metall, gips, laminat m.m.
a
e
b
NORSK
d
f
d
c
g
h
i
A) Strømbryter På/av
B)Hastighetsvelger
C)Inseksnøkkel
D)Ventilasjonsåpninger
E)Verktøyfeste
F) Sperreskrue og skive
G) Sirkelformet sagblad HSS
H) Slipesåle
I ) Innstikkssagblad
23
Medfølgende verktøy
Sirkelformet sagblad HSS
For innsagesnitt og kapping. Passer bra til saging der det er
vanskelig å komme til, som f.eks. i hjørner når en skal kappe
monterte gulv- eller taklister. Dette sagbladet sager også over
spiker.
NORSK
Slipesåle
Passer bra til sliping på plasser som det er vanskelig å komme
til som f.eks. i hjørner. Kan slipe både tre, stein, maling m.m.
avhengig av slipepapir.
Innstikksagblad
Ideell til å lage innstikksnitt i tre ved f.eks. hulltaking for ventilasjonsluker etc. Passer bra til saging på plasser hvor det
er vanskelig å komme til. Dette sagbladet sager også over
spiker.
Ekstra tilbehør
I Cotech-sortimentet er det flere andre tilbehør som passer til dette multiverktøyet, som
for eksempel:
• Sagblad for metall
• Sageklinger og slipeplater for sementfuger, veggplater og plast
• Skrape for tepper, teppelim og lim under keramikkfliser
• Forskjellige typer slipepapir
24
1. Ta først av det verktøyet som er montert
på maskinen. Bruk den medfølgende
inseksnøkkelen og trekk moturs slik at
sperreskruen løsner.
2. Fest så det nye verktøyet
i verktøyfestet. Påse at piggene
stemmer overens med hullene.
3. Trekk til sperreskruen med hjelp av inseksnøkkelen.
Skifte slipepapir
Slipepapiret festes med borrelås. Fjern det brukte slipepapiret, rengjør ved behov borrelåsen på verktøyet og fest det nye slipepapiret.
Bruk
Starte maskinen
1. Påse at strømbryteren står i OFF-posisjon før maskinen kobles til strømuttaket.
2. Maskinen startes ved at strømbryteren (A) skyves fram i ON-posisjon.
Valg av hastighet
Hastigheten velges med hastighetsvelgeren (B). Hvilken hastighet som skal velges er
avhengig av type jobb og hvilket materiale som skal bearbeides. Prøv deg fram til det
som fungerer best.
Kapping og saging
• Dersom du bruker innstikksagblad, påse at det ikke er spikre eller skruer i veien der du
skal sage. Fjern spikrene og/eller skruene først eller benytt et sirkelformet sagblad HSS.
• Hvis man skal kappe veggplater så husk at verktøyet slites ved langvarig bruk.
25
NORSK
Skifte av verktøy
Sliping
• Bruk alltid feilfrie slipepapir og skift ofte. Da blir resultatet best og levetiden til
multiverktøyet lengre.
• Press ikke for hardt ved sliping, men jobb med et jevnt lett trykk. Slipeeffekten blir ikke
større hvis man presser hardt, men både slipepapiret og verktøyet slites raskere.
• Bruk ikke slipepapir som tidligere er brukt til sliping av metall når tre skal slipes.
Stell og vedlikehold
• Hold alltid motorens ventilasjonsåpninger fri for spon og smuss.
NORSK
• Rengjør maskinen regelmessig med oppvaskmiddel og fuktig klut.
Unngå sterke rengjøringsmiddel.
Feilsøkingsskjema
Maskinen virker ikke.
Ingen strøm.
Kontroller at uttaket er
strømførende.
Slitte kullbørster.
Kontakt forhandler ved motorog strømfeil.
Kortslutning.
Feil på strømbryter.
Maskinen jobber
sakte.
Sløvt eller skadet verktøy.
Slip eller skift ut verktøyet.
For lavt turtall.
Mat ikke så hardt.
Motoren er overopphetet.
Maskinen avgir
ulyder.
Mekanisk hinder.
Sterke vibrasjoner.
Verktøyet sitter løst.
Trekk til verktøyet og påse at det er
riktig installert.
Gnistdannelse
i motoren.
Kullbørstene sitter fast.
Kontakt oss ved motorog strømfeil.
Spole delvis kortsluttet.
Spole kortsluttet.
Kontakt forhandler ved motor- og
strømfeil.
Kollektoren er skitten.
Avfallshåndtering
Når produktet skal kasseres, må det skje i henhold til lokale forskrifter.
Ved usikkerhet, ta kontakt med de lokale myndighetene.
26
Monitoimityökalu 250 W
Tuotenumero 18-3141
MalliQ1D-TD-3.2-UK
40-7191 Q1D-TD-3.2
Lue käyttöohjeet ennen tuotteen käyttöönottoa. Säilytä käyttöohjeet tulevaa tarvetta varten.
Pidätämme oikeuden teknisten tietojen muutoksiin. Emme vastaa mahdollisista teksti- tai
kuvavirheistä. Jos laitteeseen tulee teknisiä ongelmia, ota yhteys myymälään tai asiakaspalveluun (yhteystiedot käyttöohjeen lopussa).
Sisällysluettelo
Turvallisuus28
Tekniset tiedot
30
Tuotekuvaus31
Työkalun vaihtaminen
33
Käyttö33
Huolto ja ylläpito
34
Vianhakutaulukko34
SUOMI
Kierrätys34
27
Turvallisuus
Yleisiä turvallisuusohjeita – EN 60745-1
Varoitus! Lue kaikki ohjeet. Seuraavien ohjeiden noudattamatta jättäminen saattaa johtaa
sähköiskuun, tulipaloon ja/tai vakavaan onnettomuuteen. Varoitustekstien termi "sähkökäyttöinen käsityökalu" tarkoittaa verkkovirralla tai paristoilla/akulla toimivaa käsityökaluasi.
SÄÄSTÄ NÄMÄ OHJEET.
1)Työtilat
a) Pidä työtilat puhtaina ja hyvin valaistuina. Täynnä tavaraa olevat ja pimeät tilat ovat
avoin kutsu onnettomuudelle.
b) Älä käytä sähkökäyttöisiä käsityökaluja räjähdysherkässä ympäristössä, kuten
helposti syttyvien nesteiden, kaasujen tai pölyn lähellä. Sähkökäyttöiset käsityökalut
muodostavat kipinöitä, jotka saattavat sytyttää pölyn tai höyryt.
c) Pidä lapset ja vierailijat loitolla, kun käytät sähkökäyttöisiä käsityökaluja. Häiriötekijät
saattavat johtaa laitteen hallinnan menettämiseen.
SUOMI
2)Sähköturvallisuus
a) Sähkökäyttöisen käsityökalun pistokkeen tulee sopia pistorasiaan. Älä muuta tuotetta
millään tavalla. Älä käytä adapteria maadoitettujen sähkökäyttöisten sähkötyökalujen
kanssa. Pistokkeet, joita ei ole muutettu sekä oikeanlaiset pistorasiat pienentävät
sähköiskun vaaraa.
b) Vältä koskettamasta maadoitettuja esineitä, kuten putkia, lämpöpattereita, hellaa tai
jääkaappia. Sähköiskun riski kasvaa, mikäli kehosi on maadoitettu.
c) Älä altista sähkökäyttöistä käsityökalua sateelle äläkä käytä sitä kosteissa olosuhteissa.
Veden joutuminen sähkökäyttöiseen käsityökaluun lisää sähköiskun vaaraa.
d) Käsittele sähköjohtoa varoen. Älä käytä sähköjohtoa laitteen kantamiseen äläkä irrota
pistoketta pistorasiasta johdosta vetämällä. Älä altista virtajohtoa kuumuudelle, öljyille,
teräville reunoille tai liikkuville osille. Vioittuneet tai sotkeutuneet virtajohdot lisäävät
sähköiskun vaaraa.
e) Kun käytät sähkökäyttöistä käsityökalua ulkona, käytä ainoastaan ulkokäyttöön sopivia
jatkojohtoja. Ulkokäyttöön sopivan jatkojohdon käyttäminen pienentää sähköiskun
vaaraa.
3) Henkilöturvallisuus
a) Ole huolellinen ja käytä tervettä järkeä, kun työskentelet sähkökäyttöisellä työkalulla.
Älä käytä sähkökäyttöistä käsityökalua, mikäli olet väsynyt tai huumeiden, lääkkeiden
tai alkoholin vaikutuksen alainen. Lyhyenkin hetken kestävä tarkkaavaisuuden
herpaantuminen saattaa johtaa vakavaan loukkaantumiseen.
b) Käytä suojavarusteita. Käytä aina suojalaseja. Suojavarusteiden, kuten
hengityssuojaimen, liukuestekenkien, kypärän ja kuulosuojaimien käyttäminen vähentää
loukkaantumisvaaraa.
28
c) Vältä tahatonta käynnistystä. Varmista, että virtakytkin on asennossa OFF ennen kuin
liität pistokkeen seinäpistorasiaan. On äärimmäisen vaarallista kantaa sähkökäyttöistä
käsityökalua sormi liipaisimella tai liittää sähkökäyttöinen käsityökalu pistorasiaan
virtakytkimen ollessa ON-asennossa.
d) Poista kaikki huoltotyökalut/avaimet, ennen kuin käynnistät sähkökäyttöisen
käsityökalun. Sähkökäyttöisen käsityökalun liikkuvan osan päälle unohdettu työkalu
saattaa johtaa onnettomuuteen.
e) Älä kurota liian pitkälle. Varmista, että työasentosi on tasapainoinen työn jokaisessa
vaiheessa. Näin olet paremmin varustautunut mahdollisen onnettomuuden sattuessa.
f) Käytä tarkoituksenmukaisia vaatteita. Älä käytä löysiä vaatteita tai koruja. Pidä hiukset,
vaatteet ja käsineet loitolla liikkuvista osista. Löysät vaatteet, korut tai pitkät hiukset
saattavat juuttua liikkuviin osiin.
g) Jos käytössäsi on pölynpoistojärjestelmä, käytä sitä. Näiden apuvälineiden käyttö
saattaa vähentää pölyyn liittyviä vaaroja.
4) Sähkökäyttöisten käsityökalujen käyttäminen ja huoltaminen
b) Älä käytä sähkökäyttöistä käsityökalua, mikäli virtakytkin ei käynnistä ja sammuta
laitetta. Kaikki sähkökäyttöiset käsityökalut, joita ei voida hallita virtakytkimellä, ovat
vaarallisia ja ne tulee korjata.
c) Irrota pistoke pistorasiasta ennen kuin teet sähkökäyttöiseen käsityökaluun säätöjä
tai ennen kuin vaihdat sen varusteita tai ennen kuin asetat sen säilytykseen. Nämä
ennaltaehkäisevät toimenpiteet vähentävät sähkökäyttöisen käsityökalun tahatonta
käynnistymistä.
d) Säilytä sähkökäyttöisiä käsityökaluja lasten ulottumattomissa. Älä luovuta
sähkökäyttöistä käsityökalua henkilöille, jotka eivät tunne sitä tai sen käyttöohjetta.
Sähkökäyttöiset käsityökalut ovat vaarallisia tottumattomien käyttäjien käsissä.
e) Huolla sähkökäyttöisiä käsityökaluja. Tarkasta, että säädöt ovat kunnossa, että liikkuvat
osat liikkuvat esteettä, että osat ovat ehjiä, ja että sähkökäyttöisessä käsityökalussa
ei ole muita seikkoja, jotka vaikuttavat laitteen toimintaan. Jos jokin osa on vioittunut,
se tulee korjata ennen käyttöä. Monet onnettomuudet johtuvat väärin hoidetuista
sähkökäyttöisistä käsityökaluista.
f) Pidä työkalut puhtaina ja terävinä. Terätyökalun hallinta on helpompaa, kun se on oikein
hoidettu ja sen terät ovat teräviä.
g) Käytä sähkökäyttöistä käsityökalua, sen varusteita tms. ohjeiden mukaisesti
ja sellaisella tavalla, joka sopii kyseiselle sähkökäyttöiselle käsityökalulle ja ota
myös huomioon työskentelyolosuhteet ja suoritettava työ. Sähkökäyttöisen
käsityökalun käyttäminen muihin kuin sille tarkoitettuihin työtehtäviin saattaa johtaa
vaaratilanteeseen.
5)Huolto
Laitteen saa huoltaa ja korjata ainoastaan ammattihenkilö ja huollossa tulee käyttää ainoastaan alkuperäisosia. Näin taataan sähkökäyttöisen käsityökalun turvallisuus.
29
SUOMI
a) Älä pakota sähkökäyttöistä käsityökalua. Käytä sähkökäyttöistä käsityökalua, joka
soveltuu suunnittelemaasi työtehtävään. Sopiva sähkökäyttöinen käsityökalu tekee työn
paremmin ja turvallisemmin oikealla nopeudella.
Monitoimityökalun turvaohjeita
• Tämä sähkökäyttöinen käsityökalu on tarkoitettu sahaukseen, hiontaan, puhdistukseen
ja katkaisuun. Lue kaikki laitteen mukana tulevat varoitukset, ohjeet, kuvitukset ja
tekniset tiedot. Ohjeiden noudattamatta jättäminen saattaa johtaa sähköiskuun,
tulipaloon tai vakavaan loukkaantumiseen.
• Käytä ainoastaan valmistajan hyväksymiä ja suosittelemia tarvikkeita. Vaikka varuste
voidaan asentaa laitteeseen, sen käyttö ei silti välttämättä ole turvallista.
• Käytä henkilösuojaimia. Käytä kasvosuojusta tai suojalaseja koneen käyttötavasta
riippuen. Käytä tarvittaessa sellaisia suojavarusteita (kasvo- ja kuulosuojain, käsineet
ja työesiliina), jotka suojaavat työkappaleesta irtoavilta pieniltä hiontakappaleilta ja
paloilta. Silmäsuojuksen tulee suojata lentäviltä osilta, joita syntyy eri työvaiheissa.
Hengityssuojaimen tulee suodattaa työssä syntyvät hiukkaset. Pitkäaikainen oleilu
meluisassa ympäristössä saattaa aiheuttaa kuulovaurioita.
• Pidä vierailijat riittävän kaukana työpisteestä. Kaikkien työpisteessä oleskelevien tulee
käyttää henkilösuojaimia. Työkappaleesta tai viallisesta varusteesta lentävät lastut
saattavat aiheuttaa vahinkoa myös työpisteen ulkopuolella.
SUOMI
• Pidä kiinni ainoastaan laitteen eristetyistä pinnoista, kun työskentelet alueilla, jossa
työkalu voi joutua kosketuksiin piilossa olevien kaapeleiden tai laitteen virtajohdon
kanssa. Jos työkalu joutuu kosketuksiin virtaa johtavan kaapelin kanssa, laitteen
metalliosat saattavat tulla jännitteisiksi, mikä aiheuttaa käyttäjälle sähköiskun vaaran.
• Puhdista moottorin ilmastointiaukot säännöllisesti. Moottorin puhallin kerää pölyä,
joka kerääntyy kotelon alle. Laitteeseen kerääntyvä metallijäte saattaa aiheuttaa
turvallisuusriskin.
• Älä käytä sähkökäyttöistä käsityökalua helposti syttyvien materiaalien läheisyydessä.
Kipinöinti saattaa aiheuttaa näiden materiaalien syttymisen.
• Älä käytä varusteita, jotka vaativat jäähdytysnesteitä. Veden tai muiden
jäähdytysnesteiden käyttö saattaa johtaa hengenvaaralliseen sähköiskuun.
Turvallisuusohjeita hiontaan
• Ole erityisen huolellinen myrkyllisten hiontapölyjen suhteen: Lyijypitoiset maalit, tietyt
puut, metallit ja muut materiaalit saattavat tuottaa myrkyllistä pölyä. Varmista myös, että
henkilöt jotka oleilevat työtiloissa tai niiden läheisyydessä, ovat suojattuja.
• Ota huomioon, että hiomispöly saattaa olla helposti syttyvää ollessaan kosketuksissa
ilman kanssa.
Tekniset tiedot
Virtalähde
230 V AC, 50 Hz
Nopeus
10 000–21 000 min
Teho
250 W
Paino
1,2 kg
-1
Meluteho (LwA)
97 dB(A) K: 3 dB(A)
Melutaso (LpA)
86 dB(A) K: 3 dB(A)
Tärinätaso ah
6,60 m/s² K: 1,5 m/s²
30
Tuotekuvaus
Monityökalu Cotech. Monipuolinen kone, joka sahaa, leikkaa ja hioo puuta, metallia,
kipsiä, laminaattia ym.
a
e
b
d
f
c
g
h
i
A) Virtakytkin (päälle/pois)
B)Nopeudenvalitsin
C)Kuusiokoloavain
D)Tuuletusaukot
E) Terän kiinnityskohta
F) Lukitusruuvi ja aluslaatta
G) Ympyrän muotoinen sahanterä HSS
H) Hiontapohja
I) Pistosahanterä
31
SUOMI
d
Pakkauksessa olevat työkalut
Ympyrän muotoinen sahanterä HSS
Upotussahaukseen ja katkaisuun. Sopii erinomaisesti
sahaukseen hankalissa paikoissa, kuten kulmissa, joissa
tulee katkaista asennettuja lattia- tai kattolistoja. Sahanterä
sahaa myös naulojen läpi.
Hiontapohja
SUOMI
Sopii erinomaisesti hiontaan hankalissa paikoissa, kuten
kulmissa. Hiontapaperista riippuen laitteella voidaan hioa
puuta, kiveä, maalia ym.
Pistosahanterä
Sopii erinomaisesti syviin pistosahauksiin puulle, esim.
ilmastointiritilän asennukseen. Sopii myös sahaukseen
hankalissa paikoissa. Sahanterä sahaa myös naulojen läpi.
Lisätarvikkeet
Cotech-valikoimassa on muita monitoimityökaluun sopivia lisätarvikkeita, kuten:
• Sahanterä metallille.
• Sahanteriä ja hiontalevyjä sementtiliitoksiin, seinälevyihin ja muoville.
• Raaputusteriä matoille, mattoliimalle ja kaakeliliimalle.
• Erilaisia hiontapapereita.
32
Työkalun vaihtaminen
1. Irrota ensin monitoimityökalussa
mahdollisesti oleva työkalu. Käytä
pakkauksen kuusiokoloavainta ja
käännä lukitusruuvia vastapäivään niin
että se irtoaa.
2. Sovita sitten työkalun reikä
työkalupidikkeen piikkeihin.
Hiomapaperin vaihto
Hiomapaperi on kiinnitetty tarralla. Irrota käytetty hiomapaperi, ja puhdista työkalun
tarrakiinnitys tarvittaessa. Kiinnitä uusi hiomapaperi.
Käyttö
Käynnistäminen
1. Varmista ennen koneen liittämistä pistorasiaan, että sen virtakytkin (A) on pois päältä.
2. Käynnistä kone työntämällä virtakytkin päälle-asentoon.
Nopeuden valinta
• Voit säätää nopeutta käytön aikana nopeudenvalitsimella (B).
• Nopeuden valinta riippuu tehtävästä työstä ja työstettävästä materiaalista.
Kokeile, mikä nopeus tuntuu parhaalta.
Katkaisu ja sahaus
• Jos käytät pistosahanterä sahanteriä, varmista ettet osu nauloihin tai ruuveihin
sahatessasi. Poista mahdolliset naulat ja ruuvit tai käytä ympyrän muotoista
sahanterää HSS.
• Jos katkaiset seinälevyjä, ota huomioon, että työkalu joutuu kovan rasituksen
kohteeksi pitkäkestoisessa käytössä.
33
SUOMI
3. Kiristä lukitusruuvit kuusiokoloavaimella.
Hiominen
• Käytä aina virheettömiä hiomapapereita ja vaihda ne usein. Tulos on silloin parempi ja
pidennät monitoimityökalun elinikää.
• Älä paina liian kovaa hioessasi, vaan työskentele painaen konetta tasaisesti. Hionnan
tulos ei parane vaikka painaisit kovempaa. Hiomapaperi ja monitoimityökalu vain
kuluvat nopeampaa.
• Älä hio puuta sellaisella hiomapaperilla, jolla olet hionut metallia.
Huolto ja ylläpito
• Pidä moottorin tuuletusaukot puhtaina, ja poista mahdolliset purut, roskat ym.
• Puhdista laite säännöllisesti ulkopuolelta kostutetulla liinalla, ja käytä tarvittaessa
tiskiainetta. Älä käytä vahvoja puhdistusaineita.
Vianhakutaulukko
SUOMI
Laite ei käy.
Ei virtaa.
Varmista, että pistorasiassa
on virtaa.
Kuluneet hiiliharjat.
Ota yhteys myymälään, jos laitteessa on moottori- tai sähkövika.
Oikosulku.
Virtakytkimessä vikaa.
Laite käy hitaasti.
Tylsä/viallinen työkalu
Hio tai vaihda terä.
Liian alhainen kierrosluku.
Älä syötä liian kovaa.
Moottori on ylikuumentunut.
Epätavallisia ääniä.
Mekaaninen este.
Käämi osittain oikosulussa.
Ota yhteys myymälään, jos laitteessa on moottori- tai sähkövika.
Laite tärisee
voimakkaasti.
Työkalu on löysästi kiinni.
Kiristä työkalu ja varmista, että se
on asennettu oikein.
Moottori kipinöi.
Hiiliharjat juuttuneet.
Ota yhteys myymälään, jos laitteessa on moottori- tai sähkövika.
Käämi oikosulussa.
Kollektori on likainen.
Kierrätys
Kierrätä tuote asianmukaisesti, kun poistat sen käytöstä.
Kysy tarkempia kierrätysohjeita kuntasi jäteneuvonnasta.
34
Multifunktionswerkzeug 250 W
Art.Nr.18-3141 ModellQ1D-TD-3.2-UK
40-7191
Q1D-TD-3.2
Vor Inbetriebnahme die komplette Bedienungsanleitung durchlesen und aufbewahren.
Irrtümer, Abweichungen und Änderungen behalten wir uns vor. Bei technischen Problemen
oder anderen Fragen freut sich unser Kundenservice über eine Kontaktaufnahme
(Kontakt siehe Rückseite).
Inhaltsverzeichnis
Sicherheit36
Technische Daten
38
Produktbeschreibung39
Wechsel des Einsatzwerkzeugs
41
Bedienung41
Pflege und Wartung
42
Fehlersuche42
42
DEUTSCH
Hinweise zur Entsorgung
35
Sicherheit
Allgemeine Sicherheitshinweise – EN 60745-1
Warnung: Die Bedienungsanleitung vollständig durchlesen. Nichtbeachtung der folgenden
Anweisungen kann zu Stromschlägen, Feuer und/oder schweren Verletzungen führen.
Die Bezeichnung "Elektrowerkzeug" im weiteren Textverlauf bezieht sich auf das über
Netzstrom oder Akku betriebene Werkzeug. Diese Anleitung aufbewahren.
1)Arbeitsraum
a) Der Arbeitsbereich muss jederzeit sauber und gut beleuchtet sein. Unordentliche und
dunkle Umgebungen führen leicht zu Unfällen.
b) Elektrowerkzeug nicht in feuergefährlicher Umgebung wie etwa in der Nähe leicht
entzündbarer Flüssigkeiten, Gase oder Staub einsetzen. Elektrowerkzeug erzeugt Funken,
die Staub oder Dämpfe entzünden können.
c) Kinder und Unbefugte fernhalten, wenn mit Elektrowerkzeug gearbeitet wird.
Ablenkung kann zu Kontrollverlust führen.
DEUTSCH
2) Elektrische Sicherheit
a) Der Netzstecker des Elektrowerkzeugs muss in die Netzsteckdose passen.
Niemals den Netzstecker verändern. Niemals einen Adapterstecker gemeinsam mit
einem geerdeten Elektrowerkzeug einsetzen. Unveränderte Stecker und passende
Steckdosen verringern das Risiko von Stromschlägen.
b) Körperkontakt mit geerdeten Gegenständen wie Rohre, Heizungen, Herd oder
Kühlschrank vermeiden. Ist der eigene Körper geerdet, erhöht sich das Risiko
von Stromschlägen.
c) Elektrowerkzeuge nicht Regen oder Feuchtigkeit aussetzen. Wasser im Inneren von
Elektrowerkzeugen erhöht das Risiko von Stromschlägen.
d) Mit dem Netzkabel angemessen umgehen. Das Netzkabel nie zum Ziehen oder Tragen
des Elektrowerkzeugs oder zum Herausziehen des Steckers aus der Steckdose
verwenden. Das Kabel von Hitze, Öl, scharfen Kanten und sich bewegenden
Geräteteilen fernhalten. Beschädigte oder verwickelte Kabel erhöhen das Risiko
von Stromschlägen.
e) Bei der Benutzung von Elektrowerkzeugen im Außenbereich immer ein geeignetes
Verlängerungskabel einsetzen. Der Einsatz eines Verlängerungskabels für
den Außenbereich verkleinert das Risiko von Stromschlägen.
3) Persönliche Sicherheit
a) Bei der Benutzung von Elektrowerkzeugen vorsichtig sein und Vernunft walten lassen.
Die Bedienung von Elektrowerkzeugen bei Müdigkeit und/oder unter Einfluss von Drogen,
Alkohol oder Medikamenten ist untersagt. Ein kurzer Moment der Unachtsamkeit bei
der Arbeit mit einem Elektrowerkzeug kann zu schweren Verletzungen führen.
b) Persönliche Schutzausrüstung tragen. Immer einen Augenschutz tragen.
Die Benutzung von persönlicher Schutzausrüstung wie Atemschutz,
rutschfesten Sicherheitsschuhen, Helm und Gehörschutz bei Bedarf verringert
die Verletzungsgefahr.
36
c) Unbeabsichtigtes Einschalten vermeiden. Vor dem Anschließen des Netzsteckers
erst sicherstellen, dass der Ein-/Ausschalter auf OFF steht. Beim Tragen eines
Elektrowerkzeugs einen Finger am Ein-/Ausschalter zu halten oder das Gerät
eingeschaltet ans Stromnetz anzuschließen, kann zu Unfällen führen.
d) Vor dem Einschalten des Elektrowerkzeugs alle Einstellwerkzeuge/Schlüssel entfernen.
Ein vergessenes Einstellwerkzeug an einem rotierenden Teil von Elektrowerkzeugen
kann zu Verletzungen führen.
e) Nicht zu weit nach vorne strecken. Jederzeit auf einen sicheren Stand und Gleichgewicht achten. Das ermöglicht in unerwarteten Situationen eine bessere Kontrolle.
f) Geeignete Kleidung tragen. Locker sitzende Kleidung oder Schmuck sollten nicht
getragen werden. Haare, Kleidung und Handschuhe von sich bewegenden Teilen
fernhalten. Weite Kleidung, Schmuck oder lange Haare können von sich bewegenden
Teilen erfasst werden.
g) Wenn Absaug- und Auffangvorrichtungen für Staub montiert werden können,
sicherstellen, dass diese angeschlossen sind und ordnungsgemäß funktionieren.
Der Einsatz dieser Hilfsmittel verringert Gefährdungen durch Staub.
a) Elektrowerkzeuge nie überbeanspruchen. Nur das Elektrowerkzeug nutzen, das für
die jeweilige Tätigkeit vorgesehen ist. Mit dem passenden Elektrowerkzeug arbeitet
es sich besser und sicherer im angegebenen Leistungsbereich.
b) Das Elektrowerkzeug niemals einsetzen, wenn dessen Schalter defekt ist.
Elektrowerkzeug, das sich nicht mehr ein- oder ausschalten lässt, ist gefährlich und
muss repariert werden.
c) Zum Ändern der Einstellungen, zum Austauschen des Einsatzwerkzeugs oder bei
Nichtbenutzung stets den Netzstecker ziehen. Diese Maßnahme verringert das Risiko
eines unbeabsichtigten Einschaltens des Geräts.
d) Elektrowerkzeug bei Nichtbenutzung außerhalb der Reichweite von Kindern
aufbewahren. Personen, die mit dem Umgang des Geräts nicht vertraut sind oder
dessen Bedienungsanleitung nicht gelesen haben, das Gerät nicht benutzen lassen.
Elektrowerkzeuge sind gefährlich, wenn sie in die Hände ungeübter Benutzer gelangen.
e) Elektrowerkzeug warten. Überprüfen, ob falsche Einstellungen vorliegen,
ob bewegliche Teile klemmen, ob Teile defekt sind oder andere Faktoren die Funktion
des Elektrowerkzeugs beeinträchtigen. Beschädigungen vor Benutzung unbedingt
reparieren. Viele Unfälle beruhen auf schlecht gewarteten Elektrowerkzeugen.
f) Das Werkzeug sauber und scharf halten. Ordnungsgemäß gewartetes Schneidwerkzeug mit scharfen Klingen neigt weniger zu Fehlfunktionen und ist einfacher
zu führen.
g) Das Elektrowerkzeug, Zubehör und Einsatzwerkzeuge usw. entsprechend diesen
Anweisungen einsetzen und zwar so, wie es für diesen speziellen Gerätetyp
vorgeschrieben ist. Dabei die Arbeitsbedingungen und die auszuführende Tätigkeit
berücksichtigen. Der Gebrauch von Elektrowerkzeugen für andere als
die vorgesehenen Anwendungen kann zu gefährlichen Situationen führen.
5) Service
Service- und Reparaturarbeiten sind nur von zuständigem und befugtem Personal und
ausschließlich mit Original-Ersatzteilen auszuführen. Damit wird sichergestellt,
dass die Sicherheit des Elektrowerkzeugs erhalten bleibt.
37
DEUTSCH
4) Verwendung und Wartung des Elektrohandwerkzeugs
DEUTSCH
Besondere Sicherheitsanweisungen für Multifunktionswerkzeug
• Dieses Elektrowerkzeug ist zum Sägen, Schleifen, Bürsten und Trennen vorgesehen.
Zuerst alle mitgelieferten Sicherheitshinweise, Anweisungen, Illustrationen und
Spezifikationen durchlesen. Nichtbeachtung der unten aufgeführten Anweisungen
kann zu Stromschlägen, Brand und/oder schweren Verletzungen führen.
• Keine Einsatzwerkzeuge verwenden, die vom Werkzeughersteller nicht ausdrücklich
vorgesehen und empfohlen sind. Dass ein Einsatzwerkzeug am Elektrowerkzeug
montiert werden kann, bedeutet nicht, dass gefahrloses Arbeiten möglich ist.
• Persönliche Schutzausrüstung tragen. Je nach Anwendung der Maschine einen
geeigneten Augenschutz tragen. Bei Bedarf Gesichtsschutz, Gehörschutz,
Handschuhe und Arbeitsschürze tragen, die gegen Schleifpartikel oder Splitter
des Werkstücks schützen. Der Augenschutz sollte einen Schutz bieten gegen
herumfliegende Fremdkörper, die bei unterschiedlichen Arbeitsschritten entstehen
können. Der Atemschutz sollte Partikel herausfiltern, die bei der Arbeit entstehen.
Bei langem Aufenthalt in Lärmbereichen können Gehörschäden entstehen.
• Andere Personen ausreichend weit vom Arbeitsplatz entfernt halten.
Jeder, der den Arbeitsplatz betritt, muss persönliche Schutzausrüstung tragen.
Bruchstücke des Werkstücks oder von defektem Zubehör können wegfliegen
und auch außerhalb des unmittelbaren Nahbereichs Verletzungen verursachen.
• Wenn Arbeitsschritte ausgeführt werden, bei denen das Werkzeug mit verborgenen
Stromleitungen oder der eigenen Anschlussschnur in Kontakt kommen kann,
das Elektrowerkzeug nur an den isolierten Griffflächen halten. Bei Kontakt mit einem
stromführenden Kabel können nicht isolierte Teile des Elektrowerkzeugs unter Strom
gesetzt werden und Stromschläge beim Benutzer verursachen.
• Die Lüftungsöffnungen des Motors regelmäßig reinigen. Das Motorgebläse zieht Staub
in das Gehäuse, und starke Ansammlungen von Metallspänen können elektrische
Gefährdungen verursachen.
• Das Elektrowerkzeug niemals in der Nähe von leicht entzündlichem Material einsetzen.
Funken können dieses Material in Brand setzen.
• Kein Zubehör einsetzen, das Kühlflüssigkeit benötigt. Der Einsatz von Wasser
oder anderen Kühlflüssigkeiten kann zu einem elektrischen Schock oder tödlichem
elektrischen Schlag führen.
Besondere Sicherheitshinweise für Schleifarbeiten
• Beim Abschleifen von Farbe, die Blei enthalten kann, oder Holz, Metall oder sonstigen
Materialien, die giftigen Schleifstaub absondern können, besonders vorsichtig vorgehen.
Außerdem ist sicherzustellen, dass in der Nähe des Arbeitsplatzes befindliche Personen
geschützt sind.
• Stets bedenken, dass Schleifstaub in Verbindung mit Luft ausgesprochen
feuergefährlich sein kann.
Technische Daten
Stromversorgung
Drehzahl
Leistung
Gewicht
230 V AC, 50 Hz
10.000–21.000 min -1
250 W
1,2 kg
Schallleistungspegel (LwA)
97 dB(A) K: 3 dB(A)
Schalldruckpegel (LpA)
86 dB(A) K: 3 dB(A)
Schwingungswert ah 6,60 m/s² K: 1,5 m/s²
38
Produktbeschreibung
Multifunktionswerkzeug Cotech.
Eine vielseitige Maschine, die sägt, trennt und schleift. Geeignet für Holz, Metall, Gips,
Laminat u. A.
a
e
b
d
f
d
c
h
i
DEUTSCH
g
A)Ein-/Ausschalter
B) Stellrad für Schwingzahl
C)Innensechskantschlüssel
D)Lüftungsöffnungen
E)Werkzeugaufnahme
F) Befestigungsschraube mit Scheibe
G) Segmentsägeblatt HSS
H)Schleifplatte
I)Tauchsägeblatt
39
Mitgelieferte Einsatzwerkzeuge
Segmentsägeblatt HSS
Zum Sägen und Trennen. Hervorragend geeignet für schwer
zugängliche Stellen, beispielsweise zum Absägen von Fußboden- oder Deckenleisten in Ecken. Dieses Sägeblatt sägt
auch durch Nägel.
Schleifplatte
Hervorragend geeignet zum Schleifen an schwer zugänglichen Stellen, beispielsweise in Ecken. Abhängig vom
Schleifpapier lassen sich Holz, Stein, Farbe etc. schleifen.
Tauchsägeblatt
DEUTSCH
Ideal für tiefe Einschnitte in Holz, beispielsweise zur
Montage von Lüftungsgittern o. Ä. Eignet sich auch zum
Sägen an schwer zugänglichen Stellen. Dieses Sägeblatt
sägt auch durch Nägel.
Weiteres Zubehör
Das Cotech-Sortiment umfasst einige weitere Zubehörteile, die sich für dieses Multifunktionswerkzeug eigenen, u. A.:
• Sägeblatt für Metall.
• Sägeklingen für Zementfugen, Wandplatten und Kunststoff.
• Schaber für Teppiche, Teppichkleber und Fliesenkleber.
• Verschiedene Arten von Schleifpapier.
40
Wechsel des Einsatzwerkzeugs
1. Zunächst das eventuell montierte
Einsatzwerkzeug ausbauen.
Den mitgelieferten Innensechskantschlüssel einsetzen und gegen
den Uhrzeigersinn drehen, so dass sich
die Befestigungsschraube löst.
2. Dann das neue Einsatzwerkzeug
so auf die Aufnahme setzen,
dass die Stifte auf der Aufnahme
in die Löcher eingreifen.
3. Die Befestigungsschraube mit dem Innensechskantschlüssel anziehen.
Austausch des Schleifpapiers
Betrieb
Maschine einschalten
1. Vor dem Anschließen der Maschine an die Steckdose sicherstellen,
dass der Ein-/Ausschalter (A) auf OFF steht.
2. Dann zum Einschalten der Maschine den Ein-/Ausschalter auf ON stellen.
Schwingzahl einstellen
• Während des Betriebs kann die Schwingzahl am Stellrad (B) geändert werden.
• Die erforderliche Schwingzahl ist vom Werkstoff und den Arbeitsbedingungen abhängig.
Sie kann durch praktischen Versuch ermittelt werden.
Trennen und Sägen
• Vor dem Sägen mit Tauchsägeblättern prüfen, dass keine Nägel oder Schrauben
im Weg sind. Nägel und Schrauben gegebenenfalls entfernen oder HSS-Segmentsägeblatt verwenden.
• Beim Trennen von Wandfliesen beachten, dass das Einsatzwerkzeug bei längerem
Gebrauch einem hohen Verschleiß unterliegt.
41
DEUTSCH
Das Schleifpapier wird durch Kletthaftung befestigt. Das benutzte Schleifpapier abziehen,
das Klettgewebe am Werkzeug gegebenenfalls reinigen, dann das neue
Schleifpapier anbringen.
Schleifen
• Nur einwandfreies Schleifpapier verwenden und Schleifpapier häufig wechseln. Dies
verbessert das Arbeitsergebnis und erhöht die Lebensdauer des Elektrowerkzeugs.
• Auf gleichmäßigen, nicht zu hohen Anpressdruck achten. Ein übermäßiger
Anpressdruck führt nicht zu einer höheren Schleifleistung, sondern nur zu stärkerem
Verschleiß des Elektrowerkzeugs und des Schleifpapiers.
• Schleifpapier, mit dem Metall bearbeitet wurde, nicht mehr für Holz verwenden.
Pflege und Wartung
• Die Lüftungsöffnungen des Motors stets frei von Spänen und Verunreinigungen halten.
• Die Maschine regelmäßig mit einem feuchten Tuch und Spülmittel reinigen. Keine
scharfen Reinigungsmittel verwenden.
Fehlersuche
Die Maschine
läuft nicht.
Kein Strom.
Überprüfen, ob die Steckdose
Strom liefert.
Verschlissene Kohlebürsten.
Bei Motor- und Stromfehlern
Kontakt zum Kundendienst
aufnehmen.
Kurzschluss.
Fehler am Einschalter.
DEUTSCH
Die Maschine
läuft langsam.
Stumpfes oder beschädigtes
Einsatzwerkzeug.
Einsatzwerkzeug nachschleifen
oder austauschen.
Zu niedrige Drehzahl.
Den Arbeitsdruck senken.
Der Motor ist überhitzt.
Ungewöhnliche
Geräusche.
Mechanische Behinderungen.
Starke
Vibrationen.
Das Werkzeug sitzt locker.
Das Werkzeug anziehen und
auf richtige Montage achten.
Funkenbildung
im Motor.
Verklemmte Kohlebürsten.
Bei Motor- und Stromfehlern
Kontakt zum Kundendienst
aufnehmen.
Wicklung teilweise kurzgeschlossen.
Wicklungsschluss.
Kollektor verschmutzt.
Bei Motor- und Stromfehlern
Kontakt zum Kundendienst
aufnehmen.
Hinweise zur Entsorgung
Bitte das Produkt entsprechend den lokalen Bestimmungen entsorgen.
Weitere Informationen sind von der Gemeinde oder den kommunalen
Entsorgungsbetrieben erhältlich.
42
Declaration of Conformity
Försäkran om överrenstämmelse
Samsvarerklæring
Vakuutus yhdenmukaisuudesta
Konformitätserklärung
CLAS OHLSON AB
SE-793 85 INSJÖN, SWEDEN
Declares that this product complies with the requirements of the following directives and standards
Intygar att denna produkt överensstämmer med kraven i följande direktiv och standarder
Bekrefter at dette produktet er i samsvar med følgende direktiver og standarder
Vakuuttaa, että tämä tuote täyttää seuraavien direktiivien ja standardien vaatimukset
Erklärt hiermit, dass dieses Produkt die Anforderungen und Bestimmungen folgender Richtlinien erfüllt
MULTI FUNCTION TOOL
COTECH 40-7191 / 18-3141
Q1D-TD-3.2 / Q1D-TD-3.2-UK
Machinery directive
2006/42/EC
EMC directive
2004/108/EC
EN 60745-1:2009
EN 60745-2-4:2009
EN 55014-1:2006
EN 55014-2:1997
+A1:2001
EN 61000-3-2:2006
EN 61000-3-3:1995
+A1:2001+A2:2005
Klas Balkow
President
Insjön, Sweden, 2011-10-06
43
SVERIGE
KUNDTJÄNSTTel: 0247/445 00
Fax: 0247/445 09
E-post: kundservice@clasohlson.se
Internetwww.clasohlson.se
BREV
Clas Ohlson AB, 793 85 INSJÖN
NORGE
KUNDESENTERTlf.: 23 21 40 00
Faks: 23 21 40 80
E-post: kundesenter@clasohlson.no
INTERNETTwww.clasohlson.no
POST
Clas Ohlson AS, Postboks 485 Sentrum, 0105 OSLO
SUOMI
ASIAKASPALVELUPuh.: 020 111 2222
Sähköposti: asiakaspalvelu@clasohlson.fi
Internetwww.clasohlson.fi
OSOITE
Clas Ohlson Oy, Maistraatinportti 4 A, 00240 Helsinki
UNITED KINGDOM
CUSTOMER SERVICE Contact number: 08545 300 9799
E-mail: customerservice@clasohlson.co.uk
INTERNETwww.clasohlson.com/uk
POSTAL
10 – 13 Market Place
Kingston Upon Thames
Surrey
KT1 1JZ
DEUTSCHLAND
KUNDENSERVICE
Unsere Homepage www.clasohlson.de besuchen
und auf Kundenservice klicken.