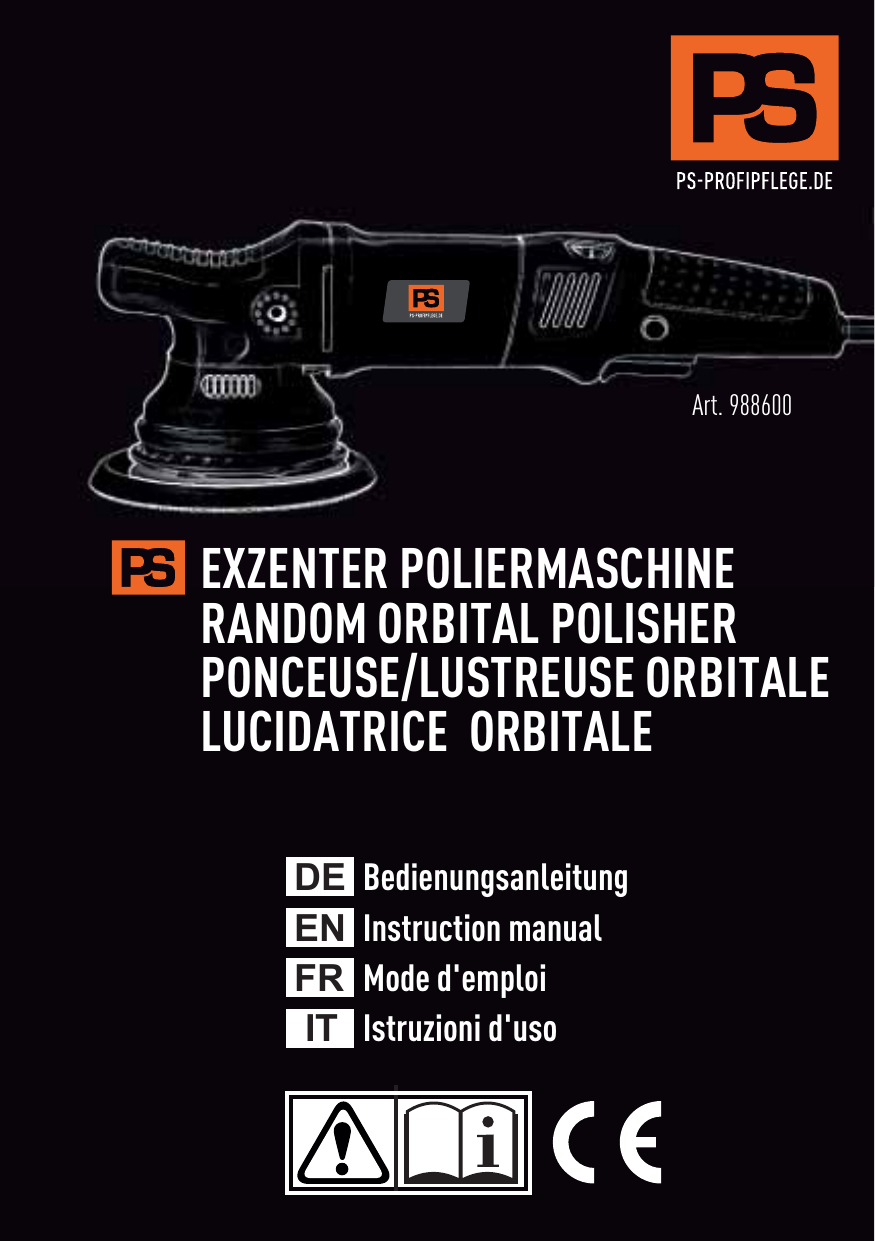 Art. 988600
EXZENTER POLIERMASCHINE
RANDOM ORBITAL POLISHER
PONCEUSE/LUSTREUSE ORBITALE
LUCIDATRICE ORBITALE
DE
EN
FR
IT
Bedienungsanleitung
Instruction manual
Mode d'emploi
Istruzioni d'uso
Exzenter-polier-workshop
zusätzlich die nachfolgende Bedienungsanleitung beachten
ca. 60cm
ca. 40cm
1. Arbeitsfläche einteilen
überlappend arbeiten
2. Politur schütteln
3. Politur auf Pad geben
4. auf Arbeitsfläche verteilen
5. auf Stufe 1 einstellen
Maschine aufsetzen vor
Start, ohne Druck arbeiten
6. im Kreuzgang arbeiten;
zunächst waagerecht
7. anschließend senkrecht;
beim Stoppen Maschine
aufgesetzt lassen
8. Schritt 6 und 7 auf
Stufe 3 wiederholen
Druck leicht erhöhen
9. Schritt 6 und 7 auf
Stufe 6 durchführen
10. Reste mit weichem Tuch
aufnehmen
11. Versiegelung in gleicher
Art verwenden weniger
Mittel / bis Stufe 3
Arbeitsschritte je nach
Lackzustand wiederholen
Deutsch
1-3
English
4-6
Français
7-9
Italiano
10-12
PS-Exzenter Poliermaschine
1
Technische Daten
Art. 988600
Speisung:
Leistungsaufnahme:
Hubgeschwindigkeit:
Hub:
Gewindeaufnahme:
Ø Klettteller:
max. möglicher Ø Klettteller:
max. möglicher Ø Polieraufsatz:
Schutzklasse:
Gewicht (ohne Kabel):
230VAC/50-60Hz.
900W
2.500-6.800min
8mm
5/16"-24
125mm
150mm
165mm
II
2,3kg
2
2.1
•
•
•
•
•
•
•
•
•
Vor Inbetriebnahme beachten
Sicherheitshinweise
Lesen und beachten Sie diese Hinweise, bevor Sie das Gerät benutzen.
Bei Nichtbeachtung der Bedienungsanleitung kann das Gerät zu einer
Gefahrenquelle werden.
Bei Gebrauch von Elektrowerkzeugen sind zum Schutz gegen elektrischen
Schlag, Verletzungs- und Brandgefahr folgende grundsätzliche Sicherheitsmaßnahmen zu beachten.
Tragen Sie stets eine Schutzbrille und Gehörschutz. Andere persönliche
Schutzvorrichtungen wie Staubmaske, Handschuhe und Schürze sind bei
Bedarf zu tragen.
Setzen Sie Elektrowerkzeuge nicht dem Regen aus und benutzen Sie diese
nicht im feuchten Zustand oder nasser Umgebung.
Vergewissern Sie sich vor der Ausführung von Arbeiten an der Maschine
stets, daß das Gerät abgeschaltet und der Netzstecker gezogen ist.
Jegliches Zubehör muß mindestens für die auf dem Typenschild der Maschine
angegebene Drehzahl zugelassen sein. Polierscheiben und andere
Zubehörteile, die mit einer höheren als der für sie vorgeschriebenen
Nenndrehzahl betrieben werden, können herausgeschleudert werden und
Verletzungen verursachen.
Halten Sie die Maschine sicher fest.
Halten Sie beim Betrieb die Hände von rotierenden Teilen der Maschine fern.
Vergewissern Sie sich vor dem Einschalten des Werkzeugs, dass die
Polierscheibe oder Polierhaube nicht das Werkstück berührt.
2.2
Bestimmungsgemäße Verwendung
Bestimmungsgemäß ist die Maschine zum Polieren von lackierten Flächen
vorgesehen. Wegen der elektrischen Sicherheit darf die Maschine nicht feucht
sein und nicht in feuchter Umgebung betrieben werden.
Die Maschine darf nur für Trockenschliff verwendet werden.
Für Schäden und Unfälle bei nicht
bestimmungsgemäßem Gebrauch
haftet der Benutzer.
1
3
Elektrischer Anschluss und Inbetriebnahme
Die Netzspannung muss mit der Spannung auf dem Typenschild
übereinstimmen!
Der Schalter dient als Ein-/Aus-Schalter. Für Dauerbetrieb kann er mit dem
seitlichen Arretierknopf eingerastet werden. Durch nochmaliges Drücken
des Schalters wird die Arretierung wieder gelöst.
4
Hubgeschwindigkeit
Die Hubgeschwindigkeit wird durch drehen des Stellrads auf eine der
Stufen von 1 bis 6 eingestellt. Wählen Sie die Hubgeschwindigkeit passend
zur Art der Polierscheibe sowie den Eigenschaften der zu bearbeitenden
Oberfläche.
5
Zubehör und Ersatzteile
Verwenden Sie nur Zubehör, welches für die angegebene Maximaldrehzahl
der Maschine zugelassen ist. Verwenden Sie zu Ihrer eigenen Sicherheit
nur professionelles Zubehör.
5.1
Klettteller montieren
Vergewissern Sie sich vor der Montage bzw. Demontage des
Tellers stets, dass das Werkzeug ausgeschaltet und vom
Stromnetz getrennt ist.
Halten Sie die Spindel mit dem mitgelieferten Schlüssel fest, um Sie am Drehen
zu hindern. Schrauben Sie nun den Teller bis zum Anschlag auf die Spindel.
Zum demontieren des Tellers ist das Montageverfahren umgekehrt anzuwenden.
5.2
Polierscheiben befestigen
Aufgrund des Klett-Systems werden die Polierscheiben (Polierschwämme,
Lammfellpads, etc.) einfach auf den Klettteller gedrückt und vom Haftbelag
des Poliertellers gehalten.
6
•
•
•
•
•
Polieren
Verwenden Sie immer saubere Polierscheiben.
Bringen Sie die erforderliche Menge Politur gleichmäßig auf die
Polierscheibe an.
Halten Sie die Polierscheibe auf der zu polierenden Oberfläche und
schalten Sie die Poliermaschine ein.
Führen Sie die Poliermaschine unter gleichmäßigem Druck im
sogenannten Kreuzgang über den Autolack.
Überprüfen Sie Ihre Arbeitsergebnisse regelmäßig.
7
Warten und Pflegen
Vor allen Arbeiten an der Maschine
ist stets der Netzstecker aus der
Steckdose zu ziehen!
Gerät und Lüftungsschlitze stets sauber halten, um gut und sicher zu
arbeiten. Bei extremen Arbeitsbedingungen, empfiehlt sich das Ausblasen
der Lüftungsschlitze mit Druckluft.
8
Kohlebürsten wechseln
Kohlebürsten ersetzen, wenn sie bis auf die Verschleißgrenze abgenutzt
sind. Beide Kohlebürsten nur paarweise ersetzen.
2
9
Schalldruckpegel und Schwingungswerte
Die Geräusch- und Schwingungswerte wurden entsprechend EN 60745 ermittelt.
Schalldruckpegel L pA :
77dB(A)
Schallleistungspegel L WA :
88dB(A)
Unsicherheit:
3dB
Schwingungsgesamtwert a h :
<2,7m/s²
Unsicherheit:
1,5m/s²
Achtung! Die angegebenen Messwerte gelten für neue Geräte. Im täglichen
Einsatz verändern sich Geräusch- und Schwingungswerte.
10
Gewährleistung
Innerhalb der Staaten der EU beträgt die Gewährleistungszeit 24 Monate.
Schäden, die insbesondere auf natürliche Abnützung/Verschleiß, Überlastung,
unsachgemäße Behandlung bzw. durch den Verwender verschuldete Schäden
oder sonstige Verwendung entgegen der Bedienungsanleitung zurückzuführen
sind bleiben von der Gewährleistung ausgeschlossen.
Beanstandungen können nur anerkannt werden, wenn das Gerät unzerlegt
an den Händler zurückgegeben wird. Der Original-Verkaufsbeleg mit Verkaufsdatum ist beizufügen.
11
Haftungsausschluss
Der Hersteller und sein Vertreter haften nicht für Schäden und entgangenen
Gewinn durch Unterbrechung des Geschäftsbetriebes, die durch das Produkt
oder die nicht mögliche Verwendung des Produktes verursacht wurden.
Der Hersteller und sein Vertreter haften nicht für Schäden, die durch
unsachgemäße Verwendung oder in Verbindung mit Produkten anderer
Hersteller verursacht wurden.
12
Entsorgung
Werfen Sie Elektrowerkzeuge
nicht in den Hausmüll!
Gemäß Europäischer Richtlinie 2002/96/EG über Elektro- und ElektronikAltgeräte und Umsetzung in nationales Recht müssen verbrauchte
Elektrowerkzeuge getrennt gesammelt und einer umweltgerechten
Wiederverwertung zugeführt werden.
13
CE-Konformitätserklärung
Wir erklären in alleiniger Verantwortung, dass dieses Produkt mit den
folgenden Normen oder normativen Dokumenten übereinstimmt:
2006/42/EG, 2004/108/EG, 2011/65/EG, EN 60745-1, EN60745-2-3,
EN 55014-1, EN 55014-2, EN 61000-3-2, EN 61000-3-3.
22.03.2015
(N. Schuster)
Geschäftsführerin
PS by K&K Handelsges. mbH, Gewerbepark Hardtwald 14, D-68723 Oftersheim - Germany
3
Random orbital polisher SHINEMASTER
1
Technical specifications
Art. 988600
Voltage:
Power consumption:
Variable speed:
Orbit:
Thread connection:
max. Ø backing plate:
max. Ø polishing pad:
CSE (Constant Speed Electronic):
Safety class:
Weight (without power cord):
230VAC/50-60Hz.
900W
2.500-6.800min -1
8mm
5/16"-24
125mm
150mm
no
II
2,3kg
230VAC/50-60Hz.
900W
1.800-4.800min-1
21mm
5/16"-24
150mm
180mm
yes
II
2,5kg
2
Observe the following before commissioning
2.1
Safety notes
• Appliances used at many different locations including open air must be
connected via a current surge preventing switch.
• Always wear goggles when using the machine. lt is recommended to wear
gloves, sturdy non slipping shoes and apron.
• Sawdust and splinters must not be removed while the machine is running.
• Always disconnect the plug from the socket before carrying out any work
on the machine.
• Only plug-in when machine is switched off.
• Keep mains lead clear from working range of the machine.
• Always lead the cable away behind you.
• Never reach into the danger area of the plane when it is running.
• Only use tools whose permitted speed is at least as high as the highest
no-load speed of the machine.
2.2
Intended use
The machine is intended for polishing painted surfaces. For reasons of electrical
safety the machine must not be damp nor operated in a humid environment. The
machine may only be used for dry sanding.
The user is liable for any damage
or accidents resulting from use not in
accordance with the intended use.
3
Starting and stopping
Make sure that the power source is the same as that specified on the tool's name
plate and connect the tool to the power source.
Press and hold down the switch to start the motor. To lock into position, hold down
the locking button and release the switch. To stop the motor, briefly press and
release the switch.
4
4
Setting the speed
To set the operating speed, move the dial to the requiered value. The choice of
speed depends on the caracteristics of the buffers and the material to be worked.
5
Using the polisher
If your workpiece is so light that it can be moved by the rotating pad, anchor it
securely to prevent possible bodily injury.
• Read and follow the directions supplied with the product (polishes, waxes,
cleaners, etc.).
• Apply a small amount of the product directly to the polishing pad.
• Grasp the polisher firmly with both hands - one hand on auxiliary handle and
one hand on motor housing.
• Position the polisher with the polishing pad against the work surface and start
the polisher. NEVER run or stop the tool when it is not in contact with the work
surface.
• Move the polisher back and forth in a sweeping motion, over-lapping each
previous pass.
• DO NOT apply additional pressure. Allow the polisher to work under its own
weight.
• Do not mix products (wax, polish, cleaner, etc.) on the same pad. Label each
pad to prevent confusion.
• The polishing pad is designed for product application only. Remove product
residue with a soft cloth.
6
•
•
•
•
•
7
•
•
•
lnstalling/removing polishing pads
To reduce the risk of injury, turn unit off and disconnect it from power
source before installing and removing accessories, before adjusting
or when making repairs. An accidental start-up can cause injury.
Pull out the mains plug.
Firmly press polishing material, centred on the eye, onto the backing pad.
Use undamaged polishing tools only
Insert the mains plug into the socket and switch on the polisher (without
engaging it) and run the polisher for approx. 30 seconds. Check tor imbalances
and vibrations.
Switch off the polisher.
Changing the backing plate
To reduce the risk of injury, turn unit off and disconnect it from power
source before installing and removing accessories, before adjusting
or when making repairs. An accidental start-up can cause injury.
(QJDJHWKHÀDWVRIWKHVSLQGOHZLWKWKHVXSSOLHGVSLQGOHZUHQFK
While holding the spindel with the wrench, use your other hand to rotate the
pad counterclockwise to remove.
To install the backing plate reverse the above procedure..
8
Carbon brushes
If the carbon brushes spark excessively, switch off the polisher immediately and
replace them. Replace the carbon brushes always pairwise!!!
5
Noise and Vibration information
9
The typical values have been determined in accordance with EN 60745.
Type:
S8
S21
Sound pressure levelgel L pA :
77dB(A)
79dB(A)
Sound power level L WA:
88dB(A)
90dB(A)
Uncertainty:
3dB
3dB
Total vibration value a h:
<2,7m/s²
<4,9m/s²
Uncertainty:
1,5m/s²
1,5m/s²
CAUTION! The indicated measurements refer to new power tools. Daily use
causes the noise and vibration values to change.
10
Maintenance and care
Always remove the power supply plug from the socket before carrying out any
work on the machine. The cool air openings in the motor casing must always be
kept clean and unobstructed to ensure air circulation. All maintenance and
repair work which requires the motor casing to be opened may only be carried
out by an authorised service centre.
11
Warranty
Our equipment is under warranty for at least 12 months with regard to material
or production faults in accordance with national legislation. In the EU countries,
the warranty period is 24 months (an invoice or delivery note is required as
proof of purchase). Damage resulting from, in particular, normal wear and tear,
overloading, improper handling, or caused by the user or other damage caused
by not following the operating instructions, or any fault acknowledged at the time
of purchase, is not covered by the warranty. Complaints will only be acknowledged
if the equipment has not been dismantled before being sent back to the supplier.
Store the operating instructions and proof of purchase in a safe place. In addition,
the manufacturers current warranty conditions apply.
12
Disposal information
Do not throw electric power
tools into the household waste!
In accordance with the European Directive 2002/96/EC on Waste Electrical and
Electronic Equipment and transposition international law used electric power
tools must be collected separately and recycled in an environmentally friendly
manner.
13
CE - Declaration of Conformity
We hereby declare that this product corresponds with the following standards or
normative documents:
2006/42/EG, 2004/108/EG, 2011/65/EG, EN 60745-1, EN60745-2-3,
EN 55014-1, EN 55014-2, EN 61000-3-2, EN 61000-3-3.
22.03.2015
(N. Schuster)
Geschäftsführerin
PS by K&K Handelsges. mbH, Gewerbepark Hardtwald 14, D-68723 Oftersheim - Germany
6
Ponceuse/Lustreuse orbitale SHINEMASTER
1
Données techniques
Type:
S8
S21
Tension:
Puissance absorbée:
Nombre de courses:
Course:
Broche:
Ø max. disque auto-agrippant:
Ø max. de l'outil:
CSE (Constant Speed Electronic):
Classe de protection:
Poids (sans le cordon):
230VAC/50-60Hz.
900W
2.500-6.800min -1
8mm
5/16"-24
125mm
150mm
no
II
2,3kg
230VAC/50-60Hz.
900W
1.800-4.800min-1
21mm
5/16"-24
150mm
180mm
oui
II
2,5kg
2
Précautions à observer avant la mise en service
2.1
Mesures de sécurité
• Portez toujours une protection des yeux et de l'ouïe. Veuillez porter
également toute autre protection personnelle nécessaire : masque à
poussière, gants, casque, tablier. etc.
• Avant toute intervention sur l'outil, assurez-vous que l'interrupteur est en
position d'arrêt et que l'outil est débranché.
• Les accessoires devront avoir des capacités nominales correspondant
au moins à la vitesse recommandée sur l'étiquette de sécurité de l'outil.
Les disques et autres accessoires tournant à une vitesse supérieure à la
vitesse nominale risquent de voler et de provoquer des blessures.
• Vérifiez que la pièce est correctement soutenue.
Tenez votre outil fermement.
• Gardez les mains éloignées des pièces en mouvement.
• Assurez-vous que le disque abrasif n'entre pas en contact avec la pièce
à travailler avant de mettre l'interrupteur sous tension.
• N'abandonnez pas l'outil en fonctionnement : il ne doit rester en marche
que si vous l'avez en main.
2.2
Utiliser conformément aux dispositions de sécurité
Conformément aux dispositions, cette machine est prévue pour polir des
surfaces laquées. Pour des raisons de sécurité électrique, cette machine ne
doit pas être humide ni être utilisée dans un environnement humide. Cette
machine ne doit être utilisée que pour un polissage à sec.
L'utilisateur est responsable des dégâts ou
accidents qu'il peut provoquer en ne
respectant pas les dispositions de sécurité.
7
3
Raccordement électrique et mise en service
La tension du réseau doit correspondre à celle indiquée sur la plaque de
puissance! L'interrupteur sert d'interrupteur marche, arrêt. L'utilisation en
continue est facilitée par le bouton de blocage latéral. Une nouvelle
pression sur l'interrupteur libère le blocage.
4
Réglage électronique du nombre de courses
Le réglage du nobre de tours s'obtient em manoeuvrant de maniere appropriée le
bouton situé sur la partie supérieur de la machine. Lechoix de la vitesse doit être
fait en fonction des caractéristiques de la tampons et du matériau à usiner.
5
Outils
N'utiliser que des outils qui sont autorisés pour la vitesse de rotation
maximale de la machine. Pour votre propre sécurité, n'utiliser que des
outils professionnels.
5.1
Montage du plateau de polissage
Le plateau de polissage est fi xé sur un filetage 5/16"-24 qui fait partie directement
de l'arbre d'entraînement. Grâce à l'interrupteur de blocage de l'arbre.
Actionner le blocage de l'arbre uniquement lors de l'arrêt total de l'arbre moteur.
Ne jamais actionner le moteur lors du blocage.
5.2
Fixation des accessoires de polissage
Grâce au système auto-agrippant, les accessoires de polissage (feutre, éponge,
peau de mouton) se montent en les pressant sur le plateau de polissage sur
lequel ils restent fixés.
6
Consignes d'utilisation
Ne pas surcharger la machine en la pressant trop fortement contre la
surface à polir
• Vous obtiendrez le meilleur résultat de polissage en travaillant toujours avec la
même pression d'appui.
• Utilisez toujours des bonnets de polissage propres.
• Appliquez uniformément la quantité requise de pâte à polir sur le bonnet de
polissage.
• Maintenez le bonnet de polissage contre la surface à polir et mettez l'outil en
marche.
• Vérifiez le travail effectué à courts intervalles.
7
Entretien et maintenance
Avant d'entreprendre une quelconque
intervention sur la machine, débrancher
la prise de courant!
Pour assurer une bonne circulation de l'air de refroidissement, il faut que les
ouvertures du carter du moteur soient propres et non encrassées.
Tout entretien ou réparation qui nécessite l'ouverture du capot du moteur ne doit
être entrepris que par un atelier autorisé.
8
Remplacement des charbons
Remplacez les charbons lorsqu'ils sont usés jusqu'au repère d'usure. Remplacez
toujours le feu (même l'usure de chaque charbon n'est pas identique).
8
Informations concernant le bruit et les vibrations
9
Les valeurs typiques obtenues selon EN 60745 sont les suivantes:
S8
Niveau de pression acoustique LpA : 77dB(A)
Niveau de puissance sonore L WA:
88dB(A)
Marge d'incertitude:
3dB
Valeur totale de vibration a h :
<2,7m/s²
Marge d'incertitude:
1,5m/s²
Prudence! Les valeurs de mesure indiquées s'appliquent aux appareils neufs.
Pendant la mise en œuvre quotidienne, les valeurs de bruit et de vibrations varient.
10
Garantie
A l'intérieur des pays de la Communauté Européenne, la durée de la garantie est
de 24 mois (la facture ou le bon de livraison faisant foi). Ne sont pas couverts par
la garantie les dommages résultant d'une usure naturelle, d'une surcharge, d'une
utilisation non conforme, ou causés par l'utilisateur, ou qui proviennent d'une
utilisation non prévue dans la notice d'utilisation, ou qui étaient connus au
moment de l'achat.
Les réclamations ne sont recevables qu'à la condition que l'appareil soit retourné non
démonté au fournisseur.
11
Exclusion de responsabilité
Le fabricant et son représentant ne pourront être tenus responsables des
dommages et du bénéfice perdu en raison d'une interruption du fonctionnement de
l'affaire, provoqués par le produit ou par l'impossibilité de l'utiliser.
Le fabricant et son représentant ne pourront être tenus responsables des
dommages provoqués par une utilisation inexperte du produit ou par son utilisation
en association avec les produits d'autres fabricants.
12
Consignes pour la mise au rebut
Ne mettez pas les outils électriques à
la poubelle des déchests domestiques!
Conformément à la directive européenne 2002/96/CE visant les appareils
électriques et électroniques usagés, et à sa transposition en droit national, les
outils électriques neservant plus devront être collectés séparément et introduits
dans un circuit de recyclage respectueux de l'environment.
13
CE - Déclaration de Conformité
Nous déclarons sous notre propre responsabilité que ce produit est
conforme aux normes ou documents de normalisation suivants:
2006/42/EG, 2004/108/EG, 2011/65/EG, EN 60745-1, EN60745-2-3,
EN 55014-1, EN 55014-2, EN 61000-3-2, EN 61000-3-3.
22.03.2015
(N. Schuster)
Geschäftsführerin
PS by K&K Handelsges. mbH, Gewerbepark Hardtwald 14, D-68723 Oftersheim - Germany
9
Lucidatrice orbitale SHINEMASTER
1
Dati tecnici
Art. 988600:
Tensione:
Potenza assorbita:
Numero corse:
Corsa:
Filettatura dell'albero mandrino:
max. Ø velcro possibile:
max. Ø articolo lucidatura possibile:
CSE (Constant Speed Electronic):
Classe di protezione:
Peso (sensa cavo):
230VAC/50-60Hz.
900W
2.500-6.800min -1
8mm
5/16"-24
125mm
150mm
no
II
2,3kg
2
Da osservare prima della messa in funzione
Istruzioni di sicurezza
2.1
• Nell'uso indossare l'equipaggiamento protettivo personale: occhiali
protettivi, maschera di respirazione, protezione acustica, guanti
protettivi, calzature resistenti. Se necessario indossare anche un
grembiule!
• Durante il lavoro guidare la lucidatrice con entrambe le mani.
• Non stringere la lucidatrice in una morsa a vite.
• Passare il cavo di alimentazione sempre verso dietro.
• Bloccare il pezzo, se non è già ben fermo per il suo peso proprio.
• Usare solo utensili la cui velocità di rotazione omologata sia almeno
uguale al numero di giri nominale della lucidatrice.
• Rispettare le dimensioni degli utensili. Il diametro del foro deve adattarsi
senza gioco o tensioni agli utensili di serraggio. Non usare adattatori o
riduzioni.
• Conservare e manipolare gli utensili da rettifica secondo le istruzioni del
produttore.
• Prima dell'uso controllare che gli utensili montati siano fissati secondo le
istruzioni del produttore.
2.2
Utilizzo conforme
Per un utilizzo conforme la macchina è stata ideata per la lucidatura di superfi
ci verniciate. A causa della sicurezza elettrica, la macchina non dev'essere umida,
né dev'essere utilizzata in ambienti umidi. La macchina può essere utilizzata
solamente per operazioni di lucidatura a secco.
L'utilizzatore è responsabile di eventuali
danni o infortuni causati da un utilizzo
improprio.
10
3
Allacciamento elettrico e messa in funzione
La tensione di rete deve corrispondere alla tensione indicata sulla targhetta
riportante i dati della potenza! L'interruttore funziona come interruttore On/Off.
In caso di utilizzo prolungato può essere bloccato in posizione mediante il
pulsante di bloccaggio laterale. Il blocco verrà nuovamente disinserito mediante
un'ulteriore pressione dell'interruttore.
4
Impostazione del numero di giri
Per la regolazione del numero di giri di lavoro, disporre la rotella di regolazione
sul valore desiderato. La scelta della velocità va fatta in funzione delle
caratteristiche dei tamponi e del materiale da lavorare.
5
Utensili
Utilizzare solamente utensili che siano omologati per il numero massimo di giri
della macchina. Per la Vostra sicurezza personale utilizzate solamente
utensili professionale.
5.1
Montaggio del platorello per lucidare
I platorelli per lucidare sono dotati di fi letto 5/16"-24 e vengono avvitati
direttamente sul mandrino. Premendo il blocca-albero, l'albero viene bloccato.
Azionare il blocca-albero unicamente a motore fermo. A blocca-albero premuto,
non accendere la macchina.
5.2
Fissaggio degli strumenti per lucidare
Grazie al sistema velcro gli strumenti per lucidare (feltri, spugne, pelli d'agnello)
vengono semplicemente fi ssati a pressione sul platorello e trattenuti dallo strato
aderente del platorello stesso.
6
•
•
•
•
•
•
7
Lucidatur
Impiegate sempre cuffie per lucidare pulite.
Distribuite sulla cuffia la quantità richiesta di prodotto lucidante.
Poggiate la cuffia sulla superficie a lucidare ed accendete l'utensile.
Muovete l'utensile uniformemente sulla superficie, senza esercitare
pressione.
Spegnete l'utensile prima di staccarlo dalla superficie.
Verificate il risultato del vostro lavoro a brevi intervalli.
Manutenzione e cura
Prima di eseguire qualsiasi lavoro
sulla macchina staccare sempre la
spina dalla presa di corrente!
Per garantire la circolazione dell'aria, le aperture per l'aria di raffreddamento
nella scatola del motore devono essere tenute sempre sgombre e pulite.
Tutti i lavori di manutenzione e riparazione per i quali sia necessario aprire la
scatola del motore devono essere eseguiti esclusivamente da un Centro
Assistenza Clienti autorizzato.
8
Spazzole di carbone
In caso di forte scintillio delte spazzole, spegnere immediatamente la lucidatrice.
Portare la iucidatrice ad un'officina del servizio assistenza clienti autorizzata dal
produttore.
11
Informazioni sulla rumorosità e sulle vibrazioni
9
I valori rilevati in base alla norma EN 60745 riportano caratteristicamente:
S8
Livello di pressione acustica L pA:
77dB(A)
Livello di potenza acustica L WA:
88dB(A)
Insicurezza:
3dB
Valore totale di vibrazione a h:
<2,7m/s²
Insicurezza:
1,5m/s²
Prudenza! I valori di misura indicati sono validi solo per apparecchi nuovi.
Nell'impiego quotidiano i valori di rumoree vibrazione cambiano.
10
Garanzia
Negli stati dell'UE, la durata della garanzia è di 24 mesi (fa fede la fattura o la
bolla di consegna). Sono esclusi dalla garanzia i danni riconducibili a naturale
logoramento/usura, a sovraccarico, a trattamento non idoneo e/o provocati
dall'utilizzatore oppure dovuti a un impiego diverso da quello indicato nellle
istruzioni d'uso oppure già noti al momento dell'acquisto. Reclami possono essere
accettate solo se il dispositivo ancora installato, viene restituito al rivenditore. La
ricevuta originale con la data di vendita deve essere inclusa.
11
Esclusione della responsabilità
Il produttore ed il suo rappresentante non rispondono di danni e lucro
cessante derivanti da interruzione dell'esercizio dell'attività causata dal
prodotto o da impossibilità d'utilizzazione del prodotto.
Il produttore ed il suo rappresentante non rispondono di danni causati da
impiego inappropriato o in collegamento con prodotti di altri produttori.
12
lstruzioni per la rottamazione e lo smaltimento
Non gettare elettroutensili nei
rifiuti domestici!
6HFRQGROD'LUHWWLYDHXURSHD&(HXLUL¿XWLGLDSSDUHFFKLDWXUHHOHWWULFKH
HGHOHUWURQLFKHHVXDFRQYHUVLRQHQHOGLULWWRQD]LRQDOHJOLHOHWWURXWHQVL¿GLPHVVL
devono essere raccolti separatamente ed awiali ad un riciclaggio ecologico.
13
Conformità CE
Dichiariamo sotto la nostra esclusiva responsabilità che questo prodotto è
conforme alle seguenti norme o documenti normativi:
2006/42/EG, 2004/108/EG, 2011/65/EG, EN 60745-1, EN60745-2-3,
EN 55014-1, EN 55014-2, EN 61000-3-2, EN 61000-3-3.
22.03.2015
(N. Schuster)
Geschäftsführerin
PS by K&K Handelsges. mbH, Gewerbepark Hardtwald 14, D-68723 Oftersheim - Germany
12
Änderungen, die dem technischen Fortschritt dienen, sowie Irrtum und Druckfehler vorbehalten.