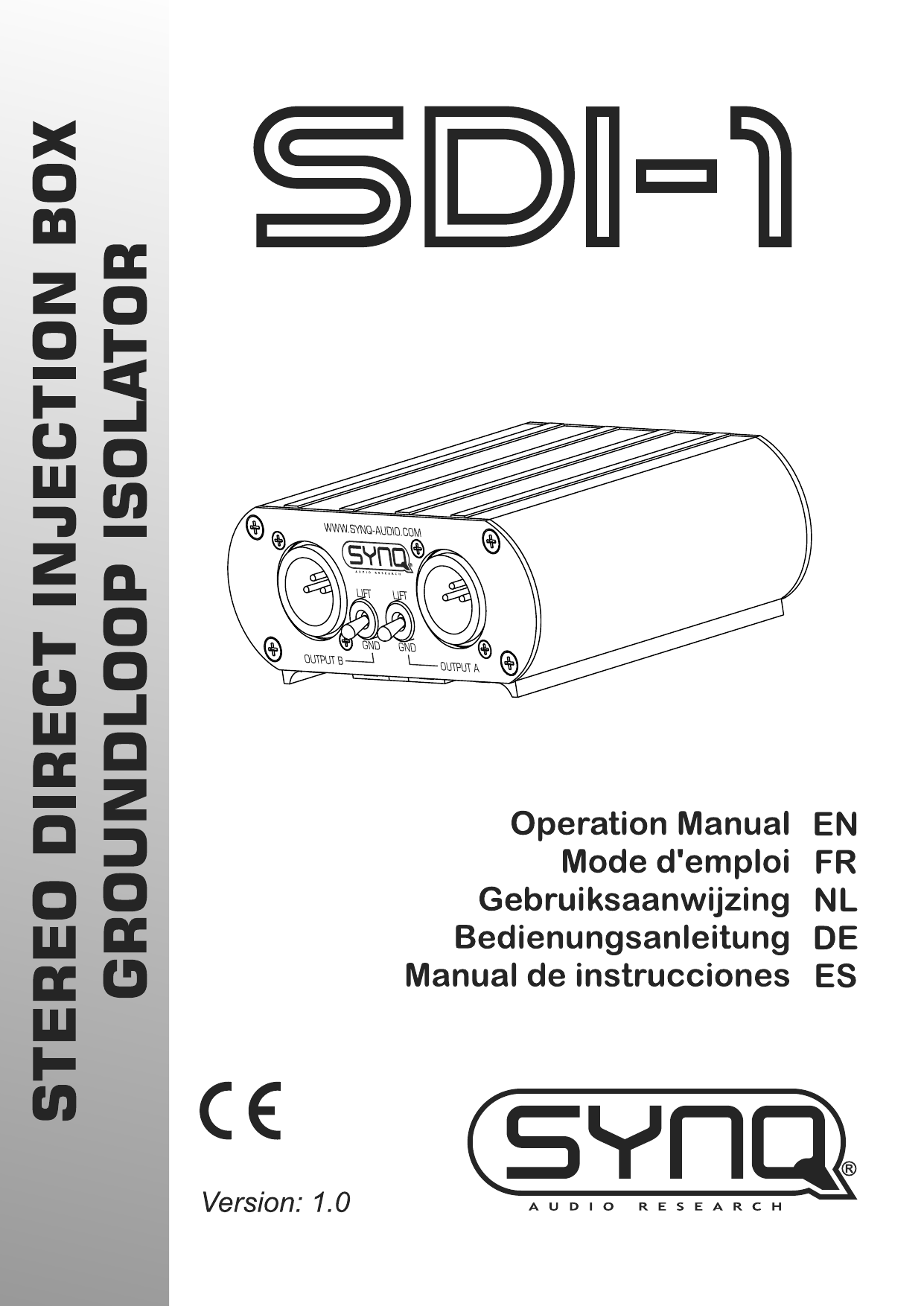 ENGLISH
OPERATION MANUAL
OPERATION MANUAL
®
Thank you for buying this Synq product. To take full advantage of all possibilities, please read these
operating instructions very carefully.
FEATURES
This unit is radio-interference suppressed. This appliance meets the requirements of the current European
and national guidelines. Conformity has been established and the relevant statements and documents have
been deposited by the manufacturer.
 This stereo DI-box is the perfect problem-solver for many applications!
 Converts unbalanced audio signals to balanced so they can be transported over long symmetric cables
with maximal protection against interferences of all kinds.
 Humming noises coming from laptops, PCs and many others can be easily solved: the ground lift
switches separate the in/outputs to avoid any ground loops.
 No active components inside: no noisy op-amps and no empty batteries when you need them …
 Separate ground lift switches for both channels
 Very high grade audio transformers for excellent audio characteristics:
 Very low distortion: <0,005% @ 1kHz, 0dBu
 Supports very high audio levels
 Excellent CMRR: >80dB @ 60Hz
 Excellent freq. response: 20Hz – 20kHz (+/-0.5dB)
 Versatile connections:
 Inputs: RCA + COMBO (Jack/XLR) on both channels
 Outputs: XLR-male on both channels
 Rugged black anodized ALU housing
BEFORE USE
 Before you start using this unit, please check if there's no transportation damage. Should there be any, do
not use the device and consult your dealer first.
 Important: This device left our factory in perfect condition and well packaged. It is absolutely necessary
for the user to strictly follow the safety instructions and warnings in this user manual. Any damage caused
by mishandling is not subject to warranty. The dealer will not accept responsibility for any resulting defects
or problems caused by disregarding this user manual.
 Keep this booklet in a safe place for future consultation. If you sell the fixture, be sure to add this user
manual.
 To protect the environment, please try to recycle the packing material as much as possible.
Check the contents:
Check that the carton contains the following items:
 User manual
 SDI-1 unit
SAFETY INSTRUCTIONS:
This symbol means: indoor use only
This symbol means: Read instructions
 To avoid condensation to be formed inside, allow the unit to adapt to the surrounding temperatures when
bringing it into a warm room after transport. Condense sometimes prevents the unit from working at full
performance or may even cause damages.
 This unit is for indoor use only.
 Don't place metal objects or spill liquid inside the unit. No objects filled with liquids, such as vases, shall be
placed on this appliance. Electric shock or malfunction may result. If a foreign object enters the unit,
immediately disconnect the mains power.
SYNQ®
1/19
SDI-1 STEREO DI-BOX
ENGLISH






OPERATION MANUAL
No naked flame sources, such as lighted candles, should be placed on the appliance.
Prevent use in dusty environments and clean the unit regularly.
Inexperienced persons should not operate this device.
Maximum save ambient temperature is 40°C. Don't use this unit at higher ambient temperatures.
Please use the original packing when the device is to be transported.
Due to safety reasons it is prohibited to make unauthorized modifications to the unit.
CLEANING THE APPLIANCE:
Clean by wiping with a polished cloth slightly dipped with water. Avoid getting water inside the unit. Do not
use volatile liquids such as benzene or thinner which will damage the unit.
FUNCTIONS
1.
2.
3.
4.
CINCH INPUTS: connect any unbalanced audio equipment to this input.
COMBO INPUTS: accepts any balanced or unbalanced audio signal via both jack 6.3mm and XLR-3pin.
XLR OUTPUTS: balanced output, ready to be connected to long symmetrical cables.
GROUND LIFT SWITCHES: used to break eventual ground loops and thus solve humming noises.
USING THE SDI-1
The setup of a passive DI-box is incredibly simple but also extremely effective to solve certain problems.
The secret of a good DI-box lays in the quality of the audio transformers inside…
A passive DI-box can be used for many different applications. Below we give 2 examples:
Example1: LAPTOP produces BUZZZZ noises
PROBLEM: Often laptops produce buzz noises while connected to an audio mixer, ground loops through
audio and power cables provoke this problem.
SOLUTION: Just put the SDI-1 in the audio line and use the ground lift switches to break the loop. Solved!
SYNQ®
2/19
SDI-1 STEREO DI-BOX
ENGLISH
OPERATION MANUAL
Example2: a long audio cable is needed
PROBLEM: Imagine you need a long (+/-30m) audio cable but your CD-player/… has no balanced output:
the unbalanced audio cable will pick up all kinds of unwanted interferences (from lights, refrigerators, …): as
a result your audio signal will be distorted with plenty of unwanted background noises, humming and buzz
sounds.
SOLUTION: Just connect the unbalanced output of the CD-player/… to the input of the SDI-1. Connect the
long balanced audio cables to the output of the SDI-1. Connect the other end of the balanced cable to the
balanced input of your amplifier. The balanced audio cables are well protected against external interferences
so the audio will stay clean when it arrives at the amplifier, problem solved!
SPECIFICATIONS
Freq. Response:
THD @ 30Hz:
THD @ 1kHz:
CMRR:
Input impedance:
Max Input level:
Output impedance:
Max output level:
Dimensions:
Weight:
20Hz - 20kHz (+0.5dB / -0.5dB)
<0,005%, 0 dBu output
<0,005%, 0 dBu output
>80 dB @ 60Hz
76 kΩ
+21 dBu
1kΩ
+12 dBu @ 600 ohms
105 x 110 x 44,2mm
0,44 kg
Every information is subject to change without prior notice
You can download the latest version of this user manual on our website: www.synq-audio.com
SYNQ®
3/19
SDI-1 STEREO DI-BOX
FRANÇAIS
GUIDE D'UTILISATION
GUIDE D'UTILISATION
®
Nous vous remercions d'avoir acheté ce produit Synq . Lisez attentivement les présentes instructions
d'utilisation pour tirer profit de toutes les possibilités du produit.
CARACTÉRISTIQUES
Cet appareil ne produit pas d'interférences radio. Cet appareil répond aux exigences des directives
européennes et nationales en vigueur. La conformité a été établie et les déclarations et documents
correspondants ont été déposés par le fabricant.
 Cette DI-box stéréo est la solution parfaite pour plusieurs applications !
 Elle permet de convertir des signaux audio asymétriques en signaux symétriques pouvant être
transportés sur de longs câbles symétriques avec une protection maximale contre tout type
d'interférence.
 Les bourdonnements provenant d'appareils électroniques tels qu'ordinateurs portables, PC etc. peuvent
être facilement résolus : le commutateur « ground lift » permet de séparer les entrées/sorties pour éviter
les boucles de masse.
 Cette boîte ne contient aucun composant actif : pas d'amplificateurs opérationnels bruyants ni batteries
vides lorsque vous en avez besoin...
 Un commutateur « ground lift » pour chaque canal.
 Des transformateurs audiofréquence de très haute qualité produisant d'excellentes caractéristiques audio :
 Très faible distorsion : <0,005% @ 1 kHz, 0 dBu
 Supporte des niveaux audio très élevés
 Excellent RRMC (rapport de réjection en mode commun) : >80 dB @ 60 Hz
 Réponse en fréquence excellente : 20 Hz – 20 kHz (+/-0,5 dB)
 Connexions polyvalentes :
 Entrées : RCA + COMBO (Jack/XLR) sur les deux canaux
 Sorties : XLR mâle sur les deux canaux
 Boîtier robuste noir en aluminium anodisé
AVANT UTILISATION
 Avant d'utiliser cet appareil, vérifiez s'il n'a pas été endommagé durant le transport. En cas de dommages,
n'utilisez pas l'appareil et consultez immédiatement votre revendeur.
 Important : Cet appareil est expédié de notre usine en parfait état et bien emballé. Il est absolument
nécessaire que l'utilisateur suive strictement les instructions et les avertissements de sécurité se trouvant
dans ce manuel. Tout dommage dû à une mauvaise manipulation n'est pas garanti. Le revendeur
n'accepte aucune responsabilité pour tous les défauts et problèmes dus au non-respect de ce manuel.
 Conservez ce manuel dans un endroit sûr pour toute consultation future. Si vous vendez l'appareil, veillez
à joindre ce manuel.
 Pour protéger l'environnement, essayer de recycler autant que possible les matériaux d'emballage.
Vérifiez le contenu :
Vérifiez que le carton contient les éléments suivants :
 Guide d'utilisation
 Unité SDI-1
INSTRUCTIONS DE SÉCURITÉ :
Ce symbole signifie : pour usage intérieur uniquement
Ce symbole signifie : Lisez les instructions
 Pour éviter une formation de condensation interne, laissez l'appareil s'adapter à la température ambiante
quand vous la mettez dans une pièce chauffée après le transport. La condensation empêche parfois
l'appareil de fonctionner à plein rendement ou peut même causer des dommages.
 Cet appareil est destiné à un usage intérieur seulement.
SYNQ®
4/19
SDI-1 STEREO DI-BOX
FRANÇAIS
GUIDE D'UTILISATION
 Ne placez pas d'objets métalliques et ne renversez pas de liquides à l'intérieur de l'appareil. Aucun objet
rempli de liquide, tel que des vases, ne doit être placé au dessus de l'appareil. Un choc électrique ou un
dysfonctionnement peut en résulter. Si un corps étranger pénètre dans l'appareil, débranchez
immédiatement l'alimentation secteur.
 Aucune source de flamme nue, telle que des bougies allumées, ne doit être placée au dessus de
l'appareil.
 Evitez une utilisation dans des environnements poussiéreux et nettoyez l'appareil régulièrement.
 Les personnes inexpérimentées ne doivent pas utiliser cet appareil.
 La température ambiante de fonctionnement maximale est de 40°C. N'utilisez pas cet appareil à des
températures ambiantes plus élevées.
 Utilisez l'emballage d'origine pour transporter l'appareil.
 Pour des raisons de sécurité, il est interdit d'apporter des modifications non autorisées à l'appareil.
NETTOYAGE DE L'APPAREIL :
Nettoyez l'appareil à l'aide d'un chiffon légèrement humidifié. Évitez que l'eau ne pénètre à l'intérieur de
l'appareil. N'utilisez pas de liquides volatils tels que benzène ou diluant qui endommagent l'appareil.
FONCTIONS
1. ENTREES CINCH : permet connecter un équipement audio asymétrique à cette entrée.
2. ENTREES COMBO : acceptent tout signal audio symétrique ou asymétrique via deux prises 6,3 mm et
XLR 3 broches.
3. SORTIES XLR : sortie symétrique équilibrée, prête à être connectée à des longs câbles symétriques.
4. COMMUTATEURS GROUND LIFT : utilisés pour annuler les boucles de masse et ainsi résoudre les
éventuels bruits de ronflement.
UTILISATION DE LA SDI-1
L'installation d'une DI-box passive est très simple bien que très efficace pour résoudre certains problèmes.
Le secret d'une bonne DI-box réside dans la qualité des transformateurs audiofréquence internes.
Une DI-box passive peut être utilisée dans plusieurs applications différentes. En voici 2 exemples :
Exemple 1 : Ordinateur portable produisant des bruits de fond
PROBLEME : Souvent, les ordinateurs portables produisent des bruits de fond lorsqu'ils sont connectés à
une console de mixage ; ce problème est provoqué par des boucles de masse dues aux câbles audio et
cordons d'alimentation.
AUDIO
BOUCLE DE MASSE
=
BRUITS DE FOND
Secteur 230V
SOLUTION : Il suffit de placer la SDI-1 sur la ligne audio et d'utiliser les commutateurs ground lift pour
annuler la boucle. Et le problème sera résolu !
SYNQ®
5/19
SDI-1 STEREO DI-BOX
FRANÇAIS
GUIDE D'UTILISATION
AUDIO
PAS DE BOUCLE DE MASSE
=
PAS DE BRUITS DE FOND
Secteur 230V
Exemple 2 : Vous utilisez un long câble audio
PROBLEME : Imaginez que vous avez besoin d'une long câble audio (+/-30 m), mais votre lecteur CD/...
n'est pas doté de sortie symétrique : le câble audio asymétrique ramassera tout type d'interférence
indésirable (provenant des lampes, réfrigérateur, etc.) : ainsi votre signal audio sera déformé car il contient
beaucoup de bruits de fond, ronflement et bourdonnement indésirables.
CABLE AUDIO
ASYMETRIQUE
INTERFERENCES
CD : AUDIO PARFAIT
AUDIO DEFORMEE AVEC BRUITS DE FOND
DISTANCE ~ 30 M
SOLUTION : Il suffit de connecter la sortie asymétrique du lecteur CD/... à l'entrée de la SDI-1. Branchez les
longs câbles audio symétriques à la sortie de la SDI-1. Branchez l'autre extrémité du câble symétrique à
l'entrée symétrique de votre amplificateur. Les câbles audio symétriques sont bien protégés contre les
interférences extérieures, ainsi le signal reste propre lorsqu'il arrive à l'amplificateur ; le problème est résolu !
INTERFERENCES
CABLE AUDIO
SYMETRIQUE
CABLE AUDIO
ASYMETRIQUE
SIGNAL AUDIO PARFAIT !!!
CD : AUDIO PARFAIT
DISTANCE ~30 M
SPÉCIFICATIONS
Réponse en fréquence :
THD (Distorsion Harmonique Totale) @ 30 Hz :
THD (Distorsion Harmonique Totale) @ 1 kHz :
RRMC (rapport de réjection en mode commun) :
Impédance d'entrée :
Niveau d'entrée max. :
Impédance de sortie :
Niveau de sortie max. :
Dimensions :
Poids :
SYNQ®
6/19
20 Hz - 20 kHz (+0,5 dB / -0,5 dB)
<0,005%, 0 dBu sortie
<0,005%, 0 dBu sortie
>80 dB @ 60 Hz
76 kΩ
+21 dBu
1 kΩ
+12 dBu @ 600 ohms
105 x 110 x 44,2 mm
0,44 kg
SDI-1 STEREO DI-BOX
FRANÇAIS
GUIDE D'UTILISATION
Toutes les informations peuvent être modifiées sans préavis
Vous pouvez télécharger la dernière version de ce manuel sur notre site web : www.synq-audio.com
SYNQ®
7/19
SDI-1 STEREO DI-BOX
NEDERLANDS
GEBRUIKSAANWIJZING
GEBRUIKSAANWIJZING
®
Hartelijk dank voor de aankoop van dit Synq product. Om volledig van alle mogelijkheden te profiteren, lees
deze handleiding zeer zorgvuldig.
KENMERKEN
Deze eenheid is radiostoring onderdrukt. Dit apparaat voldoet aan de eisen van de huidige Europese en
nationale richtlijnen. Conformiteit werd aangetoond en de desbetreffende verklaringen en documenten zijn
door de fabrikant gedeponeerd.
 Deze stereo DI-box is de perfecte probleemoplosser voor talloze toepassingen!
 Zet ongebalanceerde audiosignalen om in gebalanceerde signalen, zodat ze over lange symmetrische
kabels kunnen worden overgedragen met maximale bescherming tegen allerlei soorten interferentie.
 Zoemende geluiden vanuit laptops, PC's en nog veel meer kunnen eenvoudig worden verholpen: de
massaliftschakelaars scheiden de in/uitgangen om massakringen te voorkomen.
 Geen interne actieve onderdelen: geen lawaaierige start en geen uitgeputte batterijen wanneer ze nou net
nodig zijn …
 Afzonderlijke massaliftschakelaars voor beide kanalen
 Audiotransformators van zeer hoge kwaliteit voor uitstekende audiokenmerken:
 Uiterst lage vervorming: <0,005% @ 1 kHz, 0 dBu
 Ondersteunt zeer hoge audioniveaus
 Uitstekende CMRR: >80 dB @ 60 Hz
 Uitstekende frequentieresponsie: 20 Hz – 20 kHz (+/-0,5 dB)
 Veelzijdige aansluitingen:
 Ingangen: RCA + COMBO (Jack/XLR) op beide kanalen
 Uitgangen: XLR-mannelijk op beide kanalen
 Robuuste zwarte geanodiseerde ALU-behuizing
VÓÓR GEBRUIK
 Voordat u dit apparaat begint te gebruiken, controleer of er geen transportschade aanwezig is. Mocht er
schade zijn, gebruik het apparaat niet en raadpleeg eerst uw dealer.
 Belangrijk: Dit apparaat verliet de fabriek in perfecte staat en goed verpakt. Het is absoluut noodzakelijk
voor de gebruiker om de veiligheidsinstructies en waarschuwingen in deze handleiding strikt op te volgen.
Eventuele schade veroorzaakt door verkeerd gebruik valt niet onder de garantie. De dealer zal geen
aansprakelijkheid accepteren voor eventuele fouten of problemen veroorzaakt door het negeren van deze
handleiding.
 Bewaar dit boekje op een veilige plaats voor toekomstige raadpleging. Als u de armatuur verkoopt, vergeet
niet om deze handleiding erbij te voegen.
 Om het milieu te beschermen, probeer het verpakkingsmateriaal zoveel mogelijk te recyclen.
Controleer de inhoud:
Controleer of de doos de volgende artikelen bevat:
 Gebruikershandleiding
 SDI-1 eenheid
VEILIGHEIDSINSTRUCTIES:
Dit symbool betekent: alleen gebruik binnenshuis
Dit symbool betekent: Lees de instructies
 Om te voorkomen dat binnenin condensatie wordt gevormd, laat het apparaat aan de
omgevingstemperatuur aanpassen wanneer het na transport in een warme kamer wordt gebracht.
Condens verhindert soms het apparaat op volle capaciteit te werken of kan zelfs schade veroorzaken.
 Dit apparaat is uitsluitend geschikt voor gebruik binnenshuis.
SYNQ®
8/19
SDI-1 STEREO DI-BOX
NEDERLANDS
GEBRUIKSAANWIJZING
 Plaats geen metalen voorwerpen of mors geen vloeistoffen in het toestel. Geen objecten gevuld met
vloeistoffen, zoals vazen, mogen op dit apparaat worden geplaatst. Elektrische schokken of storing kunnen
het gevolg zijn. Als een vreemd voorwerp in het apparaat terechtkomt, trek onmiddellijk de stekker uit het
stopcontact.
 Plaats geen voorwerpen met open vuur, zoals brandende kaarsen, op het apparaat.
 Voorkom het gebruik in stoffige omgevingen en maak het apparaat regelmatig schoon.
 Onervaren personen mogen dit apparaat niet bedienen.
 De maximale veilige omgevingstemperatuur is 40 °C. Gebruik dit apparaat niet bij hogere
omgevingstemperaturen.
 Gebruik de originele verpakking als het toestel vervoerd moet worden.
 Vanwege veiligheidsredenen is het verboden om ongeautoriseerde wijzigingen aan het apparaat aan te
brengen.
HET APPARAAT REINIGEN:
Schoonmaken met een licht vochtige poetsdoek. Zorg ervoor dat geen water in het apparaat terechtkomt.
Gebruik geen vluchtige vloeistoffen zoals benzeen of thinner, die zullen het apparaat beschadigen.
FUNCTIES
1. TULPINGANGEN: sluit elk willekeurig audioapparaat aan op deze ingang.
2. COMBO-INGANGEN: accepteert elk willekeurig gebalanceerd of ongebalanceerd audiosignaal via
beide jack 6,3 mm en XLR-3-polig.
3. XLR-UITGANGEN: gebalanceerde uitgang, gereed voor aansluiting op lange symmetrische kabels.
4. MASSALIFTSCHAKELAARS: gebruikt om eventuele massakringen te breken, waardoor zoemende
geluiden dus worden geëlimineerd.
DE SDI-1 GEBRUIKEN
De instelling van een passieve DI-box is enorm simpel, maar ook extreem effectief om bepaalde problemen
te verhelpen.
Het geheim van een goede DI-box ligt in de kwaliteit van de interne audiotransformators…
Een passieve DI-box kan voor talloze toepassingen worden gebruikt. Hieronder volgen 2 voorbeelden:
Voorbeeld1: LAPTOP produceert ZOOOEEEM lawaai
PROBLEEM: Laptops produceren vaak zoemende geluiden wanneer aangesloten op een audiomixer,
massakringen via audio- en videokabels veroorzaken dit probleem.
AUDIO
MASSAKRING
=
ZOEMEND LAWAAI
230V stopcontact
OPLOSSING: Steek de SDI-1 slechts in de audiolijn en gebruik de massaliftschakelaars om de kring te
breken. Opgelost!
SYNQ®
9/19
SDI-1 STEREO DI-BOX
NEDERLANDS
GEBRUIKSAANWIJZING
AUDIO
GEEN MASSAKRING
=
GEEN ZOEMEND
LAWAAI
230V stopcontact
Voorbeeld2: een lange audiokabel is vereist
PROBLEEM: Stelt u zichzelf voor dat u een lange (+/-30 m) audiokabel nodig hebt, maar uw CD-speler/…
heeft geen gebalanceerde uitgang: de ongebalanceerde audiokabel pikt veel soorten ongewenste
interferenties op (van verlichting, koelkasten, …): als gevolg wordt uw audiosignaal verstoord door allerlei
ongewenste achtergrondgeluiden, zoemende en suizende tonen.
ONGEBALANCEERDE
AUDIOKABEL
INTERFERENTIES
CD: PERFECTE AUDIO
SLECHTE AUDIO MET RUIS
AFSTAND ~ 30 M
OPLOSSING: Sluit de ongebalanceerde uitgang van de CD-speler/… slechts aan op de SDI-1. Sluit de
lange gebalanceerde audiokabels aan op de uitgang van de SDI-1. Sluit het andere uiteinde van de
gebalanceerde kabel aan op de gebalanceerde ingang van uw versterker. De gebalanceerde audiokabels
worden nu goed beschermd tegen externe interferenties, zodat de audio schoon blijft wanneer het bij de
versterker arriveert, probleem verholpen!
INTERFERENTIES
GEBALANCEERDE
AUDIOKABEL
ONGEBALANCE
ERDE
AUDIOKABEL
NOG STEEDS PERFECTE AUDIO!!!
CD: PERFECTE AUDIO
AFSTAND ~30 M
SPECIFICATIES
Freqentieresponsie:
THD @ 30 Hz:
THD @ 1 kHz:
CMRR:
Ingangimpedantie:
Max ingangsniveau:
Uitgangimpedantie:
Max uitgangsniveau:
Afmetingen:
Gewicht:
SYNQ®
20 Hz - 20 kHz (+0,5 dB / -0,5 dB)
<0,005%, 0 dBu uitgang
<0,005%, 0 dBu uitgang
>80 dB @ 60 Hz
76 kΩ
+21 dBu
1 kΩ
+12 dBu @ 600 ohm
105 x 110 x 44,2 mm
0,44 kg
10/19
SDI-1 STEREO DI-BOX
NEDERLANDS
GEBRUIKSAANWIJZING
Alle informatie is onderhevig aan verandering zonder voorafgaande kennisgeving.
U kunt de nieuwste versie van deze handleiding van onze website downloaden: www.synq-audio.com
SYNQ®
11/19
SDI-1 STEREO DI-BOX
DEUTSCH
BEDIENUNGSANLEITUNG
BEDIENUNGSANLEITUNG
®
Vielen Dank für den Erwerb dieses Synq Produkt. Bitte lesen Sie diese Bedienungsanleitung aufmerksam
durch, um alle Möglichkeiten des Systems voll ausnutzen zu können.
EIGENSCHAFTEN
Dieses Gerät ist entstört. Das Gerät entspricht den aktuellen europäischen Anforderungen und nationalen
Richtlinien. Die Konformität wurde nachgewiesen und die entsprechenden Erklärungen und Unterlagen
liegen beim Hersteller vor.
 Diese Stereo-DI-Box ist der optimale Problemlöser für viele Anwendungen!
 Sie konvertiert asymmetrische in symmetrische Audiosignale und diese können über lange
symmetrische Kabel, die einen maximalen Schutz gegen Störungen aller Art bieten, übertragen werden.
 Das Brummproblem von Laptops, PCs und vielen anderen Geräten kann einfach gelöst werden: Die
Ground-Lift-Schalter trennen die Ein-/Ausgänge, um Brummschleifen zu verhindern.
 Im Inneren befinden sich keine aktiven Komponenten: Keine rauschenden OP-Verstärker und keine
erschöpften Batterien, wenn Sie sie benötigen usw.
 Separate Ground-Lift-Schalter für beide Kanäle.
 Sehr hochwertige Audio-Trafos für ausgezeichnete Audioeigenschaften:
 Sehr geringe Verzerrung: <0,005% bei 1 kHz, 0 dBu.
 Unterstützt sehr hohe Audiopegel.
 Ausgezeichnete Gleichtaktunterdrückung: >80 dB bei 60 Hz.
 Ausgezeichneter Frequenzgang: 20 Hz - 20 kHz (+/- 0,5 dB).
 Vielfältige Anschlussmöglichkeiten:
 Eingänge: RCA + COMBO (Buchse/XLR) für beide Kanäle.
 Ausgänge: XLR-Stecker für beide Kanäle.
 Robustes, schwarz-eloxiertes Aluminium-Gehäuse.
VOR DER ERSTBENUTZUNG
 Vor der Erstbenutzung bitte das Gerät zuerst auf Transportschäden überprüfen. Sollte das Gerät einen
Schaden aufweisen, benutzen Sie es nicht, sondern wenden Sie sich unverzüglich an Ihren Händler.
 Wichtiger Hinweis: Dieses Gerät hat das Werk unbeschädigt und gut verpackt verlassen. Es ist wichtig,
dass der Benutzer sich streng an die Sicherheitshinweise und Warnungen in der Bedienungsanleitung
hält. Schäden durch unsachgemäße Handhabung sind von der Garantie ausgeschlossen. Der Händler
übernimmt keine Verantwortung für Schäden, die durch Nichtbeachtung der Bedienungsanleitung
entstanden sind.
 Die Bedienungsanleitung zum zukünftigen Nachschlagen bitte an einem sicheren Ort aufbewahren. Bei
Verkauf oder sonstiger Weitergabe des Geräts bitte die Bedienungsanleitung beifügen.
 Aus Umweltschutzgründen die Verpackung bitte wiederverwenden oder richtig trennen.
Packungsinhalt prüfen:
Bitte überprüfen Sie, ob die Verpackung folgende Artikel enthält:
 Bedienungsanleitung
 SDI-1-Einheit
SICHERHEITSHINWEISE:
Dieses Symbol bedeutet: Nur im Innenbereich
Dieses Symbol bedeutet: Die Bedienungsanleitung lesen
 Zur Vermeidung von Kondensation im Inneren des Geräts bitte nach dem Transport in einer warmen
Umgebung einige Zeit zum Temperaturausgleich ausgeschaltet stehen lassen. Kondensation kann zu
Leistungsverlust des Geräts oder gar Beschädigungen führen.
 Nur für den Einsatz im Innenbereich.
SYNQ®
12/19
SDI-1 STEREO DI-BOX
DEUTSCH
BEDIENUNGSANLEITUNG
 Keine Metallgegenstände oder Flüssigkeiten ins Innere des Geräts gelangen lassen. Stellen Sie keine mit
Flüssigkeiten gefüllten Gegenstände (wie Vasen) auf dem Gerät ab. Ein Kurzschluss oder eine
Fehlfunktion können die Folge sein. Falls es doch einmal vorkommen sollte, bitte sofort den Netzstecker
ziehen und vom Stromkreis trennen.
 Stellen Sie keine offenen Flammen (wie brennende Kerzen) auf dem Gerät ab.
 Nicht in staubiger Umgebung verwenden und regelmäßig reinigen.
 Unerfahrene Personen dürfen das Gerät nicht bedienen.
 Umgebungstemperatur darf 40° C nicht überschreiten. Das Gerät bei höheren Raumtemperaturen nicht
verwenden.
 Bei Transport bitte die Originalverpackung verwenden, um Schäden am Gerät zu vermeiden.
 Aus Sicherheitsgründen dürfen an dem Gerät keine unbefugten Veränderungen vorgenommen werden.
REINIGUNG:
Wischen Sie das Gerät mit einem weichen und leicht angefeuchteten Tuch ab. Achten Sie darauf, dass
keine Flüssigkeiten in das Gerät eindringen. Benutzen Sie keine Lösungsmittel zum Reinigen, damit
beschädigen Sie das Gerät.
FUNKTIONEN
5. CINCH-EINGÄNGE: Schließen Sie an diese Audioeingänge beliebige asymmetrische Geräte an.
6. COMBO-EINGÄNGE: Akzeptiert jedes symmetrische oder asymmetrische Audiosignal, sowohl 6,3 mm
Klinken- und 3-polige XLR-Buchse.
7. XLR-AUSGÄNGE: Symmetrische Ausgänge, anschlussbereit für lange symmetrische Kabel.
8. GROUND-LIFT-SCHALTER: Zur Unterbrechung von eventuellen Masseschleifen und folglich kein
Brummproblem.
BENUTZUNG DES SDI-1
Die Einrichtung einer passiven DI-Box ist unglaublich einfach, aber zum Lösen bestimmter Probleme auch
sehr effektiv.
Das Geheimnis einer guten DI-Box liegt in der Qualität der Audio-Trafos im Inneren.
Eine passive DI-Box kann für viele unterschiedliche Anwendungen verwendet werden. Nachfolgend geben
wir zwei Beispiele:
Beispiel1: LAPTOP erzeugt Brummtöne
PROBLEM: Notebooks erzeugen oft Brummtöne, wenn sie an einen Audio-Mixer angeschlossen wurden.
Masseschleifen über Audio- und Netzkabel führen zu diesem Problem.
AUDIO
MASSESCHLEIFE
=
BRUMMTÖNE
230 V Netzspannung
LÖSUNGSVORSCHLAG: Setzen Sie einfach den SDI-1 in die Audioleitung und verwenden Sie die GroundLift-Schalter, um die Schleife zu unterbrechen. Gelöst!
SYNQ®
13/19
SDI-1 STEREO DI-BOX
DEUTSCH
BEDIENUNGSANLEITUNG
AUDIO
KEINE MASSESCHLEIFE
=
KEINE BRUMMTÖNE
230 V Netzspannung
Beispiel 2: Es ist ein langes Audiokabel erforderlich
PROBLEM: Stellen Sie sich vor, Sie benötigen ein langes (+/-30 m) Audiokabel, aber der CD-Player usw.
besitzt keinen symmetrischen Ausgang: Das asymmetrische Audiokabel nimmt alle Arten unerwünschter
Störungen (von den Lampen, Kühlschränken usw.) auf: Als Folge wird Ihr Audiosignal massiv mit
unerwünschten Hintergrundrauschen, Summen und Brummen verzerrt.
ASYMMETRISCHES
AUDIOKABEL
STÖRUNGEN
CD: OPTIMALES AUDIO
SCHLECHTER TON MIT BRUMMEN
ENTFERNUNG ~ 30 M
LÖSUNGSVORSCHLAG: Schließen Sie einfach den asymmetrischen Ausgang des CD-Players usw. am
Eingang des SDI-1 an. Schließen Sie das lange symmetrische Audiokabel am Ausgang des SDI-1 an.
Schließen Sie das andere Ende des symmetrischen-Kabels am symmetrischen Eingang Ihres Verstärkers
an. Die symmetrischen Audiokabel sind gegen externe Störungen gut geschützt, so dass die Audiosignale
nicht verzerrt werden, wenn sie am Verstärker ankommen. Problem gelöst!
STÖRUNGEN
SYMMETRISCHES
AUDIOKABEL
ASYMMETRISCHES
AUDIOKABEL
IMMER NOCH OPTIMALES AUDIO!!!
CD: OPTIMALES AUDIO
ENTFERNUNG ~ 30 M
TECHNISCHE DATEN
Frequenzgang:
THD bei 30 Hz:
THD bei 1 kHz:
Gleichtaktunterdrückung:
Eingangsimpedanz:
Maximaler Eingangspegel:
Ausgangsimpedanz:
Maximaler Ausgangspegel:
Abmessungen:
Gewicht:
SYNQ®
20 Hz - 20 kHz (+0,5 dB / -0,5 dB)
<0,005%, 0 dBu am Ausgang
<0,005%, 0 dBu am Ausgang
80 dB bei 60 Hz
76 kΩ
+21 dBu
1 kΩ
+12 dBu bei 600 Ohm
105 x 110 x 44,2 mm
0,44 kg
14/19
SDI-1 STEREO DI-BOX
DEUTSCH
BEDIENUNGSANLEITUNG
Diese Angaben können sich ohne vorherige Ankündigung geändert werden
Sie können sich die neueste Version dieses Benutzerhandbuches von unserer Website
herunterladen: www.synq-audio.com
SYNQ®
15/19
SDI-1 STEREO DI-BOX
ESPAÑOL
MANUAL DE INSTRUCCIONES
MANUAL DE INSTRUCCIONES
®
Gracias por comprar este producto de Synq . Para aprovechar todas sus posibilidades, por favor lea muy
detenidamente estas instrucciones de uso.
CARACTERÍSTICAS
Esta unidad tiene supresión de radio interferencia. Este aparato cumple los requisitos de las directivas
europeas y nacionales vigentes. Dicha conformidad ha sido establecida y los dictámenes y documentos han
sido consignados por el fabricante.
 ¡Esta stereo DI-box es la solución perfecta para muchas aplicaciones!
 Convierte las señales de audio no balanceadas en balanceadas, para que puedan transmitirse por
cables largos simétricos con la máxima protección frente a interferencias de cualquier tipo.
 Los zumbidos producidos por ordenadores portátiles, PCs y demás pueden resolverse fácilmente: el
interruptor de elevación y conexión a tierra separa las entradas/salidas para evitar cualquier bucle de
tierra.
 No hay componentes activos en el interior: sin ruidosos amplificadores operacionales ni baterías agotadas
cuando las necesita…
 Interruptores independientes de elevación y conexión a tierra para ambos canales
 Transformadores de audio de muy alto grado para un audio con características excelentes:
 Distorsión muy baja: <0,005% a 1 kHz, 0 dBu
 Soporta niveles muy altos de audio
 Excelente CMRR (Relación de Rechazo al Modo Común): >80 dB a 60 Hz
 Excelente respuesta de frecuencia: 20 Hz – 20 kHz (+/-0.5 dB)
 Conexiones versátiles:
 Entradas: RCA + COMBO (Jack/XLR) en ambos canales
 Salidas: XLR macho en ambos canales
 Resistente carcasa ALU en color negro anodizado
ANTES DEL USO
 Antes de comenzar a utilizar esta unidad, compruebe si no ha sufrido daños durante el transporte. Si
hubiera alguno, no utilice el dispositivo y consulte primero con su distribuidor.
 Importante: Este dispositivo salió de nuestra fábrica en perfectas condiciones y bien embalado. Es
absolutamente necesario que se obedezcan al pie de la letra las instrucciones y advertencias de
seguridad que aparecen en este manual de usuario. Cualquier daño causado por una mala manipulación
no estará cubierto por la garantía. El distribuidor no aceptará ninguna responsabilidad por defectos o
problemas resultantes causados por no obedecer lo indicado en este manual de usuario.
 Mantenga este folleto en un lugar seguro para futuras consultas. Si vende este equipo, asegúrese de
incluir este manual de usuario.
 Para proteger el medio ambiente, intente reciclar el material del embalaje en la mayor medida posible.
Compruebe el contenido:
Verifique que la caja contenga los elementos siguientes:
 Manual de Usuario
 Unidad SDI-1
INSTRUCCIONES DE SEGURIDAD:
Este símbolo significa: sólo para uso en interiores
Este símbolo significa: Lea las instrucciones
 Para evitar que se forme condensación en el interior del equipo, permita que la unidad se adapte a la
temperatura ambiental cuando se lleve a una habitación cálida después del transporte. La condensación
impide a veces que la unidad trabaje a plena capacidad e incluso puede causar daños.
 Esta unidad es solamente para uso en interiores.
SYNQ®
16/19
SDI-1 STEREO DI-BOX
ESPAÑOL
MANUAL DE INSTRUCCIONES
 No coloque objetos metálicos ni derrame líquidos dentro de la unidad. No deben colocarse objetos llenos
de líquido, como jarrones, sobre este aparato. Puede dar como resultado una descarga eléctrica o un mal
funcionamiento. Si un objeto extraño se introduce dentro de la unidad, desconecte de inmediato la
alimentación eléctrica.
 No deben colocarse fuentes de llama, como velas encendidas, sobre este aparato.
 Evite emplearlo en ambientes polvorientos; limpie la unidad con regularidad.
 Este equipo no debe ser utilizado personas inexpertas.
 La temperatura ambiente máxima segura es de 40ºC. No utilice esta unidad a temperaturas ambiente
mayores que ésta.
 Utilice el embalaje original cuando haya que transportar el dispositivo.
 Debido a razones de seguridad, está prohibido realizar modificaciones no autorizadas a la unidad.
LIMPIAR EL APARATO:
Límpielo utilizando un paño ligeramente humedecido con agua. Evite la entrada de agua en el interior de la
unidad. No utilice líquidos volátiles, como benceno o disolventes, que dañarían la unidad.
FUNCIONES
1. ENTRADAS CINCH: conecte cualquier equipo de audio no balanceado a esta entrada.
2. ENTRADAS COMBO: acepta cualquier señal de audio balanceada o no balanceada a través del jack
de 6.3 mm y el XLR de 3 pines.
3. SALIDAS XLR: salida balanceada, apta para conectarse a cables simétricos largos.
4. INTERRUPTORES DE ELEVACIÓN Y CONEXIÓN A TIERRA: se utilizan para deshacer los eventuales
bucles a tierra, resolviendo de esta forma los zumbidos.
UTILIZAR EL SDI-1
La configuración de una DI-box pasiva es increíblemente sencilla, pero es también extremadamente eficaz
para solucionar ciertos problemas.
El secreto de una buena DI-box reside en la calidad de los transformadores de audio que incorpora…
Una DI-box pasiva puede utilizarse para muchas aplicaciones distintas. A continuación le mostramos 2
ejemplos:
Ejemplo 1: El ordenador portátil provoca zumbidos
PROBLEMA: Con frecuencia, los ordenadores portátiles producen zumbidos cuando están conectados a
una mezcladora de audio; los bucles a tierra por los cables de audio y de alimentación provocan originan
este problema.
AUDIO
BUCLE DE TIERRA
=
ZUMBIDOS
Alimentación de 230V
SOLUCIÓN: Simplemente coloque el SDI-1 en la línea de audio y utilice los interruptores de elevación y
conexión a tierra para deshacer el bucle. ¡Resuelto!
SYNQ®
17/19
SDI-1 STEREO DI-BOX
ESPAÑOL
MANUAL DE INSTRUCCIONES
AUDIO
SIN BLUCLE DE TIERRA
=
SIN ZUMBIDOS
Alimentación de 230V
Ejemplo2: se necesita un cable de audio largo
PROBLEMA: Imagine que necesita un cable de audio largo (+/- 30 m), pero su reproductor de CD/… no
dispone de salida balanceada: el cable de audio no balanceado recibirá todo tipo de interferencias
indeseadas (de las lámparas, del frigorífico,…) y como resultado su señal de audio se verá distorsionada
con multitud de ruidos de fondo, zumbidos y murmullos no deseados.
CABLE DE AUDIO NO
BALANCEADO
INTERFERENCIAS
CD: AUDIO PERFECTO
AUDIO POBRE CON ZUMBIDO
DISTANCIA ~ 30 M
SOLUCIÓN: Simplemente conecte la salida no balanceada del reproductor de CD/... a la entrada del SDI-1.
Conecte los cables largos de audio balanceados a la salida del SDI-1. Conecte el otro extremo del cable
balanceado a la entrada balanceada de su amplificador. Los cables balanceados de audio están bien
protegidos frente a las interferencias externas, así que el audio seguirá limpio cuando llegue al amplificador,
¡problema resuelto!
INTERFERENCIAS
CABLE DE AUDIO NO
BALANCEADO
CABLE DE AUDIO
BALANCEADO
¡¡¡EL AUDIO SIGUE PERFECTO!!!
CD: AUDIO PERFECTO
DISTANCIA ~ 30 M
ESPECIFICACIONES
Respuesta de frecuencia:
Distorsión armónica total a 30 Hz:
Distorsión armónica total a 1 kHz:
CMRR (Relación de Rechazo al Modo Común):
Impedancia de entrada:
Máximo nivel de entrada:
Impedancia de salida:
Máximo nivel de salida:
Dimensiones:
Peso:
SYNQ®
18/19
20 Hz - 20 kHz (+0.5dB / -0.5dB)
<0.005%, 0 dBu de salida
<0.005%, 0 dBu de salida
>80 dB a 60 Hz
76 kΩ
+21 dBu
1 kΩ
+12 dBu a 600 ohms
105 x 110 x 44.2 mm
0.44 kg
SDI-1 STEREO DI-BOX
ESPAÑOL
MANUAL DE INSTRUCCIONES
Esta información está sujeta a cambios sin notificación previa
Puede descargar la versión más reciente de este manual de usuario en nuestro sitio Web:
www.synq-audio.com
SYNQ®
19/19
SDI-1 STEREO DI-BOX
WWW.SYNQ-AUDIO.COM
Copyright © 2012 by BEGLEC NV
't Hofveld 2C ~ B1702 Groot-Bijgaarden ~ Belgium
Reproduction or publication of the content in any manner, without express permission of the publisher, is prohibited.