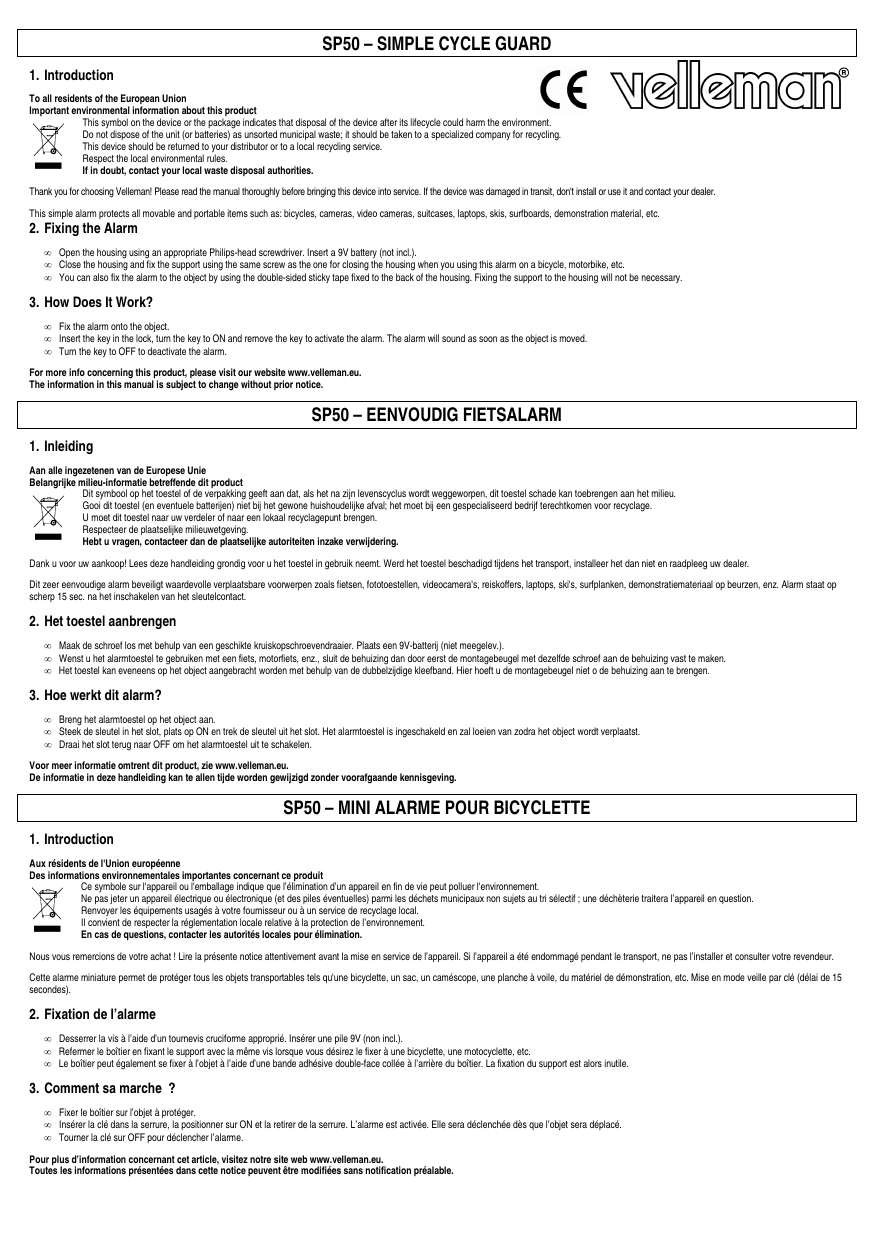 SP50 – SIMPLE CYCLE GUARD
1. Introduction
To all residents of the European Union
Important environmental information about this product
This symbol on the device or the package indicates that disposal of the device after its lifecycle could harm the environment.
Do not dispose of the unit (or batteries) as unsorted municipal waste; it should be taken to a specialized company for recycling.
This device should be returned to your distributor or to a local recycling service.
Respect the local environmental rules.
If in doubt, contact your local waste disposal authorities.
Thank you for choosing Velleman! Please read the manual thoroughly before bringing this device into service. If the device was damaged in transit, don't install or use it and contact your dealer.
This simple alarm protects all movable and portable items such as: bicycles, cameras, video cameras, suitcases, laptops, skis, surfboards, demonstration material, etc.
2. Fixing the Alarm
• Open the housing using an appropriate Philips-head screwdriver. Insert a 9V battery (not incl.).
• Close the housing and fix the support using the same screw as the one for closing the housing when you using this alarm on a bicycle, motorbike, etc.
• You can also fix the alarm to the object by using the double-sided sticky tape fixed to the back of the housing. Fixing the support to the housing will not be necessary.
3. How Does It Work?
• Fix the alarm onto the object.
• Insert the key in the lock, turn the key to ON and remove the key to activate the alarm. The alarm will sound as soon as the object is moved.
• Turn the key to OFF to deactivate the alarm.
For more info concerning this product, please visit our website www.velleman.eu.
The information in this manual is subject to change without prior notice.
SP50 – EENVOUDIG FIETSALARM
1. Inleiding
Aan alle ingezetenen van de Europese Unie
Belangrijke milieu-informatie betreffende dit product
Dit symbool op het toestel of de verpakking geeft aan dat, als het na zijn levenscyclus wordt weggeworpen, dit toestel schade kan toebrengen aan het milieu.
Gooi dit toestel (en eventuele batterijen) niet bij het gewone huishoudelijke afval; het moet bij een gespecialiseerd bedrijf terechtkomen voor recyclage.
U moet dit toestel naar uw verdeler of naar een lokaal recyclagepunt brengen.
Respecteer de plaatselijke milieuwetgeving.
Hebt u vragen, contacteer dan de plaatselijke autoriteiten inzake verwijdering.
Dank u voor uw aankoop! Lees deze handleiding grondig voor u het toestel in gebruik neemt. Werd het toestel beschadigd tijdens het transport, installeer het dan niet en raadpleeg uw dealer.
Dit zeer eenvoudige alarm beveiligt waardevolle verplaatsbare voorwerpen zoals fietsen, fototoestellen, videocamera's, reiskoffers, laptops, ski's, surfplanken, demonstratiemateriaal op beurzen, enz. Alarm staat op
scherp 15 sec. na het inschakelen van het sleutelcontact.
2. Het toestel aanbrengen
• Maak de schroef los met behulp van een geschikte kruiskopschroevendraaier. Plaats een 9V-batterij (niet meegelev.).
• Wenst u het alarmtoestel te gebruiken met een fiets, motorfiets, enz., sluit de behuizing dan door eerst de montagebeugel met dezelfde schroef aan de behuizing vast te maken.
• Het toestel kan eveneens op het object aangebracht worden met behulp van de dubbelzijdige kleefband. Hier hoeft u de montagebeugel niet o de behuizing aan te brengen.
3. Hoe werkt dit alarm?
• Breng het alarmtoestel op het object aan.
• Steek de sleutel in het slot, plats op ON en trek de sleutel uit het slot. Het alarmtoestel is ingeschakeld en zal loeien van zodra het object wordt verplaatst.
• Draai het slot terug naar OFF om het alarmtoestel uit te schakelen.
Voor meer informatie omtrent dit product, zie www.velleman.eu.
De informatie in deze handleiding kan te allen tijde worden gewijzigd zonder voorafgaande kennisgeving.
SP50 – MINI ALARME POUR BICYCLETTE
1. Introduction
Aux résidents de l'Union européenne
Des informations environnementales importantes concernant ce produit
Ce symbole sur l'appareil ou l'emballage indique que l'élimination d'un appareil en fin de vie peut polluer l'environnement.
Ne pas jeter un appareil électrique ou électronique (et des piles éventuelles) parmi les déchets municipaux non sujets au tri sélectif ; une déchèterie traitera l'appareil en question.
Renvoyer les équipements usagés à votre fournisseur ou à un service de recyclage local.
Il convient de respecter la réglementation locale relative à la protection de l'environnement.
En cas de questions, contacter les autorités locales pour élimination.
Nous vous remercions de votre achat ! Lire la présente notice attentivement avant la mise en service de l'appareil. Si l'appareil a été endommagé pendant le transport, ne pas l'installer et consulter votre revendeur.
Cette alarme miniature permet de protéger tous les objets transportables tels qu'une bicyclette, un sac, un caméscope, une planche à voile, du matériel de démonstration, etc. Mise en mode veille par clé (délai de 15
secondes).
2. Fixation de l'alarme
• Desserrer la vis à l'aide d'un tournevis cruciforme approprié. Insérer une pile 9V (non incl.).
• Refermer le boîtier en fixant le support avec la même vis lorsque vous désirez le fixer à une bicyclette, une motocyclette, etc.
• Le boîtier peut également se fixer à l'objet à l'aide d'une bande adhésive double-face collée à l'arrière du boîtier. La fixation du support est alors inutile.
3. Comment sa marche ?
• Fixer le boîtier sur l'objet à protéger.
• Insérer la clé dans la serrure, la positionner sur ON et la retirer de la serrure. L'alarme est activée. Elle sera déclenchée dès que l'objet sera déplacé.
• Tourner la clé sur OFF pour déclencher l'alarme.
Pour plus d'information concernant cet article, visitez notre site web www.velleman.eu.
Toutes les informations présentées dans cette notice peuvent être modifiées sans notification préalable.
SP50 – ALARMA DE BICICLETA SENCILLA
1. Introducción
A los ciudadanos de la Unión Europea
Importantes informaciones sobre el medio ambiente concerniente este producto
Este símbolo en este aparato o el embalaje indica que, si tira las muestras inservibles, podrían dañar el medio ambiente.
No tire este aparato (ni las pilas eventuales) en la basura doméstica; debe ir a una empresa especializada en reciclaje. Devuelva este aparato a su distribuidor o a la unidad de reciclaje local.
Respete las leyes locales en relación con el medio ambiente.
Si tiene dudas, contacte con las autoridades locales para residuos.
¡Gracias por haber comprado la SP50! Lea cuidadosamente las instrucciones del manual antes de usarlo. Si el aparato ha sufrido algún daño en el transporte, no lo conecte a la red y póngase en contacto con su
distribuidor.
Esta minialarma permite proteger todos los objetos portátiles como bicicletas, cámaras, videocámaras, maletas, ordenadores portátiles, esquís, tablas de surf, material de demostración, etc. Mise activación de la
alarma después de 15 segundos.
2. Fijar la alarma
• Desatornille el tornillo con un destornillador philips adecuado. Introduzca una pila de 9V (no incl.).
• Vuelva a cerrar la caja al fijar el soporte con el mismo tornillo si quiere fijarlo a una bicicleta, una motocicleta, etc.
• También es posible fijarla al objeto con cinta adhesiva de dos caras fijada de la parte trasera del aparato. Por tanto, no se necesita el soporte.
3. Funcionamiento
• Fija la caja al objeto que quiere proteger.
• Introduzca la llave en la cerradura, póngala en la posición ON y sáquela de la cerradura. La alarma está activada. La alarma se activará en cuanto se desplace el objeto.
• Ponga la llave en la posición OFF para desactivar la alarma.
Para más información sobre este producto, visite nuestra página web web www.velleman.eu.
Se pueden modificar las especificaciones y el contenido de este manual sin previo aviso.
SP50 – EINFACHER FAHRRADALARM
1. Einführung
An alle Einwohner der Europäischen Union
Wichtige Umweltinformationen über dieses Produkt
Dieses Symbol auf dem Produkt oder der Verpackung zeigt an, dass die Entsorgung dieses Produktes nach seinem Lebenszyklus der Umwelt Schaden zufügen kann.
Entsorgen Sie die Einheit (oder verwendeten Batterien) nicht als unsortiertes Hausmüll; die Einheit oder verwendeten Batterien müssen von einer spezialisierten Firma zwecks Recycling entsorgt
werden.
Diese Einheit muss an den Händler oder ein örtliches Recycling-Unternehmen retourniert werden.
Respektieren Sie die örtlichen Umweltvorschriften.
Falls Zweifel bestehen, wenden Sie sich für Entsorgungsrichtlinien an Ihre örtliche Behörde.
Wir bedanken uns für den Kauf des SP50! Lesen Sie diese Bedienungsanleitung vor Inbetriebnahme sorgfältig durch. Überprüfen Sie, ob Transportschäden vorliegen. Sollte dies der Fall sein, verwenden Sie das
Gerät nicht und wenden Sie sich an Ihren Händler.
Dieser einfache Alarm eignet sich zur Absicherung aller transportablen Gegenstände wie z.B. Fahrräder, Kameras, Videokameras, Koffer, Laptops, Skier, Surfbretter, Mustermaterial, usw. Der Alarm wird schar
geschaltet 15 Sekunden nach dem Einschalten des Schlüsselkontaktes
2. Das Gerät installieren
• Schrauben Sie die Schraube mit einem geeigneten Kreuzschlitzschraubendreher los. Legen Sie eine 9V-Batterie (nicht mitgeliefert) ein.
• Möchten Sie den Alarm mit einem Fahrrad, Motorrad, usw. Verwenden, so schließen Sie das Gehäuse indem Sie zuerst den Montagebügel am Gehäuse befestigen.
• Das Gerät kann auch mit doppelseitigem Klebeband am Gegenstand befestigt werden. Hier brauchen Sie den Montagebügel nicht am Gehäuse zu befestigen.
3. Wie funktioniert der Alarm?
• Befestigen Sie den Alarm am Gegenstand.
• Stecken Sie den Schlüssel ins Schloss, stellen Sie ihn auf ON und ziehen Sie den Schlüssel aus dem Schloss. Der Alarm ist eingeschaltet und ertönt sobald der Gegenstand versetzt wird.
• Stellen Sie den Schlüssel auf OFF, um den Alarm auszuschalten.
Für mehr Informationen zu diesem Produkt, siehe www.velleman.eu.
Alle Änderungen ohne vorherige Ankündigung vorbehalten.