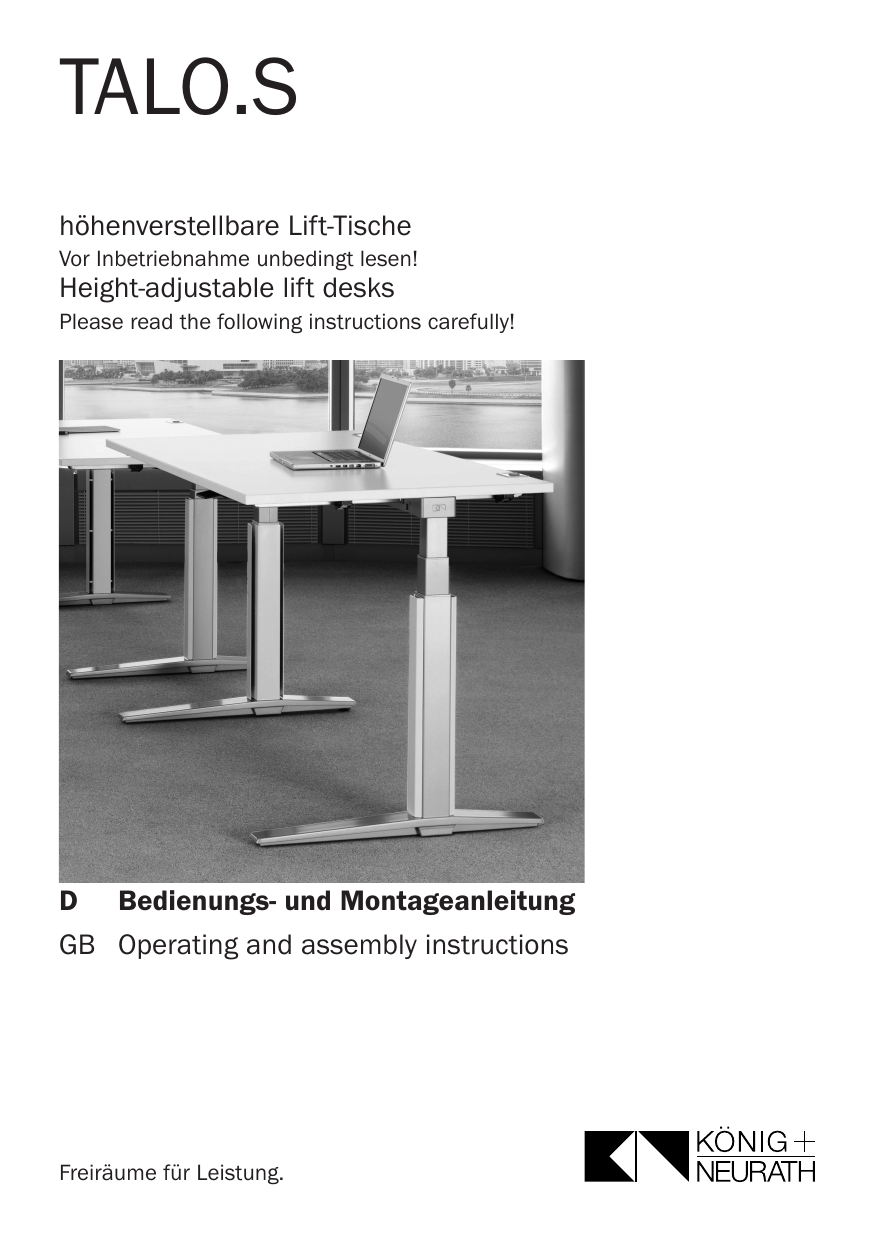 TALO.S
höhenverstellbare Lift-Tische
Vor Inbetriebnahme unbedingt lesen!
Height-adjustable lift desks
Please read the following instructions carefully!
Motorised height-adjustable desks
D Bedienungs- und Montageanleitung
GB Operating and assembly instructions
Freiräume für Leistung.
Inhalt
Seite 1 - 13
Deutsch
Contents
Page 15 - 29
English
Vorwort
Sehr geehrte Kundin, sehr geehrter Kunde!
Sie haben sich für ein Spitzenprodukt aus dem Hause König + Neurath
entschieden. Damit das Möbel zu Ihrer Zufriedenheit funktioniert,
lesen Sie diese Anweisungen vor Inbetriebnahme des Möbels aufmerksam durch und beachten Sie die hier angegebenen
Sicherheitshinweise.
Inhalt
Anwendungsbereich
Wichtige Sicherheitshinweise
Transport
Nutzlastangabe
Entfernen der Transportsicherung
Höhenverstellen des Tisches
Schiebeplatte
Vertikale Kabelführung
Montage Anbauteile
Anhang
1
2
3
4
4
5
6
7
7
8 – 12
13
Anwendungsbereich
Die TALO.S Lift-Tische sind Arbeitstische, bzw. Bildschirmarbeitstische für sitzende und stehende Tätigkeit im Bürobereich.
Die Tische sind nicht für den Einsatz in Werkstatt oder Lagerbereich geeignet.
Die Tische sind nicht für den Einsatz in Feuchträumen geeignet.
2
Wichtige Sicherheitshinweise
Der Aufbau und die Bedienung des TALO.S Lift-Tisches muss
gemäß dieser Montage- und Bedienungsanleitung erfolgen, sonst
besteht akute Verletzungsgefahr.
Das 2-Säulen-Liftgestell ist ausschließlich für den Verwendungszweck als ergonomische Verstellmöglichkeit bei Schreibtischen,
entsprechend den angegebenen Gewichten und Maßen, in dieser
Montageanleitung geeignet. Jede darüber hinausgehende Verwendung gilt als nicht bestimmungsgemäß, für hieraus resultierende
Schäden haftet der Hersteller nicht. Das Risiko hierfür trägt allein
der Nutzer.
Berücksichtigen Sie auch die allgemein gültigen, gesetzlichen und
sonstigen Regelungen und Rechtsvorschriften – auch des
Betreiberlandes – sowie die gültigen Umweltschutzbestimmungen!
Die örtlich gültigen Bestimmungen der Berufsgenossenschaften
oder sonstigen Aufsichtsbehörden sind stets zu beachten!
Eigenmächtige Veränderungen am TM 86 schließen eine Haftung
des Herstellers für daraus resultierende Schäden aus.
Bewahren Sie die Montage- und Bedienungsanleitung in der Nähe
des Gerätes auf.
Lassen Sie Kinder mit diesem Tischgestell nie unbeaufsichtigt.
Kinder können die Gefahr nicht einschätzen, die von der Kraftwirkung des Tischgestells ausgeht.
Nach dem Aufstellen des Tisches NICHT die Splintsicherung unter der Abdeckkappe an der Seite ziehen.
Bitte beachten Sie die Bedienungshinweise in dieser
Anleitung. Anderenfalls besteht ernsthaftes Verletzungsrisiko !
3
Transport
Bitte heben oder tragen Sie den Tisch nicht an der Tischplatte, sie
kann abreißen. Ziehen Sie den Tisch nicht über den Fußboden,
auch nicht Teppichboden, es besteht die Gefahr
einer Beschädigung.
Nutzlastangabe
Die Tische sind bei Auslieferung komplett montiert. Die folgenden
Schritte erläutern Ihnen die Entfernung der Transportsicherung,
die Bedienung des Lift-Tisches und die Montage der Anbauteile.
Der Tisch ist im Anlieferzustand für eine Nutzlast von 20 oder 40
± 10 kg ausgelegt. Die Nutzlast ist im Hinweisfeld unter der
Tischplatte an der Längstraverse angegeben.
Falls eine andere Belastung vorgesehen werden muss,
kann eine andere Zusatz-Kompressionsfeder eingebaut
werden. Der Austausch darf nur von geschultem
Fachpersonal durchgeführt werden und ist nicht Gegenstand dieser Bedienungsanleitung.
4
Entfernen der Transportsicherung
(Splintsicherung)
(a) Rechte seitliche Abdeckkappe abziehen. Linke Hand mit leichtem Druck als zusätzliche Sicherung auf die Tischplatte legen.
(b) Mit der rechten Hand die Splintsicherung entfernen. Für
eventuell weitere Transporte die Splintsicherung am Clip des
Gestells aufbewahren.
(a)
(b)
Achtung !
Handauslösung nur betätigen, wenn das vorgegebene
Gewicht auf dem Gestell steht.
5
Höhenverstellen des Tisches
Achtung !
Handauslösung nur betätigen, wenn das vorgegebene
Gewicht auf dem Gestell steht.
Nutzlast an und auf den Tisch bringen (Bildschirm, CPU, etc). Die
Nutzlast muss mit ± 10 kg mit der angegebenen Nutzlast im
Hinweisfeld übereinstimmen.
Um die Höhe des Tisches zu verstellen, wird eine Hand mit leichtem Druck auf die Tischplatte gelegt, mit der anderen Hand der
Auslösegriff betätigt und der Tisch in die gewünschte Position
gefahren.
Je nachdem, ob die Nutzlast unter- bzw. überschritten
wird, kann der Tisch beim Verstellen selbstständig nach
oben fahren oder unten sacken.
6
Schiebeplatte
(a) Vor Auslösung des Griffes bitte seitlich sitzenden Splint entfernen (Transportsicherung).
(b) Zum Entriegeln der Schiebeplatte, Griff nach unten ziehen und
Platte nach vorne schieben.
(c) Der Kabelkanal wird sichtbar, die Elektifizierung des Tisches
kann nun erfolgen.
(a)
(c)
(b)
Vertikale Kabelführung mit Kabelkette
(d) Kabelblende von innen an Außenrohr des Seitenteils festkleben. (Unterkante Kabelblende sitzt auf Ausleger.)
(e) Kabelkettenanschluß auf Ausnehmung in Kabelblende
stecken. Abschlußteil von unten an Tischplatte schrauben und
Kabelkette einclipsen.
(d)
(e)
7
Montage von Druckerablage und CPU-Halterung
(a) Vierkant in Plattenrahmen stecken. Verbindungsklammer von
unten durch Rahmen mit Vierkant verschrauben (SW 5).
(b) Halteblech der Druckerablage / CPU-Halterung an Verbindungsklammer schrauben (SW 4).
(c) Bild links : Beispiel Druckerablage
Bild rechts : Beispiel CPU-Halterung
(d) Montage von Druckerablage und CPU-Halterung durch
versetztes Anschrauben möglich.
(a)
(b)
(c)
(d)
8
Montage Rückwandverblendung
Abdeckstopfen aus Rahmenkonsole ziehen. Gewindeplatte in
Konsole einlegen und den Rückwandhalter von unten durch
Konsole mit Gewindeplatte verschrauben (SW 5). Rückwandverblendung an Rückwandhalter montieren (SW 4).
3
2
1
9
Montage Plattenansteckelement
Abdeckstopfen aus Rahmenkonsole ziehen. Konsole des Plattenansteckelementes in Rahmenkonsole schieben und seitlich miteinander verschrauben (SW 5). Feinjustierung von Plattenansteckelement zu Tischplatte durch Gewindestift (SW 3) möglich.
Abdeckstopfen der Rahmenkonsole in Konsole des Plattenansteckelementes setzen.
3
2
1
3
2
1
5
4
10
Montage Fly By-Paneel
Hinteren Abdeckstopfen aus Rahmenkonsole ziehen. Halteblech
des Fly By-Paneels in Rahmenkonsole stecken und seitlich verschrauben (SW 5).
2
2
1
11
Montage Tischpaneele
(a) Klemmadapter in Tischadapter einstecken und Gewindestift
(SW 3) festziehen.
(b) Paneel einsetzen und seitlich ausrichten, Schraube auf
Adapterrückseite anziehen (SW 4).
(c) Klemmadapter auf Tischplatte schieben (bei Tischen ohne
Adapterausschnitte) und untere Stellschraube (SW 4) festdrehen. Paneel einsetzen, ausrichten und Schraube (SW 4) auf
Adapterrückseite anziehen. Kunststoffschalen in Funktionsnut
einhängen (werkzeuglos).
(a)
(b)
(c)
12
Anhang
Reparaturen
Um Fehlfunktionen zu vermeiden, dürfen alle Reparaturen nur von
Fachpersonal durchgeführt werden. Informieren Sie bitte den K+N
Kundendienst !
Wartung
Der Lifttisch ist wartungsfrei.
Entsorgung
Der höhenverstellbare Lifttisch der Serie TALO.S kann mit dem
Hausmüll entsorgt werden.
Kundendienst
Telefon 06039 483-0
13
Introduction
Dear customer,
You have chosen a quality product from König + Neurath. To ensure
that your furniture performs to your complete satisfaction, please
read the following instructions through carefully, and take note of
the safety guidelines.
15
Contents
Area of application
Important safety information
Transport
Payload
Removal of the transport clip
Height adjustment of the desk
Sliding top
Vertical cable management
Assembly of add-on parts
Appendix
18
19
20
20
21
22
23
23
24 - 28
29
17
Area of application
The Talo.S lift desks are workplace desks or monitor desks suited
to working while sitting and standing in the office area.
The desks are not suitable for use in the workshop or warehouse,
nor in wet areas/damp conditions.
18
Important safety information
The Talo.S lift desk must be assembled and used according to
these operating and assembly instructions, otherwise there is a
risk of serious injury.
The 2-column lift frame is exclusively designed for use as an ergonomic adjustment option for desks, complying with the weights
and dimensions as stated in these assembly instructions. Any use
that exceeds these is considered to be not in accordance with specifications, and the manufacturer is not liable for any resulting
damage. The user alone is responsible for this risk.
Please also observe the general, legal and other regulations and
legal provisions – including those applying to the country of operation – as well as the applicable environmental regulations! Local
regulations imposed by mutual indemnity associations or other
supervisory authorities must always be observed!
Any unauthorised changes to TM 86 render the manufacturer
exempt from liability for resulting damages.
Keep the assembly and operating instructions near to the equipment.
Never leave children unattended where these desks are in use.
Children are not able to gauge the danger associated with the desk
movement.
After the desk has been assembled, do NOT pull out the
cotter pin under the end cap at the side. Please observe
the operating instructions in this manual. Otherwise
there is a serious risk of injury!
19
Transport
Please do not carry or lift the desk by the desk top – it could come
off. Do not drag the desk top along the floor, not even on carpet as
it could be damaged.
Payload
The desks are supplied fully assembled. The following steps
explain how to remove the transport lock, how to operate the lift
desk and how to fit the accessories and extensions.
The desk is supplied for use with a payload of 20 or 40 ± 10 kg.
The payload is stated on the information label underneath the
desk top on the main beam.
If the desk has to be used with a heavier load, it is possible to fit an additional compression spring. This part can
only be fitted by trained specialist personnel and is not
covered in these operating instructions.
20
Removal of the transport clip
(cotter pin)
(a) Remove the end cap on the right-hand side. Place your left
hand on the desk top and apply slight pressure as an additional safety measure.
(b) Remove the cotter pin with your right hand. Keep the cotter pin
safe by attaching it the clip on the frame for any further transport requirements.
(a)
(b)
Caution !
Only operate the manual release if the specified weight
is being supported by the frame.
21
Height adjustment of the desk
Caution !
Only operate the manual release if the specified weight
is being supported by the frame.
Put the payload onto the desk (monitor, CPU, etc). The payload
must be within ± 10 kg of the payload stated on the information
label.
To adjust the height of the desk, one hand is placed on the desk
top with slight pressure applied, the other hand is used to operate
the release handle and guide the desk into the required position.
Depending on whether the payload is too high or low, the
desk can rise up or drop down of its own accord.
22
Sliding top
(a) Please remove the transport lock (cotter pin located on the
side) before releasing the handle.
(b) To unlock the sliding top, push the handle down and pull the
desk top to the front.
(c) The cable tray is now visible and the desk can be supplied with
power and data.
(a)
(c)
(b)
Vertical cable management with cable chain
(d) Stick the cable trim to the inside of the leg. (Lower edge of
cable trim rests on the base.)
(e) Insert cable chain connector into notch at the top of the cable
trim. Screw end piece to the underside of the desk top and clip
in cable chain.
(d)
(e)
23
Assembling the printer shelf and CPU holder
(a) Insert the square shaft into the desk top frame. Screw the
connecting clamp to the square shaft from underneath through
the frame. (SW 5).
(b) Screw the retaining plate for the printer shelf / CPU holder to
the connecting clamp (SW 4).
(c) Left-hand image: Example of a printer shelf
Right-hand image: Example of a CPU holder
(d) The printer shelf and CPU holder can both be fitted by offsetting
the screws.
(a)
(b)
(c)
(d)
24
Fitting the modesty panel
Remove the plastic cap from the frame console.
Place the threaded plate into the console and screw the modesty
panel bracket to the plate from underneath through the console
(SW 5). Fit the modesty panel onto the modesty panel bracket
(SW 4).
3
2
1
25
Assembling the briefcase extension
Remove the plastic cap from the frame console. Slide the briefcase
extension support into the frame console and screw them together
from the side (SW 5). Fine adjustment of the briefcase extension
alignment to the desk top can be carried out using a grub screw
(SW 3). Insert the plasric cap from the frame console into the briefcase extension support.
3
2
1
3
2
1
5
4
26
Fitting the fly-by screen
Remove the plastic cap from the frame console. Insert the
retaining plate for the fly-by screen into the frame console and
screw in place from the side (SW 5).
2
2
1
27
Fitting the desk screen
(a) Insert the twist connector into the desk adapter and tighten the
grub screw (SW 3).
(b) Insert the screen and align it laterally. Tighten the screw (SW 4)
on the rear of the adapter.
(c) Push the twist connector on to the frame (on desks without
adapter cutouts) and tighten the lower set screw (SW4). Insert
and align the screen and tighten the screw (SW4) on the rear of
the adapter. Fit the plastic trays into the tool rails (no tools
required)
(a)
(b)
(c)
28
Appendix
Repairs
To prevent malfunctions, any repairs may only be made by
specialists. Please notify K+N customer service!
Maintenance
The lift desks are maintenance-free.
Disposal
The Talo.S range of height-adjustable lift desks can be disposed of
as domestic waste.
Customer service:
Telefon +49 (0)6039 483-0
29
Deutschland
König + Neurath AG
Büromöbelsysteme
Industriestraße 1-3
61184 Karben
Tel.: 06039 483-0
Fax: 06039 482-214
e-mail: info@koenig-neurath.de
www.koenig-neurath.de
Great Britain
K+N International
(Office Systems) Ltd
52 Britton Street
London EC1M 5UQ
Tel.: 020 74909340
Fax: 020 74909349
e-mail: sales@kn-international.co.uk
www.kn-international.co.uk
SAP-Nr. 2126258
Stand 04/2011
Schweiz
König + Neurath AG
Büromöbelsysteme
Freiburgstraße 562
3172 Niederwangen b. Bern
Tel.: 031 9804422
Fax: 031 9804402
e-mail: info@koenig-neurath.de
www.koenig-neurath.ch
Freiräume für Leistung.