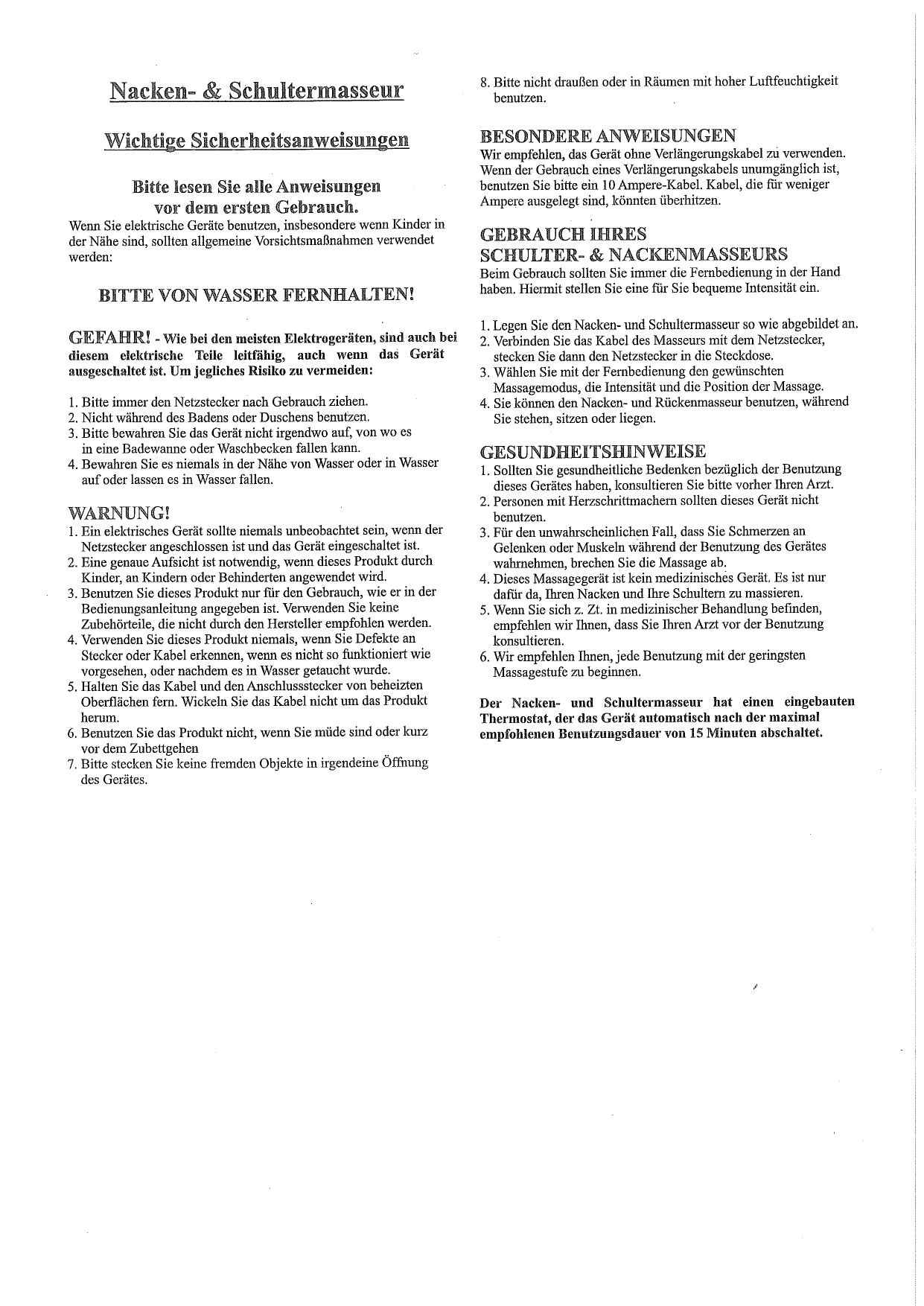 Nacken
Wichtige Sicherheitsanweisungen
Bitte lesen Sie alle Anweisungen
vor dem ersten Gebrauch,
Wenn Sie elektrische Geräte benutzen, insbesondere wenn Kinder in
der Nähe sind, sollten allgemeine Vorsichtsmaßnahmen verwendet
werden:
ALTEN!
AHR! - Wie bei den meisten Elektrogeräten, sind auch bei
diesem elektrische Teile leitfähig, auch wenn das Gerät
ausgeschaltet ist, Um jegliches Risiko zu vermeiden:
1. Bitte immer den Netzstecker nach Gebrauch zichen.
2. Nicht während des Badens oder Duschens benutzen.
3, Bitte bewahren Sie das Gerät nicht irgendwo auf, von wo es
in eine Badewanne oder Waschbecken fallen kann.
4. Bewahren Sie es niemals in der Nähe von Wasser oder in Wasser
auf oder lassen es in Wasser fallen.
1. Ein elektrisches Gerät sollte niemals unbeobachtet sein, wenn der
Netzstecker angeschlossen ist und das Gerät eingeschaltet ist.
2. Eine genaue Aufsicht ist notwendig, wenn dieses Produkt durch
Kinder, an Kindern oder Behinderten angewendet wird,
3. Benutzen Sie dieses Produkt nur für den Gebrauch, wie er in der
Bedienungsanleitung angegeben ist. Verwenden Sie keine
Zubehörteile, die nicht durch den Hersteller empfohlen werden.
4. Verwenden Sie dieses Produkt niemals, wenn Sie Defekte an
Stecker oder Kabel erkennen, wenn es nicht so funktioniert wie
vorgesehen, oder nachdem es in Wasser getaucht wurde.
5. Halten Sie das Kabel und den Anschlussstecker von beheizten
Oberflächen fern. Wickeln Sie das Kabel nicht um das Produkt
herum.
6. Benutzen Sie das Produkt nicht, wenn Sie müde sind oder kurz
vor dem Zubettgehen
7. Bitte stecken Sie keine fremden Objekte in irgendeine Öffnung
des Gerätes,
8. Bitte nicht draußen oder in Räumen mit hoher Luftfeuchtigkeit
benutzen.
Wir empfehlen, das Gerät ohne Verlängerungskabel zu verwenden.
Wenn der Gebrauch eines Verlängerungskabels unumgänglich ist,
benutzen Sie bitte ein 10 Ampere-Kabel. Kabel, die fiir weniger
Ampere ausgelegt sind, könnten überhitzen.
GEBRAUCH IHRES
SCHULTER- & NACKENMA
Beim Gebrauch sollten Sie immer die Fernbedienung i in der Hand
haben. Hiermit stellen Sie eine für Sie bequeme Intensität ein.
1. Legen Sie den Nacken- und Schultermasseur so wie abgebildet an.
2. Verbinden Sie das Kabel des Masseurs mit dem Netzstecker,
stecken Sie dann den Netzstecker in die Steckdose.
3, Wählen Sie mit der Fernbedienung den gewünschten
Massagemodus, die Intensität und die Position der Massage.
4. Sie können den Nacken- und Rückenmasseur benutzen, während
Sie stehen, sitzen oder liegen.
GESUNDHEITSHINWEISE
1. Sollten Sie gesundheitliche Bedenken bezüglich der Benutzung
dieses Gerätes haben, konsultieren Sie bitte vorher Ihren Arzt.
2. Personen mit Herzschrittmachern sollten dieses Gerät nicht
benutzen.
3. Fiir den unwahrscheinlichen Fall, dass Sie Schmerzen an
Gelenken oder Muskeln während der Benutzung des Gerätes
wahrnehmen, brechen Sie die Massage ab.
4, Dieses Massagegerit ist kein medizinisches Gerät, Es ist nur
dafür da, Ihren Nacken und Ihre Schultern zu massieren.
5. Wenn Sie sich z. Zt. in medizinischer Behandlung befinden,
empfehlen wir Ihnen, dass Sie Ihren Arzt vor der Benutzung
konsultieren.
6. Wir empfehlen Ihnen, jede Benutzung mit der geringsten
Massagestufe zu beginnen,
Der Nacken- und Schultermasseur hat einen eingebauten
Thermostat, der das Gerät automatisch nach der maximal
empfohlenen Benutzungsdauer von 15 Minuten abschaltet,
ее
Belangrijke veiligheidsinstructies
Lees alle instructies voor het eerste gebruik.
Wanneer u gebruik maakt van elektrische toestelien, dient u algemene
veiligheidsmaatregelen te treffen, vooral als kinderen in de buurt zijn:
Verwijderd houden van water
GEVAAR! - Zoals de meeste elektrische toestellen, bevat ook
dit toestel geleidende onderdelen. Dit geldt zelfs dan, wanneer het
toestel uitgeschakeld is. Om ieder risico te voorkomen
1. Trek altijd het netsnoer na het gebruik.
2. Niet tijdens het baden of douchen gebruiken.
3
wasbak kan vallen.
4, Bewaar het toestel nooit in de buurt van water, of gedompeld in
water. Zorg ervoor dat het toestel nooit in water kan vallen.
1. Elektrische toestellen nooit onbewaakt achterlaten, wanneer het
netsnoer aangesloten en het toestel ingeschakeld is.
2. Een nauwkeurig toezicht is noodzakelijk, wanneer dit product
door kinderen of bij kinderen of gehandicapte personen wordt
toegepast.
3. Gebruik dit product alleen overeenkomstig de
gebruiksaanwijzing. Gebruik geen accessoires of reservedelen die
niet goedgekeurd zijn door de fabrikant.
4, Gebruik dit product nooit, wanneer u defecten opmerkt aan de
stekker of het netsnoer, wanneer het niet werkt zoals
voorgeschreven, of nadat het in water gedompeld werd.
5. Houd het netsnoer en de aansluitstekker verwijderd van
verwarmde oppervlakken. Wikkel het netsnoer niet om het
product.
6. Gebruik het product niet wanneer u moe bent of naar bed wilt.
. Steek geen voorwerpen in de openingen van het toestel.
. Niet buiten gebruiken of in ruimtes met een hoge
luchtvochtigheid.
GO ~~]
Bijzondere aanwijzingen:
Wij bevelen aan het toestel zonder verlengkabel te gebruiken. Als het
toch noodzakelijk is gebruik te maken van een verlengkabel, dan dient
u een kabel met 10 A aan te sluiten. Kabels met minder Ampére kunnen
oververhitten.
Gebruik van uw massagetoestel voor
nek & schouder; = rm 3
Wij adviseren bij het gebruik altijd de afs
houden. U kunt dan een aangename intensiteit instellen.
1. Doe het massagetoestel voor nek & schouder om, zoals getoond
in de afbeelding.
2. Verbind het netsnoer van het toestel met de aansluitstekker en
sluit de stekker aan op het stopcontact.
3. Kies de gewenste massagemodus, intensiteit en positie met de
afstandsbediening.
4, U kunt een massage toepassen terwijl u staat, zit of ligt.
Gezondheidsinstructies:
- This massage unit is not to be considered a medical device. It is to
simply massage your back and shoulder.
- If you are currently undergoing medical treatment, it is strongly
advised that you consult your physician before use.
- Always start with lowest power setting.
Gezondheidsinstructies:
|. Raadpleeg uw arts voor het gebruik van het toestel voor
overwegingen wat betreft uw gezondheid.
2. Het is aan te bevelen dat personen met pacemakers dit toestel niet
gebruiken,
3. In het onwaarschijnlijke geval dat u tijdens de toepassing pijn
waarneemt aan de gewrichten of spieren, dient u de massage
onmiddellijk te beëindigen.
4. Dit massagetoestel is geen medische apparatuur. Het is
uitsluitend bestemd voor de massage van uw nek en schouders.
5. Als u momenteel een medische behandeling ondergaat, bevelen
wij aan dat u uw arts raadpleegt voor het gebruik van het toestel.
6. Wij adviseren elke toepassing met de laagste massage-intensiteit
te beginnen.
Het massagetoestel voor nek & schouder is witgerust met een
thermostaat die het toestel automatisch uitschakelt na bereiken
van de max. aanbevolen gebruiksduur (15 minuten).
Important Safety Instructions
Read all instructions before using!
When using electrical appliances, especially when children are
present, basic safety precautions should always be followed, including
the following:
KEEP AWAY FROM WATER!
DANGER! - As with most electrical appliances, electrical parts
are electrically live even when the switch is off. To avoid any risk:
1. Always "unplug it" immediately after use.
2. Do not use while bathing.
3. Do not place or store appliance where it can fall or be pulled
into a tub or sink.
4. Do not use near, place in or drop into water or other liquid.
1. An electrical product should never be left unattended when
plugged in and in operation.
2. Close supervision is necessary when this product is used by,
on or near children or invalids.
3. Use this product only for its intended use as described in this
leaflet. Do not use attachments not recommended by
the manufacturer.
4. Never operate this product if it has a damaged cord or plug, if
it is not working properly or if it has been dropped into water.
5. Keep the cord and product away from heated surfaces.
Do not wrap the cord around the product.
6. Never use while sleepy or about to go to bed.
7. Never drop or insert any object into any opening.
8. Do not use outdoors.or where moisture is evident.
SPECIAL INSTRUCTIONS
We recommend not to use an extension cord. If an extension is
absolutely necessary, a 10-ampere cord should be used. Cords rated
for less amperage may overheat. Care should be taken to arrange the
cord so that it cannot be pulled or tripped over.
Always have control pad in hand while use. Adjust the control to your
comfort level.
1. Outfit yourself with the Back & Shoulder-Massager in the
appropriate place as shown in the picture.
2. Connect the cord of the Massager to the AC Adapter, then plug
into an outlet.
3. Select the desire massage mode/intensity and positioning
combination.
4. You may use the Massager either standing, sitting or laying
on a couch.
[IMPORTANT WARNINGS
+ This massage unit is not to be considered a medical device. It is to
simply massage your back and shoulder.
- If you are currently undergoing medical treatment, it is strongly
advised that you consult your physician before use.
+ Always start with lowest power setting.
- If you have any concerns about your health contact your
practitioner, before using the device.
+ Pacemaker patients should not use this device.
- In the unlikely event that you feel pain of the joints or muscles
while using the device, it is recommended to interrupt the
massage.
POWER
The Back & Shoulder Massager has a built in thermostat which
enables it to automatically shut off after 15 minutes.
HOW TO USE
1. Outfit yourself with the Back & Shoulder-Massager in the
appropriate place.
2. Connect Massager connector to the Control Unit
3. Connect the Control Unit to the AC Adapter, then plug into an
outlet, It is important to make sure that the unit is in the OFF
position before plugging.
4. Make sure Massager 1s tightly secured to the Remote
control Unit.
5. Select the desire massage mode/intensity and positioning
combination.
6. You may use the Massager either standing, sitting or laying
on a couch.
| et cervical
de sécurité
Instructions importantes
Veuillez lire toutes les instructions avant
la première utilisation.
Lorsque vous utilisez des appareils électriques, en particulier
lorsque des enfants se trouvent à proximité, il convient de respecter
des mesures générales de précaution :
Tenir l'appareil éloigné de l'eau
AIN № - Comme la plupart des appareils électriques,
celui-ci comporte des pièces électriques conductibles même
lorsque l'appareil est éteint. Afin d'éviter tout risque :
1. Débranchez l'appareil après chaque utilisation.
2. N'utilisez pas l'appareil pendant votre bain ou votre douche.
3. Ne rangez pas l'appareil à un endroit où il risque de tomber dans
une baignoire ou dans un lavabo.
4. Ne gardez pas l'appareil à proximité d'eau, dans de l'eau et ne pas
le laisser tomber dans l'eau.
MISE EN GARDE !
|. Un appareil électrique ne doit jamais rester sans surveillance
lorsqu'il est branché et qu'il est en marche.
2. Une surveillance particulière s'avère nécessaire lorsque ce produit
est utilisé par des enfants, sur des enfants ou des personnes
handicapées.
3. Utilisez cet appareil uniquement conformément aux prescriptions
du mode d'emploi. N'utilisez aucun accessoire non recommandé
par le fabricant.
4. N'utilisez jamais ce produit si vous constatez que la prise ou le
câble sont endommagés, si l'appareil ne fonctionne pas comme il
le devrait ou après qu'il ait été plongé dans l'eau.
5. Tenez le câble et la prise éloignés des surfaces chauffées.
N'enroulez pas le câble autour du produit. -
6. N'utilisez pas le produit lorsque vous étes fatigué ou avant d'aller
vous coucher.
7. N'enfoncez aucun corps étranger dans les orifices des l'appareil.
Massage
8. N'utilisez pas l'appareil en extérieur ni dans des locaux à haute
humidité atmosphérique.
Instructions particuliéres :
Nous vous recommandons d'utiliser l'appareil sans rallonge. Si vous
êtes obligé d'utiliser une rallonge, utilisez un cordon de 10 ampères.
Des cordons d'ampérage inférieur risqueraient de surchauffer.
Utilisation de-votre masseur dorsal et cervical :
Lorsque vous utilisez l'appareil, conservez toujours la télécommande
à la main, Elle vous permet de régler l'appareil à l'intensité qui vous
convient.
1. Placez le masseur dorsal et cervical comme indiqué sur
l'illustration.
2. Raccordez le câble du masseur à la prise de secteur, puis
branchez la prise de secteur.
3. À l'aide de la télécommande, sélectionnez le mode de massage
souhaité, l'intensité et la position du massage.
4. Vous pouvez utiliser le masseur dorsal et cervical en position
assise, debout ou allongée.
Indications relative à votre santé :
1. Si vous avez des doutes pour votre santé quant à l'utilisation de
cet appareil, veuillez consulter votre médecin au préalable.
2. L'utilisation de cet appareil est interdite aux personnes possédant
un pacemaker.
3. Au cas (improbable) ou vous ressentiriez des douleurs
articulatoires ou musculaires en cours d'utilisation de l'appareil,
veuillez interrompre le massage.
4, Cet appareil de massage n'est pas un appareil médical. Il est
uniquement destiné à masser votre cou et vos épaules,
5. Si vous vous trouvez actuellement en cours de traitement
médical, nous vous recommandons de consulter votre médecin
avant d'utiliser l'appareil.
6. Nous vous recommandons de commencer chaque utilisation au
niveau de massage le plus bas possible.
Le masseur dorsal et cervical est équipé d'un thermostat intégré
qui éteint automatiquement l'appareil au bout de 15 minutes
(correspondant à la durée d'utilisation maximale recommandée).