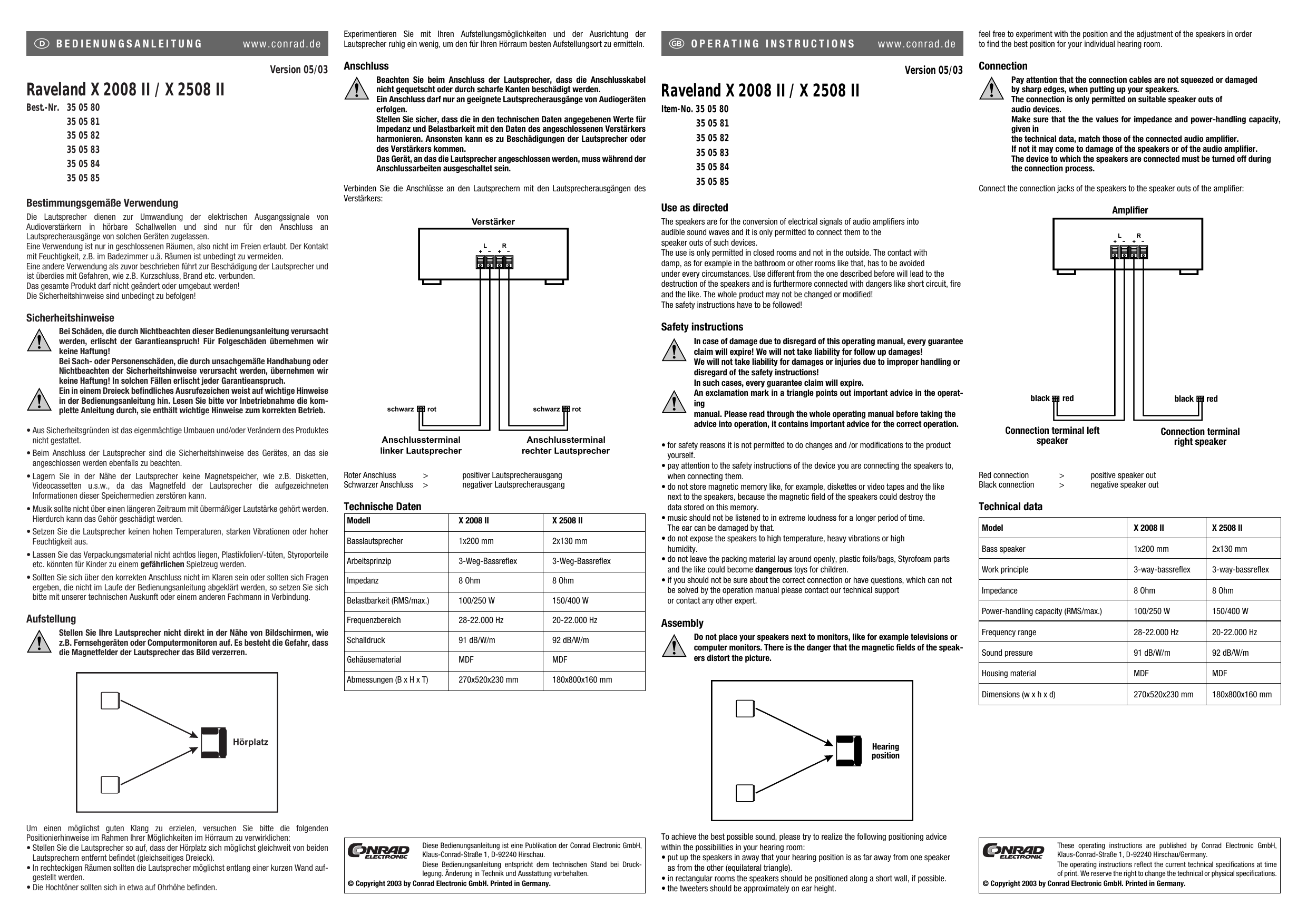 BEDIENUNGSANLEITUNG
www.conrad.de
Version 05/03
Experimentieren Sie mit Ihren Aufstellungsmöglichkeiten und der Ausrichtung der
Lautsprecher ruhig ein wenig, um den für Ihren Hörraum besten Aufstellungsort zu ermitteln.
Verbinden Sie die Anschlüsse an den Lautsprechern mit den Lautsprecherausgängen des
Verstärkers:
Connection
Pay attention that the connection cables are not squeezed or damaged
by sharp edges, when putting up your speakers.
The connection is only permitted on suitable speaker outs of
audio devices.
Make sure that the the values for impedance and power-handling capacity,
given in
the technical data, match those of the connected audio amplifier.
If not it may come to damage of the speakers or of the audio amplifier.
The device to which the speakers are connected must be turned off during
the connection process.
Raveland X 2008 II / X 2508 II
Item-No. 35 05 80
35 05 81
35 05 82
35 05 83
35 05 84
35 05 85
Connect the connection jacks of the speakers to the speaker outs of the amplifier:
Amplifier
The speakers are for the conversion of electrical signals of audio amplifiers into
audible sound waves and it is only permitted to connect them to the
speaker outs of such devices.
The use is only permitted in closed rooms and not in the outside. The contact with
damp, as for example in the bathroom or other rooms like that, has to be avoided
under every circumstances. Use different from the one described before will lead to the
destruction of the speakers and is furthermore connected with dangers like short circuit, fire
and the like. The whole product may not be changed or modified!
The safety instructions have to be followed!
Sicherheitshinweise
Safety instructions
Bei Schäden, die durch Nichtbeachten dieser Bedienungsanleitung verursacht
werden, erlischt der Garantieanspruch! Für Folgeschäden übernehmen wir
keine Haftung!
Bei Sach- oder Personenschäden, die durch unsachgemäße Handhabung oder
Nichtbeachten der Sicherheitshinweise verursacht werden, übernehmen wir
keine Haftung! In solchen Fällen erlischt jeder Garantieanspruch.
Ein in einem Dreieck befindliches Ausrufezeichen weist auf wichtige Hinweise
in der Bedienungsanleitung hin. Lesen Sie bitte vor Inbetriebnahme die komplette Anleitung durch, sie enthält wichtige Hinweise zum korrekten Betrieb.
Stellen Sie Ihre Lautsprecher nicht direkt in der Nähe von Bildschirmen, wie
z.B. Fernsehgeräten oder Computermonitoren auf. Es besteht die Gefahr, dass
die Magnetfelder der Lautsprecher das Bild verzerren.
feel free to experiment with the position and the adjustment of the speakers in order
to find the best position for your individual hearing room.
Use as directed
Die Lautsprecher dienen zur Umwandlung der elektrischen Ausgangssignale von
Audioverstärkern in hörbare Schallwellen und sind nur für den Anschluss an
Lautsprecherausgänge von solchen Geräten zugelassen.
Eine Verwendung ist nur in geschlossenen Räumen, also nicht im Freien erlaubt. Der Kontakt
mit Feuchtigkeit, z.B. im Badezimmer u.ä. Räumen ist unbedingt zu vermeiden.
Eine andere Verwendung als zuvor beschrieben führt zur Beschädigung der Lautsprecher und
ist überdies mit Gefahren, wie z.B. Kurzschluss, Brand etc. verbunden.
Das gesamte Produkt darf nicht geändert oder umgebaut werden!
Die Sicherheitshinweise sind unbedingt zu befolgen!
Aufstellung
www.conrad.de
Version 05/03
Beachten Sie beim Anschluss der Lautsprecher, dass die Anschlusskabel
nicht gequetscht oder durch scharfe Kanten beschädigt werden.
Ein Anschluss darf nur an geeignete Lautsprecherausgänge von Audiogeräten
erfolgen.
Stellen Sie sicher, dass die in den technischen Daten angegebenen Werte für
Impedanz und Belastbarkeit mit den Daten des angeschlossenen Verstärkers
harmonieren. Ansonsten kann es zu Beschädigungen der Lautsprecher oder
des Verstärkers kommen.
Das Gerät, an das die Lautsprecher angeschlossen werden, muss während der
Anschlussarbeiten ausgeschaltet sein.
Best.-Nr. 35 05 80
35 05 81
35 05 82
35 05 83
35 05 84
35 05 85
• Aus Sicherheitsgründen ist das eigenmächtige Umbauen und/oder Verändern des Produktes
nicht gestattet.
• Beim Anschluss der Lautsprecher sind die Sicherheitshinweise des Gerätes, an das sie
angeschlossen werden ebenfalls zu beachten.
• Lagern Sie in der Nähe der Lautsprecher keine Magnetspeicher, wie z.B. Disketten,
Videocassetten u.s.w., da das Magnetfeld der Lautsprecher die aufgezeichneten
Informationen dieser Speichermedien zerstören kann.
• Musik sollte nicht über einen längeren Zeitraum mit übermäßiger Lautstärke gehört werden.
Hierdurch kann das Gehör geschädigt werden.
• Setzen Sie die Lautsprecher keinen hohen Temperaturen, starken Vibrationen oder hoher
Feuchtigkeit aus.
• Lassen Sie das Verpackungsmaterial nicht achtlos liegen, Plastikfolien/-tüten, Styroporteile
etc. könnten für Kinder zu einem gefährlichen Spielzeug werden.
• Sollten Sie sich über den korrekten Anschluss nicht im Klaren sein oder sollten sich Fragen
ergeben, die nicht im Laufe der Bedienungsanleitung abgeklärt werden, so setzen Sie sich
bitte mit unserer technischen Auskunft oder einem anderen Fachmann in Verbindung.
OPERATING INSTRUCTIONS
Anschluss
Raveland X 2008 II / X 2508 II
Bestimmungsgemäße Verwendung
In case of damage due to disregard of this operating manual, every guarantee
claim will expire! We will not take liability for follow up damages!
We will not take liability for damages or injuries due to improper handling or
disregard of the safety instructions!
In such cases, every guarantee claim will expire.
An exclamation mark in a triangle points out important advice in the operating
manual. Please read through the whole operating manual before taking the
advice into operation, it contains important advice for the correct operation.
Modell
X 2008 II
X 2508 II
Basslautsprecher
1x200 mm
2x130 mm
Arbeitsprinzip
3-Weg-Bassreflex
3-Weg-Bassreflex
Impedanz
8 Ohm
8 Ohm
Belastbarkeit (RMS/max.)
100/250 W
150/400 W
• for safety reasons it is not permitted to do changes and /or modifications to the product
yourself.
• pay attention to the safety instructions of the device you are connecting the speakers to,
when connecting them.
• do not store magnetic memory like, for example, diskettes or video tapes and the like
next to the speakers, because the magnetic field of the speakers could destroy the
data stored on this memory.
• music should not be listened to in extreme loudness for a longer period of time.
The ear can be damaged by that.
• do not expose the speakers to high temperature, heavy vibrations or high
humidity.
• do not leave the packing material lay around openly, plastic foils/bags, Styrofoam parts
and the like could become dangerous toys for children.
• if you should not be sure about the correct connection or have questions, which can not
be solved by the operation manual please contact our technical support
or contact any other expert.
Frequenzbereich
28-22.000 Hz
20-22.000 Hz
Assembly
Schalldruck
91 dB/W/m
92 dB/W/m
Gehäusematerial
MDF
MDF
Abmessungen (B x H x T)
270x520x230 mm
180x800x160 mm
Roter Anschluss
Schwarzer Anschluss
>
>
positiver Lautsprecherausgang
negativer Lautsprecherausgang
Technische Daten
Do not place your speakers next to monitors, like for example televisions or
computer monitors. There is the danger that the magnetic fields of the speakers distort the picture.
black
red
black
Connection terminal left
speaker
Red connection
Black connection
>
>
red
Connection terminal
right speaker
positive speaker out
negative speaker out
Technical data
Model
X 2008 II
X 2508 II
Bass speaker
1x200 mm
2x130 mm
Work principle
3-way-bassreflex
3-way-bassreflex
Impedance
8 Ohm
8 Ohm
Power-handling capacity (RMS/max.)
100/250 W
150/400 W
Frequency range
28-22.000 Hz
20-22.000 Hz
Sound pressure
91 dB/W/m
92 dB/W/m
Housing material
MDF
MDF
Dimensions (w x h x d)
270x520x230 mm
180x800x160 mm
Hearing
position
Um einen möglichst guten Klang zu erzielen, versuchen Sie bitte die folgenden
Positionierhinweise im Rahmen Ihrer Möglichkeiten im Hörraum zu verwirklichen:
• Stellen Sie die Lautsprecher so auf, dass der Hörplatz sich möglichst gleichweit von beiden
Lautsprechern entfernt befindet (gleichseitiges Dreieck).
• In rechteckigen Räumen sollten die Lautsprecher möglichst entlang einer kurzen Wand aufgestellt werden.
• Die Hochtöner sollten sich in etwa auf Ohrhöhe befinden.
Diese Bedienungsanleitung ist eine Publikation der Conrad Electronic GmbH,
Klaus-Conrad-Straße 1, D-92240 Hirschau.
Diese Bedienungsanleitung entspricht dem technischen Stand bei Drucklegung. Änderung in Technik und Ausstattung vorbehalten.
© Copyright 2003 by Conrad Electronic GmbH. Printed in Germany.
To achieve the best possible sound, please try to realize the following positioning advice
within the possibilities in your hearing room:
• put up the speakers in away that your hearing position is as far away from one speaker
as from the other (equilateral triangle).
• in rectangular rooms the speakers should be positioned along a short wall, if possible.
• the tweeters should be approximately on ear height.
These operating instructions are published by Conrad Electronic GmbH,
Klaus-Conrad-Straße 1, D-92240 Hirschau/Germany.
The operating instructions reflect the current technical specifications at time
of print. We reserve the right to change the technical or physical specifications.
© Copyright 2003 by Conrad Electronic GmbH. Printed in Germany.
MODE D'EMPLOI
www.conrad.de
Version 05/03
Raveland X 2008 II / X 2508 II
• Dans des pièces rectangulaires, positionner les haut-parleurs si possible sur le côté court.
• Le tweeter doit se situer à la hauteur de l'oreille.
Expérimentez avec les différentes possibilités d'emplacement et d'orientation pour déterminer
la meilleure position des haut-parleurs dans votre local d'écoute.
Branchement
N° de commande 35 05 80
Vérifiez lors du branchement des haut-parleurs que le câble de raccord ne
sera ni coincé ni endommagé par des arêtes vives.
Ne les brancher qu'à des sorties de haut-parleurs adaptées d'appareils audio.
Vérifiez que les valeurs d'impédance et de puissance admissible indiquées
dans les caractéristiques techniques sont conformes aux caractéristiques de
l'amplificateur connecté. Sinon, les haut-parleurs ou l'amplificateur peuvent
être endommagés.
Déconnectez pendant le branchement l'appareil auquel les haut-parleurs
devront être branchés.
35 05 81
35 05 82
35 05 83
35 05 84
35 05 85
Raccordez les haut-parleurs aux sorties de haut-parleurs de l'amplificateur.
Utilisation prévue
Amplificateur
Les haut-parleurs servent à la transformation des signaux de sortie électrique émis par des
amplificateurs en ondes sonores audibles et ne sont homologués que pour le branchement aux
sorties des haut-parleurs d'appareils correspondants.
L'utilisation n'est permise que dans des locaux fermés et non à l'extérieur. Evitez absolument
tout contact avec l'humidité, par ex. dans les salles de bain ou similaire.
Toute utilisation autre que désignée ci-dessus entraîne l'endommagement des haut-parleurs
ainsi que des risques de court-circuit, d'incendie ou d'électrocution.
Il est interdit de modifier ou de transformer l'ensemble du produit !
Respectez impérativement les consignes de sécurité !
Consignes de sécurité
En cas de dommages dus à la non observation de ce mode d'emploi, la validité de la garantie est annulée. Nous déclinons toute responsabilité pour d'éventuels dommages consécutifs !
Nous déclinons toute responsabilité pour d'éventuels dommages matériels ou
corporels dus à un maniement incorrect ou à la non observation des précautions d'emploi ! De tels cas entraînent l'annulation de la garantie !
Toutes les remarques importantes dans ce mode d'emploi sont marquées par
un point d'exclamation dans un triangle. Avant l'utilisation, lisez le mode
d'emploi complètement. Il contient des instructions importantes concernant le
maniement correct.
• Pour des raisons de sécurité, il est interdit de modifier la construction ou de transformer le
produit soi-même.
• Pour le branchement des haut-parleurs, respectez les consignes de sécurité de l'appareil
auquel vous voulez les brancher.
• Ne pas stocker de mémoires magnétiques, par ex. des disquettes, des cassettes vidéo etc.
à proximité des haut-parleurs, car le champ magnétique des haut-parleurs peut détruire les
informations enregistrées sur ces supports de mémoire.
• Ne pas écouter de la musique à une intensité sonore excessive pendant une longue durée.
Cela peut provoquer des séquelles auditives.
• N'exposez jamais les haut-parleurs à des températures élevées, à de fortes vibrations ou à
une grande humidité.
• Ne laissez pas traîner négligemment le matériel d'emballage. Les feuilles et/ou sacs plastiques, les morceaux de polystyrène etc. constituent un danger pour les enfants.
• Dans le cas où tout ce qui concerne le raccordement correct ne serait pas clair même après
la lecture complète de ce mode d'emploi, prenez contact avec notre service technique ou
demandez l'avis d'un autre spécialiste.
Mise en place
Ne positionnez jamais vos haut-parleurs à proximité d'écrans, par ex. de téléviseur ou d'ordinateur. Il y a risque de distorsion de l'image provoquée par les
champs magnétiques des haut-parleurs.
noir
noir
rouge
Bornier du haut-parleur
gauche
Raccord rouge
Raccord noir
>
>
rouge
Bornier du haut-parleur droit
Sortie de haut-parleur positive
Sortie de haut-parleur négative
Caractéristiques techniques
Modéle
X 2008 II
X 2508 II
Haut-parleur de graves
1x200 mm
2x130 mm
Principe de fonctionnement
Bass-reflex 3 voies
Bass-reflex 3 voies
Impédance
8 Ohm
8 Ohm
Puissance admissible (RMS/max.)
100/250 W
150/400 W
Plage de fréquence
28-22.000 Hz
20-22.000 Hz
Pression acoustique
91 dB/W/m
92 dB/W/m
Matériel du boîtier
MDF
MDF
Dimensions (L x l x H) :
270x520x230 mm
180x800x160 mm
Place d'
écoute
Pour avoir un son de qualité, essayez de réaliser dans la mesure de vos possibilités les conseils
d'emplacements suivants dans local d'écoute :
• Positionnez les haut-parleurs de manière à ce que la place d'écoute se trouve à la même distance des deux haut-parleurs (triangle équilatéral).
Cette notice est une publication de la société Conrad Electronic GmbH,
Klaus-Conrad-Straße 1, D-92240 Hirschau/Allemagne.
Cette notice est conforme à la règlementation en vigueur lors de l´impression.
Données techniques et conditionnement soumis à modifications sans aucun
préalable.
*05-03/36-AH
© Copyright 2003 par Conrad Electronic GmbH. Imprimé en Allemagne.