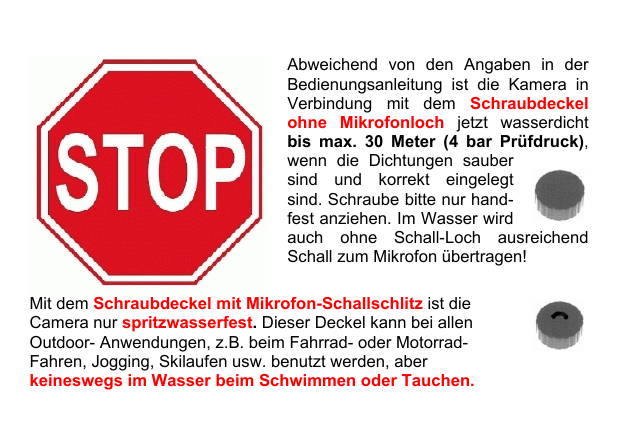 Abweichend von den Angaben in der
Bedienungsanleitung ist die Kamera in
Verbindung mit dem Schraubdeckel
ohne Mikrofonloch jetzt wasserdicht
bis max. 30 Meter (4 bar Prüfdruck),
wenn die Dichtungen sauber
sind und korrekt eingelegt
sind. Schraube bitte nur handfest anziehen. Im Wasser wird
auch ohne Schall-Loch ausreichend
Schall zum Mikrofon übertragen!
Mit dem Schraubdeckel mit Mikrofon-Schallschlitz ist die
Camera nur spritzwasserfest. Dieser Deckel kann bei allen
Outdoor- Anwendungen, z.B. beim Fahrrad- oder MotorradFahren, Jogging, Skilaufen usw. benutzt werden, aber
keineswegs im Wasser beim Schwimmen oder Tauchen.
Different from the user
manual the camera is now
waterproof up to 30
meters (test pressure 4 bar), if the
closed
sealing
cap
without
microphone hole is used and the
sealing rings will be clean clean
and correctly inserted. Under water
sound is sufficiently recorded even
without microphone hole.
If you use the sealing cap with the
microphone sound slot, then the camera is only spray water
resistant against normal rain or snow and can be used during
outdoor activities, like biking, jogging, skiing, but never under
water for swimming or diving.

* Your assessment is very important for improving the work of artificial intelligence, which forms the content of this project