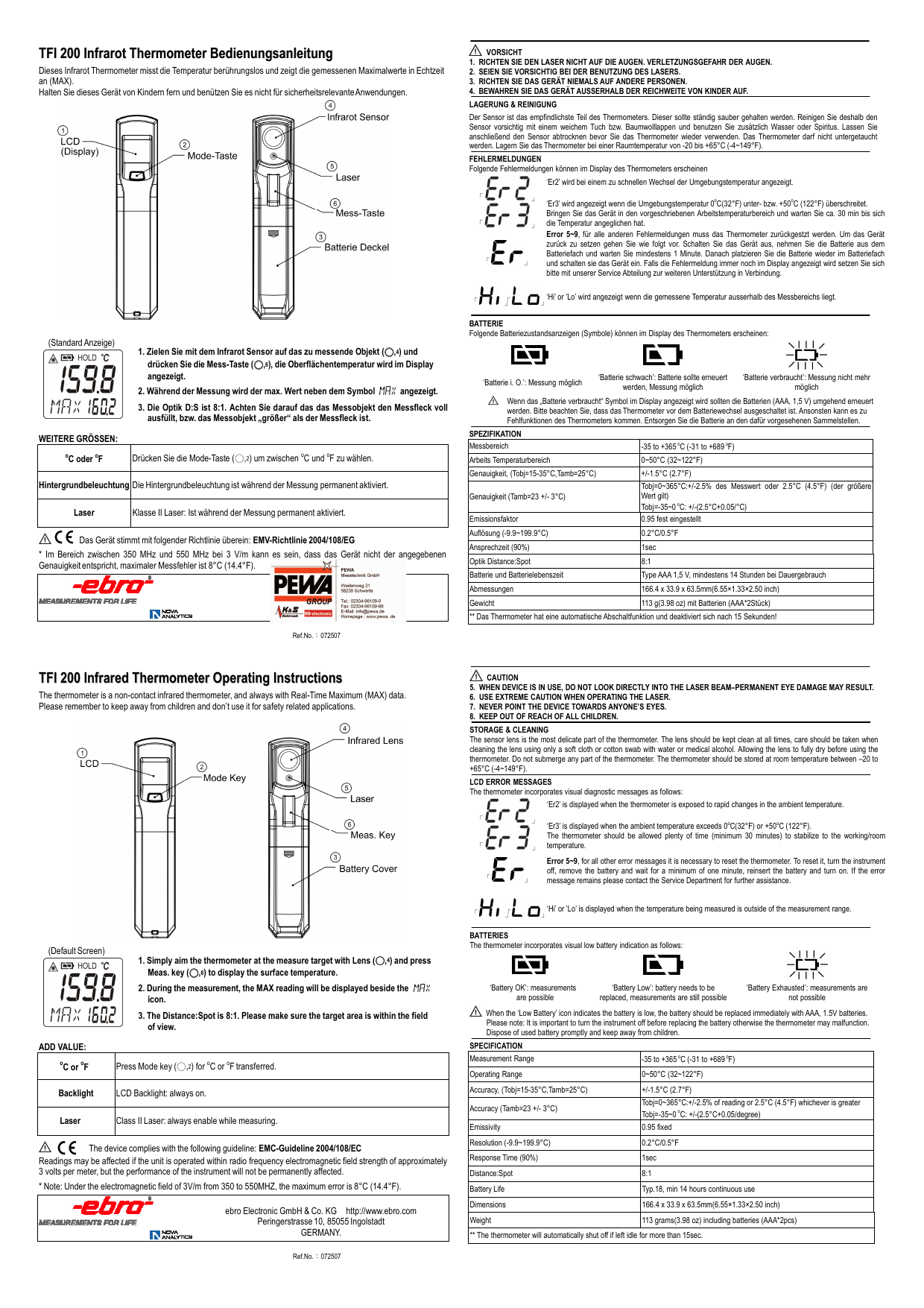 TFI 200 Infrarot Thermometer Bedienungsanleitung
Dieses Infrarot Thermometer misst die Temperatur berührungslos und zeigt die gemessenen Maximalwerte in Echtzeit
an (MAX).
Halten Sie dieses Gerät von Kindern fern und benützen Sie es nicht für sicherheitsrelevante Anwendungen.
1.
2.
3.
4.
VORSICHT
RICHTEN SIE DEN LASER NICHT AUF DIE AUGEN. VERLETZUNGSGEFAHR DER AUGEN.
SEIEN SIE VORSICHTIG BEI DER BENUTZUNG DES LASERS.
RICHTEN SIE DAS GERÄT NIEMALS AUF ANDERE PERSONEN.
BEWAHREN SIE DAS GERÄT AUSSERHALB DER REICHWEITE VON KINDER AUF.
LAGERUNG & REINIGUNG
Der Sensor ist das empfindlichste Teil des Thermometers. Dieser sollte ständig sauber gehalten werden. Reinigen Sie deshalb den
Sensor vorsichtig mit einem weichem Tuch bzw. Baumwolllappen und benutzen Sie zusätzlich Wasser oder Spiritus. Lassen Sie
anschließend den Sensor abtrocknen bevor Sie das Thermometer wieder verwenden. Das Thermometer darf nicht untergetaucht
werden. Lagern Sie das Thermometer bei einer Raumtemperatur von -20 bis +65°C (-4~149°F).
FEHLERMELDUNGEN
Folgende Fehlermeldungen können im Display des Thermometers erscheinen
'Er2' wird bei einem zu schnellen Wechsel der Umgebungstemperatur angezeigt.
「
」
「
「
「
o
o
'Er3' wird angezeigt wenn die Umgebungstemperatur 0 C(32°F) unter- bzw. +50 C (122°F) überschreitet.
Bringen Sie das Gerät in den vorgeschriebenen Arbeitstemperaturbereich und warten Sie ca. 30 min bis sich
」 die Temperatur angeglichen hat.
Error 5~9, für alle anderen Fehlermeldungen muss das Thermometer zurückgestzt werden. Um das Gerät
zurück zu setzen gehen Sie wie folgt vor. Schalten Sie das Gerät aus, nehmen Sie die Batterie aus dem
Batteriefach und warten Sie mindestens 1 Minute. Danach platzieren Sie die Batterie wieder im Batteriefach
」
und schalten sie das Gerät ein. Falls die Fehlermeldung immer noch im Display angezeigt wird setzen Sie sich
bitte mit unserer Service Abteilung zur weiteren Unterstützung in Verbindung.
'Hi' or 'Lo' wird angezeigt wenn die gemessene Temperatur ausserhalb des Messbereichs liegt.
」
」
「
BATTERIE
Folgende Batteriezustandsanzeigen (Symbole) können im Display des Thermometers erscheinen:
(Standard Anzeige)
1. Zielen Sie mit dem Infrarot Sensor auf das zu messende Objekt (○
○,4) und
drücken Sie die Mess-Taste (○
○,6), die Oberflächentemperatur wird im Display
angezeigt.
2. Während der Messung wird der max. Wert neben dem Symbol
'Batterie i. O.': Messung möglich
angezeigt.
o
o
C oder F
o
o
Drücken Sie die Mode-Taste (○,2) um zwischen C und F zu wählen.
SPEZIFIKATION
Messbereich
-35 to +365 oC (-31 to +689 oF)
Arbeits Temperaturbereich
0~50°C (32~122°F)
Genauigkeit, (Tobj=15-35°C,Tamb=25°C)
Emissionsfaktor
+/-1.5°C (2.7°F)
Tobj=0~365°C:+/-2.5% des Messwert oder 2.5°C (4.5°F) (der größere
Wert gilt)
Tobj=-35~0 oC: +/-(2.5°C+0.05/°C)
0.95 fest eingestellt
Auflösung (-9.9~199.9°C)
0.2°C/0.5°F
Ansprechzeit (90%)
1sec
Optik Distance:Spot
8:1
Batterie und Batterielebenszeit
Type AAA 1,5 V, mindestens 14 Stunden bei Dauergebrauch
Abmessungen
166.4 x 33.9 x 63.5mm(6.55×1.33×2.50 inch)
Gewicht
113 g(3.98 oz) mit Batterien (AAA*2Stück)
Hintergrundbeleuchtung Die Hintergrundbeleuchtung ist während der Messung permanent aktiviert.
Genauigkeit (Tamb=23 +/- 3°C)
Laser
Klasse II Laser: Ist während der Messung permanent aktiviert.
Das Gerät stimmt mit folgender Richtlinie überein: EMV-Richtlinie 2004/108/EG
* Im Bereich zwischen 350 MHz und 550 MHz bei 3 V/m kann es sein, dass das Gerät nicht der angegebenen
Genauigkeit entspricht, maximaler Messfehler ist 8°C (14.4°F).
'Batterie verbraucht': Messung nicht mehr
möglich
Wenn das "Batterie verbraucht" Symbol im Display angezeigt wird sollten die Batterien (AAA, 1,5 V) umgehend erneuert
werden. Bitte beachten Sie, dass das Thermometer vor dem Batteriewechsel ausgeschaltet ist. Ansonsten kann es zu
Fehlfunktionen des Thermometers kommen. Entsorgen Sie die Batterie an den dafür vorgesehenen Sammelstellen.
3. Die Optik D:S ist 8:1. Achten Sie darauf das das Messobjekt den Messfleck voll
ausfüllt, bzw. das Messobjekt "größer" als der Messfleck ist.
WEITERE GRÖSSEN:
'Batterie schwach': Batterie sollte erneuert
werden, Messung möglich
** Das Thermometer hat eine automatische Abschaltfunktion und deaktiviert sich nach 15 Sekunden!
Ref.No.:072507
TFI 200 Infrared Thermometer Operating Instructions
The thermometer is a non-contact infrared thermometer, and always with Real-Time Maximum (MAX) data.
Please remember to keep away from children and don't use it for safety related applications.
5.
6.
7.
8.
CAUTION
WHEN DEVICE IS IN USE, DO NOT LOOK DIRECTLY INTO THE LASER BEAM–PERMANENT EYE DAMAGE MAY RESULT.
USE EXTREME CAUTION WHEN OPERATING THE LASER.
NEVER POINT THE DEVICE TOWARDS ANYONE'S EYES.
KEEP OUT OF REACH OF ALL CHILDREN.
STORAGE & CLEANING
The sensor lens is the most delicate part of the thermometer. The lens should be kept clean at all times, care should be taken when
cleaning the lens using only a soft cloth or cotton swab with water or medical alcohol. Allowing the lens to fully dry before using the
thermometer. Do not submerge any part of the thermometer. The thermometer should be stored at room temperature between –20 to
+65°C (-4~149°F).
LCD ERROR MESSAGES
The thermometer incorporates visual diagnostic messages as follows:
'Er2' is displayed when the thermometer is exposed to rapid changes in the ambient temperature.
「
」
o
o
'Er3' is displayed when the ambient temperature exceeds 0 C(32°F) or +50 C (122°F).
The thermometer should be allowed plenty of time (minimum 30 minutes) to stabilize to the working/room
」 temperature.
「
「
「
」
」
「
Error 5~9, for all other error messages it is necessary to reset the thermometer. To reset it, turn the instrument
off, remove the battery and wait for a minimum of one minute, reinsert the battery and turn on. If the error
message remains please contact the Service Department for further assistance.
'Hi' or 'Lo' is displayed when the temperature being measured is outside of the measurement range.
」
BATTERIES
The thermometer incorporates visual low battery indication as follows:
(Default Screen)
1. Simply aim the thermometer at the measure target with Lens (○
○,4) and press
Meas. key (○
○,6) to display the surface temperature.
2. During the measurement, the MAX reading will be displayed beside the
icon.
3. The Distance:Spot is 8:1. Please make sure the target area is within the field
of view.
o
C or F
Backlight
Laser
'Battery Low': battery needs to be
replaced, measurements are still possible
'Battery Exhausted': measurements are
not possible
When the 'Low Battery' icon indicates the battery is low, the battery should be replaced immediately with AAA, 1.5V batteries.
Please note: It is important to turn the instrument off before replacing the battery otherwise the thermometer may malfunction.
Dispose of used battery promptly and keep away from children.
SPECIFICATION
ADD VALUE:
o
'Battery OK': measurements
are possible
o
o
Press Mode key (○,2) for C or F transferred.
LCD Backlight: always on.
Class II Laser: always enable while measuring.
The device complies with the following guideline: EMC-Guideline 2004/108/EC
Readings may be affected if the unit is operated within radio frequency electromagnetic field strength of approximately
3 volts per meter, but the performance of the instrument will not be permanently affected.
* Note: Under the electromagnetic field of 3V/m from 350 to 550MHZ, the maximum error is 8°C (14.4°F).
ebro Electronic GmbH & Co. KG http://www.ebro.com
Peringerstrasse 10, 85055 Ingolstadt
GERMANY.
Ref.No.:072507
Measurement Range
-35 to +365 oC (-31 to +689 oF)
Operating Range
0~50°C (32~122°F)
Accuracy, (Tobj=15-35°C,Tamb=25°C)
+/-1.5°C (2.7°F)
Accuracy (Tamb=23 +/- 3°C)
Tobj=0~365°C:+/-2.5% of reading or 2.5°C (4.5°F) whichever is greater
o
Tobj=-35~0 C: +/-(2.5°C+0.05/degree)
Emissivity
0.95 fixed
Resolution (-9.9~199.9°C)
0.2°C/0.5°F
Response Time (90%)
1sec
Distance:Spot
8:1
Battery Life
Typ.18, min 14 hours continuous use
Dimensions
166.4 x 33.9 x 63.5mm(6.55×1.33×2.50 inch)
Weight
113 grams(3.98 oz) including batteries (AAA*2pcs)
** The thermometer will automatically shut off if left idle for more than 15sec.
FI 200
Mode d´emploi du Thermomètre infrarouge TF
Thermomètre infrarouge pour mesures sans contact avec indication de la valeur maximale en temps réel (MAX).
Veuillez SVP le garder hors de la portée des enfants et de ne pas l´utiliser pour des applications reliées par sûreté
ATTENTION
9. LORS DE L´UTILISATION, VEUILLEZ NE PAS REGARDER DIRECTEMENT DANS LE RAYON LASER SINON UN DOMMAGE
PERMANENT DE L´ŒIL PEUT RESULTER
10.
PAYEZ ATTENTION LORS DE L´UTILISATION DU RAYON LASER.
11.
NE DIRIGEZ JAMAIS LE RAYON LASER VERS LES YEUX D´UNE PERSONE.
TENEZ L´APPAREIL HORS DE PORTÉE DE TOUS LES ENFANTS.
12.
STOCKAGE ET NETTOYAGE
L'objectif du capteur IR est la partie la plus sensible du thermomètre. L'objectif doit être maintenu propre à tout moment, pour nettoyer
l'objectif utilisez seulement un tampon de tissu mou ou de coton avec l'eau ou de l'alcool médical. Permettez à l'objectif de sécher
entièrement avant d'utiliser le thermomètre. Ne submergez aucune partie du thermomètre. Stockez le thermomètre à température
ambiante entre -20°C et +65°C.
MESSAGES D´ERREURS
Le thermomètre incorpore les messages de diagnostique visuels comme suit:
L´erreur ` Er2 ' est affichée quand le Thermomètre est exposé a des changements rapides de la température
」 ambiante.
L´erreur ` Er3 ' est affichée lorsque la température ambiante excède 0°C ou +50°C.
Permettez au Thermomètre de se stabiliser vers la température ambiante (au minimum 30 minutes).
」
「
「
「
「
(Affichage par défaut)
1. Visez simplement la cible de mesure avec l'objectif du thermomètre (
) et
pressez la touche Meas. (
) pour afficher la température de la surface mesurée.
'Pile pleine':
mesures possible
.
3. Le rapport Distance : Cible est 8:1. Veuillez assurer que la surface cible se trouve
dans le champ visuel du Thermomètre.
o
o
o
(Laser)
'Pile vide': aucune mesure possible
CARACTERISTIQUES TECHNIQUES
Pressez la touche Mode () pour commuter entre C et F.
Backlight
'Pile épuisée: échange
nécessaire, mesures encore possible
Quand l´icône indique que la pile est vide, elle doit être remplacée immédiatement avec piles 1,5V type LR03 (AAA).
Remarque: il est important d´éteindre l'instrument avant de remplacer les piles, autrement le thermomètre peut mal
fonctionner après l´échange. Eliminez les piles en accord avec les règlementations et gardez les hors de la portée des
enfants.
VALEUR AJOUTÉE:
C ou F
'Hi' or 'Lo' 'est affiché lorsque la température mesurée excède l´étendue (plage) de mesure.
」
」
「
PILES
Le thermomètre indique l´état de la pile comme suit:
2. Durant la mesure, la valeur MAX mesurée s´affiche après l´icône
o
Er 5 à 9, pour les autres messages d'erreur il est nécessaire de remettre le thermomètre à zéro. Pour remettre à
zéro, arrêter l'instrument, enlever les piles et attendre une minute au minimum, réinsérer les piles et ré-allumer
l´instrument. Si l'erreur persiste, veuillez S.V.P. contacter le service après vente pour aide.
」
-35°C à +365 oC (-31°F à +689 oF)
0°C a +50°C (32°F à 122°F)
±1,5°C (2,7°F)
Tobj=de 0°C à +365°C:±2.5% (4,5°F) de la valeur mesurée ou ±2,5°C (ou
la valeur la plus grande est valide)
Précision (Tamb=23°C +/- 3°C)
Tobj=-35°C à 0 oC: ±(2.5°C+0.05/degrés)
Emissivité
0,95 fixe
Résolution (de -9,9°C à +199.9°C)
0.2°C / 0,5°F
Temps de réponse (90%)
1sec
Rapport Distance : Cible
8:1
Durée de vie de la Pile
Typique 18 heures, min 14 heures d´utilisation continuelle
Dimensions
166,4 x 33,9 x 63,5 mm
Poids
113g y compris 2 piles LR03 (AAA)
** Le Thermomètre s´éteint automatiquement après 15 secondes d´inactivité
Plage de mesure
Température de service
Précision (Tobj=+15°C à +35°C, Tamb=25°C)
Rétro-éclairage de l´afficheur: toujours allumé.
Laser Classe II: toujours actif durant les mesures.
Appareil est conforme aux directive : CEM-Directive 2004/108/CE
Les mesures peuvent être affectées si l'appareil est utilisé dans un champ électromagnétique de fréquence par radio
d'approximativement 3 volts par mètre, mais l'exécution de l'instrument ne sera pas affectée de manière permanente.
* Remarque: dans un champ électromagnétique de 3V/m entre 350 et 550MHz, l´erreur maximale est 8°C.
Ref.No.:072507
TFI 200 infraroodthermometer Gebruiksaanwijzing
Deze IR-thermometer meet contactloos de temperatuur en toont de gemeten waarde en de hoogst gemeten waarde
(MAX). Houd het instrument uit de buurt van kinderen, gebruik het niet voor toepassingen waarbij de veiligheid in het
geding is.
Let op, voorzichtig!
richt de laser nooit op de ogen van mens of dier
richt de laser nooit op mensen of dieren
bewaar het instrument buiten het bereik van kinderen
wees altijd voorzichtig bij het gebruik
1.
2.
3.
4.
Bewaren en reinigen
De sensorlens is het meest kwetsbare deel van het instrument en moet altijd schoon zijn. Reinig de lens met een zachte doek
eventueel bevochtigt met wat water of spiritus. Laat het opdrogen vóór het gebruik. De thermometer mag nooit ondergedompeld
worden. Bewaar het instrument bij een ruimtetemperatuur van -20…65˚C (-4…149˚F).
Foutmeldingen
De volgende foutmeldingen kunnen verschijnen.
Er2, bij snelle verandering van de omgevingstemperatuur
「
」
「
」
o
「
「
1. Richt de laser op het te meten object en druk de meettoets, de
oppervlaktetemperatuur van het object verschijnt.
getoond.
3. De D/S-verhouding is 8:1 (distance to spot). Voor nauwkeurige metingen moet
het meetobject groter zijn dan de meetvlek. Hoe kleiner het object des te korter
moet de afstand tot het instrument zijn.
Overig:
o
o
C oder F
druk de keuzetoets
achtergrondverlichting is tijdens de meting geactiveerd
laser (klasse II)
HiLo, als de gemeten temperatuur buiten het meetbereik ligt.
」
Batterij
De volgende batterijsymbolen kunnen verschijnen:
(standaard scherm)
2. Tijdens de meting wordt tevens de hoogst gemeten waarde
Er5-9, voor alle andere foutmeldingen moet het instrument worden ge-reset. Verwijder de batterij, wacht
minstens 1 minuut en plaats de batterij weer terug. Neem contact op met uw leverancier als de foutmelding
blijft bestaan.
」
」
「
Batterij vol, meten mogelijk
Het instrument stemt overeen met de EMV-richtlijn 2004/108/EG.
* Binnen het meetbereik 350 MHz en 550 MHZ bij 3 V/m kan het voorkomen dat het apparaat niet voldoet aan de
opgegeven nauwkeurigheid, de maximale meetfout is 8˚C (14,4˚F).
Batterij zwak, batterij vervangen, meten is
mogelijk
Batterij leeg, meten niet meer mogelijk
Vervang een lege batterij onmiddellijk (AAA 1,5V). Schakel het instrument eerst uit om fouten en foutmeldingen te voorkomen. Zorg
voor een verantwoorde milieuvriendelijke verwerking van de lege batterijen.
Technische specificaties
meetbereik
-35 to +365 oC (-31 to +689 oF)
gebruikstemperatuur
0~50°C (32~122°F)
nauwkeurigheid (Tobj=15…35˚C,Tomg=25˚C)
emissiefactor (vaste instelling)
+/-1.5°C (2.7°F)
Tobj=0…365˚C: ±2,5% v.d.meetwaarde of 2,5˚C (4,5˚F)
(de grootste waarde geldt)
Tobj=-35…0˚C: ±(2,5˚C+0,05/˚C)
0,95 (vaste instelling)
resolutie (-9,9…199,9˚C)
0.2°C/0.5°F
responstijd (90%)
1sec
optiek D/S-verhouding
8:1
batterij en levensduur
type AAA 1,5V, >14 uur bij continubedrijf
afmetingen
166.4 x 33.9 x 63.5mm(6.55×1.33×2.50 inch)
gewicht
113 g (3.98 oz) met batterij (AAA* 2 st.)
nauwkeurigheid (Tomg=23±3˚C)
tijdens de meting geactiveerd
** automatische uitschakeling na 15 sec.
Ref.No.:072507
o
Er3, als de omgevingstemperatuur onder de 0 C(32°F) resp. boven de +50 C (122°F) komt.
Breng het instrument op de voorgeschreven gebruikstemperatuur, wacht ca. 30 min. tot deze is bereikt.