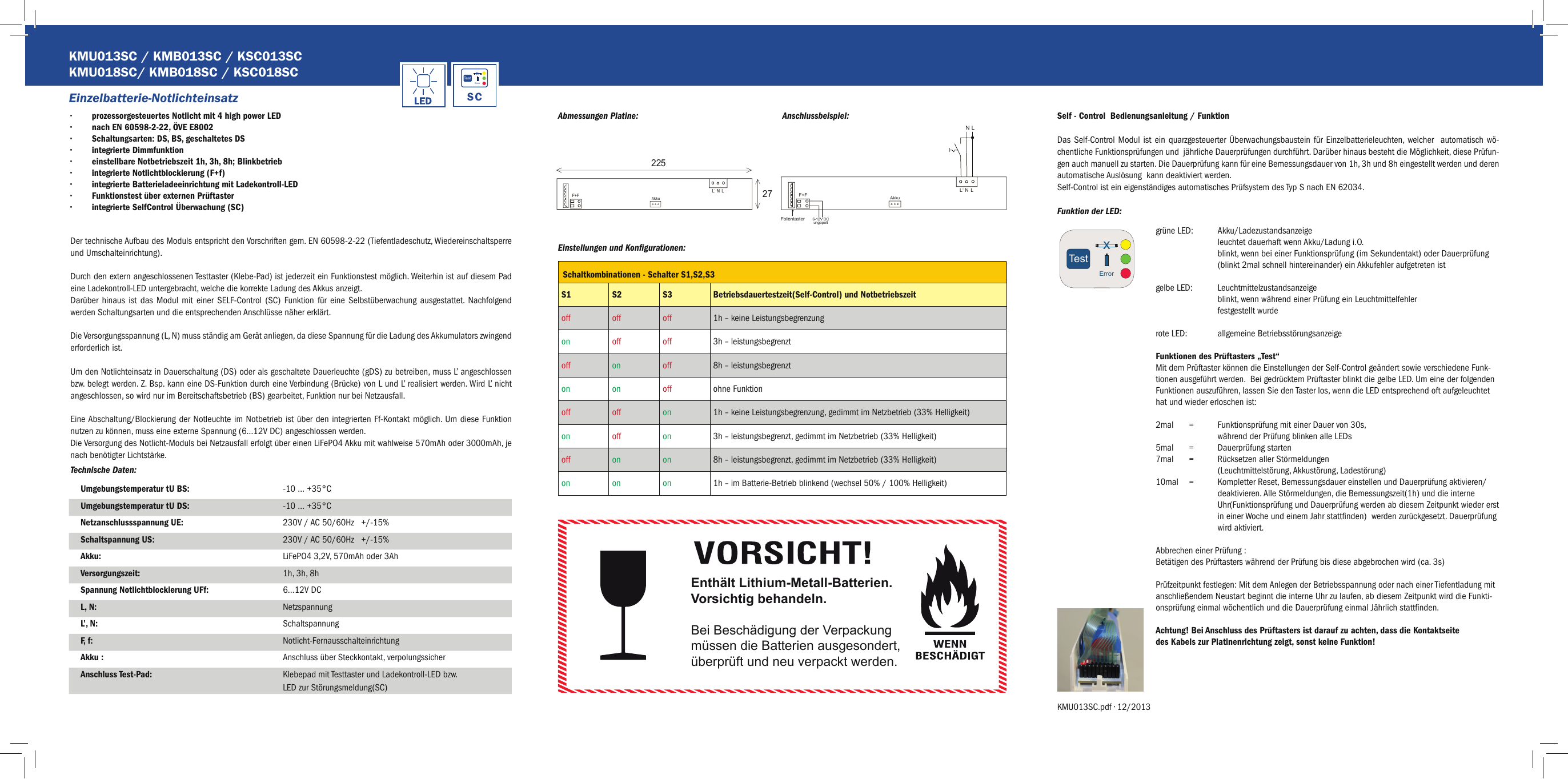 inclusive
KMU013SC / KMB013SC / KSC013SC
KMU018SC/ KMB018SC / KSC018SC
inclusive
110V
24V
60V
110V
x
Test
Error
SC
Einzelbatterie-Notlichteinsatz
•
•
•
•
•
•
•
•
•
prozessorgesteuertes Notlicht mit 4 high power LED
nach EN 60598-2-22, ÖVE E8002
Schaltungsarten: DS, BS, geschaltetes DS
integrierte Dimmfunktion
einstellbare Notbetriebszeit 1h, 3h, 8h; Blinkbetrieb
integrierte Notlichtblockierung (F+f)
integrierte Batterieladeeinrichtung mit Ladekontroll-LED
Funktionstest über externen Prüftaster
integrierte SelfControl Überwachung (SC)
Test
Abmessungen Platine:
x
Self - Control Bedienungsanleitung / Funktion
Anschlussbeispiel:
NL
Error
225
L' N L
F+F
kleine Scheibe
small pane
mittlere Scheibe
medium pane
KBK
1PW
mittlere Scheibe
große Scheibe
large pane
1PW
Umgebungstemperatur tU BS:
-10 … +35°C
Umgebungstemperatur tU DS:
-10 … +35°C
Netzanschlussspannung UE:
230V / AC 50/60Hz +/-15%
Schaltspannung US:
230V / AC 50/60Hz +/-15%
Akku:
LiFePO4 3,2V, 570mAh oder 3Ah
Versorgungszeit:
1h, 3h, 8h
Spannung Notlichtblockierung UFf:
6…12V DC
L, N:
Netzspannung
L', N:
Schaltspannung
F, f:
Notlicht-Fernausschalteinrichtung
Akku :
Anschluss über Steckkontakt, verpolungssicher
Anschluss Test-Pad:
Klebepad mit Testtaster und Ladekontroll-LED bzw.
LED zur Störungsmeldung(SC)
6-12V DC
ungepolt
Test
Error
S2
S3
Betriebsdauertestzeit(Self-Control) und Notbetriebszeit
off
off
1h – keine Leistungsbegrenzung
on
off
off
3h – leistungsbegrenzt
off
on
off
8h – leistungsbegrenzt
on
on
off
ohne Funktion
off
off
on
1h – keine Leistungsbegrenzung, gedimmt im Netzbetrieb (33% Helligkeit)
on
off
on
3h – leistungsbegrenzt, gedimmt im Netzbetrieb (33% Helligkeit)
off
on
on
8h – leistungsbegrenzt, gedimmt im Netzbetrieb (33% Helligkeit)
on
on
on
1h – im Batterie-Betrieb blinkend (wechsel 50% / 100% Helligkeit)
off
Test
x
Error
Funktion der LED:
Test
x
Schaltkombinationen - Schalter S1,S2,S3
Die Versorgungsspannung (L, N) muss ständig am Gerät anliegen, da diese Spannung für die Ladung des Akkumulators zwingend
erforderlich ist.
Eine Abschaltung/Blockierung der Notleuchte im Notbetrieb ist über den integrierten Ff-Kontakt möglich. Um diese Funktion
nutzen zu können, muss eine externe Spannung (6…12V DC) angeschlossen werden.
Die Versorgung des Notlicht-Moduls bei Netzausfall erfolgt über einen LiFePO4 Akku mit wahlweise 570mAh oder 3000mAh, je
nach benötigter Lichtstärke.
Akku
Einstellungen und Konfigurationen:
S1
Um den Notlichteinsatz in Dauerschaltung (DS) oder als geschaltete Dauerleuchte (gDS) zu betreiben, muss L' angeschlossen
bzw. belegt werden. Z. Bsp. kann eine DS-Funktion durch eine Verbindung (Brücke) von L und L' realisiert werden. Wird L' nicht
angeschlossen, so wird nur im Bereitschaftsbetrieb (BS) gearbeitet, Funktion nur bei Netzausfall.
L' N L
F+F
Folientaster
small pane
medium pane
Durch den extern angeschlossenen Testtaster (Klebe-Pad) ist jederzeit ein Funktionstest möglich. Weiterhin
ist auf
diesem Pad
KBK
KBM
KBG
eine Ladekontroll-LED untergebracht, welche die korrekte Ladung des Akkus anzeigt.
Darüber hinaus ist das Modul mit einer SELF-Control (SC) Funktion für eine Selbstüberwachung ausgestattet. Nachfolgend
werden Schaltungsarten und die entsprechenden Anschlüsse näher erklärt.
Technische Daten:
27
große Scheibe
large pane
KBM
KBG
Der technische Aufbau des Moduls entspricht den Vorschriften gem. EN 60598-2-22 (Tiefentladeschutz, Wiedereinschaltsperre
und Umschalteinrichtung).
kleine Scheibe
Akku
Das Self-Control Modul ist ein quarzgesteuerter Überwachungsbaustein für Einzelbatterieleuchten, welcher automatisch wöchentliche Funktionsprüfungen und jährliche Dauerprüfungen durchführt. Darüber hinaus besteht die Möglichkeit, diese Prüfungen auch manuell zu starten. Die Dauerprüfung kann für eine Bemessungsdauer von 1h, 3h und 8h eingestellt werden und deren
automatische Auslösung kann deaktiviert werden.
Self-Control ist ein eigenständiges automatisches Prüfsystem des Typ S nach EN 62034.
x
Error
grüne LED: Akku/Ladezustandsanzeige
leuchtet dauerhaft wenn Akku/Ladung i.O.
blinkt, wenn bei einer Funktionsprüfung (im Sekundentakt) oder Dauerprüfung
(blinkt 2mal schnell hintereinander) ein Akkufehler aufgetreten ist
gelbe LED: Leuchtmittelzustandsanzeige
blinkt, wenn während einer Prüfung ein Leuchtmittelfehler
festgestellt wurde
rote LED:
allgemeine Betriebsstörungsanzeige
Funktionen des Prüftasters "Test"
Mit dem Prüftaster können die Einstellungen der Self-Control geändert sowie verschiedene Funktionen ausgeführt werden. Bei gedrücktem Prüftaster blinkt die gelbe LED. Um eine der folgenden
Funktionen auszuführen, lassen Sie den Taster los, wenn die LED entsprechend oft aufgeleuchtet
hat und wieder erloschen ist:
2mal =Funktionsprüfung mit einer Dauer von 30s,
während der Prüfung blinken alle LEDs
5mal = Dauerprüfung starten
7mal = Rücksetzen aller Störmeldungen
(Leuchtmittelstörung, Akkustörung, Ladestörung)
10mal = Kompletter Reset, Bemessungsdauer einstellen und Dauerprüfung aktivieren/
deaktivieren. Alle Störmeldungen, die Bemessungszeit(1h) und die interne
Uhr(Funktionsprüfung und Dauerprüfung werden ab diesem Zeitpunkt wieder erst
in einer Woche und einem Jahr stattfinden) werden zurückgesetzt. Dauerprüfung
wird aktiviert.
Abbrechen einer Prüfung :
Betätigen des Prüftasters während der Prüfung bis diese abgebrochen wird (ca. 3s)
Enthält Lithium-Metall-Batterien.
Vorsichtig behandeln.
Prüfzeitpunkt festlegen: Mit dem Anlegen der Betriebsspannung oder nach einer Tiefentladung mit
anschließendem Neustart beginnt die interne Uhr zu laufen, ab diesem Zeitpunkt wird die Funktionsprüfung einmal wöchentlich und die Dauerprüfung einmal Jährlich stattfinden.
Bei Beschädigung der Verpackung
müssen die Batterien ausgesondert,
überprüft und neu verpackt werden.
Achtung! Bei Anschluss des Prüftasters ist darauf zu achten, dass die Kontaktseite
des Kabels zur Platinenrichtung zeigt, sonst keine Funktion!
KMU013SC.pdf • 12/2013
inclusive
KMU013SC / KMB013SC / KSC013SC
KMU018SC/ KMB018SC / KSC018SC
inclusive
110V
24V
60V
110V
x
Test
Error
SC
Self-contained emergency light fitting
•
•
•
•
•
•
•
•
•
processor controlled emergency light unit with 4 high power LED
according to EN 60598-2-22, ÖVE E8002
Switching modes: maintained light, non-maintained light, switched maintained light
integrated dimming function
adjustable emergency operating time 1h, 3h, 8h; flashing function
integrated emergency light blocking (F+f)
integrated charging function with control LED
function test with external test button
integrated SelfControl monitoring module (SC)
Test
Dimensions circuit board:
x
Self - Control Manual / Function
Connection example:
NL
Error
225
L' N L
F+F
kleine Scheibe
small pane
KBK
1PW
mittlere Scheibe
große Scheibe
large pane
1PW
pane
pane
Due to the externally connected test button (adhesive pad), a functional test can be performed small
at
any
time.medium
Furthermore,
a
KBK
KBM
KBG
charge indicator LED is placed on the pad, which displays the correct charge of the battery.
In addition, the module is equipped with a SELF-Control (SC) function for self-monitoring. The following switching types and the
corresponding connections are explained in more detail.
The supply voltage (L, N) must be applied constantly the device, since this voltage is mandatory for the charge of the battery.
To operate the emergency lighti module in maintained mode (DS) or in switched maintained mode (GDS), L' must be connected
respectively . Eg, a switched maintained function can be realized by bridging L and L'. If L''is not connected, the module works
in non-maintained mode only and lights up during a mains power failure only.
A shutdown/blocking of the emergency lighting during emergency operation is possible via the integrated Ff contact. To use this
feature, you an external Voltage (6 ... 12V DC) must be applied to Ff.
The emergency lighting module works with a LiFePO4 battery with 600mAh or optional 3000mAh in emergency mode, depending
on the required light intensity and operating time.
Technical specifications:
Permissible ambient temperature tU BS:
-10 … +35°C
Permissible ambient temperature tU DS:
-10 … +35°C
Mains power supply UE:
230V / AC 50/60Hz +/-15%
Switching power supply US:
230V / AC 50/60Hz +/-15%
Battery:
LiFePO4 3,2V, 570mAh or 3Ah
Emergency mode operating time:
1h, 3h, 8h
Voltage emergency light blocking UFf:
6…12V DC
L, N:
Mains voltage
L', N:
Switching voltage
F, f:
Emergency light remote blocking
Battery :
Connection via plug contact, reverse polarity protected
Connection Test-Pad:
Adhesive pad with test button and charging indicator LED
or LED for reporting errors (SC)
27
L' N L
F+F
Folientaster
Test-Switch
große Scheibe
large pane
mittlere Scheibe
medium pane
KBM restart KBG
The technical design of the module corresponds consistent with the regulations. EN 60598-2-22 (discharge protection,
locking and changeover device).
kleine Scheibe
Akku
Akku
6-12V DC
ungepolt
Settings and configuration:
Test
S2
S3
Testing Time (Self-Control) and emergency mode operating time
off
off
1h – no load limitation
on
off
off
3h – limited load
off
on
off
8h – limited load
on
on
off
without function
off
off
on
1h – no load limitation, dimmed in mains operation (33% Brightness)
on
off
on
3h – limited load, dimmed in mains operation (33% Brightness)
off
on
on
8h – limited load, dimmed in mains operation (33% Brightness)
on
on
on
1h – flashing in battery operating mode (switches between 50 / 100% Brightness)
off
Test
Error
x
Error
Error
x
Functions of the LED:
Test
x
Switch settings - DIP switch S1,S2,S3
S1
The Self-Control-Module is a monitoring unit for self-contained luminaires, which automatically carries out weekly functional
tests and annual duration tests.
For the duration tests a rated duration of 1h, 3h or 8h can be set. Functional and duration tests can also be initiated manually.
The automatic annual duration test can be deactivated. Self-Control is a stand-alone automatic test system of the type S
according to EN 62034.
green LED: state of battery/ charging state
continuous light: signalises "battery and charging state OK"
flashing at one-second intervals: battery failure with last functional test
2 times quick flashing: battery failure with the last duration test
yellow LED: state of luminaires
flashing signalises a luminaire failure with the last test
red LED:
general malfunction
Function of the test pushbutton "Test"
The test pushbutton can be used to change settings of the Self-Control as well as to carry out
different functions. When the test pushbutton is pressed, the yellow LED flashes. Release the
pushbutton after the LED has flashed as often as listed below in order to carry out one of the
following functions:
2 times
5 times 7 times 10 times = start functional test lasting 30s. All LEDs are flashing during the test.
= start duration test.
= reset of all failure messages (luminaire failure, battery failure, charging failure)
= complete reset of all functions. All failure messages are deleted, the rated duration is set to 1h and the internal clock is reset. The automatic duration test is
activated (functional test and duration test will be carried out one year and one
week from this time).
Canceling a test:
Press the button "Test" until the test is canceled (about 3s).
CAUTION!
This product contains LithiumMetal batteries. Handle with care!
If packaging is damaged, the batteries
need to be checked for damage and
repacked.
Setting the test time:
The internal clock starts running after applying the operating voltage or after a deep discharge with
subsequent restart. From this time on the functional test will be carried out once a week and the
duration test once a year.
Caution!
When connecting the pushbutton, see that the contact side of the cable faces the circuit
board, otherwise no function!